How Cloud Telephony is Revolutionizing the Transportation Industry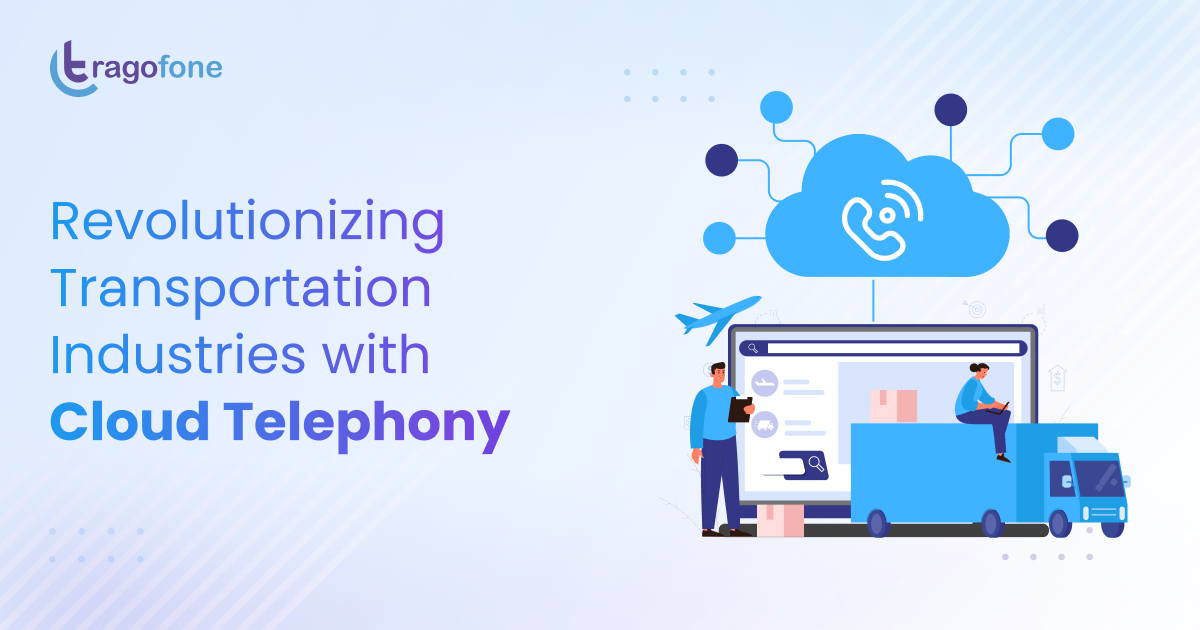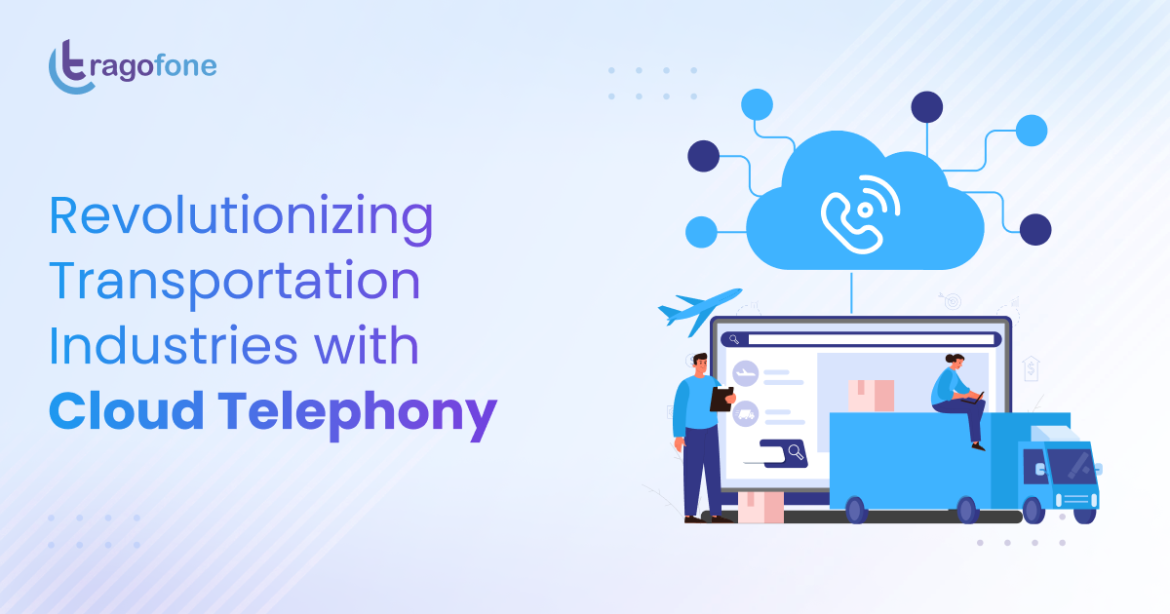 Imagine running a successful transportation business, experiencing rapid growth and an expanding customer base. While this may sound like a dream scenario, it comes with its unique set of challenges. In a world where the transportation industry is booming with a projected CAGR of 38.5% by 2027, communication hurdles continue to plague its progress. 
Call volumes skyrocket, leaving your agents overwhelmed and customers frustrated with long wait times. The lack of 24/7 customer support could jeopardize your hard-earned reputation and revenue streams. But what if there was a game-changing solution to these challenges? 
Enter cloud telephony. This innovative, cloud-based communication system is poised to revolutionize customer interactions in the transportation sector, providing tailored solutions for airlines, road, maritime, logistics, and supply chain segments.
In this article, we'll dive into the transformative benefits of adopting cloud telephony for transportation business, showcasing its power to tackle industry pain points and unlock new opportunities for growth. 
What is Cloud Telephony?
Cloud telephony, also known as a VoIP-based hosted PBX solution, operates through your internet connection and enables you to move your business phone service to the cloud. Cloud telephony not only streamlines business communications but also scales with your business growth. 
Whether you're opening new offices, employing remote workers, or expanding in-house teams, cloud telephony ensures a seamless and cost-effective transition. In fact, a study by CMBR for Cisco found that nearly 83.3% of employees experienced increased productivity due to remote work capabilities, such as team chat and video conferencing. 
How does Cloud Telephony work?
The calls are routed through a VoIP provider that transmits the data packets containing the analog voice signals over the Internet. In the transportation industry, this technology offers numerous advantages. For transportation businesses, replacing traditional phone extensions with VoIP softphone or desk phones streamlines communication. These devices connect to existing networks, allowing employees to make calls through a modern, user-friendly interface.
Cloud telephony's online dashboard provides transportation companies with full control over phone numbers, call forwarding and user management. This centralized system simplifies communication between dispatchers, drivers, and customers, leading to enhanced efficiency and improved customer experiences.
There are a plethora of other valuable transportation industry specific features such as real-time tracking, shipment updates, and integration with GPS systems. This ensures transparency and seamless coordination between various stakeholders in the transportation process.
Cloud telephony software for transportation businesses can help in the following key activities:
Logistics

Order management and support

Customer service 

Billing, payment, and refunds support

Help desk 

Collections

Sales and marketing support
Advantages of Cloud Telephony for Transportation
Subpar communication strategies can cause frustration among employees like dispatchers, drivers, and schedulers. 97% of employees believe that communication influences their task efficiency daily. Transparent and open communication guarantees alignment among all parties, enabling seamless operations. To prevent losing customers and employees due to communication issues, consider the benefits of cloud telephony. 
#1. Cloud Telephony enhancing CX 
Streamlined call handling
In order to provide good service, 73% of customers believe that valuing their time is the most important thing a company can do. Cloud telephony allows transportation companies to efficiently manage high volumes of incoming calls. With features such as call queueing, call forwarding features, auto attendant, and more, the average call waiting time can be reduced. This leads to increased customer satisfaction.
24/7 support via Multi-level IVR
New-age customers expect more self-service options. IVR technology provides round-the-clock customer support, even outside of regular business hours. Customers can access information and support services anytime, day or night. Additionally, its multilingual feature allows for a more personalized customer experience.
Furthermore, IVR systems can include various options in audio menus, allowing callers to quickly find answers or connect with the right agent or department. This saves time, costs, and resources for transportation businesses.

Real-time information for customers
A recent study suggests real-time visibility is the most crucial supply chain capability for enhancing customer experience. Cloud telephony can integrate with GPS and other tracking systems to provide real-time information on vehicle locations, estimated arrival times, and more. This helps customers stay informed and make better travel decisions. 
#2. Cloud Telephony Improving Businesses operational efficiency
Unified communication across departments
Cloud telephony is a game-changer in communication and collaboration within transportation organizations. By providing a seamless, unified platform for different departments to connect, cloud telephony facilitates the efficient exchange of vital information in real time. This level of integration is crucial for transportation businesses, as it enables them to make informed decisions rapidly, thereby boosting productivity and ensuring smooth operations.
A study conducted by McKinsey revealed that well-connected teams experience a productivity increase of 20–25%. This is especially important in the fast-paced, ever-evolving transportation industry, where real-time collaboration and adaptability are key to success. The adoption of a unified communication system, such as cloud telephony, streamlines internal processes, eliminates communication bottlenecks and fosters better cooperation among teams.
Better coordination between drivers and dispatchers
Cloud telephony enables real-time communication between drivers and dispatchers, crucial for efficient route planning and handling unexpected situations. According to a report by Verizon Connect, users of GPS tracking systems experienced an average reduction in fuel costs by 11%. 
Additionally, the real-time communication facilitated by cloud telephony systems can help address unforeseen issues, such as traffic congestion or accidents, to ensure timely deliveries and improve customer satisfaction.

 Reduction in operational costs
VoIP can reduce costs by up to 45% compared to traditional phones and boost productivity by as much as 67%. Cloud telephony helps transportation companies significantly reduce operational costs by eliminating the need for traditional phone systems and associated maintenance and hardware expenses. 
Moreover, cloud telephony allows organizations to scale their communication infrastructure according to their needs, avoiding unnecessary costs related to overcapacity or underutilization.
#3. Cloud telephony increases scalability and flexibility for businesses
Effortless implementation
Implementing cloud telephony requires no on-site infrastructure, making it an ideal solution for transportation businesses. It allows businesses to quickly set up and operate their phone systems in just a few days or even within a day without worrying about delays caused by transportation logistics. 
There is no need to wait for a technician, install phone lines, or hire a full-time employee to configure the system, as the cloud telephony provider takes care of everything. 
Businesses can instantly access virtual phone numbers and a dashboard to manage their phone service from any location easily. This eliminates the need for businesses to physically transport equipment or technicians to set up their telephony system. This makes cloud telephony a convenient and cost-effective solution for transportation businesses of all sizes.
Compatibility with other business tools and software
Cloud telephony has become a popular solution for transportation businesses to consolidate various communication channels into a single user interface. This integration helps businesses to collaborate with colleagues, manage customers, and analyze real-time data, allowing them to streamline their operations and enhance their overall efficiency. 
Cloud telephony also helps transportation companies collect customer feedback and move important projects forward without time-consuming interruptions or searching for crucial information. 
By bringing all communication workflows to a single source, transportation businesses can improve their decision-making, optimize costs, and enhance their customer experience.
Remote work capabilities for staff
With cloud telephony, transportation companies can easily route calls to employees' mobile or home phones, ensuring reliable communication with customers and colleagues, regardless of location. Additionally, conference calling and video conferencing tools enable seamless collaboration and virtual meetings, enhancing remote work capabilities. 

By leveraging cloud telephony, transportation businesses can also reduce their real estate and overhead costs, attract and retain talent from a broader pool, and improve their employees' work-life balance while maintaining high productivity and customer service. These features make cloud telephony an essential tool for modern transportation businesses.
#4. Cloud Telephony improves decision-making through data-driven insights
Advanced Analytics and Insights
The transportation industry generates massive amounts of data, including vehicle telemetry, customer, and operational data. Advanced analytics and insights using cloud telephony can help transportation companies make informed decisions, optimize operations, and enhance customer experience. For instance, they can optimize operations by analyzing traffic patterns and scheduling routes more efficiently, leading to reduced fuel consumption and costs. They can also enhance the customer experience by analyzing customer feedback and preferences and tailoring services to better meet their needs.
Call tracking and reporting
Call tracking and reporting can help transportation companies improve customer experience by monitoring and analyzing customer calls. This can help companies identify customer pain points, optimize call-handling processes, and enhance customer satisfaction. For instance, monitoring CSAT scores can help transportation businesses identify patterns in customer feedback, such as common complaints or issues. This can be used to improve services and address customer concerns. 
Resolving transportation industry challenges with Cloud Telephony solutions
"With cloud telephony, businesses can connect, communicate, and collaborate seamlessly. This technology has the potential to break down barriers and unlock productivity in ways that were previously unattainable."
The transportation industry faces several challenges in managing customer communication effectively. Fluctuating call volumes, managing multiple communication channels, and maintaining customer satisfaction are some of the challenges that can be addressed with cloud telephony solutions. 
Cloud telephony solutions help businesses quickly scale up or down their phone systems depending on their needs without needing physical hardware or infrastructure. It also allows for centralized management of all communication channels, making monitoring and promptly responding to customer inquiries easier. 
With enhanced customer engagement opportunities due to robust features such as call recording, call analytics, and real-time reporting, businesses can gain insights into customer behavior and preferences. This information can help businesses personalize customer communication and improve their overall experience.
Tragofone's cloud telephony solution offers an all-in-one solution for transportation businesses looking to enhance their communication capabilities.  With HD audio and video calls, call recording, voicemail, call forwarding, and auto-provisioning, businesses can stay connected with customers and team members from anywhere. 
Tragofone's user-friendly interface and reliable service provide transportation companies with a flexible and scalable solution that can adapt to their changing needs. Additionally, the white-labeling option allows businesses to customize the solution to match their brand, providing a seamless customer experience.