Unleashing the Power of Omnichannel Contact Centers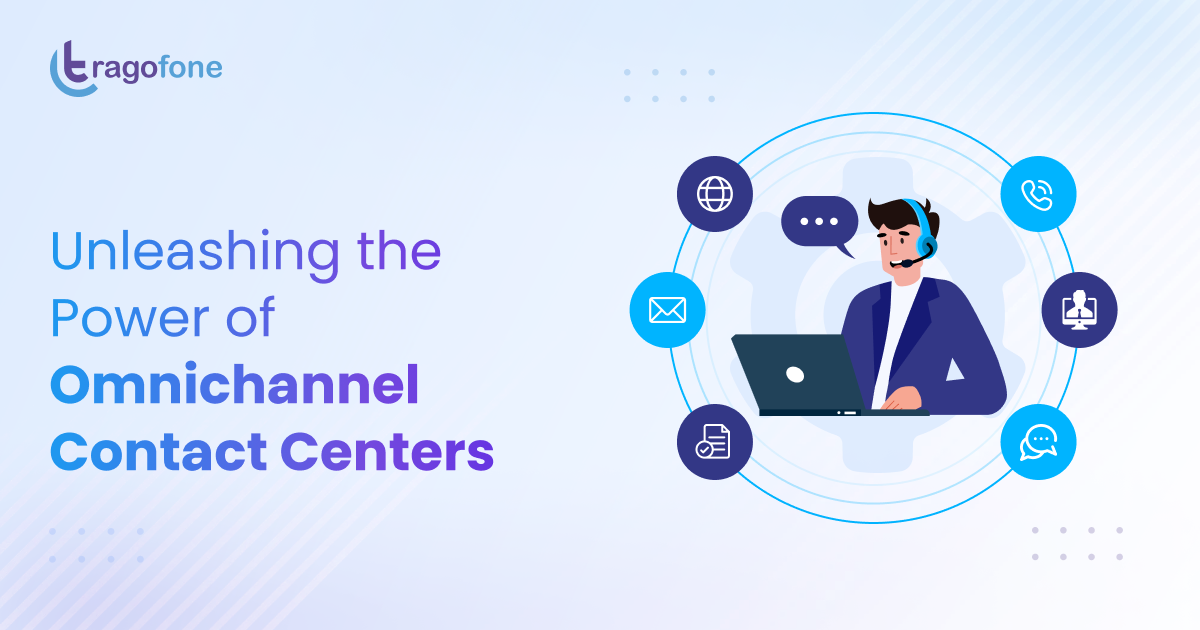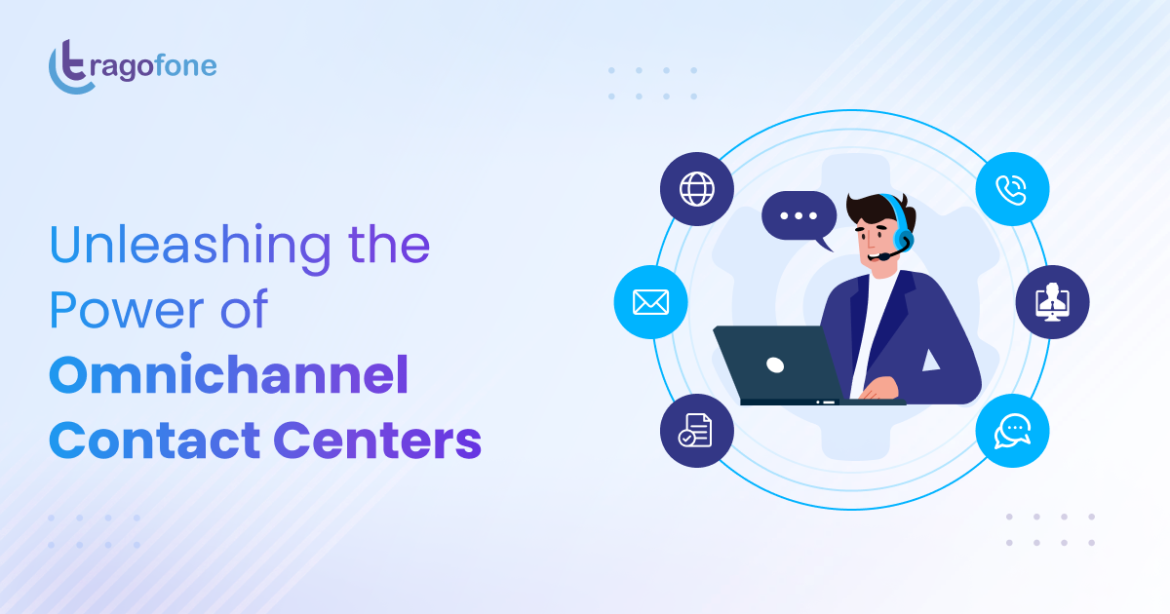 In today's interconnected world, where customers have a plethora of communication options at their fingertips, businesses need to adapt their customer support strategies to meet evolving expectations. As businesses strive to meet the demands of today's discerning customers, they must embrace innovative solutions that revolutionize the way support teams interact and engage with their clientele. Enter the era of omnichannel contact centers—an unprecedented approach that empowers businesses to seamlessly connect with customers across multiple communication channels, transforming ordinary interactions into extraordinary experiences.
In this blog, we will delve into the world of omnichannel contact centers and explore how they redefine customer support. From understanding the concept and its benefits to contrasting it with traditional multichannel approaches, we will unveil the power of unified communication channels and comprehensive customer insights. Furthermore, we will examine how intelligent routing and personalization play pivotal roles in delivering optimal service. By the end, you will have a profound understanding of how omnichannel contact centers shape the future of customer support and pave the way for unparalleled customer satisfaction.
Understanding the omnichannel approach
Providing exceptional customer support has become a strategic imperative since customer expectations continue to evolve in the dynamic realm of modern business.That's where the concept of an omnichannel approach comes into play. It goes beyond the traditional multichannel approach by seamlessly integrating various communication channels to provide a unified and consistent customer experience.
Defining omnichannel contact centers: Embracing connectivity
An omnichannel contact center is a customer support solution that brings together multiple communication channels, such as phone calls, emails, live chat, social media, and more, into a centralized platform. Unlike a multichannel contact center that treats each channel as a separate entity, an omnichannel approach aims to provide a seamless and connected experience for customers across all touchpoints.
Key elements of omnichannel contact centers: Building a unified ecosystem
To successfully implement an omnichannel approach, certain key elements need to be in place:
Seamless channel switching and continuity:

Customers should be able to switch between channels effortlessly while maintaining the context of their interactions. Whether they start a conversation via live chat and then switch to a phone call, the transition should be smooth, and the support agent should have access to the entire conversation history.
Comprehensive customer data and interaction history:

An

omnichannel contact center

consolidates customer data from various channels, allowing support agents to have a holistic view of each customer's journey. This comprehensive information empowers agents to provide personalized assistance and eliminates the need for customers to repeat themselves.
Real-time synchronization of customer information:

Any updates or changes made by customers across different channels should be instantly reflected in the contact center system. This synchronization ensures that all support agents have access to the most up-to-date customer data, enabling them to deliver accurate and consistent support.
Personalization and tailored customer experiences:

The omnichannel approach enables businesses to offer personalized experiences based on customer preferences and behavior. By leveraging customer data and interaction history, support agents can anticipate needs, provide proactive assistance, and create a more personalized support journey.
Customers today want to communicate through their preferred channels and have a seamless experience regardless of the touchpoints they use. An omnichannel contact center addresses these expectations by aligning with customers' communication preferences and delivering a unified support experience.
Contrasting omnichannel vs. Multichannel contact centers
Businesses often encounter the terms "omnichannel" and "multichannel" when discussing their communication strategies. While both approaches aim to facilitate customer interactions across various channels, there are significant differences between the two.
Multichannel contact centers: Fragmented customer experiences
Multichannel contact centers enable businesses to engage with customers through multiple communication channels, such as phone, email, live chat, and social media. Each channel operates independently, providing customers with options for reaching out based on their preferences. However, the key drawback of multichannel contact centers lies in the fragmentation of customer experiences.
In a multichannel setup, customer interactions are treated as separate events, with no continuity or synchronization across channels. When customers switch between channels, they often need to repeat their concerns and provide context, leading to frustration and a disjointed support experience. Support agents may not have access to the customer's complete interaction history, resulting in inefficiencies and an inability to provide personalized assistance.
Omnichannel contact centers: Unifying the customer journey
Unlike multichannel contact centers, omnichannel contact centers take a holistic approach to customer support by integrating various communication channels into a unified ecosystem. The goal is to create a seamless and consistent experience for customers, irrespective of the channels they use. Let's explore the key characteristics that distinguish omnichannel contact centers:
| | | |
| --- | --- | --- |
| Feature | Multichannel Contact Centers | Omnichannel Contact Centers |
| Seamless Channel Transitions | No continuity across channels | Smooth transitions between channels, preserving interaction history |
| Centralized Customer Data | Limited access to customer data across channels | Comprehensive view of customer data, empowering personalized support |
| Consistency Across Channels | Inconsistent brand messaging and experiences | Cohesive brand identity and consistent experiences across channels |
| Customer-Centricity and Personalization | Limited personalization due to fragmented data | Personalized support based on complete customer history and preferences |
Why omnichannel triumphs: Enhanced customer satisfaction and business benefits
The shift from multichannel to omnichannel contact centers stems from the need to meet the evolving expectations of today's customers. Research indicates that customers engage with multiple channels to resolve their requests, and they expect a seamless transition between these channels. By embracing the omnichannel approach, businesses can unlock numerous benefits, including:
Improved customer satisfaction:

Omnichannel contact centers

reduce customer effort and frustration by eliminating the need for customers to repeat themselves. Customers appreciate the seamless transitions, personalized support, and consistent experiences, leading to higher satisfaction levels.

Increased customer loyalty:

When customers receive exceptional and tailored support across channels, they are more likely to develop a strong affinity towards the brand. An

omnichannel contact center

cultivates customer loyalty by building trust, fostering long-term relationships, and encouraging repeat business.

Enhanced operational efficiency:

By unifying communication channels and providing a comprehensive view of customer data, businesses can optimize their support operations. Support agents have the necessary tools and information to resolve issues promptly, resulting in improved efficiency and reduced handling time.

Deeper insights and analytics:

Omnichannel contact centers

offer valuable insights into customer behavior, preferences, and pain points. By analyzing data from multiple channels, businesses can identify trends, make informed decisions, and refine their support strategies to better align with customer needs.
How Tragofone enables seamless omnichannel customer experiences
Tragofone is rapidly becoming a standard tool for small and medium-sized businesses due to its extensive capabilities that go beyond simple voice calls. Tragofone's mobile dialer app offers a multitude of functions, including voicemail management, video and conference calls, file sharing, and chat and SMS capabilities.
Its user interface resembles that of traditional phones, making it familiar and easy to use for all types of users. Moreover, Tragofone boasts seamless integration with a variety of third-party services and applications, including Customer Relationship Management (CRM) systems, enhancing business processes.
The Perks of Tragofone
Tragofone's VoIP mobile dialer application stands out due to its diverse range of features, making it a powerful communication tool for businesses. Some of the key features include:
Smooth and seamless WebRTC-based audio and video calls:

Tragofone utilizes WebRTC to enable high-quality audio and video conversations. This open-standard technology allows users to communicate without installing additional software or plugins, ensuring a hassle-free experience.

Auto-provisioning:

Tragofone's auto-provisioning feature simplifies device configuration and deployment, saving time and effort during setup.

Multilingual support:

Tragofone offers multilingual support, ensuring customers can communicate in their preferred language, thus enhancing user experience and customer satisfaction.

White-label branding:

As a white-label softphone application, Tragofone can be customized to represent a business's brand, displaying its name, logo, and other branding elements. This helps businesses build a strong brand identity and fosters customer trust.

Integration capabilities:

Tragofone supports ERP integration with other databases and directories, offering greater operational efficiency for call centers and customer support teams.

Enhanced security and privacy:

Tragofone prioritizes data security, using encryption protocols such as Transport Layer Security (TLS) and Secure RTP (SRTP) to safeguard communications from potential threats.

Collaboration and communication:

Tragofone provides a broad range of communication and collaborative features, including SMS texting, video conferencing, and online collaboration tools, enhancing team productivity and efficiency.
Among these innovative Softphone solutions, Tragofone stands out as a uniquely crafted white-labeled SIP phone client application that offers mobility, ad-hoc audio/video calling, and group collaboration through WebRTC.
The Benefits of Tragofone Across Industries
Tragofone's versatile and feature-rich Softphone benefits numerous industries, empowering them to enhance communication procedures and improve overall operational efficiency. Some key advantages of Tragofone include:
Smooth and seamless communication:

Tragofone's WebRTC-based calling ensures crystal-clear audio and video communication, enabling teams to collaborate effectively regardless of their location.

Economical communication:

By leveraging VoIP technology, Tragofone significantly reduces communication expenses compared to traditional PSTN systems, resulting in substantial cost savings for businesses.

Customization and branding:

Tragofone's white-label softphone allows businesses to incorporate their branding, making it a representative of their organization, which enhances brand visibility and recognition.

Location agnostic:

Tragofone offers freedom and flexibility by allowing users to work from anywhere with an internet connection, making it ideal for professionals who require remote working capabilities.

Broad range of tech advantages:

Tragofone's compatibility with 99% of devices, excellent audio and video quality, low bandwidth consumption, and support for legacy SIP servers, 3G, 4G, and WiFi networks make it a reliable
Tragofone understands the needs of businesses and end-users, and its Softphones are designed to be user-friendly with minimal learning curves. The "Get Started" screen, automatic pop-ups for incoming calls, and a comprehensive home screen displaying call history, contacts, and settings contribute to a seamless calling experience.
Epilogue
In today's customer-centric environment, delivering a seamless omnichannel experience has become a top priority for businesses aiming to stay competitive. Tragofone, with its unified communication platform, enables businesses to integrate third-party applications seamlessly, making it a powerful ally for omnichannel contact centers. As the world embraces digital transformation, softphones like Tragofone are becoming indispensable tools for organizations of all sizes.
To future-proof your business and optimize your communication infrastructure, consider adopting Tragofone and discover how it simplifies, accelerates, secures, and expands communication across teams of any size. Whether you operate in telecommunications, IT, manufacturing, real estate, banking, education, BFSI, retail, or healthcare, Tragofone is designed to elevate your customer engagement and business operations, ensuring a seamless omnichannel experience for your organization. Request a demo or take advantage of a free trial to experience the transformative power of Tragofone today. Embrace the future of communication and deliver exceptional customer experiences with Tragofone.