How SIP Phone Client is Shaping a Brighter Technological Future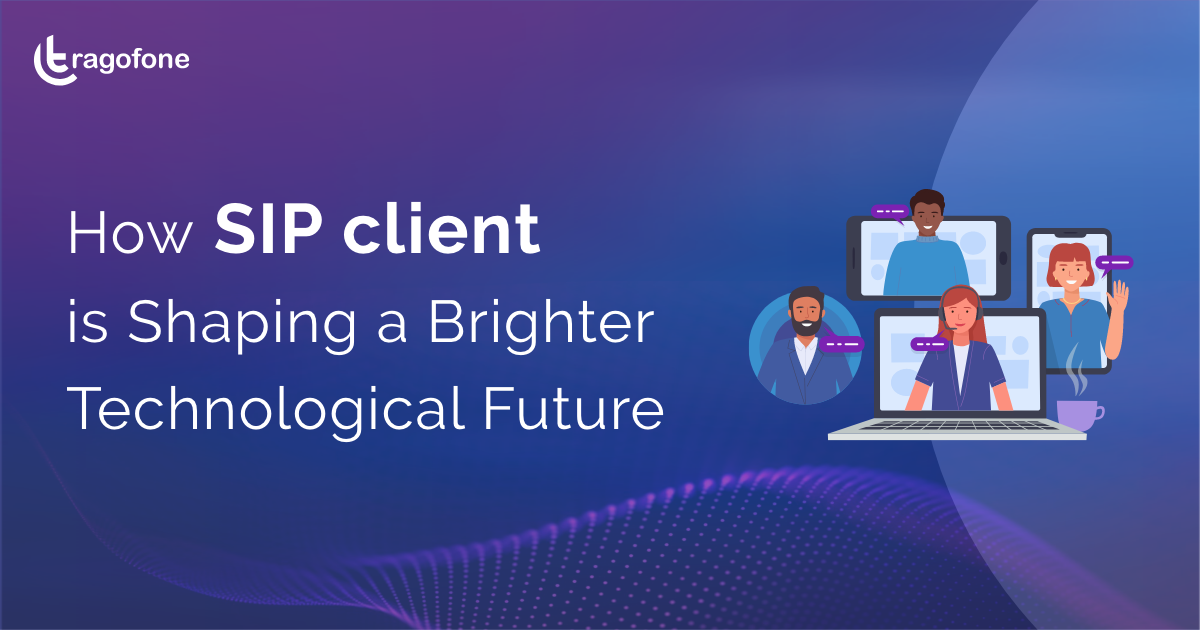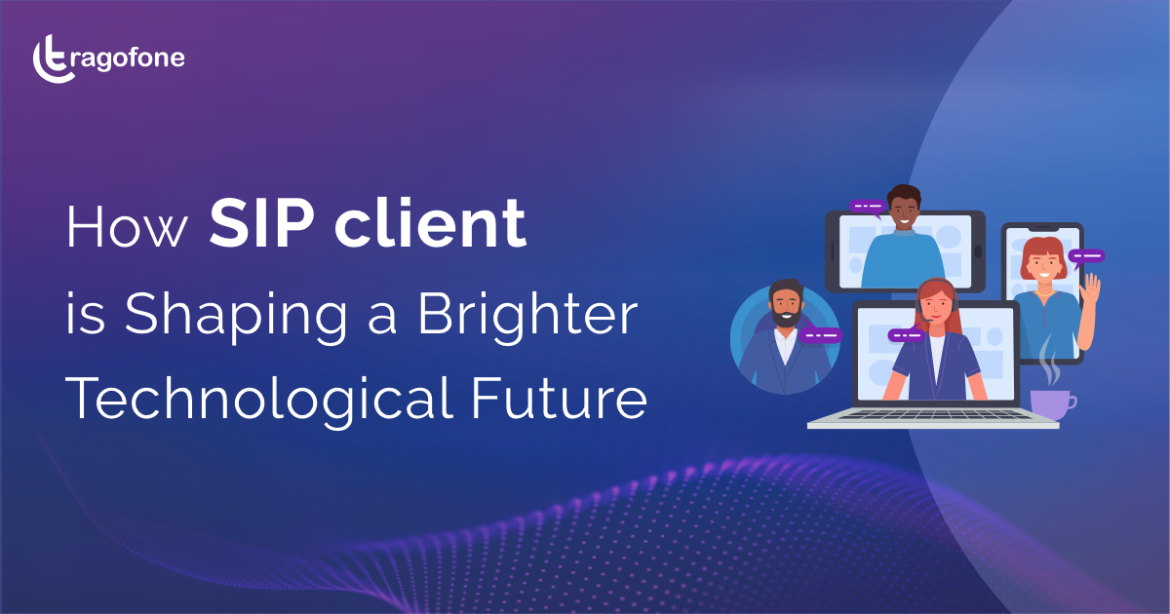 In today's cutthroat environment, enterprises are in search of SIP client systems that are flexible, secure, consistent, reliable, and develop as organizations expand. In addition to basic telephony, businesses are rapidly using video calls, instant messaging, presence, and cloud-based auto provisioning solutions to improve collaboration among employees, clients, customers, and partners.
Organizations value time and money, which traditional desk phones unfortunately no longer provide. It's time for businesses to adapt to collaborative communication solutions that take into account the demands of the modern era. They must streamline, optimize, secure, and guarantee effective communication throughout the business.
Versatile and effective communication solutions are gaining traction as the world rapidly transitions to digital technology. Businesses are increasingly relying on SIP clients (also known as softphones) rather than desk phones to make their business phone systems more flexible and affordable. By using SIP clients, businesses can minimize their communication costs by about 75%.
Regardless of size, SIP softphones are a one-stop shop for businesses. The best course of action for facilitating effective collaboration and addressing all business communication requirements is a SIP client.
Breaking Down SIP Softphone System
While VoIP is a type of call, Session Initiation Protocol (SIP) is the protocol that makes these calls possible. SIP is a communication protocol that regulates the establishment, termination, and other crucial aspects of a phone call, enabling VoIP and transmitting VoIP calls.
A SIP softphone is a program that allows users to make and receive calls on a virtual phone that utilizes the open-source SIP protocol. A user can communicate audio, video, chat/messages, availability status, files, and more, thanks to the protocol.
SIP is primarily used in UC (Unified Communications) environments to start and end sessions, or conversations between two or more people. You need a SIP softphone system that enables communication over the internet to use SIP.
SIP phone client is an intuitive application that can be downloaded and used on SIP phone clients for iOS and Android devices. It gives you access to all SIP features and enables you to connect with your team on both smartphones and desktops.
One of the great benefits of SIP softphone system over other VoIP and traditional phone systems is its capacity for intelligent interaction with other protocols, in addition to being quick, secure, adaptable, and scalable to meet specific business objectives. As a result, it can alter its signaling protocol to conform to the client systems.
Understanding Fundamental SIP Terminology
Call setup and data transfer are the two elements that make up a phone call. SIP serves as a virtual switchboard operator while Voice over IP (VoIP) transports voice and multimedia content over the internet. SIP oversees the VoIP call setup process, which entails setting up the specifics necessary for two phones or other devices to connect. The call setup is followed by data transfer.
Multiple components make up a SIP network, which regulates SIP requests between two endpoints. These are the components needed to establish a VoIP call, which is to inform each endpoint of the other's IP address and to commence data communication.
Let's elaborate on these essential components:
User-Agents: The endpoints, which can be servers or receivers as well as clients or callers.
Registrar services: Also known as domain name systems in this context, they authenticate users on the network and store data about user agents, such as the network/IP address, in a database.
Location services: The calling user sends invitation requests to location services. To transmit the invitation to the recipient user agent, the registry is queried for the IP address of the call recipient. Responses to invitations are returned by the recipients via the location server.
Gateways: SIP requires gateways to connect with current public switched telephone networks, which employ a range of technologies.
On a single server known as the proxy server, the location service and registration service are hosted concurrently. The proxy server gives the registrar and location servers the information they need to interact and allows them to carry out the task of user authentication.
What is SIP Trunking?
SIP trunking makes it possible to transfer a call from its source to its destination. Multiple users' shared phone lines that connect to a telephone network are known as trunking. SIP Trunks offer Voice over Internet Protocol connectivity between an on-site phone system and the PSTN.
Utilizing a SIP trunking service enables you to switch your current PBX system to an internet-powered telephone network. SIP trunking is being used by an increasing number of businesses today to increase VoIP productivity in the workplace. SIP clients are widely chosen for establishing an IP network conversation.
What SIP Client bring to the table
A wide range of services, from basic call forwarding to unified communications and all in between, are available on SIP clients. Let's discuss some of the noteworthy features that distinguish it apart from the competition:
Enabling direct connectivity between private and public telephone networks: SIP offers a direct connection between private telephone systems and public telephone networks, enabling direct connectivity between private and public telephone networks. This implies that calls can be connected without the need for traditional phone lines by both individuals and enterprises.
Offers end-to-end security and encryption: Since SIP is open and customizable, VoIP networks adopt it as their call control protocol. Any business must prioritize the security and reliability of call signaling between two sites to allay concerns about the leakage of confidential data. SIP offers this by providing full end-to-end, hop-by-hop, and end-to-end encryption authentication.
Sustains both multicast and unicast communications: Multicast, unicast, or even a blend of the two can be used by users to communicate during a SIP session. SIP allows for the development of session descriptions that let participants accept a standard set of media formats. Numerous conference control protocols are not limited to SIP. Proxying and rerouting queries to the location the user is currently in, also makes user mobility smoother.
Allows customization and additional flexibility: SIP does not presume any information about the underlying transport protocol. It is a technology that makes it possible to offer novel new services that combine multimedia with online services like email and instant messaging. It is extensively used for numerous media applications and is easily expanded with unique capabilities.
Asynchronous event notifications and alerts: In addition to real-time services, SIP can also send asynchronous event notifications, such as callbacks and message-waiting indicators, to allow for a variety of user-friendly features.
SIP is a non-numeric telephony system: The SIP protocol has its origins in internet technology. Due to the commonality of numeric keypads on phones, what you dial translates into a URL.
SIP is text-based: The text-based SIP Protocol is strikingly identical to the HTTP protocol. SIP's request-response structure and text-based messages make debugging simple. Furthermore, text-based SIP communications sent and received between endpoints in a session are simple for anyone to read and understand.
SIP leaves little to no margin for errors: This means that even if your internet connection is lost, you won't be offline for an extended period of time. The potential for errors or outages has been substantially reduced by advances in SIP technology.
Substantially cost-effective: In comparison to legacy and conventional phone systems, SIP is a much more economical choice. There is only a one-time setup fee, which many service providers cover or let customers pay on flexible terms. Businesses can cut the cost of their local calls and save money on international calls.
After discussing the attributes of SIP that cater to business requirements, let's comprehend some of the more sophisticated capabilities that almost all SIP client (Android and iOS clients) include in addition to the features listed above:
High-Definition (HD) Audio/Video: Now that the internet and the telecom industry have advanced, carriers can deliver HD video and audio. It's no longer the case that voice lags, videos are blurry, and participating in a video conversation is more unpleasant to our senses. Today, people seated on two different continents can attend a video or audio conference and have crystal-clear conversations.
Instant Messaging (IM) and Status: SIP clients include IM capabilities, allowing a customer and an agent to interact with one another and adding a personalized feel to customer service and experience. Your coworkers can see your status so they know if you're online, offline, away, busy, etc.
Collaboration Functionality: Teams can interact more effectively, increase productivity, enhance customer experience, and have greater freedom of movement with the use of collaboration tools like call recording, file-sharing, screen-sharing, and video conferencing.
Cloud-enabled: To avoid miscommunications and thoroughly eliminate the possibility of multi-location mismanagement, a softphone system service provider oversees its clients from a centrally managed platform and conducts operations from a single interface.
Stellar benefits offered by SIP clients
SIP is adaptable in that it can work with a vast range of media codecs. SIP is versatile in that it can work with a wide variety of media technologies. Let's discuss how SIP softphone system make businesses more technologically competitive and streamline company communication systems:
Economical: SIP clients eradicate the cost of hardware, which saves a substantial amount of money and makes the communication system economical. Backed by VoIP technology, the cost of international voice and video conversations is substantially lower, which means ongoing monthly calling costs are in check.
Ideal for WFH: A softphone system is a perfect step in ensuring that mobile and remote employees are always connected. It doesn't need an IT support team or any special technical knowledge to deploy and is pretty simple. One does not have to worry about the expense of moving or the inconvenience of reinstalling equipment.
No Hassle Setup: Unlike conventional phone systems, softphones do not need to be installed or set up with a dedicated phone line as they can be downloaded and installed directly from a service provider's website.
Secure: Softphone system function on a private network connection, and all data transfers—including those for video, audio, documents, chat, files, and screen sharing—are secure and encrypted.
Integration with Third-Party Applications: SIP clients for android and iOS are made to work smoothly with other apps that a business may already be utilizing, like CRM, email, calendars, etc. This facilitates seamless team cooperation by unifying various communication channels.
Customer Engagement: SIP phone client effortlessly integrates CRM and other apps that a business is employing. This makes it possible for employees to respond to customer inquiries swiftly, engage them in meaningful conversation, and enhance the omnichannel customer experience.
Unify Communications: SIP client system give businesses access to unified communications by fusing standard phone features with others like video, email, instant messaging, and more, making it scalable, reliable, and omnichannel.
Why SIP is recommended for VoIP implementation over other protocols
SIP and VoIP are the techniques that enable the authorization of any kind of online communication. While SIP (Session Initiation Protocol) is the protocol that manages the exchange of transmission, VoIP (Voice over IP) is the protocol that is solely utilized for IP telephony. VoIP is standardized thanks to the SIP signaling protocol. SIP is used to set up video conferencing, internet phone conversations, and other transmission links.
All SIP is used to scale and support VoIP, but not all VoIP is supported by SIP. The fact that interoperability has been essential to long-term economic success has led to it becoming the most widely used protocol. In order to expand communications beyond voice-only calling, business VoIP can use a variety of protocols, notably SIP.
Think SIP, Think Tragofone
SIP clients are the future of business communication. This VoIP-powered communication software has radically changed the way people communicate and collaborate. They are a must-have in every organization's arsenal for communication and collaboration, they are inexpensive, low-maintenance, and very convenient.
Tragofone is a uniquely designed, white-labeled SIP phone client application that provides mobility, individual audio/video calling, and team collaboration via WebRTC. White label SIP softphone systems make it simple for VoIP companies to develop efficient B2B solutions that are feature-rich and tailored to their end users' needs, whether they are seeking to establish a brand or offer enterprise-level capabilities.