How Softphone Improves Communication for Frontline Workers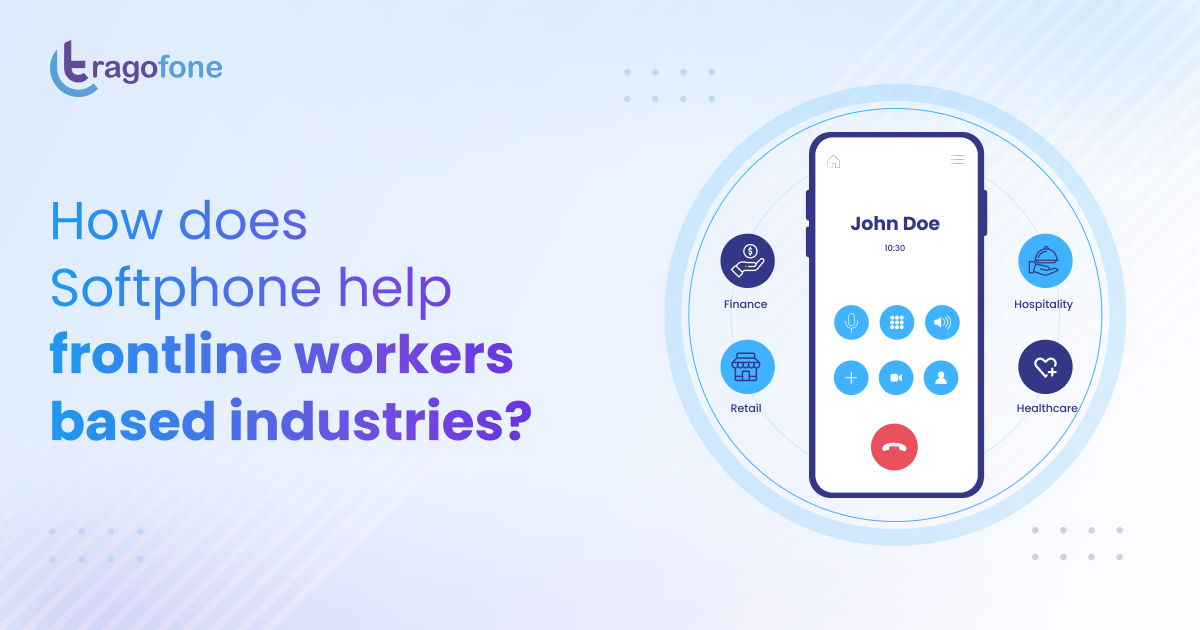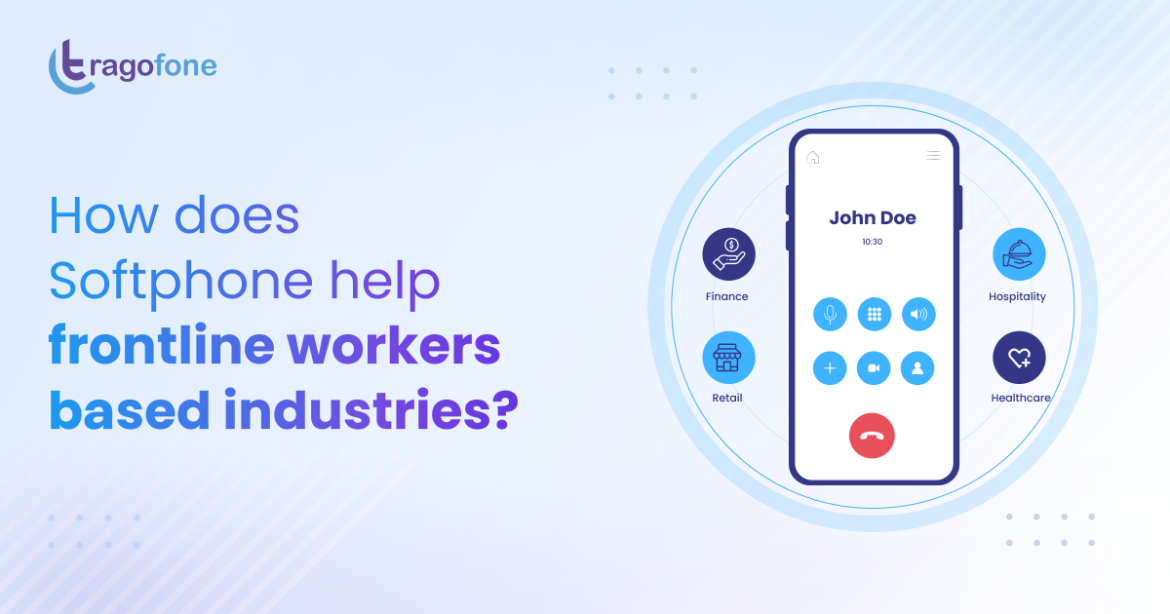 In a world where everything is happening at a super-sonic speed there are people who silently perform tasks in the background to ensure everything keeps running smoothly. These heroes don't wear capes, instead, they wear scrubs, aprons, and uniforms or are agents with phones answering to all your queries 24×7. Any guesses about who we are referring to?  Frontline workers, who are the backbone of almost every industry, from healthcare to hospitality to manufacturing to maintenance and every possible industry under the sun. 
According to a report by HR Dive, as many as 42% of frontline workers encounter communication obstacles in their daily tasks. This highlights the need for an efficient and robust communication system to support these heroes and ensure they can continue to perform their vital work. The challenge, they do jobs that can't be done remotely. However, a robust phone system for frontline workers such as softphones has proven to be a game changer. 
Softphones enable users to make phone calls over the internet using their computer or mobile device. For frontline workers in healthcare, customer service, and hospitality industries, softphones provide a convenient and cost-effective way to stay connected with colleagues and customers, regardless of their location.
In this blog, we will explore the many benefits of softphone for frontline workers and how they can facilitate effective communication, enhance collaboration, and boost productivity for frontline workers. We will also delve into best practices and real-world use cases across different industries, providing valuable insights to help frontline workers work smarter and more efficiently. 
Why should frontline workers use softphones?
Frontline workers are employees who work directly with customers, clients, or patients in a business, organization, or service industry. They are often the first point of contact between an organization and its customers and are responsible for delivering services or products to the customers. In industries like healthcare, customer service, and hospitality, they often need to communicate with customers, colleagues, and suppliers while on the move, which can be challenging when traditional phone systems are not readily available or reliable.
On the other hand, softphones are specially designed for business communication and have advanced features like call forwarding, routing, and conference calling. They are also integrated with business communication systems, enabling frontline workers to access important information and collaborate more effectively. The use of softphones can significantly impact the productivity and success of frontline workers. 
For example, in the healthcare industry, doctors and nurses can use softphones to communicate with patients and other medical professionals, even when they are not in the same location. This can significantly help reduce wait times and enhance the overall quality of care.
In the customer service industry, frontline workers can use softphones to handle customer inquiries and complaints more efficiently without relying on traditional phone systems or waiting for a physical phone to become available.
Since the job of frontline workers involves challenges and risks, including long hours, exposure to illness or injury, and high-stress levels, using softphones can improve their communication and collaboration capabilities. This, in turn, can lead to better productivity, safety, and customer satisfaction.
Note- With Tragofone's softphone app capabilities, such as call forwarding, call recording, and conference calling, frontline workers can stay connected and collaborate efficiently, even in high-stress situations.
Also read- Softphones: A Complete Guide on all you need to Know.
Softphone benefits that empower frontline workers
Without effective communication, frontline workers would not know about the important policy updates or legislation changes affecting an industry. A softphone can solve this problem by providing reliable and efficient communication between frontline workers and their managers or supervisors.
Here are some of the benefits of softphones for frontline workers:
Softphone technology empowers workers to manage their work more efficiently and accurately, whether working from home, on the road, or in the field. It enables them to respond to customer inquiries and collaborate with their team in real-time on multiple communication channels. Softphones also eliminate the need for physical phone systems, allowing frontline workers to use their personal devices to access company resources. This not only increases flexibility but also saves time and resources. 
Tragofone's softphone app is compatible with iOS, Android, and multi-modal devices with no special installation needed.
With softphones, frontline workers can make instant messaging, voice, and video calls, facilitating seamless communication between team members and customers. They can quickly resolve issues, collaborate more efficiently and provide a better customer experience. Softphones' ability to provide a variety of communication channels in one application streamlines communication and eliminates the need for multiple devices, further enhancing efficiency and flexibility.
Note: Tragofone's SIP softphone app facilitates easy instant messaging, voice, and video calls for frontline workers, leading to seamless communication with both team members and customers.
Studies indicate that most frontline workers (84%) feel that their management does not adequately inform them, and approximately half do not understand their company's overall strategies. However, using softphones can alleviate such circumstances by allowing frontline workers to access information such as customer data, call recordings, and other resources from anywhere. It empowers them to resolve their customer issues quickly and efficiently. This enhances customer satisfaction and saves time and resources for the company. Moreover, softphones eliminate the need for physical storage of customer data, reducing the risk of data loss or unauthorized access. 
Softphones can be customized to cater to the specific needs of frontline workers, such as call routing, call recording, and call reporting. These customizations improve efficiency, reduce errors, and ultimately enhance customer experience. For example, call routing ensures that calls are directed to the right person, improving first-call resolution rates and minimizing wait times. Call recording enables workers to access past calls, ensuring consistent customer service and providing a useful resource for training purposes. Additionally, call reporting allows managers to track performance metrics and identify areas for improvement. Customization of softphones ensures that frontline workers have the necessary tools to perform their job efficiently, leading to increased productivity and higher customer satisfaction rates.
Integration with other applications
Softphones can be integrated with various business applications, such as customer relationship management (CRM) software, email, and calendar systems. This integration streamlines workflow reduces errors, and saves time. For example, integration with CRM software provides frontline workers access to real-time customer data, enabling them to provide personalized service. Integration with email and calendar systems ensures workers can manage their schedules and efficiently stay on top of their tasks. Moreover, integration with other applications reduces the need for manual data entry, minimizing the risk of errors and improving data accuracy.
How can 4 essential industries use Tragofone's softphone app for frontline workers?
Now, let's examine Tragofone's softphone app advantages to frontline workers in some of the most significant sectors, including finance, healthcare, retail, and hospitality.
#1. Finance 
High security:

High-security features such as end-to-end encryption, two-factor authentication, and session timeouts prevent unauthorized access and protect sensitive financial information. 
Accessible client support:

Offers accessible client support to help users troubleshoot issues or answer questions. This support may be available through phone, email, or online chat, and may be staffed by trained professionals who can provide expert guidance on technical or user-related issues.
Strong connectivity:

The app is designed to work across multiple devices and platforms, providing flexibility and convenience for users. It supports desktop and mobile devices and is compatible with popular operating systems such as Windows, Mac OS, iOS, and Android. 
Accurate Analytics:

 Enable users to track important metrics such as call volume, call duration, and call outcomes. It can provide valuable insights into the performance of workers and the overall business operations.
#2. Healthcare 
Data confidentiality:

Prioritizes

data confidentiality to protect patient privacy. The app uses end-to-end encryption to secure all communication, protecting sensitive patient data.
Human touch

: Incorporates human touch features, such as personalized greetings and customizable hold music, to create a more welcoming and friendly experience for patients. This can help reduce patient anxiety and create a more positive patient experience.
Easy collaboration:

Facilitates collaboration between healthcare professionals, allowing them to share information and consult with colleagues quickly and easily. This can improve patient care by facilitating faster decision-making and better communication between healthcare professionals.
Remote working:

Allows healthcare professionals to work from home or other remote locations. This helps reduce the risk of exposure to infectious diseases and enables healthcare professionals to care for patients from any location.
#3. Retail 
Power dialer:

The power dialer feature automatically dial customer phone numbers, saving time for frontline workers. It boosts efficiency and increases customer satisfaction by reducing wait times and providing quicker responses. 
White label:

Allows retailers to customize the app's appearance and brand it with their own logo and design. This can help retailers maintain their brand identity and create a consistent customer experience across all channels.
Smart Switch:

Smart switch feature can transfer calls between devices seamlessly, allowing frontline workers to switch between a desktop computer and a mobile device easily. This feature improves productivity and flexibility, allowing frontline workers to handle customer inquiries from anywhere.
Push notifications:

Alerts frontline workers to new customer inquiries or upcoming appointments, ensuring they don't miss important customer interactions. Therefore,  frontline workers can stay on top of their workload and provide timely responses to customers.
Call analytics:

Call analytics can help retailers track important metrics such as call volume, duration, and outcomes. This data can be used to identify trends, measure performance, and improve overall customer service.
Call conferencing:

Allow multiple frontline workers to participate in a single call with a customer. This improves collaboration and ensures all customer inquiries are handled efficiently and effectively.
#4. Hospitality 
Simplified communication:

Features like instant messaging and chat enable quick and efficient communication between frontline workers. These features reduce response times and improve the guest experience by ensuring that requests and inquiries are handled promptly.
Minimized touchpoints:

Minimizes touchpoints between guests and frontline workers. This includes contactless check-in and checkout, mobile ordering and payment, and virtual concierge services. It reduces the possibility of spreading infectious diseases and enhances the safety of guests. 
Streamline Operations:

Reduces wait times with automated room service ordering and queue management features. This improves guest satisfaction and reduces operational costs by increasing efficiency.
Consistency:

Ensures guest communication and service consistency by providing a centralized platform for all guest interactions. It can ensure prompt and professional handling of guest inquiries and requests, enhancing guest satisfaction and loyalty.
Empowering Frontline Workers with Digital Communication Tools
Frontline workers must be given the right tools to perform their jobs effectively. Without digital investments, it can lead to siloed work and departmental and geographical gaps. These tools have enabled frontline workers to communicate, collaborate, and perform their jobs more effectively. With the rise of remote working and dispersed teams, it is even more important for organizations to invest in digital communication tools for their frontline workers.
Tragofone's softphone app is an excellent example of a digital communication tool that can empower frontline workers across various industries. With instant messaging, voice, and video calling capabilities, the app streamlines communication and eliminates the need for multiple devices. Frontline workers in finance, healthcare, retail, manufacturing, and more can benefit from the app's call-routing feature, which ensures that calls are routed to the right person quickly and efficiently. Additionally, the app's user-friendly interface makes it easy for workers to access important information on the go, improving their productivity and efficiency.