VoIP Softphone Statistics: Market Share, Growth, and Cost Insights – 16 Key Findings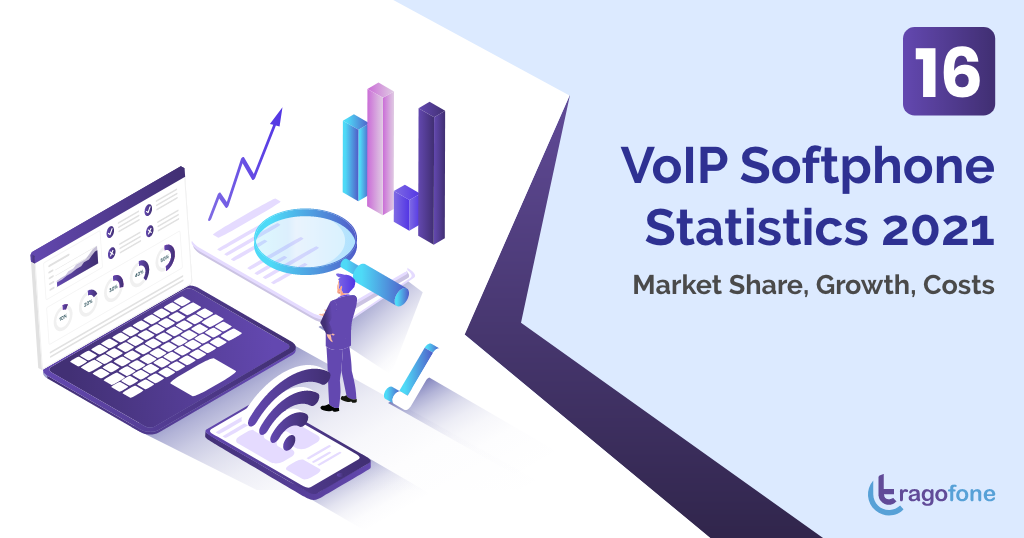 As the world grows increasingly digitized, companies are switching to VoIP-enabled softphones for a more versatile and affordable solution to their unified communication needs. Not only do softphones improve an enterprise's operating effectiveness, they also cut telecom costs, boost responsiveness, and yield greater profits. According to FinancesOnline, businesses can save $ 1,727 per month on mobile and long-distance calls using softphones.
When it comes to endpoints, businesses have a choice between softphones – that live on their computer desktop and draw from software solutions – or desk phones – the traditional telephony system we are all familiar with. While some phone system vendors are convinced that the days of the desk phone are drawing to an end, others believe that this legacy solution will continue to be a part of business environments for years.
A survey of more than 1,000 IT decision-makers by Frost and Sullivan found that, just like fax machines and typewriters, desk phones are headed towards becoming obsolete. The study found that half the respondents had already deployed softphones to provide telephony and unified communications (UC) services using desktop computers and mobile devices.
Deciding between deploying a desk phone or a softphone solution is a question that many enterprises face. In this blog, we'll check out 10 statistics that make a compelling case for softphone use.
Phone calls without cables
The number of people using softphones has increased dramatically due to better quality of service, ease of use, and cost-effectiveness.
1. According to MarketResearchStore.com, the estimated global demand for the VoIP services market will be valued at $140 billion in 2021, with an anticipated CAGR growth of at least 9.1% between 2016 and 2021.
2. The number of VoIP residential subscribers in the US grew from 53.4 million in 2014 to 58 million by December 2016, as per Benzinga. Although the latest figures are yet to be released, as per the data company an estimated 60 million users have made the switch to softphones.
Unified communications and collaboration to drive businesses
The future of business communication is the unified model. The ongoing Covid-19 pandemic is a testimony to the changing conduct of business, pushing organizations of all sizes to adopt scalable, flexible, cloud-based phone systems for unified communications and collaboration.
3. As per the statistics from International Data Corporation (IDC), the worldwide Unified Communications & Collaboration (UC&C) market grew 29.2% year over year and 7.1% quarter over quarter to $13.1 billion in the fourth quarter of 2020.
4. Further, in 2021 and beyond, IDC expects worldwide UC&C growth to be driven by customers with interest in video, collaboration, UCaaS, mobile applications, and digital transformation (DX) projects. Vendors and service providers operating in the segment saw phenomenal growth in the number of users who opted for these services.
Significant cost savings
5. As elaborated above, businesses can save $ 1,727 per month on mobile and long-distance calls using softphones. Those moving to other unified models of communication. including the cloud, also reported significant savings.
6. IT World estimates that switching to VoIP phone solutions translates to over 45% savings for businesses per month as compared to traditional phone services.
Facilitates remote work
Apart from operational benefits, softphones offer several advantages for remote working as well.
7. In a study by Software Advice, 72% of respondents ranked softphones higher due to its seamless use for remote working. The future of workplaces is going to be remote where unified communication will play a major role.
8. Gartner predicts that by 2024, in-person meetings will account for just 25% of enterprise meetings, a drop from 60% prior to the pandemic, driven by remote work and changing workforce demographics.
Reduced cost of phone calls 
9. VoIP phone call and service costs are expected to fall substantially for both businesses and residential users. Tech.co in a report stated that prices for VoIP can be expected to decline by between 3% and 5% annually.
10. The reduction in cost will happen due to a number of factors including lower call charges, no monthly contracts, no service fees or hidden charges, no need to purchase expensive hardware, etc. This will result in continuous savings and not just a one-time discount.
Saves times and improves productivity
During the Covid-19 pandemic, employers were concerned about their worker's productivity.
11. A study by Software Advice showed that 74% of employees who had access to softphones spent more than half of their working week using them while telecommuting.
12. The mobile workforce can save 40 minutes each day, which results in productivity gains of 3.5 days per year.
Easy integration and deployment
The ease in integration of softphones with any other software is helpful for employees. Softphone for business are a better choice for integration with Customer Relationship Management (CRM) software and office productivity suites like Microsoft Office or Google Suite.
13. The VoIPHub reports that only 14% of companies that implemented VoIP without any full-time IT staff faced technical issues.
Reduced teleconferencing costs
14. A study by Fusion Connect showed that the use of integrated communication, which combined voice and web conferencing, saved up to 30% in teleconferencing costs for companies, and an average of USD 1700 per month travel costs.
Government organizations use cloud services
15. Nearly 50% of government organizations today use cloud-based services. Cost savings and increased efficiency were the main reasons behind the shift, as per a Gartner report. The main driver towards cloud is largely data sovereignty, other than the immediate benefits of costs and innovation.
Collaborative work environment
16. A survey by Lifesize found that the adoption of video conferencing at work by employees increased by 48% as compared to its usage two years ago. This affirms the need for effective video conferencing tools as well as a communications shift toward collaboration.
Softphones are the future of unified communications. Depending on which solution you choose, organizations can operate entirely on the cloud, making them accessible from anywhere with an internet connection. Remote work and work from home are possible with browser-based, mobile, and downloadable desktop phone applications. These statistics make an excellent business case for switching to Softphones.