Why Softphones are Vital for The Telecom Industry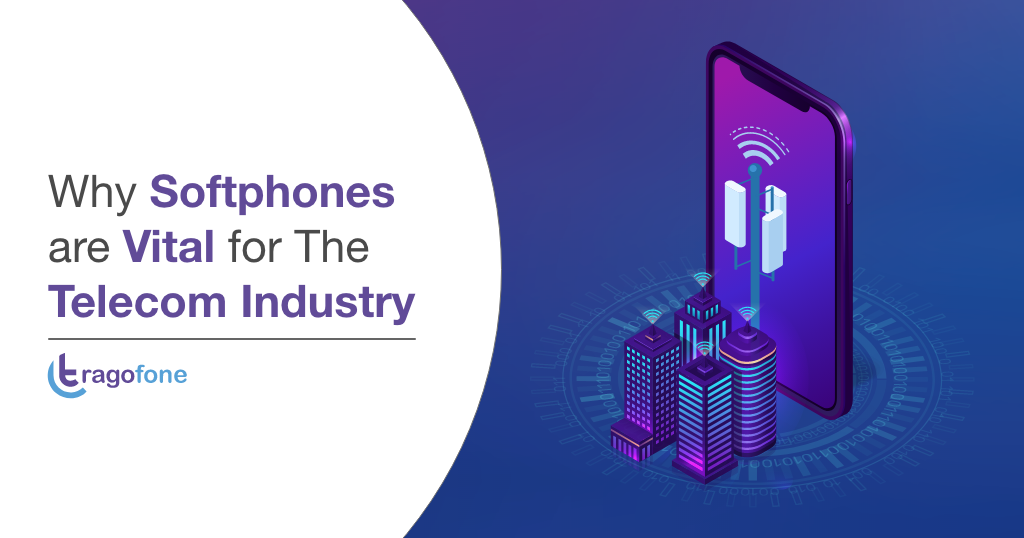 The modern workforce is no longer tethered to its desk. As remote work gains traction, organizations are increasingly seeking new communication tools for their employees in order to boost productivity and enable collaboration on the go.
With as many as 80% of modern enterprises relying on unified communications, it is no surprise that softphones, or VoIP-enabled communication solutions, are witnessing boom-time in the telecom market. Softphones are an easy-to-use solution that many organizations are leveraging to improve the way they communicate and to provide flexibility and accessibility to their workforce.
The global telecom sector has witnessed a communication revolution with the advent of VoIP – and the whole new way of making calls and collaborating that this technology brings to the table. A 2019 Global Market Insights report indicates that a VoIP propelled telecom industry will be worth US$ 55 billion by 2025. Cutting-edge innovations in VoIP, along with improved internet connectivity, are driving this trend.
In this blog, we will look under the hood to understand why VoIP is the technology of the future for the telecom industry and how it will change the game for the industry in the coming years.
Why VoIP is emerging as the technology of the future
Like most industries, telecom is rapidly moving towards automation. And VoIP is emerging as the technology that is on the ascent. Voice over Internet Protocol (VoIP) enabled softphone solutions are becoming increasingly popular to address the flexibility and accessibility needs of employees. Since SIP softphones are not dependent on fixed hardware systems, employees can work seamlessly from anywhere, don't need to change numbers or carry unnecessary devices.
Many big telecom enterprises – like At&T and Verizon – have been in the news in recent years for acquiring new companies and technologies in the VoIP space. In fact, it is expected that in the coming years VoIP will emerge as a key technology asset for the global telecom industry. VoIP-based mobile dialer phones, or softphones, don't just facilitate better communication for industries and other end-users – they also deliver better customer support and marketing.
Also, telecom service providers will not depend on phone lines and other related hardware infrastructure for the unified communication needs of their clients. Instead, it is technology like softphones – that deliver speed and seamless connectivity without relying on hardware – that will emerge as the most popular communication option.
How the Telecom Sector Can Facilitate the Communication Needs of Companies with VoIP 
VoIP-powered softphones offer unique features like enabling remote working and providing a fully-loaded collaboration toolkit that modern companies need to fulfill their communication requirements. How else will VoIP enable telecom companies to meet the communication and collaboration demands of modern-day companies? Let's look at the boxes that softphones tick:
Customization: Softphones for business support unique user needs. They offer call management features like call transfer, the ability to merge and split calls, automatically record calls or even instant messaging and chat rooms, or video conferencing, screen sharing, and other collaboration tools. Such customizable solutions ensure that the most needed tools and features are with reach for users and improve efficiency, support mobility, boost productivity.
The best user experience: A confusing communication system that is difficult to navigate will not provide the time-saving and productivity-boosting advantages that users expect today. Softphone solutions come with easy-to-use interfaces, enabling employees to easily access and use the dial pad and other SIP calling and collaboration features that are similar to the consumer-level platforms they're used to. This reduces the post-deployment learning curve and speeds up the return on investment.
  Support a workforce that spans 2 generations: As per Deloitte, future workforces will be older and more educated than the current one. A solution that is simple to understand and easy to navigate will help organizations support the needs of multigenerational employees. A softphone software solution supports the preferences of different working styles of younger as well as older employees.
Cost-effective: Softphones are more cost-effective than hardware IP phones in terms of purchasing and maintaining. They cost little and can be integrated with a worker's own device. With an internet connection, they can be used anywhere in the world. They require no maintenance and only break down when your device crashes.
Enable remote working: VoIP softphones don't need physical phone lines and remote workers can use their own devices as an office extension to make and receive business calls and keep their personal phone numbers private.
Consolidated collaboration and increased engagement: Employees can chat with each other and create group chats to minimize email overload. They can share files using simple drag and drop. Besides, softphones support CRM integration that helps in real-time data collection, personalized customer service, increased work efficiency, and easier team management.
Initiating Conferences Right from Mobile Phones: Conferencing is an indispensable part of today's collaborative work culture. To start or join a conference call is quick and easy with a softphone as it doesn't require dialing in, and employees can easily reach anyone within or out of their organization.
How VoIP is Re-scripting the Telecom Sector's Success Story
The telecom sector was originally built on the foundation of the Public Switched Telephone Network (PSTN). This network required telecom companies to invest heavily in physical infrastructure.
VOIP does not require such infrastructure investments, as the entire call making and receiving process happens on the internet. Audio files are transformed into data packets whenever a call is made. VoIP uses the internet to carry data packets to call people across the world. This process of conversion to data packets happens in the same way that all forms of online information is sent or received.
Major telecommunication companies are moving to VOIP services because advances in internet technologies, such as 5G networks, remove the most primary obstacle for VOIP – that is internet speed.
So why is VoIP capturing the imagination of the telecom industry? The answer lies in the advantages VoIP offers over PSTN. As VoIP technology gets mature and better developed, its benefits outrun PSTN on several fronts. Let's look at some of these advantages:
  Cost: Making calls via VoIP is cheaper than PSTN. A VoIP mobile dialler doesn't need expensive hardware installation or phone lines. All it takes is for the software to be installed, and the phone system is up and running. Making calls is also cost-effective. Since geographical distance doesn't matter in VoIP calls, long-distance calls don't come at an additional charge.
  Portability: Modern organizations aren't confined to one city or country. Today, companies work out of several premises and even encourage remote working. Being a portable phone solution, VoIP telephony facilitates remote working.
  Unified communication: VoIP mobile dialler systems offer users more than just voice calls. They deliver Unified Communications as a Service. Voice calls, instant messaging, and video conferencing can happen through one system.
  Maintenance: Traditional PSTN systems rely on aging infrastructure. Telecom companies often end up providing services using outdated copper wire phone line networks. As these networks get further used, the cost of maintaining them only keeps rising. VoIP, on the other hand, is a low-maintenance solution and VoIP-delivered services are much easier to maintain and fix.
  Convenience: Major telecom carriers are leveraging VoIP technology, building internet protocol (IP) based networks to provide both voice calling and broadband services, because relying on such IP based networks is more convenient for carriers as they don't have to maintain a separate PSTN for call services.
  Less hardware: Softphones reduce the number of devices in your office, or in your baggage if you are on the move. Also, if a softphone stops working or becomes obsolete, you don't have to invest in a replacement. Most softphone providers let users upload the latest version for free.
  Easy to scale: When a new employee joins an enterprise, providing them with a softphone is an easier option than getting a new phone and dealing with setup delays. That way, the new employee hits the ground running with an exclusive, official phone number. Organizations can scale their softphone systems with ease because adding more phone numbers can be done quickly.
  Increased privacy: No employee likes to share their personal number for work purposes. Softphones provide employees with privacy as they can access their business number on their personal device, via a softphone application. They don't miss any calls and aren't forced to compromise on their privacy as well.
  Integrations: This is one of the softphone's key draws. Many enterprises use a variety of apps to support, sales, marketing, and other business functions. These apps usually aren't connected and this can lead to issues with data accuracy, data silos, and missing customer information. Softphones easily integrate with commonly used CRMs, email systems, and Slack. Clients can use these extensions to create customized workflows, and boost efficiency.
  Administrative features: Today, organizations want powerful analytics that shows the number of calls being made, who isn't using their phone numbers, call times, and more. They also want audit logs that show where calls are being made and for general record-keeping purposes. Softphones provide easy access to all this information.
  Security: Softphones provide several options to protect data. While Transport Layer Security (TLS) protects phone data, Secure RTP encrypts media. They also provide access control. For instance, administrator-level permissions that only certain employees can access and strict password protocols allow enterprises to maintain the first line of defense against hackers.
  Support: Like with all software, softphones can also have bugs and other performance roadblocks. Softphone providers offer support options including email, text, and phone support so they can help organizations to seamlessly iron out issues when they arise. Some companies even give dedicated account managers who can help set up softphone accounts and provide best practices for managing the phone system.
To Sum Up: Why the future of Telecom is VoIP
What does the rapid advance of VoIP mean for the future of the telecom sector? Does it mean that traditional telephone systems will turn obsolete and get replaced with VoIP? If current trends and statistics are to be considered, then the focus seems to be shifting to VoIP in a significant way.
Look at the numbers in the US market. The shift to VoIP is growing at a rapid rate in North America, and some experts estimate that the technology could replace PSTN as early as 2025. Many leading telecom firms are already moving towards VoIP in a big way and are also powering their landlines with VoIP technology.
In a report on the future of fixed telephone services and the growing traction for VoIP, the United Kingdom's Ofcom observed: "PSTN is reaching the end of its life and becoming increasingly difficult and costly to maintain. We recognize that the migration to VoIP is necessary to ensure the continued provision of reliable landline telephone services given that the PSTN can no longer be sustained in the long term."
VoIP is, clearly, the future of the telecom sector. To survive and prosper, all telecom companies will have to become VoIP firms.