How UK-based VoIP Service providers can grow customer acquisition and retention?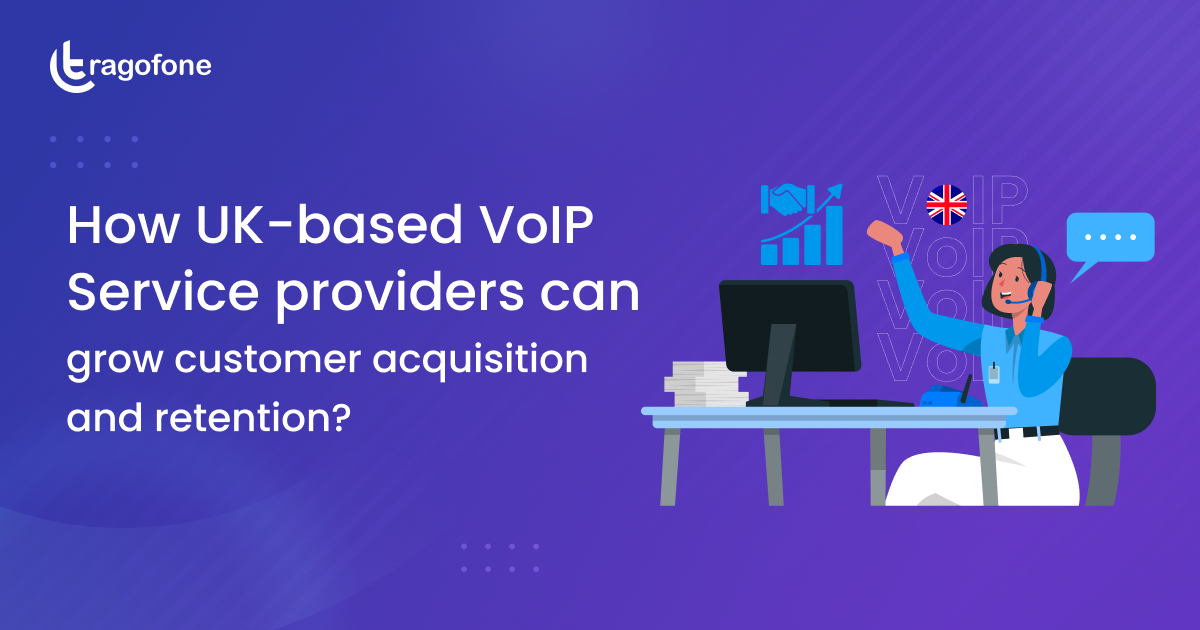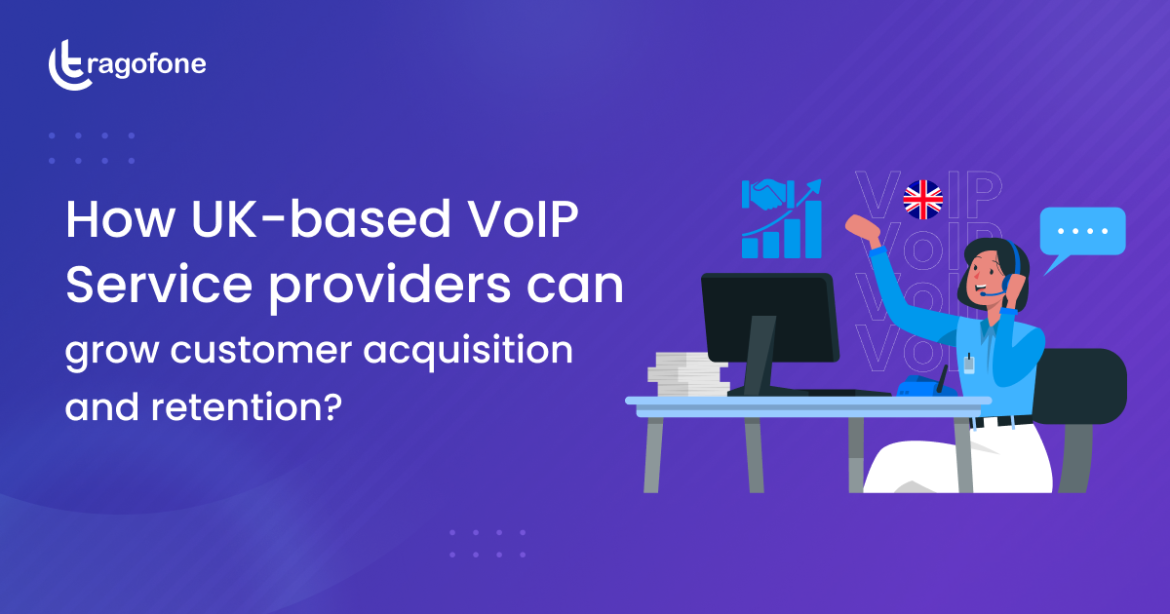 "With customers getting more choices and shorter attention spans, customer retention strategies have never been more important". 
The Unified Communications (UC)  industry is booming, with the VoIP market poised to grow by $4.83 billion at a 9.08% CAGR from 2022-2026. However, as the industry flourishes, it brings increased competition, making it challenging for UK-based VoIP service providers to stand out and retain their customers.
Customer acquisition and retention are two of the most important metrics for any business, and VoIP service providers are no exception. A study by Bain and Company found that a 5% increase in customer retention can boost business profits by 25-95%. Moreover, retaining and acquiring customers is crucial for building long-term relationships and maintaining a steady revenue stream.
This blog post will discuss the factors that impact the UK-based VoIP service providers in customer acquisition and retention and provide practical strategies and techniques that they can leverage to enhance their customer base and maintain customer loyalty.
What is customer acquisition?
Customer acquisition refers to attracting new customers to a business and converting them into paying customers. This process involves identifying potential customers, generating interest in the business's products or services, and closing the sale. Customer acquisition is an important aspect of a business's growth strategy, as acquiring new customers helps to increase revenue and expand the customer base. 
Effective customer acquisition strategies can help a business to reach new markets, increase brand recognition, and gain a competitive advantage in the industry.
What is customer retention?
Customer retention is the efforts made by a business to keep its existing customers engaged and satisfied with its products or services. Hence, they continue to make purchases in the future. A high level of customer retention is a key indicator of a successful and sustainable business, as retaining existing customers is often more cost-effective and profitable than acquiring new ones.
Customer retention strategies involve various tactics, such as providing excellent customer service, offering personalized experiences, implementing loyalty programs, and continuously improving the product or service offerings. 
By retaining its customers, a business can build long-term relationships, increase customer lifetime value, and reduce the cost of acquiring new customers.
How UK-based VoIP companies can measure customer acquisition and customer retention metrics?
UK-based VoIP companies can measure their customer acquisition and retention metrics in several ways:
Customer Acquisition Cost (CAC)
This metric measures the cost of acquiring a new customer, including the marketing and sales expenses. This encompasses expenses incurred for advertising, promotions, marketing efforts, sales actions, and other costs for attracting and converting new customers.
A low CAC indicates that the business is acquiring customers efficiently, while a high CAC suggests the company needs to improve its customer acquisition strategies.
This metric measures the percentage of visitors to a website who become customers. A high conversion rate indicates the business effectively attracts and converts potential customers. In contrast, a low conversion rate suggests the company must improve its website design, messaging, or sales processes.
Customer Retention Rate (CRR)
Customer loyalty and retention are crucial to business success, especially in the call center industry. CRR measures the percentage of customers who continue to purchase from the business over time. A high CRR indicates that the business effectively retains its customers, while a low CRR suggests that the company needs to improve its customer retention strategies. 
By prioritizing customer retention, call centers can build long-term customer relationships, increase customer loyalty, and drive business growth.
Customer Satisfaction (CSAT)
Excellent customer service leads to 93% of customers making repeat purchases, emphasizing the importance of customer satisfaction for businesses. The customer Satisfaction (CSAT) metric measures customer satisfaction with a company's products or services. 
A high CSAT score indicates that customers are generally satisfied with the company's offerings, while a low score suggests areas for improvement. By tracking CSAT through customer surveys, feedback forms, or automated post-interaction feedback, VoIP companies can gain insight into customer satisfaction and make data-driven decisions to improve their offerings.
Net Promoter Scores (NPS)
NPS is a valuable indicator of customer loyalty and the likelihood that existing customers will recommend your business to others. The key driver of NPS is customer service, as scoring is based on a sliding scale where 9 and 10 are promoters, 7 to 8 are passive, and 0 to 6 are detractors. If a business's NPS is above 50, it is considered a positive indicator of customer loyalty.
Customer Lifetime Value (CLV) 
Customer Lifetime Value (CLV) is a critical metric for the success of 76% of businesses. CLV metric measures the estimated revenue a customer will generate for the business throughout their relationship. Retaining existing customers is more cost-effective, making customer retention critical for steady revenue and improved margins. Therefore, CLV is an important concept for businesses to understand and track. A customer's lifetime value grows with each purchase they make from a company.
How can UK VoIP service providers improve their customer acquisition and retention rates?
With more than 70% of the UK's workforce engaged in customer-facing positions, it's clear that making customer satisfaction a key objective for any business is essential. 
However,  a comprehensive customer acquisition and retention strategy involves more than just addressing inquiries and facilitating onboarding. It's about nurturing communication, trust, and shared growth from the outset. Here are a few customer retention and acquisition strategies to get you started.
#1. Fostering Innovation
700k UK landline customers are switching to VoIP monthly, indicating VoIP's wide popularity for various reasons. As competition intensifies, VoIP providers must consider the following aspects to attract and retain customers:
Regularly updating and enhancing existing features to ensure they remain relevant and effective for businesses.

Developing new features and functionalities that cater to emerging communication trends, such as video conferencing, team collaboration tools, or AI-powered call routing.

Investing in research and development to explore new technologies that can improve VoIP services, such as 5G connectivity or enhanced security protocols.

Offering industry-specific VoIP solutions tailored to the unique needs of sectors like healthcare, finance, or education.
#2. Establishing unique selling propositions
A unique selling proposition is what distinguishes your services from competitors. This can include industry-specific solutions, advanced features, seamless integrations with widely-used business applications, or anything that establishes your business as an industry leader. 
For instance- Tragofone's unique SIP softphone system offers crystal clear voice clarity and an intuitive interface for seamless communication. With features like WebRTC support, Auto Provisioning, and Push notifications, Tragofone enables real-time communication, simplified deployment, improved responsiveness, and easy remote collaboration, catering to the diverse needs of various businesses.
Hence, to stand out in the competitive VoIP market like Tragofone, providers should emphasize distinguishing their services by:
Providing advanced features that enhance the user experience, such as superior call quality, transcription services, or analytics tools for monitoring call performance.

Ensuring seamless integrations with popular business applications like CRM systems, project management tools, and messaging platforms, enabling businesses to streamline their workflows and improve overall communication efficiency.
#3. Building strategic partnerships
Form alliances with complementary technology providers and industry influencers can help businesses broaden their reach and enhance offerings. 
Collaborating with complementary technology providers and industry influencers can help VoIP providers expand their market presence and improve their services. This can be achieved by:
Partnering with other SaaS providers to integrate their solutions with your VoIP services, creating a more comprehensive and cohesive communication ecosystem for your customers.

Collaborating with industry influencers, such as bloggers, thought leaders, or consultants, who can endorse your services and help you reach new audiences.

Engaging in co-marketing initiatives with complementary businesses to leverage each other's customer base and expand your reach.
Note- Tragofone's White Labeling softphone and services allow businesses to customize and rebrand the platform to align with their  company's unique identity, facilitating seamless integration with their existing branding and reinforcing a cohesive image to their customers.
#4. Focusing on the quality of service
Customers expect reliable, high-quality VoIP services that enhance their business communications. And when these expectations aren't met, 33% of customers may even switch companies. Therefore, VoIP providers must focus on exceptional service and support to retain customers. This involves:
Ensuring call quality is consistently high, with minimal interruptions or dropped calls.

Building their platform on a robust, redundant infrastructure that can handle high traffic volumes and provide reliable service.

Investing in backup and disaster recovery solutions to maintain business continuity. 

Providing solutions that can easily scale up or down, depending on the customer's needs, without affecting service quality or reliability.

Regularly monitoring and assessing security risks to detect and address potential vulnerabilities.
#5. Building value proposition through flexible pricing 
According to NCBI, product pricing plays a crucial role in determining the success or failure of a business's product or service. With a variety of VoIP providers available, businesses are becoming more price-sensitive. Therefore, to attract and retain customers, providers should consider the following:
Offering different pricing plans that cater to different business sizes, industries, and communication needs.

Providing flexibility in pricing plans, such as pay-per-use, monthly or annual contracts, to cater to varying budgets and requirements.

Clearly outlining the costs involved in each pricing plan, including any additional charges, such as setup fees or call charges.

Making pricing information easily accessible on their website or marketing materials.

Offering features that meet specific business needs, such as mobile app integration, enables businesses to use VoIP services seamlessly.

Providing virtual receptionist services that can handle call routing and provide basic information to callers, reducing the workload on the customer service team.

Offering call analytics tools that can provide valuable insights into call performance, enabling businesses to improve their communication strategy.
#6. Delivering exceptional customer service and support
Exceptional customer service is vital for customer acquisition and retention, as 89% of consumers are likely to repurchase after a positive customer service experience. To build long-lasting relationships with your customers, VoIP providers should focus on the following:
Ensuring that customer support teams are well-trained and knowledgeable in solving customer concerns.

Responding promptly to customer inquiries, resolving issues, and providing updates as necessary.

Offering customer support to address urgent issues promptly, such as

Tragofone's

24/7 technical, live, and chat support, which ensures prompt resolution of urgent issues, effectively minimizing disruptions to business operations.

Regularly monitoring network performance and using automated tools to detect potential issues.

Providing alerts to customers about any scheduled maintenance or service disruptions.

Providing training resources ensures customers can use advanced features and integrations effectively.

Regularly updating resources to reflect any new features or updates to the VoIP service.

Offering user guides, webinars, and FAQs to help customers understand how to use VoIP services.
Developing customer success stories by implementing the right customer acquisition and retention strategies
Customer success doesn't happen by chance; it requires a purposeful and concerted effort. The right processes foster lasting connections and drive long-term success for your business. Implementing effective customer acquisition and retention strategies can drive sustainable growth and success for UK-based VoIP businesses. This enables them to develop compelling customer success stories that showcase their ability to meet their customer's needs and provide exceptional value. 
Tragofone is your trusted VoIP provider, offering reliable, high-quality services with flexible pricing plans for businesses of all sizes and industries. With cutting-edge communication solutions tailored to diverse sectors, including telecommunications, IT, manufacturing, real estate, banking, education, BFSI, retail, and healthcare, Tragofone is committed to building enduring customer relationships and empowering businesses with unmatched excellence in VoIP services.
Looking to streamline and enhance your communication capabilities? Book a consultation or demo call with Tragofone to achieve faster, more secure, and scalable communication solutions.