Virtual Phone Number: Why Does Your Business Need One?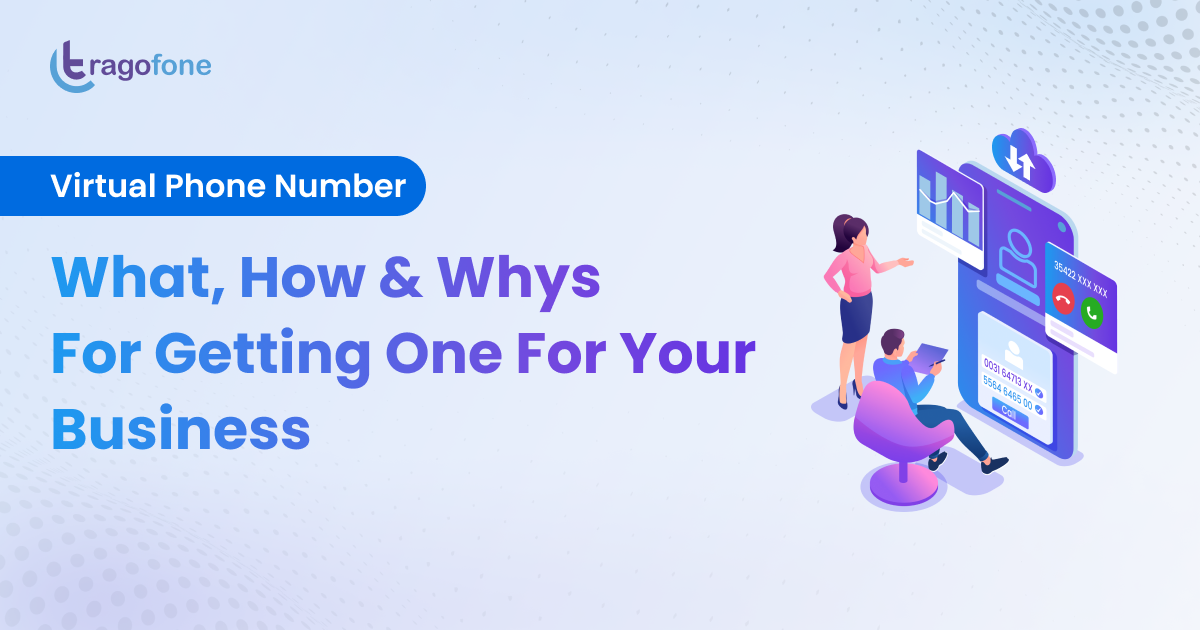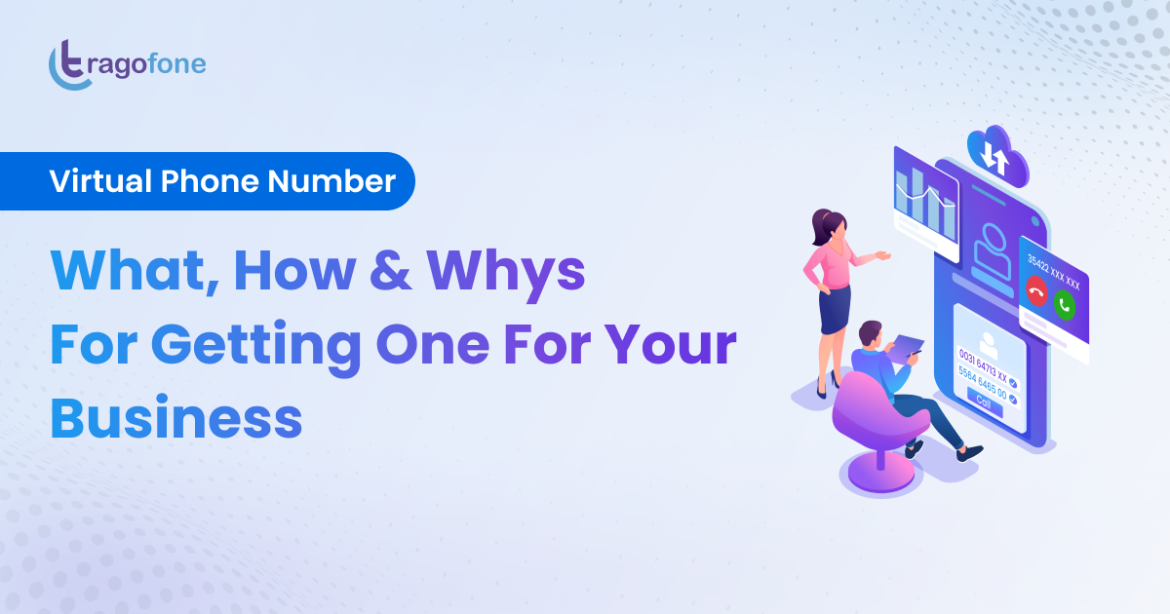 Globalization has broken the geographical boundaries of the business world. Today, businesses are targeting not only local customers but also customers sitting in different corners of the state, country, continent, or globe. Therefore, it has become a necessity for businesses to have a virtual phone number.
A virtual phone number or direct inward dialing (DID) number has become a prominent feature that every leading contact center software offers. Let's unpack the basics of a virtual telephone number and discuss how it can give your business a competitive edge.
What is a virtual phone number?
A virtual phone number is a digital telephone number that customers can dial to get in touch with the business. Unlike traditional landline numbers, it does not restrict the location for receiving or making a call. In fact, a virtual cell phone number can be linked to multiple agents. Confused?
Suppose, A and B dials a normal contact number. What happens? Both get a busy tone. Now, what happens when A and B dial a virtual number of a business at the same time? A and B are both connected to the same business but with different agents. The connection is seamless for both, even if A is located in India and B is located in Africa, and both dial a virtual telephone number of the USA. It doesn't matter as it offers global connectivity irrespective of where the business is located.
A virtual number can be used to receive as well as make calls to different devices, such as phones, VoIP desk phones, landline numbers, VoIP softphone, etc. It not only supports remote and hybrid work models but also enhances anonymity in online directories. It enhances the chances of greater call connections when running a marketing campaign.
Types of virtual phone numbers
Businesses can choose a standard DID number based on their purpose and requirement. Virtual mobile numbers can be broadly classified into the following three categories.
Local number: This type of digital number has local area codes as prefixes according to the geographical preference of your business. It is the most suitable option when you focus on local target audiences to drive business growth.
Toll-free number: Large organizations usually avail toll-free numbers. Using toll-free numbers implies that call charges are incurred by the business while customers call the number for free. It usually starts with special numbers such as 1800, 888, 666, etc.
Vanity number: When a brand wants to make its digital number memorable, they often choose a vanity number. Interestingly, it's not just numerics, it may also include alphabets. 1800-MATTRESS, 800-Virus-No, and 800-Dog-Poop are some of the popular vanity numbers. It aims at making the brand memorable to drive business success.
If you have already printed some business cards with a calling number, you may also create a virtual number with the same. In fact, you can modify the virtual number anytime by notifying your service provider.
How does a virtual phone number work?
Virtual phone numbers connect with Voice Over Internet Protocol (VoIP) servers to make and receive calls through the internet connection. Unlike traditional phone numbers, it does not need a physical address or SIM card to operate.
All you need to get started with virtual mobile numbers is a device and a stable internet connection connected through wi-fi. The quality of calls solely depends on the speed of your internet connection. For greater convenience, it allows the number porting of your existing business phone number to a virtual phone number.
How to get a virtual phone number?
You can get your virtual telephone number from any VoIP service provider. Here are the steps to acquire a digital phone number for your business.
Step 1:  Choose the VoIP service provider for setting up your business communication system. It is essential to select a service provider that offers the required call center features within your budget.
Step 2: Decide on the type of DID number your business needs. It usually consists of 10-digits (except vanity numbers) where the first 3 digits are area codes, and the next 4 digits are subscriber numbers.
Step 3: Assess the offerings and pricing. Usually, some providers offer unlimited virtual mobile numbers but limited calls, while others may offer just the opposite. Choose the plan as per your business needs and budget.
Step 4: The service provider provides access to the DID number after payment. You can now configure the virtual number to your device(s).
The overall process of getting a digital phone number is simple and straightforward if you are a business. If you do not have a registered business, you need first to register your business and then apply for a virtual phone number.
Traditional phone number vs. virtual phone number
| | | |
| --- | --- | --- |
| Parameter | Virtual phone number  | Regular phone number |
| Location and lines | Location-agnostic, can be connected to multiple lines | Restricted to a physical location, single phone number for a single phone line |
| Transmission | Through internet | Through Public Switched Telephone Network (PSTN) |
| Call quality | Superior call quality; it depends on internet speed and bandwidth. | Inferior quality; it depends on network coverage, tower placement, and a power outage at the main station. |
| Wiring | Not required | required |
| Hardware | A single virtual number can be connected to multiple hardware such as laptops, desktops, wireless IP phones, softphones, smartphones, or any internet-connected device. | A single number can be connected to just a single desktop landline phone. |
| Addition of new phone lines | Takes just a few hours or minutes; can be done through a web interface. | May take some days to install new phone line; can be done by notifying the service provider |
| Suitability | Ideal for remote and hybrid work model | Ideal for conventional offices |
| Functionality | Voice communication along with advanced call routing and global coverage. It may or may not offer video calling and VoIP conferencing options. | Voice communication with limited routing features |
| Maintenance cost | Incurred by the service provider | Incurred by the business |
| Call expenses | Lower phone bills irrespective of international/ long-distance calling | Higher phone bills in case of long-distance calling |
7 advantages of having a virtual phone number
A virtual phone number always has the upper hand owing to its several benefits for your business. Here are some of the advantages that will surely convince you if you are still in a dilemma of whether your business needs a DID number or not.
#1. Synced communication
One of the most interesting upsides of virtual phone numbers is that they can be integrated across multiple devices to provide greater accessibility. It allows for smooth communication with clients, coworkers, or other employees. Through smartphones, tablets, laptops, and other internet-enabled devices, you can freely communicate. All on different continents or in the same building.
A digital phone number helps businesses earn the trust of customers through improved and synchronized communication which has become a crucial factor now more than ever as employees are working remotely. Virtual phone numbers prevent missed calls by sending notifications to any connected devices. You can still be reached even if you forgot your phone but have your laptop.
#2. Cost-saving opportunity
A traditional phone number may seem convenient to small businesses as they spend less with limited phone lines. However, the costs may skyrocket when the business starts growing. For such a business scenario, virtual phone numbers become the savior. It not only eliminates the cost of hardware but also significantly cuts down phone bills.
A DID number ensures cost savings on global calling compared to traditional phone systems. Moreover, it also eliminates maintenance costs as the service provider offers support in case of technical glitches.
#3. Availability of robust features
Advanced features like call transfer, voicemail, third-party integration, etc. can be availed through a virtual phone number. Your service provider may offer these features as a package or as an add-on service for upgrading the digital phone number. These features boost functionality and thereby drive efficiency.
Some providers may offer a call conferencing feature that helps your team to collaborate seamlessly. Integration of CRM, calendar and other business tools also helps in streamlining your business operations.
#4. Ensures privacy
A virtual telephone number separates a personal contact number from a business number. For instance, even if a remote employee is using his personal phone to execute outbound calling, the number is masked in the caller ID. Therefore, a virtual phone number links your personal number to execute or take calls from your personal handset/device without compromising your privacy.
#5. Greater mobility and convenience
According to a survey, a whopping 85% of Americans are preferring to join the virtual workforce. Therefore, employers must be prepared to provide the right technology for managing a remote workforce. A virtual phone number is the first step in that process. It enables businesses to provide greater mobility for employees.
With a digital phone number, an employee can execute business calls from anywhere. It is also a convenient way for employees to shift away from office work steadily. This can be easily done by selecting the business hours.
#6. Geographic flexibility
A virtual cell phone number eliminates the barrier of geographical boundaries for businesses as well as customers. A business gains access to a global talent pool to recruit the best candidate, irrespective of his location or office's location. This can be leveraged to provide customers with 24*7 accessibility by hiring agents from different time zones.
Businesses can avail dial-in numbers for catering to the needs of their foreign customers. Additionally, it provides leverage to the business to position itself in the international markets.
#7. Enhanced customer satisfaction
Auto attendants are usually offered by service providers along with virtual telephone numbers. Callers are greeted by an auto attendant, who offers a simple menu to direct them to the appropriate party. With the help of this tool, callers can avoid wasting time conveying their problems to the wrong agent.
For instance, if a caller dials your virtual number and asks for assistance with a billing issue, their call will be routed to a member of your finance team. They won't have to go through a chain of multiple call transfers to get to the most suitable agent who can actually help them. These strong call-routing features are not available in conventional phone networks.
It cuts down call queues improving the overall customer service experience. Moreover, the resolution is quicker when directed to the right agent, thereby enhancing customer satisfaction.
The bottom line
A virtual phone number is a powerful tool that every modern business must leverage to drive business growth. It not only sets you aside from competitors by serving the global market but also unleashes the opportunity to scale up. However, it is essential to choose the right VoIP service provider to ensure maximum uptime for your business communication. Tragofone is a reliable VoIP service provider that helps businesses of all sizes with virtual phone numbers to establish a seamless workflow as well as deliver a stellar customer service experience. It offers a plethora of features that clients can utilize to optimize their business operations. Learn more about Tragofone from its official website.