What is a VoIP phone – everything you need to know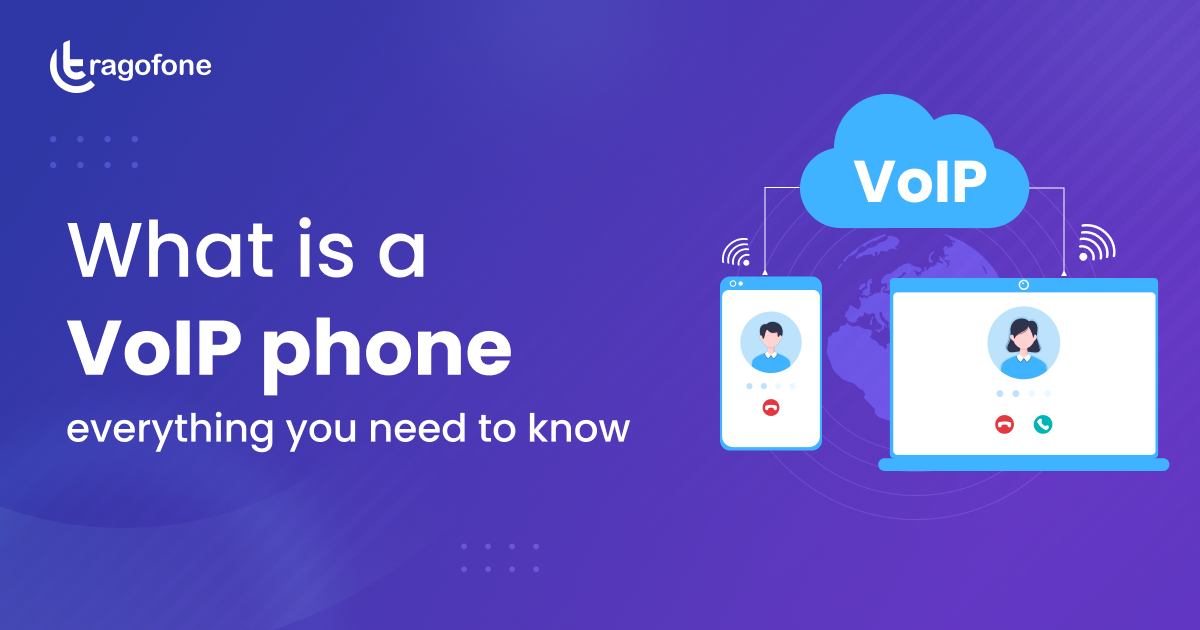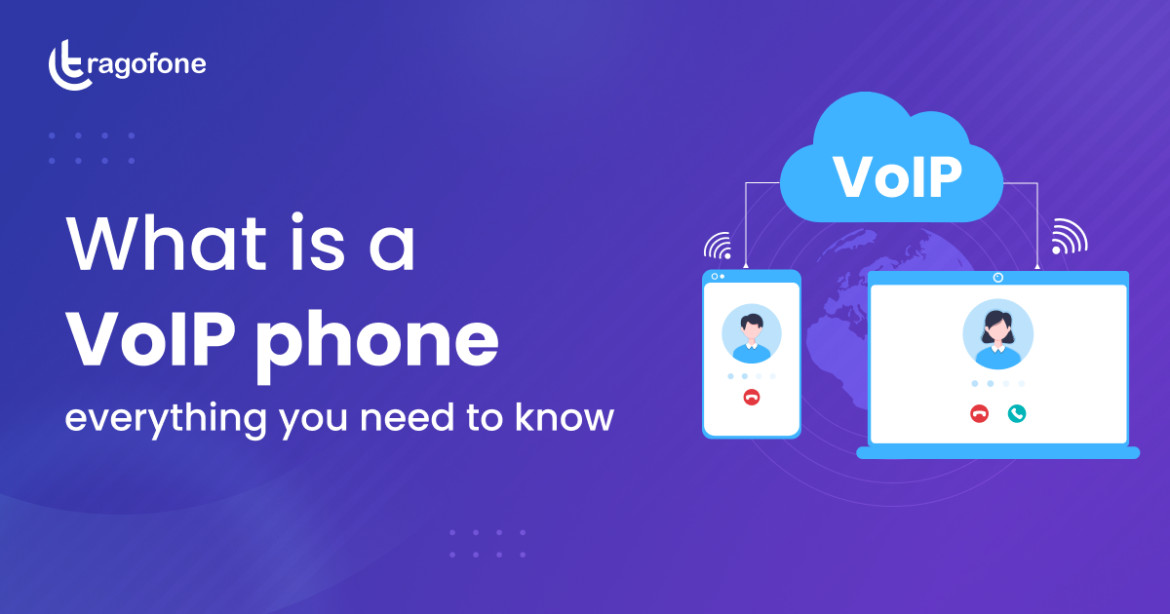 Since its inception in 1995, VoIP technology has consistently made business communications better and more reliable. Over time traditional phones have become obsolete with VoIP phones taking over business communications. It's no surprise as to why a whopping 61% of businesses have switched to VoIP phone systems. 
Besides cost-saving, VoIP phones have empowered businesses with extensive features, including remote hybrid capabilities, streamlined workflows, informed data-driven decisions, and more. It's an understatement to say that VoIP phones have merely revolutionized business communication. In this blog, we'll dive deep into the world of VoIP phones, including the latest trends in technology. 
What is a VoIP phone?
Voice over IP (VoIP) transforms a user's voice into a digital signal, compresses it, and transmits it through the internet. A VoIP phone also known as an IP phone refers to any telephone that utilizes an internet connection for making and receiving calls, as opposed to traditional landlines. Rather than employing a "hard-wired" phone connected through copper wires for phone service, a VoIP phone offers increased flexibility, compatibility, and connectivity. 
The greatest advantage? VoIP phones are not confined to a desk as they allow you to place calls from any desktop computer or mobile device using an app. Making a VoIP call requires a SIP-compatible desk phone or a VoIP calling application. These devices or apps assign an IP address to enable call-making from your network. To help you grasp this technology, Tragofone created a concise VoIP phone guide for better understanding and informed business decision-making.
How does a VoIP phone work?
A VoIP phone works by using digital signals to authenticate and initiate phone calls. It connects with a VoIP service provider for communication. The procedure involves the following stages:
Step 1-Registration 
The VoIP phone connects to a VoIP service provider, registering itself to enable call-making and receiving.
Step 2-Call initiation 
When you place a call using a VoIP phone, the device converts your voice into digital data packets.
Step 3-Data compression 
The VoIP phone compresses the digital data to optimize bandwidth usage and ensure smooth transmission.
Step 4-Packet transmission 
The data packets are sent over the internet to the VoIP service provider, which then routes them to the recipient's phone service provider.
Step 5-Signal conversion 
If the recipient uses a traditional phone, their provider converts digital data packets to an analog signal for the PSTN. If both use VoIP phones, the call stays in the digital domain without involving the PSTN.
Step 6-Call reception 
The recipient's phone receives the digital or analog signal, depending on their phone system, and reproduces the voice of the caller.
The entire process happens quickly, allowing real-time communication with minimal delay, while offering added advantages like improved call quality and advanced features compared to traditional landline phones.
Landline Phones Vs VoIP Phones: Key differences that give VoIP phones an edge
The most significant distinction between a VoIP phone and a conventional landline phone is that a landline phone is installed by the local telephone provider at a fixed location. Conversely, a VoIP phone handles calls via the Internet and is not constrained to a particular location or provider.
Thus, VoIP phones have two major advantages over traditional phones: Firstly, they work anywhere with an internet connection, providing location flexibility. Secondly, physical phones aren't required, as calls can be made using apps on computers or mobile devices.
Here's a detailed comparison of why VoIP phones are better:
Parameters
Landline Phones
VoIP Phones
Connectivity

Physical copper wiring

Internet connection for calls

Installation Flexibility 

Limited by wiring and infrastructure

Easier installation with minimal wiring

Features

Traditional call features

Advanced features (video, conferencing)

Call Costs

Typically higher call costs

Generally lower call costs

Environmental Impact

Susceptible to environmental disruptions

Less affected by external factors

Voice Signal

Analog voice signals

Digital voice signals (better quality)

Infrastructure Requirements

Requires separate infrastructure

Leverages existing data network

Power Outage Functionality

Can function during power outages

Depends on the internet connection & power

Technology Adoption

Slower to implement new technologies

The rapid adoption of new communication tech

Integration(CRM,text,messaging, social media)

Doesn't Supports

Supports 

Phone Number Privacy

Limited privacy protection

Enhanced privacy and security measures

Phone Number Changes

Cumbersome and time-consuming

Easily and quickly change phone numbers

Hunt Groups

Limited or no support

Advanced call routing options

International Dialing

Costly and restricted

Convenient and often free

Business Voicemail

Need to pay separately

Its Included 

Remote Work Compatible

Limited or no support(Call Forwarding)

Well-suited for remote work(

Softphone

apps)
Top 10 VoIP phone features to look from your business provider
VoIP is a cost-effective communication tool for businesses.  However, not all VoIP service providers offer the same features. Providers such as Tragofone offer tailored feature sets that cater to immediate and future needs, empowering teams for success. Here are a few of them:
#1. Multichannel functionality
SIP trunking enables you to activate SMS and MMS features through your phone numbers, which enables you to transmit text, images, and videos, leading to a more uninterrupted communication experience.
#2. Auto Attendant
Auto attendant is an automated phone system feature that greets callers with a pre-recorded message and allows them to navigate a menu using touch-tone keys or voice commands. This feature is useful for businesses that receive large calls, as it can help route calls to the appropriate department or person.
#3. Call routing 
VoIP phones offer an automated call routing feature that enables incoming calls to be automatically directed to specific phones or extensions using different criteria such as the time of day, the caller's ID, or their location. For example, if a call comes in after business hours, the system can route it to a specific voicemail or mobile number. 
#4. Call forwarding 
Call forwarding allows users to redirect incoming calls to another phone number or device, even if the original recipient is unavailable. This can be useful for ensuring that calls are not missed and can be redirected to an employee or department that can handle them.
#5. Call waiting
Call waiting is a feature that alerts users to incoming calls while on the line. With VoIP phones, this feature may also include placing the first call on hold and switching between calls as needed.
#6. Caller ID 
The caller ID displays the phone number and name of the person calling. With VoIP phones, this feature may also include blocking certain numbers or assigning specific ringtones to specific callers. Being aware of the identity of the caller can aid in devising a plan, prioritizing tasks, and taking appropriate and efficient action.
#7. Conference calling
Conference calling allows multiple parties to participate in a call simultaneously. With VoIP phones, this feature may also include the ability to screen participants and individual mute participants and record the call for later playback.
#8. Video Conferencing 
VoIP phones with built-in cameras and microphones enable users to make video calls directly from the phone. These phones typically have larger screens to facilitate video calls and may support other features such as screen sharing and virtual whiteboards.
#9. Voicemail 
It allows callers to leave a message when the recipient is unavailable. With VoIP phones, this feature may also include receiving voicemail messages as email attachments.
Tragofone SIP softphone supports features such as WebRTC. Auto Provisioning, White Labelling, Push Notifications, and more, making it a perfect tool for accelerating business communication operations.
#10. Business Text Messaging 
VoIP phones may offer the ability to send and receive text messages using the business phone number, making it easy for customers to reach the business using the communication method of their choice. This feature is particularly useful for businesses that receive a high volume of customer inquiries or support requests.
Related- 5 Benefits of Softphones for Telecom Companies
What are the types of VoIP phones?
There are several different types of VoIP phones available in the market today. Some of the widely used VoIP phones are:-
#1. Softphones
Softphones are software applications that turn a computer, tablet, or smartphone into a VoIP phone. They typically require a headset, microphone, and speakers to make and receive calls. Softphones can be used anywhere with an internet connection and are great for remote workers.
#2. Desktop VoIP phones 
These standalone phones look and feel like traditional office phones. They typically have a handset, speakerphone, and a display screen. They connect to the internet through Ethernet cables and are powered by PoE (Power over Ethernet) or an AC adapter.
#3. Wireless VoIP phones
These phones are similar to desktop phones but are wireless and can be used anywhere within range of the wireless network. They come in two types: Wi-Fi phones, which connect to Wi-Fi networks, and DECT phones, which use DECT technology to connect to a base station.
#4. Conference phones
These are specialized phones designed for conference rooms and meeting spaces. They typically have built-in microphones and speakers and are designed to capture audio from all participants in the room. Some conference phones also have additional features like screen sharing and video conferencing.
#5. Video phones
These phones have built-in cameras and displays, allowing users to make online video calls. They are great for remote workers and teams who need to collaborate visually.
Related-Softphones:Types and their perks
5 Emerging trends in VoIP phone technology
#1. Cloud-based VoIP
Cloud-based VoIP phone systems are gaining popularity given the scalability, flexibility, cost savings, and remote working capabilities they offer. As per research, a whopping 82% of businesses saved costs when they transitioned to a cloud-based system. 
#2. Artificial Intelligence (AI) 
VoIP systems integrate AI for intelligent call routing, chatbots, and real-time voice transcription. Finance Digests reports that AI will be used in 95% of consumer interactions by 2025, so businesses should be ready for its integration into VoIP and other communication tools.
#3. 5G network support 
A Verizon report suggests that 5G networks can lead to better data transfer speeds, improved connectivity of wearable tech, and reduced instances of dropped calls. With its integration into VoIP phones, businesses can expect to experience enhanced call quality, faster connection speeds, and increased reliability.
#4. Mobile VoIP
Mobile VoIP is gaining popularity due to the increasing usage of smartphones and mobile devices, with over 3 billion people using mobile VoIP services. Mobile VoIP allows users to make calls over Wi-Fi or mobile data networks, offering greater flexibility and cost savings compared to traditional mobile plans.
#5. VoIP security
With the increase in cyber threats, VoIP phone system providers are focusing on improving security features like encryption, firewalls, and anti-virus protection to prevent unauthorized access and protect user data. In fact, a study by Nuance Technology shows that 85% of businesses utilize AI as a tool to safeguard VoIP lines against call fraud.
Determining the ideal VoIP phone for your business
Choosing the ideal VoIP phone for your business requires careful consideration of various factors. Ultimately, any widely-used devices will be a good choice as they come equipped with the expected phone system features. Here are a few factors to look for:
Do you have any trusted brands in mind? Consider their track record and longevity in the market. Some market key players are Cisco, Panasonic, Poly, Vtech, and Tragofone All these brands offer a range of VoIP phones with advanced features to help businesses improve their communication operations.
Look for the number of line registrations 
Consider the number of lines required for each device in your business. Some team members may need more than two lines. Additionally, check the number of line appearances on the screen to determine if another user's line is available.
Inquire about the connectors that the devices have. While RJ-9 is a conventional connector for telephones, it is not commonly used anymore. Modern headsets mostly employ USB for connectivity. If you require Bluetooth, confirm that your device is compatible with it. Some devices necessitate a USB-to-Bluetooth dongle, which may not come with the package.
The compatibility with POE
Most devices support PoE now, but it's crucial to have the required power adapters, particularly because many remote employees may not have PoE-capable network equipment.
Can the phone receive regular security updates? Typically, VoIP phones that can receive these updates are more dependable than devices that require manual firmware updates.
Scaling Your Business Communications with VoIP Phones
Scaling your business communications with VoIP phones is a smart choice for any business looking to increase efficiency, reduce costs, and enhance productivity. With the ability to customize features to meet your specific needs and the flexibility to easily add or remove users as your business grows, VoIP phones are an ideal solution for businesses of any size.  Tragofone offers the best quality VoIP phone service in various sectors, including retail, healthcare, transportation, finance, hospitality, and more.