The Intersection of CTI and CRM: Boosting Sales and Marketing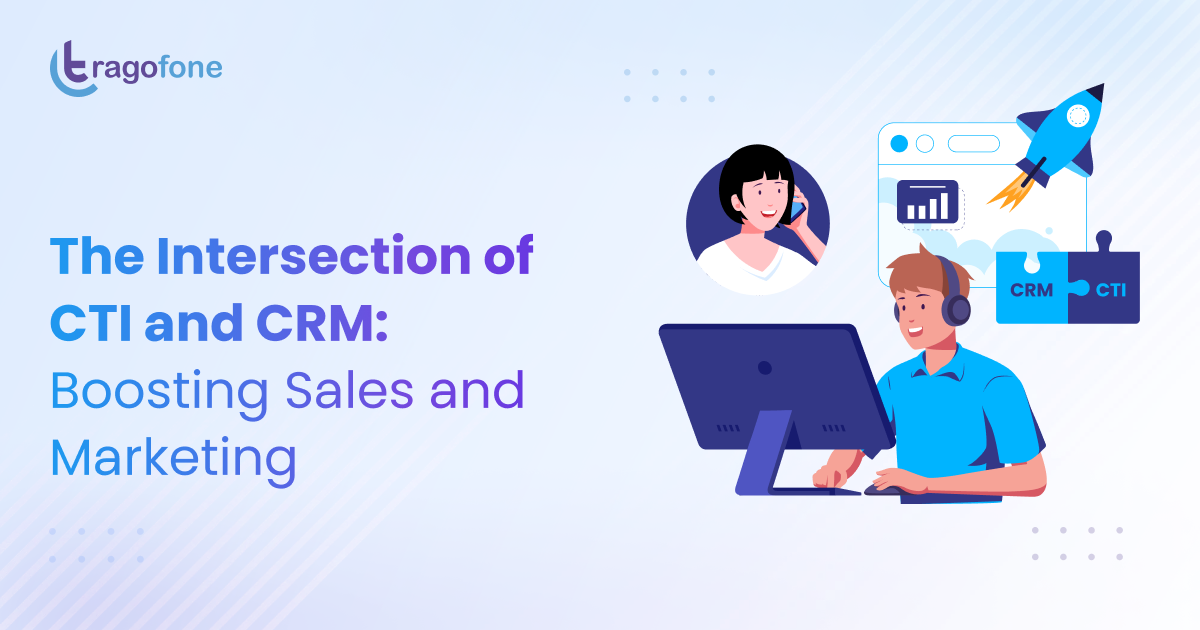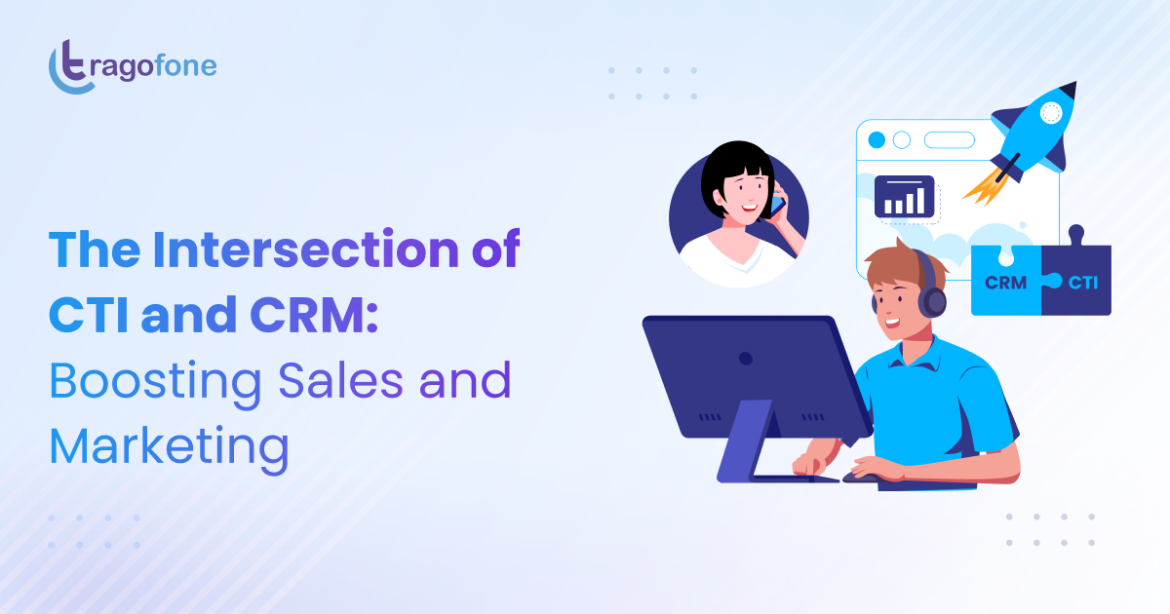 Computer telephony integration (CTI) and customer relationship management (CRM) are two critical systems used by modern sales and marketing teams. CTI refers to technology that enables interactions between a telephony system and a computer. This allows phone calls to be integrated with data and workflows. CRM systems manage all customer interactions and data to enhance customer relationships. 
Integrating CTI and CRM unlocks immense synergies for sales and marketing processes. When phone communications are tightly coupled with customer data, teams become far more productive and effective. For example, CTI enables click-to-dial from CRM contacts as well as screen pop ups of customer records based on incoming calls. 
This saves sales reps from constant switching between apps and allows personalized engagements right from the first call. Marketing teams can instantly reach prospects through integrated dialers and refine campaigns by tracking call outcomes. Essentially, the customer's journey across marketing automation, sales conversations, and service requests becomes seamless and contextual.
The right CTI-CRM integration provides a unified view of all customer touchpoints and interactions. This results in higher sales productivity, reduced lead times, and improved conversion rates. Marketing return on investment is maximized through campaign optimization based on caller insights. Integrating telephony with customer data analysis delivers a significant competitive advantage for sales and marketing.
Benefits of CTI with CRM
Integrating CTI with CRM unlocks powerful benefits for sales and marketing processes:
Productivity —

Click-to-dial and screen pops can boost productivity of sales reps by over an hour each day by eliminating manual dialing and reducing context switching. This additional time lets them engage more prospects and drive more conversations.

Customer History —

Unified call logs ensure nothing slips through the cracks. Reps have the full timeline of a customer's interactions across sales, marketing, service etc. This complete context builds trust and enables personalized cross-selling.

IVR Integration —

Transitioning callers seamlessly from IVRs to live agents without repeating information helps provide a superior experience. Screen pops bring up relevant customer profiles as they move across different stages. 

Omnichannel —

A consistent experience is maintained by making information available to agents from other channels like web chat, online purchases, social media etc. during voice calls for reference.

CRM-Telephony Transfer —

Warm call transfers between departments with context like sales to service ensures the customer doesn't have to repeat information. This minimizes frustration.

Real-time Visibility —

Managers can track call metrics like average handling time, close rates etc. in real-time to identify coaching opportunities and provide feedback to align with goals.

Lead Enrichment —

Logging key call details in CRM like budget, timeframes, requirements etc. enriches lead records for smarter follow-ups. This increases sales velocity through precise nurturing.
CTI-CRM integration enables sales and marketing to deliver smarter, proactive and personalized engagements. This results in accelerated deals, improved conversions, and maximized lifetime value.
Enhancing Sales with CTI-CRM
Sales teams can derive immense value from integrating telephony with CRM systems:
Time Savings —

Click-to-dial can save reps 1-2 hours per day previously spent manually dialing contacts. Screen pops eliminate scrolling through records to retrieve information. This time savings results in more conversations and connections.

Insights for Managers —

Managers get dashboards to track metrics like call duration, follow-up rates, conversions etc. This identifies coaching areas, promotes best practices, and helps continuously improve rep skills.

Faster Response —

Records appearing instantly allows reps to capitalize on inbound calls from prospects right away versus making them wait. This real-time reaction time builds credibility. 

No Lost Callbacks —

Integration logs pending callbacks in CRM ensuring they are never forgotten and followed through at the right times. This accountability results in more leads converted.

Smarter Calls —

Integration with marketing automation prompts talking points relevant to the prospect's interests. This context makes conversations more meaningful from the start.

Data Enrichment —

Recording key details in CRM like budget, timelines, concerns etc. makes lead records more complete. This enables precise follow-ups driving sales velocity.

Lead Scoring —

The number and quality of interactions help accurately score lead priority. This focuses efforts on hot prospects first and avoids wasting time chasing cold leads.
In summary, CTI-CRM capabilities like click-to-dial, screen pops, call logging, and analytics provide sales teams with the context, productivity, and insights to execute smarter calls and have more impactful conversations. This drives faster deal closure and higher win rates.
Optimizing Marketing with CTI-CRM
Marketing teams can also benefit enormously from integrating telephony with CRM systems:
Reach More Prospects —

CTI-enabled dialers allow instantly calling leads or contacts directly from marketing automation campaigns to scale 1:1 engagement.

Refine Campaigns —

Tracking key call metrics like duration, transfers, outcomes etc. provides data-driven insights to refine messaging, offers, and outreach channels for campaigns. 

Lead Nurturing —

Integration enables configuring automated nurture sequences or personalized follow-ups based on prospect interactions and interest levels expressed on calls.

Shared Data —

Enables sales and marketing alignment by giving both teams access to call logs, transcripts, prospect profile updates from calls etc. in the CRM.

Real-time Alerts —

Notifications when high-value prospects call in based on lead scoring allow timely follow-up and call transfers to reps.

Cross-selling —

Customer call patterns and product inquiries detected can alert marketing of cross-selling and upsell opportunities.

Win/Loss Analysis —

Follow-up surveys after calls combined with call data helps accurately attribute reasons for wins vs. losses. 
CTI provides the visibility marketing teams need for prospect engagement and response on calls to continually refine campaigns and orchestrate effective follow-ups driving higher conversions.
Key Considerations for Integration 
Organizations exploring CTI-CRM integration should keep certain key considerations in mind:
Platform Compatibility —

Ensure the CTI solution has certified integration with your specific CRM platform version with robust API support. Factor in roadmaps if versions are planned to change.

Depth of Integration —

Do a cost-benefit analysis of call controls like click-to-dial vs. screen pops, logging, notifications etc. Start with core capabilities bringing maximum productivity.

Agent Learning Curve —

Simple and intuitive agent UI is key for adoption. Evaluate learning paths, training costs, ramp-up time required before ROI.

IT Capabilities —

Review if your team can support telephony servers, networking, redundancy etc., or if cloud CTI with managed infrastructure is preferable.

Security —

For cloud solutions, inspect measures to securely open your CRM for external access only to necessary APIs. Assess data encryption.

Costs —

Develop a 3-5 years TCO covering all components – licenses, hosting, professional services, maintenance, network usage costs etc.

Phase-wise Rollout —

Start with one department, assess results, get feedback then expand further. Uncover gaps before large-scale implementation. 

Ongoing Management —

Have a clear roadmap for enhancements. Evaluate team bandwidth for version monitoring, new feature development, complex integrations. 

Change Management —

Planning and change management is key with new agent workflows. Analyze training needs, communication, feedback channels etc

Success Metrics —

Define metrics like sales conversion rates, call log completeness, agent productivity etc. to track and demonstrate integration ROI.
A thorough, phased approach considering all aspects will ensure CTI-CRM integration success and drive business value. Choose integration levels aligned to proven use cases, perform due diligence on technical considerations, plan a phased rollout, and allocate resources for ongoing management to maximize CTI-CRM integration success.
Tragofone's CTI-CRM Integration Capabilities
As a leading VoIP softphone provider, Tragofone offers robust and deep CTI-CRM integration capabilities to maximize sales and marketing productivity:
Seamless Integration —

Pre-built connectors provide out-of-the-box integration with all major CRM platforms like Zoho, Salesforce, Dynamics, HubSpot etc. with minimum IT effort.

Screen Pops —

Customer records automatically pop up on the agent's screen matched to incoming caller ID for optimal call context.

Click-to-Dial —

Sales reps can instantly dial contacts directly from within the CRM record with just a click, saving dialing time. 

Call Notes —

Agents can log critical information captured on calls directly into CRM system as notes, comments or call records.

Voicemail Integration —

Missed call alerts and voicemail recordings are automatically attached to contact profiles in the CRM.

Real-time Alerts —

Priority alerts notify reps when high-value prospects call in so calls can be instantly transferred to right people.

CRM-Telephony Transfer —

Ongoing calls can be warm transferred to other reps with customer context attached for continuity.

Unified Desktop —

Agents get a single pane of glass with integrated telephony controls, CRM system and collaboration tools.

Screen Recording —

On-screen interactions during calls can be recorded directly within the CRM for reviews or compliance.

Custom Reporting —

Granular reports on call metrics, agent performance, campaign effectiveness etc. can be generated.

APIs for Deeper Integration —

For bespoke workflows, Tragofone provides APIs and support for custom integration.

Ongoing Optimization —

A dedicated customer success team helps refine and enhance integration for changing business needs. 

Rapid Deployment —

Pre-built integrations fast-track rollout across teams and help realize ROI quicker.
Tragofone, in a nutshell, allows organizations to transform sales and marketing operations with CTI-driven productivity, smarter customer experiences, and data-led insights.
Postscript
It's safe to say that Integrating CTI with CRM unlocks immense value for modern sales and marketing teams through productivity gains, data-driven insights, and elevated customer experiences. 
Capabilities like click-to-dial, screen pops, call logs, omnichannel context, real-time alerts and smarter call routing drive higher productivity. Agents can manage more conversations and build stronger customer relationships. Marketing automation and call analytics enable optimizing campaigns and orchestrating effective follow-ups. 
However, organizations need to carefully evaluate integration depth, change management, costs, technical considerations etc. to maximize benefits. The right CTI partner can fast-track value realization through pre-built integrations, intuitive agent interfaces, and proven best practices.
As a leading VoIP softphone vendor, Tragofone is the ideal partner for unlocking CTI-driven transformation. Their seamless CRM integrations, unified desktop, timely notifications, custom reporting and ongoing optimization services deliver ROI across sales, marketing and support.  
The bottom-line is that in today's hypercompetitive landscape, businesses need to harness CTI smartly to build intelligent and contextual customer communications. This is the key to boosting sales velocity, marketing effectiveness and customer lifetime value. 
To learn more about how Tragofone can help you realize these benefits by integrating telephony with your CRM or business systems, schedule a free demo with our experts or avail a free trial. You owe it to your customers and teams to explore how tightly aligning calls with data can accelerate growth.