Enterprise-grade
Softphone Desktop App
With the Tragofone desktop softphone app, transform your desktop into a feature-rich, enterprise grade phone.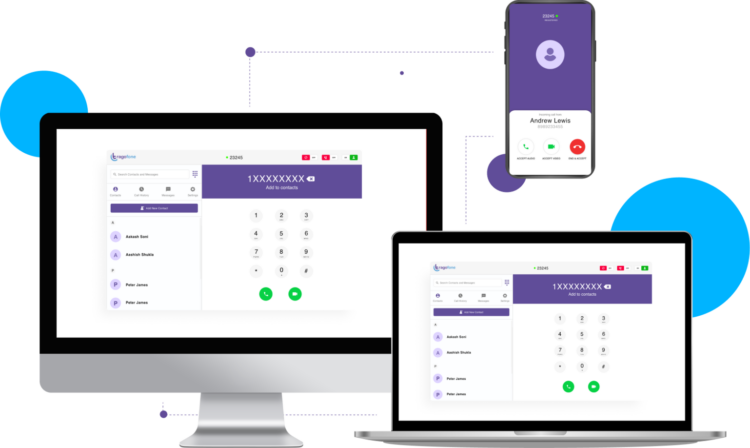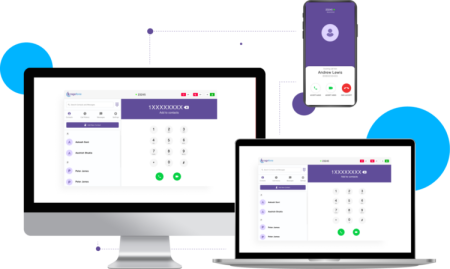 Tragofone's Calling App for Computer
Easy to use, reliable, and a robust desktop softphone app.
Take charge of your business communication system with Tragofone's secure, feature rich, and high-quality PC softphone.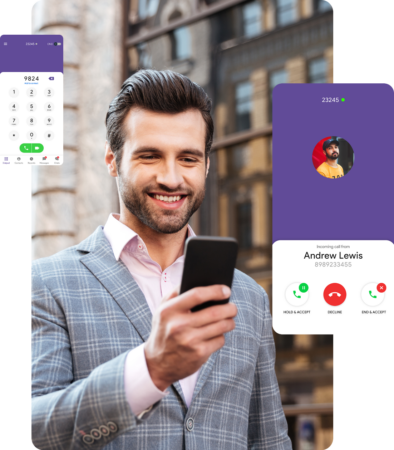 Softphone app is essentially software that enable users to make telephone calls (both audio and video) over the internet using a mobile phone or a computer (laptop/desktop/tablet). The user interface mimics traditional phones and the software can be installed on any mobile device, where it works as a virtual phone.
Why choose Tragofone PC Softphone?
Tragofone does more than just making calls. The dialer app enables users to make video and conference calls, send and receive files, voicemail management, chat and SMS capabilities. Start the app and use your softphone wherever you plug in your device. It can also interact and integrate with many third-party applications and services such as CRM integration.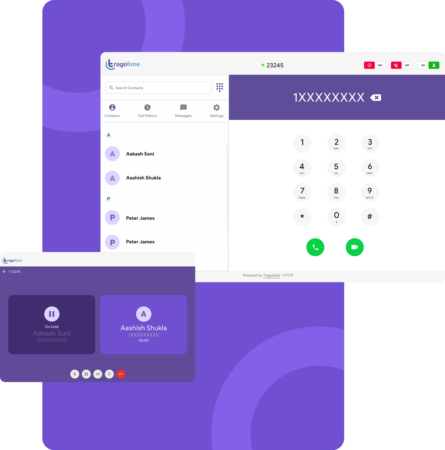 White labeling
The Tragofone PC softphone can be customized with your own branding, creating a strong brand identity with a ready to use technology.
WebRTC enabled
Too lazy to download the app. No problem! Launch our softphone desktop app from your favorite web browser, login, and you are all set to make and receive calls.
Desktop app for Mac and Windows
Whether you use a Mac PC or Windows, Tragofone has softphone for windows and for Mac
Ease of integration
Working on legacy SIP servers and on-premises phone systems, no worries Tragofone PC softphone integrates seamlessly with all.
Best-in-class features
Experience ease of collaborating, sharing files, one-click meetings, group calls, and more.
Promise of quality
Crystal clear audio and video quality and a seamless call experience for users.
Security/Secure communication
TLS encryption protocol with SIP and SRTP support coupled with a two-step verification ensures data security.
3G, 4G, & Wi-Fi compatible
Having a bad Wi-Fi day at home, Tragofone desktop softphone is compatible with 3G, 4G, and Wi-Fi ensuring you are always connected.
Live Chat
Configure, set-up, and deploy our PC softphone seamlessly with step-by-step guidance from our tech live chat team.
24x7 Support
Our live chat agents, telephone helpline, and email support are always available to troubleshoot.
Frequently asked questions (FAQ's)
How can I make and receive calls on my computer using a softphone?
To make and receive calls on your PC, install the Tragofone softphone app and login using your credentials. Using the power of auto provisioning, Tragofone's IT configurations can be deployed through a web interface, rather than manually.
What hardware do I need for using the Tragofone PC softphone?
The softphone itself is a software. To use the Tragofone PC softphone you will need:
A desktop/laptop or a desktop/laptop with in-built speaker, microphone, and camera
Headphones
Microphone
Web-camera (for video calls)
High-speed internet connection