A Complete Guide to using a Windows Softphone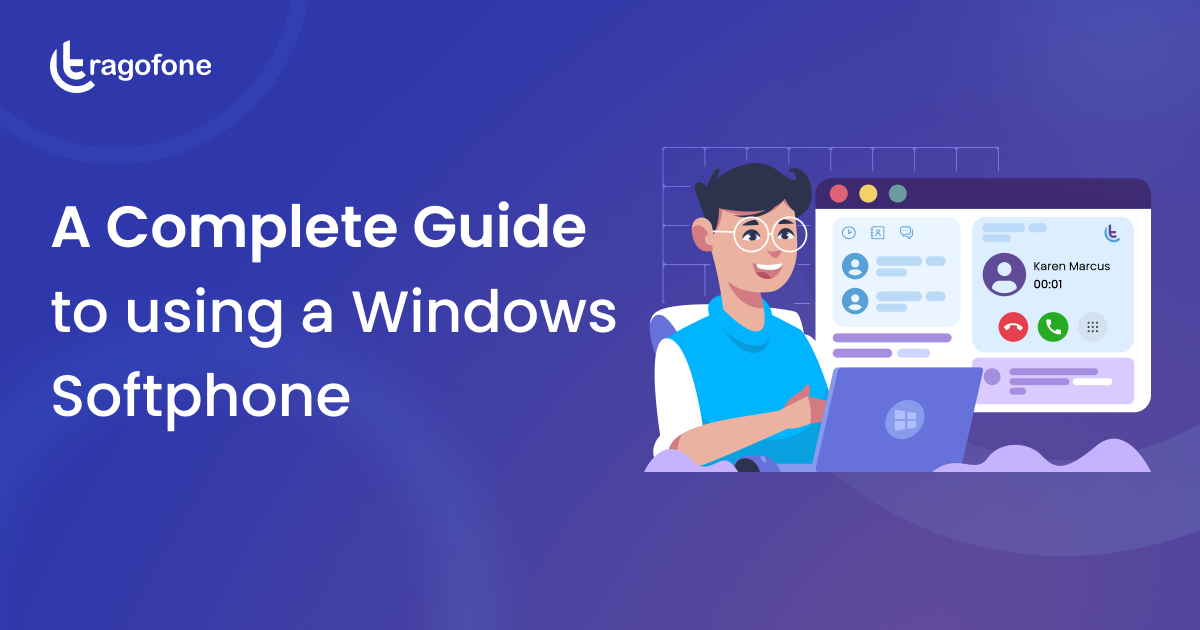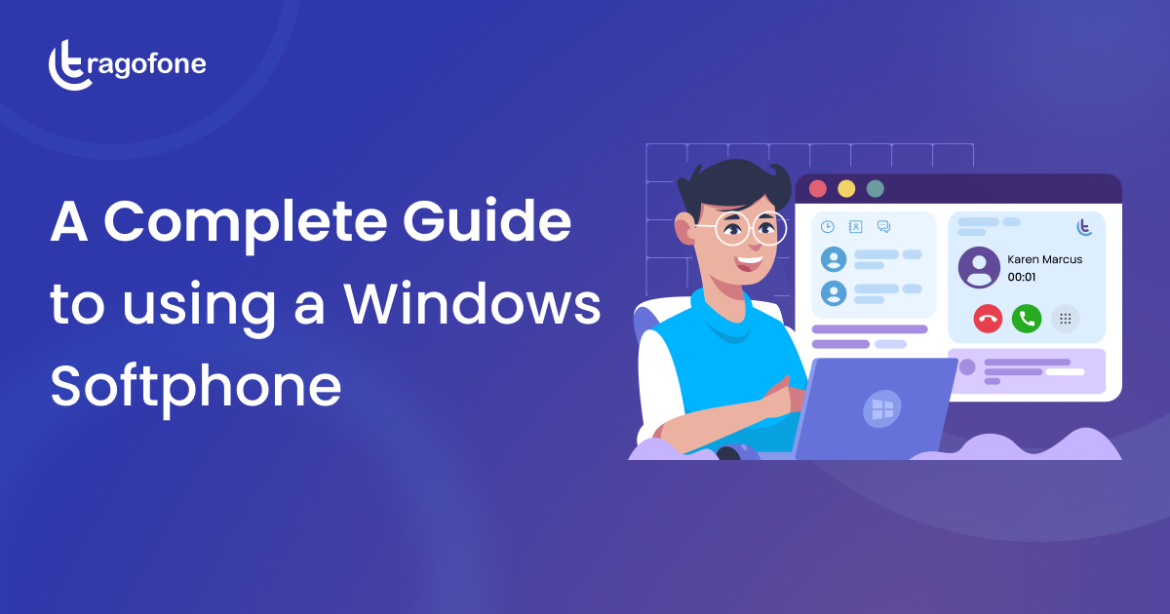 Windows softphone applications are gaining immense popularity thanks to the momentum of hybrid and remote work cultures. However, a shift in work culture is not the only driver behind the growing popularity of softphones. Factors such as 90% cost reduction and nearly 60% of employees using their own device at work is what makes softphones an extremely lucrative option for businesses.
As a business owner, if you plan to introduce a 'bring your own device' policy at work and switch to softphones make sure you subscribe for a softphone app for windows such as Tragofone. Wondering why? Windows continues to be the market leader as the most popular desktop operating system with a 76% market share in 2022. So assuming that a majority of your employees using their own device (desktop/laptop) will be window users, it makes sense to invest in a softphone app for windows.
Using a softphone for windows begins with choosing the best softphone for windows. In this blog we will learn all about Windows softphones and how to use them. Let's get started.
What is a windows softphone app?
In the simplest terms, a softphone is a software and not an actual physical telephone instrument that enables a user to place telephone calls via the internet using a desktop, laptop, tablet, or even a smartphone. The user needs to install the softphone app on the device they wish to use for making such calls. However, using a WebRTC softphone such as Tragofone does not even require installing an app. The user can directly launch the softphone in their browser, login using their credentials, and they are good to go. Most of the softphones including Tragofone are compatible with Windows, Mac, and Android operating systems. This makes Tragofone as one of the best softphones for windows and a great softphone in totality.
Windows softphone app refers to the app designed specifically for the Windows operating system. A softphone is capable of doing much more beyond just basic calls. Some of them include:
Group calling
Audio and video conferencing
Chat
File sharing
Screen sharing
We will cover the features and benefits in detail a bit later. First lets focus on how to use a windows softphone for business.
Using a windows softphone for business
Softphones are versatile and can be used for both professional and domestic calling. With so many people working remotely, having a personal and company phone number is non-negotiable. However, having two handsets one for work and one for personal use or switching between two SIM cards on the same phone is not a practical option. Having a system where one can directly call from a desktop or laptop during work hours and take any urgent work calls on a mobile using your official number after work hours makes life easy for both employers and employees. Thus, using business softphones makes sense.
Choosing a windows softphone for your business
Step 1: Identify your business requirements, team size, features that are a must have, set a budget in mind.
Step 2: Identify service providers, get quotations from at least three providers and compare.
Step 3: Take feedback from companies already using services from providers you have identified.
Step 4: Identify the right service provider and get going.
Installing and configuring a windows business softphone
Now that you've decided on a service provider and plan, the next step is to configure and install the softphone application on your windows device and start making calls. But first you will need to set up calling accounts for your users from the administrator portal. They can then download the app on their device, login with their credentials, and start calling. The end users can configure their personal settings like speaker or headset selection, or their video camera, but nothing complex. Softphones like Tragofone come with an auto-provisioning feature which enables business owners to deploy enterprise grade VoIP apps without any IP support. They can set up and manage user accounts in a web browser, it's that simple.
Given below  is a step by step process for installing the softphone application on your windows device.
Step 1: Save the installation file to your device after downloading it.
Step 2: Run the installation like you would any other program.
Step 3: Login using your credentials
Step 4: Set your speakers, microphones, audio, and video preferences.
Step 5: Start making calls.
Setting up user profiles and rolling it out to your teams is quick and easy thanks to the new age softphones. In an event where a team member leaves, pulling back authorization and keeping a tab over who does what and giving customized access to different individuals is possible with cloud-based software.
Connecting and Coordinating a Windows Softphone across multiple devices
Softphone service providers like Tragofone not only provide a Windows softphone download option, but also apps for Mac, iOS, and Android devices. The end user needs to download the app suitable for their device and login with their credentials to start using them. They can download the app on multiple devices and login. For example, an employee may download the Windows softphone app on their desktop, but may be using an iPhone. In that case they can download the app on both the devices and login. The configurations and settings will appear on both the devices, as defined in the central management account.
When a user receives  a call, all devices with the app will ring simultaneously, the user can choose to take the call from any device based on their convenience. What's more, call history is synced across devices. This means that even if you picked your call on your mobile on your way to work you will have it in the call logs of your desktop app as well. You can even switch from your mobile phone to your desktop and vice-versa while you are on a call if need be.
Windows Softphone must have infrastructure
Softphones are essentially software that need to be installed on a device. So what equipment does one need to use a windows softphone
Windows computer (desktop/laptop) with inbuilt camera, microphone, and speaker
Headset with microphone for enhanced audio quality
High-speed broadband internet – Softphones use the internet to make and receive calls. Having a good high-speed internet connection is therefore a must have when it comes to softphones. Low speed internet means bad call quality, call dropping, lagging etc.
Additional equipment in-case your computer does not have a camera and microphone
Web camera
Speakers
Microphone
These add-on equipment are essential for making video calls and conference calls. In a remote and hybrid work set-up  making use of  video calls for some conversations, can be really useful. Resolving doubts using screen sharing during a video call is an effective way to bring things to a quick closure or deliver training to your staff.
Also make sure that even if you are working remotely it is essential to have a dedicated work space in your house that's well-lit and has a strong internet signal if your role requires you to be on too many video calls.
Best practices to follow when using a windows softphone for office
Configure the app both on your mobile and PC so you get an alert when you are away from your system or you don't miss an important call while you are on the move.
Though switching between devices between calls is seamless, it is a good practice to inform the other participants on a call when doing so.
Keep yourself on mute when not speaking and make sure to un-mute when it is your turn to speak
Test all your equipment and your internet connection before getting on to a call
Close the app in the background when not in use to extend your battery life. Don't worry, with Tragofone's push-notification feature you will not miss any important message or call whether your app is open in the background or not.
Lastly, update your app as and when a new version is available for the best user experience and to make the most of all the features available.
Final thoughts
Free SIP softphones have totally revolutionized the business communication landscape. Easy to use, cost-effective, feature rich, portable, call routing, caller identification, chat, message are just a few of the many perks softphones offer. What's more, there is a softphone app for every device no matter what operating system you use. To know more how Tragofone can help, book a demo today.