The Future of Contact Centers: Multichannel and Omnichannel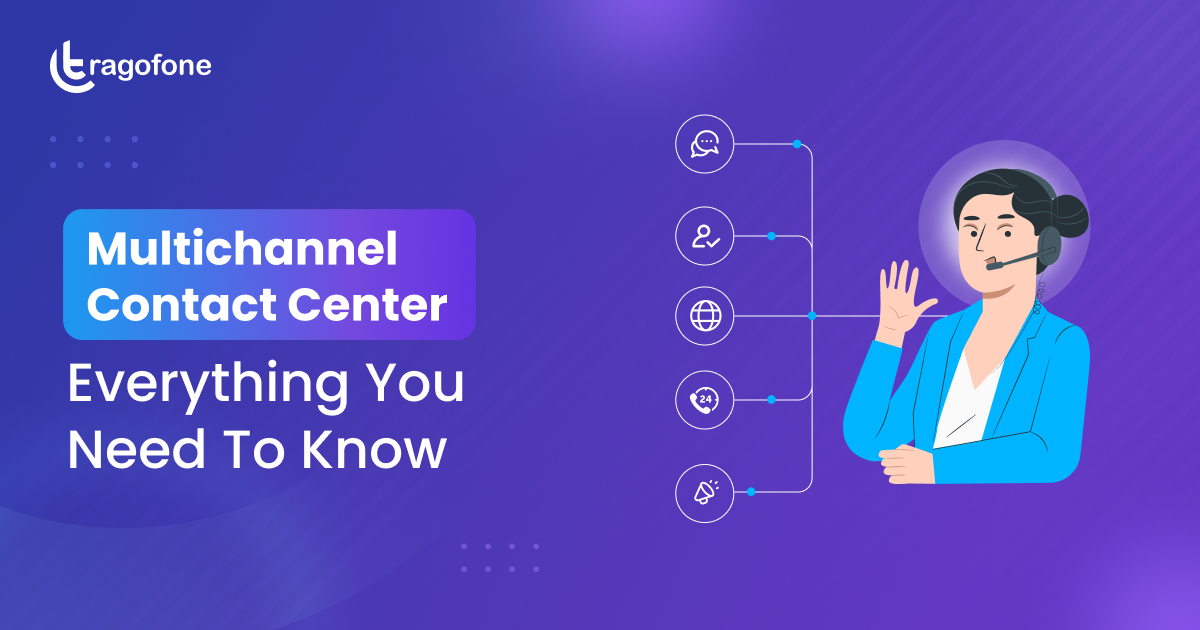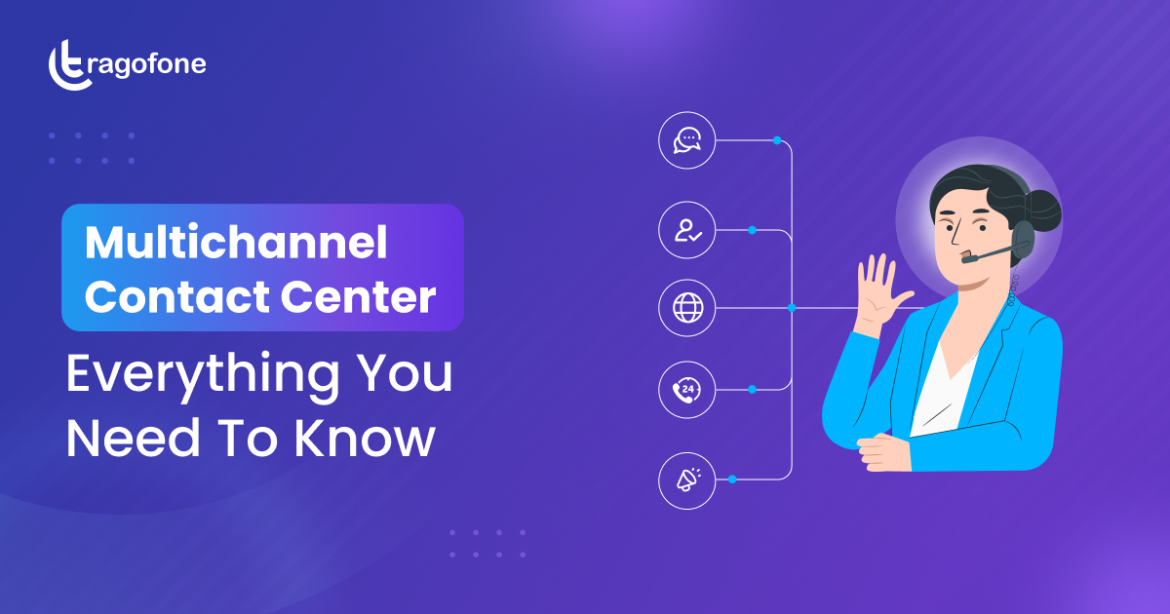 It was not until the early 2000s that phone-centric call centers started incorporating other channels like e-mail and messaging in their customer support. Since then, the domain of customer service has witnessed a remarkable evolution, with the adoption of AI chatbots, social media, and more. But what prompted this transformation? It was a necessary response to the growing demand for more convenient and flexible customer communication, considering that more than 50% of customers now prefer multiple channels.
Multichannel contact centers emerged to meet these diverse customer needs, providing businesses with the means to engage customers through their preferred channels. This helps them to deliver an impeccable customer experience. 
This blog will explain how a multichannel contact center empowers business communication operations and explore its better alternatives to deliver consistent, simple, and reliable customer service.
What is a multichannel contact center?
Multichannel contact center software is a customer service tool that enables businesses to communicate with their customers across multiple channels seamlessly. 
Typically implemented as a cloud-based solution, multichannel contact centers empower support and sales agents to engage with customers over digital channels beyond the confines of a traditional call center.
This software platform allows businesses to engage with customers swiftly, regardless of their chosen mode of contact. By adopting this approach, companies can enhance operational efficiency and boost customer satisfaction.
What are the different channels of a multichannel contact center?
By embracing various channels, organizations can offer a seamless customer experience, improve response times, and enhance overall customer satisfaction. 
Let's illustrate the concept of different channels of a multichannel contact center platform by taking the case of Amazon, the global e-commerce giant. They have a multichannel contact center to provide customer support.
Phone:

Customers can call Amazon's customer service for immediate assistance, especially urgent matters like correcting an order.

Email:

Customers may prefer to send an email outlining their issues or concerns. Amazon's customer service then responds within a specified timeframe.

Live chat:

Customers can initiate a live chat with customer service representatives for real-time support on Amazon's website.

Social media:

Amazon maintains active Facebook, Twitter, and Instagram profiles. Customers can send direct messages or publicly post queries, and Amazon responds accordingly.

Self-service portals:

Amazon's website has a robust FAQ section and help center where customers can find solutions to common problems without contacting a representative.

Mobile app:

Amazon's mobile application has a customer service feature where customers can find help related to orders, returns, and more.
What are the core features of a multichannel contact center?
Multichannel contact centers encompass a range of features designed to facilitate efficient and effective customer interactions across multiple channels. Here are some key features commonly found in the solution:
A multichannel contact center typically provides agents with a unified dashboard that consolidates customer interactions from various channels, such as voice calls, emails, chats, and social media messages. This dashboard allows agents to view and manage all customer communications in one place, ensuring a seamless and efficient workflow.
Automatic Call Distribution (ACD)
ACD ensures incoming calls are automatically routed to the most appropriate and available agent based on predetermined criteria such as skills, availability, or customer segmentation. This feature helps optimize call handling and reduce customer wait times.
Interactive Voice Response (IVR)
IVR systems allow customers to interact with automated voice menus and self-service options, enabling them to access information or perform specific tasks without agent assistance. This reduces agent workload.
This feature ensures that customer interactions are directed to agents with the most relevant skills and expertise to handle specific inquiries or issues. By matching customer needs with agent capabilities, skills-based routing improves first-contact resolution and customer satisfaction.
When there is a high volume of incoming calls, call queueing allows customers to wait in line until an agent becomes available. It helps manage call overflow and ensures fair and organized handling of customer inquiries.
Auto dialer functionality automated outbound dialing, enabling contact center agents to make significant calls efficiently. Auto dialers can be configured to dial numbers automatically, skip busy or unanswered calls, and connect agents to live calls only, saving time and increasing agent productivity.
Real-time monitoring and reporting
It allows supervisors and managers to track key performance indicators (KPIs) such as average response time, call volume, agent availability, and customer satisfaction. It fosters data-driven decision-making and continuous improvement.
AI support and automation
Multichannel contact centers often leverage AI-powered technologies like chatbots, virtual assistants, and automated responses. These AI solutions can handle common customer inquiries, provide self-service options, and assist agents by suggesting responses or providing relevant information. 
Integration with customer relationship management (CRM) systems enables agents to access and update customer information seamlessly during interactions. This integration ensures a personalized and context-rich customer experience, as agents can access relevant customer data immediately.
Quality monitoring and coaching 
Supervisors can listen to call recordings, review interactions, and provide feedback to agents using this feature. It helps maintain service quality, improve agent performance, and ensure compliance with standards and regulations.
What are the advantages and disadvantages of using a multichannel contact center?
Using a multichannel contact center offers several advantages and disadvantages for businesses. Here are few to consider:
Advantages
One of the remarkable aspects of multichannel contact center pricing is its pay-for-usage model, which ensures businesses only pay for the specific channels they require. This pricing approach has become the norm as most multichannel deployments are delivered through cloud-based solutions.
For instance, if a business needs voice, email, and web chat as their chosen communication channels, they are only charged for those channels. In this context, it's similar to subscribing to a service, specifically Contact Center as a Service (CCaaS).
Enhanced customer experience 
A multichannel contact center allows businesses to meet customers on their preferred channels, providing convenience and flexibility. It improves customer satisfaction, engagement, and loyalty.
By integrating multiple communication channels, businesses can reach a wider audience and cater to diverse customer preferences. This enables them to connect with customers who may prefer non-traditional channels like live chat or social media.
Multichannel contact centers streamline customer interactions by consolidating them into a single platform. Agents can handle multiple channels from one interface, reducing the need for switching between different tools and improving overall operational efficiency.
Better agent productivity 
A unified view of customer interactions and information enables agents to deliver more personalized and efficient support. This boosts their productivity and reduces training time for handling various channels.
Access to insights and analytics
Multichannel contact centers provide valuable insights into customer behavior, channel performance, and contact center operations. These insights help optimize processes, identify areas for improvement, and make data-driven decisions.
Disadvantages 
Integrating multiple communication channels and ensuring seamless connectivity can be technically challenging with a multichannel contact center. It requires careful planning, integration with existing systems, and ongoing monitoring to ensure smooth operation.
Managing multiple channels requires allocating resources and appropriately staffing each channel to ensure prompt and effective customer support. For example, if customers predominantly choose live chat or social media for support, businesses may need to allocate a larger workforce to handle these channels than less frequently used channels like email or SMS. This may involve additional staffing or redistributing existing resources, which can be a logistical challenge.
Consistency across channels 
Maintaining consistent customer experiences across multiple channels can be demanding. Businesses need to ensure that their branding, tone of voice, and level of service remain consistent across all channels to avoid customer confusion or dissatisfaction.
What are the best practices for setting up a multichannel contact center?
Setting up a multichannel contact center involves careful planning and execution to ensure seamless customer experiences across various communication channels.  
Practice #1 Avoid excessive channel diversity
"When you integrate new channels, it is very important that you design these channels with an agile approach."
                                -Dr. Julian Raabe, CX Expert, McKinsey
While offering customers multiple communication channels for support is important, it is crucial not to overwhelm them with an excessive variety of channels. Focusing on selecting a few channels that are most relevant and preferred by the target audience is recommended. By striking a balance and avoiding an overwhelming number of channels, businesses can ensure efficient management, effective resource allocation, and consistent customer experiences across chosen channels.
Practice #2 Emphasize key analytics for optimal insights
Rather than getting lost in a sea of data, it is crucial to prioritize the most impactful analytics for your multichannel contact center. By focusing on the most important metrics and insights, businesses can better understand customer behaviors, channel performance, and agent productivity. 
A few metrics include CSAT(Customer satisfaction score), FCR(First call resolution), AHT(Average Handling Time), CRR (Customer retention rate), ASA (Average speed of answer) and more. 
Tracking these metrics enables effective decision-making, targeted improvements, and resource allocation that aligns with business objectives. 
By streamlining the analytics process and concentrating on the most relevant data points, businesses can extract valuable insights to drive continuous optimization and elevate customer experiences. 
Practice #3 Leverage AI and self-service capabilities
Although the initial implementation of AI support, automation, and self-service tools may entail upfront costs and time investment, these resources prove to be cost-effective and time-saving in the long term.
AI support tools, such as automated transcriptions, customer sentiment analysis, and live agent guidance, not only enhance agent performance but also accumulate valuable customer insights over time, leading to the development of robust customer profiles. This streamlines agents' workflow, reduces customer frustration, and boosts customer retention rates.
Self-service tools, including IVR and chatbots, diminish the reliance on live agents by accurately routing phone calls and offering convenient customer service options. Chatbots and IVR menus effectively handle basic customer queries, such as simple questions or appointment booking, allowing agents to address more complex issues and increasing overall customer convenience.
Omnichannel contact center solution—Better alternative to multichannel contact center 
An omnichannel contact center solution is more advanced and comprehensive than a multichannel one. While a multichannel contact center focuses on providing multiple communication channels for customer interactions, an omnichannel contact center goes beyond that by integrating these channels into a seamless and unified customer experience.
In a multichannel contact center, customers can interact through various phone, email, chat, or social media channels. However, these channels often operate independently, leading to fragmented customer experiences and inconsistent service.
On the other hand, an omnichannel contact center solution enables a synchronized and personalized customer journey across all channels. It allows customers to switch between channels seamlessly without losing context or information, as all interactions and customer data are centralized and accessible to agents in real time. This ensures a consistent and cohesive experience, regardless of the chosen communication channel.
The omnichannel contact center as the future of customer experiences
As customer expectations continue to rise, businesses recognize the need to adopt advanced strategies to deliver exceptional experiences. As customers increasingly demand convenience, consistency, and personalization, an omnichannel contact center provides the foundation for businesses to meet these expectations and thrive in an ever-evolving marketplace.
A business' future success demands agile, flexible, and resilient operations. Tragofone, a VoIP softphone, fulfills these needs through their advanced technologies. With cutting-edge features and seamless integration, Tragofone empowers businesses to create an omnichannel contact center that delivers outstanding customer experiences while optimizing operational efficiency.