Peer to Peer Video Conferencing Alternative Call Apps (A-z Guide)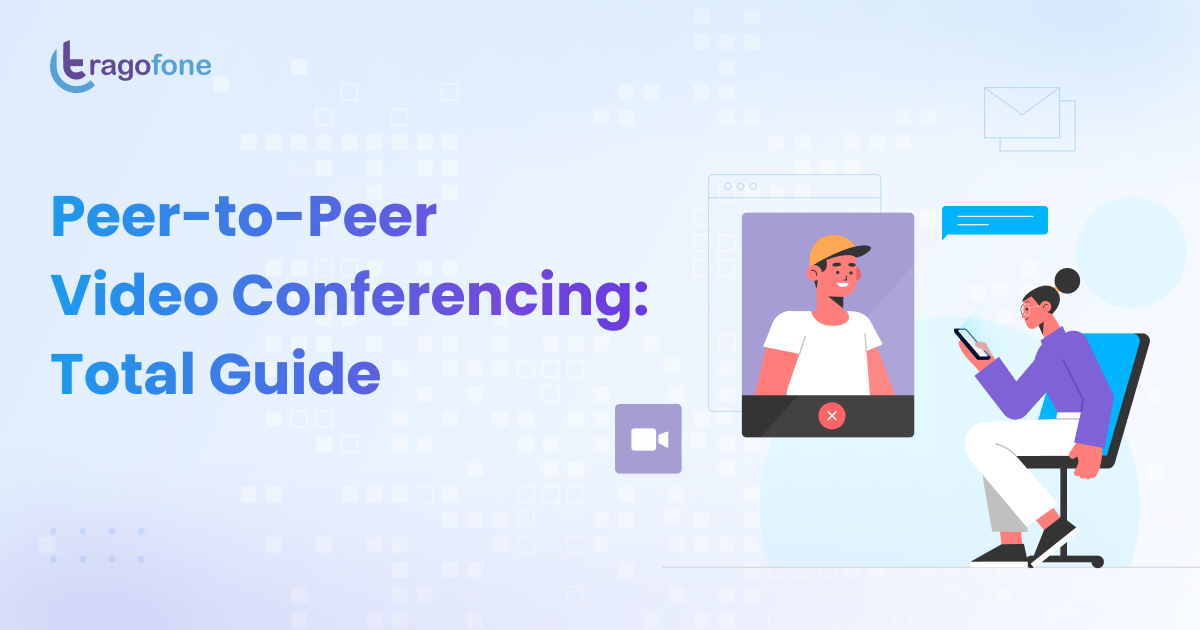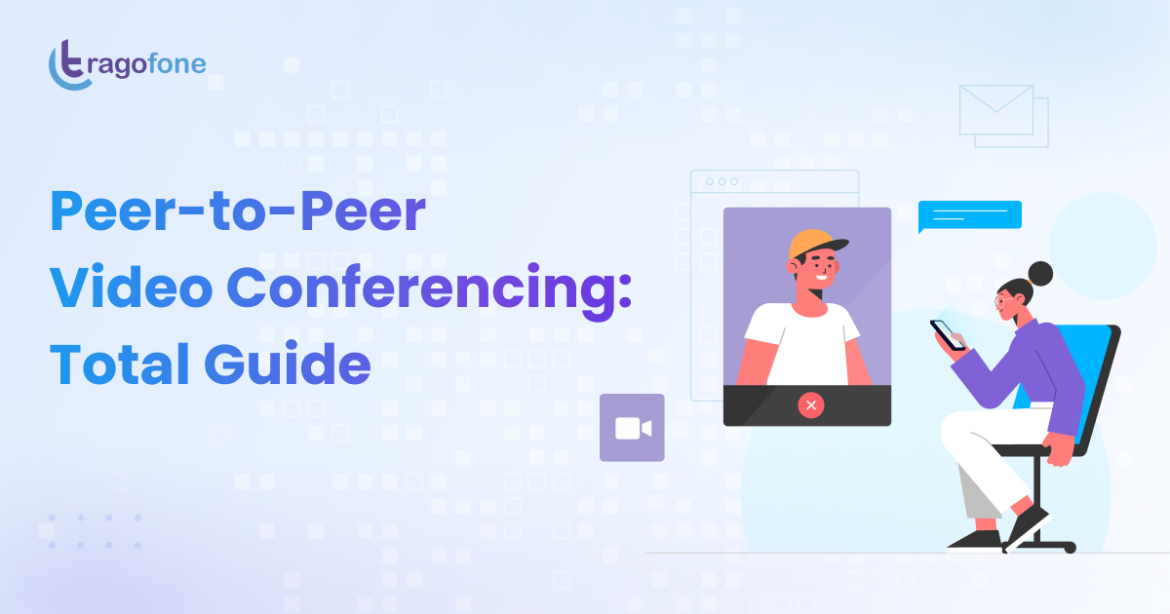 Sometimes you have to leap too high to get a ball over to the other end of the court in a game of volleyball. You just wish there was no net. Nothing in between you and the opponent, at least when you take the shots! Would be great, wouldn't it? When you are having a conversation with someone, the same applies. 
What if there wasn't a crowd of people in between? That's how important privacy is for everyone who engages in a conversation. When you talk to your friend on a third party platform, there's almost always someone making the conversation possible. That's the intermediary possibly listening in to your conversation.
What is Peer-to-Peer Video Conferencing?
Is it possible to have a conversation without an intermediary? Can you directly talk to a contact? Yes, peer-to-peer communication is definitely possible, with video, which we will hereafter refer to as peer-to-peer video conferencing. P2P video conferencing is a kind of video conferencing that happens directly between two people, with no cloud or outside servers required. This is made possible with a technology referred to as WebRTC. 
It is a great way for smaller groups to communicate and share data, because they will be connected instantly in the P2P network. There is no latency either, so the connection remains smooth between them. The security and quality of the connection depends on the security and quality of each individual connection. 
How P2P video conferencing works
P2P video conferencing also works on a client-server model. Though it seems unlikely, technically here too there is a server. One of the computers initiating the connection acts as the server, and gives the other connecting computer its IP address and other information over the Internet. The client then establishes connection with the server. 
The result of such peer-to-peer video conferencing is that the voice on the calls made are very crisp and clear and security is prioritized. Communication is also smooth as long as there is sufficient bandwidth. 
As more and more users join the call, there is a drop in the call quality and the level of security that can be maintained. A one-to-one call requires a speed of at least 2 Mbps download and a speed of 2.5 Mbps upload. Calls with four or more participants require at least 3.2 Mbps both for upload and download for every connection. An ideal video conferencing solution will allow multiple parties to communicate and allow low latency video between them.
Options for
P2P Video Conferencing
There are several applications for P2P video conferencing. But most of these, despite being great for personal use and very affordable, can not be used by businesses. Let us look at some of the P2P video conferencing apps now. 
Tox Chat 
A free P2P video chat platform, Tox Chat is decentralized, encrypted and most importantly open source. This means that there is no connection with the cloud, the communication it enables is still private and its source code is made available to the public to modify, giving due respect to the owner of the code. It comes with several enterprise grade features such as file sharing, screen sharing etc. 
Tox Chat is available on several platforms such as various versions of Linux, Windows and MacOS. Connections are also available for both popular mobile platforms Android and iOS. There is a way to not only chat but also call your peers within Tox Chat. 
Retroshare
Retroshare creates an encrypted connection between you and your friends, bringing all of you into a single P2P network. Forums, chats, and mail are provided as features in the app. It provides security (not enterprise-grade) and anonymity to its users just like Tox Chat. Just like Tox Chat, Retroshare is also decentralized. 
It is a free and open source and is available on Linux, Windows and MacOs. Because it is primarily intended for personal use and not for business, it may not be appropriate to use it for the latter. For enterprise-grade applications, it may need to be modified.
Alternatives to
Peer-to-Peer Video Conferencing
Peer to peer video conferencing has its own advantages that we spoke about. But for business use, it will not work. You may need the power, the reliability, the additional security (via an authentication server) and the ability to scale that a cloud softphone such as Tragofone gives. It is also not a physical phone but a VoIP softphone that can be installed on any device including a mobile phone. Back to our example at the beginning, to enjoy a good game of volleyball, you do need a net after all! Cloud-based telephony is great, and is here to stay!
Tragofone
Looking for a VoIP softphone for your specific industry application that satisfies your every work need and can be used by your employees too as they work from home? Enter Tragofone, a VoIP softphone with support for white-labeling, and high quality, robust, and secure communication. Its VoIP capabilities (support for both audio and video) are powered by WebRTC. It has the following features:
#1. Audio calling
Supports conferencing via audio for a number of clients. Can be used for one on one conversations with customers or for a quick discussion within your team, with support for large groups. 
#2. Video calling
People love to talk face to face. Sometimes when one speaks to another over phone, it is difficult to gauge exact emotions and intent. Video makes this more clear. Tragofone supports video and audio calling. This allows you to establish trust with clients and among employees as discussions happen face to face. Discussions are also more impactful and there is little possibility of any miscommunication. 
#3. WebRTC
What is WebRTC? WebRTC is a new technology that enables robust communication between browsers over the internet. Tragofone's WebRTC softphone ensures that the communication is secure and of very high quality from browser to browser using the WebRTC framework and a signaling server.  It also requires no plugins, is open source and can be easily modified to make it even more robust.
#4. Push notifications
A push notification is a notification sent out by an app that appears even when the app is not open. Having the capability to send out push notifications is immensely useful in today's world. With the permission of the customer, if push notifications are enabled on the phone, then this could be a great tool for marketers to reach out to the customers regarding sales, a specific order or returns. Tragofone's VoIP softphone supports push notifications.
#5. White label
Everyone loves their brands. They certainly would want support for white labeling then. In VoIP softphone white labeling, a company purchases another company's services and then presents them to the customer under their own brand name. Now brands can add their logo and names to their VoIP phone and personalize them to further improve their visibility and popularity.
#6. Auto provisioning
Are you unsure of how many clients will join and are worried how the clients will be provisioned? Fret no more. Now you can rest assured with Tragofone's softphone with auto provisioning feature, which supports centralized provisioning for every business and is easier than other VoIP softphone systems to set up as well. The simple plug and play setup and single click login enables speedy set up which can be a timesaver. 
#7. Wide compatibility and compliance
Tragofone's cloud-based VoIP softphone finds application across a number of industries such as telecom, IT, PSUs and is used by government organizations also. It is also fully compliant with communication standards for the safety and privacy of communication through it. Tragofone's VOIP softphone is also compatible with IP PBXs, SIP gateways, and softswitches. 
Benefits of video conferencing for your business
Video conferencing, regardless of what type of technology one is using, has revolutionized the way people think, collaborate, and work. It has several benefits that make it almost indispensable for your business to have a video conferencing system in place. But there are two key benefits that stand above all else. 
#1. Lesser capital required
Working from home will allow companies to do away with several costs that are generally associated with physical meetings.First and foremost is the commute to the office. Office commute is costly in big cities where employees stay a distance away from the office. They have to spend a lot on getting to the office, a cost companies may need to reimburse.
The second major cost is that infrastructure, rent paid for office space, seating arrangements, the money spent on food and sanitation etc. When your employees work from home, you can avoid such expenses. With video conferencing employees can not just work from home but work from anywhere. 
#2. Improves productivity and collaboration
In a world going digital and global, a face-to-face meeting may not be called for. Sometimes the difficulties are at your end, sometimes it's the client who refuses a face-to-face meeting. 
But this could be to your advantage. When people collaborate in real-time, the risk of miscommunication is highly reduced.
Clarifying doubts is easier and the turnaround time for each stage of the project is also reduced, bringing the project itself to completion sooner. It facilitates brainstorming and people can come up with ideas to solve a problem much faster than before. 
Why Tragofone?
We looked at what makes Tragofone stand out as a solution even in the cloud telephony space and why it is better than peer-to-peer video conferencing. Let us now see how it would actually benefit a business.
#1. Wide range of features
Audio calling, video calling, and auto provisioning are all great features that may be found elsewhere but not with the same ease. You now have zero-touch provisioning and the capability to login quickly without anyone having to memorize their SIP credentials. It also provides screen sharing and file sharing, which facilitate collaboration. 
#2. Integration with third party applications
Do you have any particular applications you cannot run without? There is a list of pre-built integrations that are supported and your CRM or CMS (content management system) could be on the list.
#3. Number porting
Your number is vital to your business. It's a customer-facing aspect of your business. Tragofone allows number porting, which means you can continue to use the old number you and your customers are familiar with.
#4. Support
Tragofone provides 24×7 customer support, and our agents are trained to answer any query, and if unable to, then to escalate it on priority to managers who are equipped to do so.
Conclusion
Tragofone is a cloud-based VoIP softphone built from the ground up to be easily customizable, secure, and user friendly with a range of features. It could benefit any business looking to work remotely or engage with clients across oceans. P2P video conferencing might work for one-on-one communication. But cloud-based telephony is the future and Tragofone the torchbearers looking to take your business to the next level with VoIP solutions that are secure, scalable, and reliable.