WebRTC Softphones for iOS, Android
With our WebRTC softphone, bring powerful unified communications to your mobile phones. Get auto-provisioning by default and white-labeling as you need.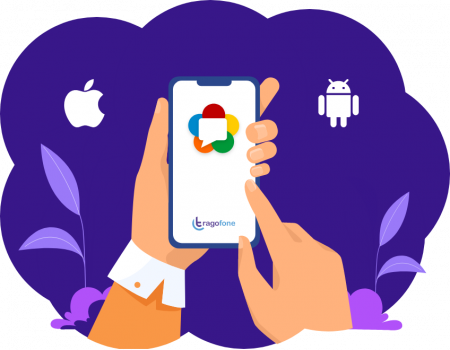 WebRTC is a multi-purpose application that allows communication to be directly integrated into content for a richer conversation.
WebRTC softphone enables enterprises to deliver sophisticated communication services to employees and customers via a simple-web-browser.
WebRTC softphone provides powerful multimedia capabilities to the web, be it voice or video conferencing support, file exchange, screen sharing, identity management, or interfacing with legacy telephone systems.
WebRTC softphone brings VoIP to the browser natively, without needing plug-ins or software.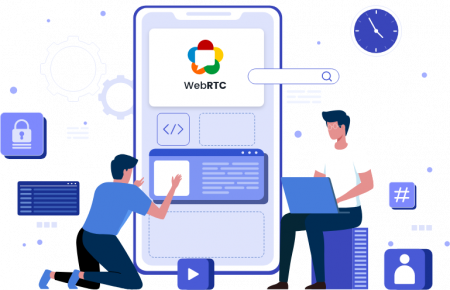 Our WebRTC Softphone Enhances Unified Communication

Audio Calling
Enjoy advanced and optimized voice call quality across all mobile, web, desktop, and desk phone devices benefited for web-based SIP clients.

Video Calling
Get bowled over by WebRTC's most impressive feature: Stream real-time video across browsers without requiring plugins or downloads.

Chat Messaging
Get uber professional. Disrupt the way you send and receive text messages with WebRTC's advanced chat messaging feature.

File Transfer
Forget antiquated upload-download file transfer processes. WebRTC SIP phone gets the job done in 3 simple steps: convert file to buffer, transmit, compile back.

Presence
Want to know if the WebRTC user or WebRTC SIP client you're calling is online and available to accept your call? Tap Presence to find out.

Push notifications
Provide unsolicited notifications for incoming connection requests. Make them available even if the app is not running, and irrespective of network environment.
White labelling support
Change your application's taskbar, market icons, and static images to sync your White label WebRTC powered softphone with your personalized branding.

Auto provisioning
Configure your WebRTC phone with predefined settings and give your solution a security edge, by minimizing the risk of information leakage.

Cloud Phone
Log into the power of the cloud. Manage your softclient configurations via a web portal. Use cloud to deliver services, without any additional infrastructure.
Industries clocking exponential growth with WebRTC Softphones





IT Industries – Enterprise Level

Your SIP servers don't support WebRTC gateway? No problem! Tragofone got the WebRTC SIP gateway covered.
Tragofone's Push Call Server comprises WebRTC Gateway and converts the WebRTC signals into SIP and vice versa. Make Tragofone your preferred WebRTC softphone for your business communication. With its inbuilt SIP WebRTC gateway and disruptive communication capabilities, Tragofone is empowering workforces. So now, no more SIP to WebRTC or WebRTC to SIP.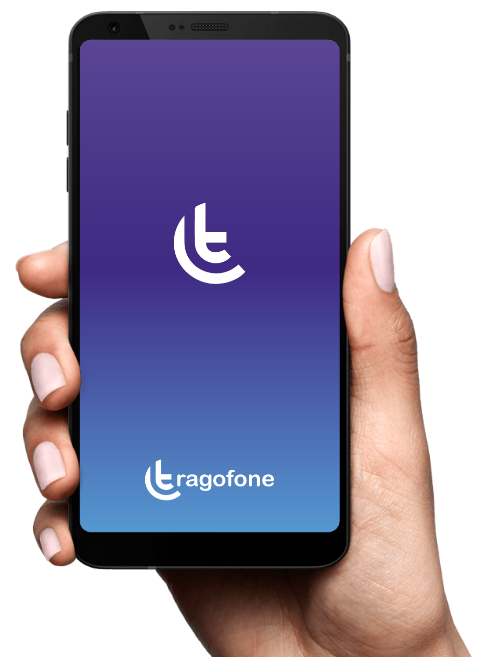 Our WebRTC Softphone is Compatible with,





Frequently Asked Questions about WebRTC Softphones
01. Why are technology giants rushing to adopt webRTC?
Nowadays, WebRTC application development is a much talked about and innovative topic. Why is it catching the attention of big companies?
–        It supports multiple platforms and devices.
–        It secures voice and video Connections.
–        Provides high quality of voice and video calling
–        Adapts well with your network conditions.
–        There is interoperability with voice and video systems.
–  No specific knowledge of WebRTC technology is required as it provides standardized APIs.
02. What are the differences between a generic versus a White Label WebRTC softphone application?
A White Label bundle comes with a completely rebranded application, where our developers provide updates and support under your brand and corporate identity.
The generic version will only show your brand after you have completed initial provisioning. You can easily upgrade or downgrade between the different bundles.
03. What is a Cloud WebRTC phone?
A Cloud WebRTC phone runs right from your browser. There is no additional software to download or install. You simply enable the Cloud WebRTC phone and can immediately use it to make and receive calls. 
04. How does Webrtc help in VoIP calling?
VoIP telephony based on the browser removes the need for physical and softphone equipment altogether. Compared to other VoIP devices, this solution has several advantages – both hardware and software.
A browser-based solution using WebRTC is an even more elegant solution. For web-based calling, it doesn't matter what hardware or operating system you are using. The solution will operate in any WebRTC-supporting browser. There is no need to bother with updates either.
05. What do I need to setup a WebRTC audio video calling service on my website?
To set-up a WebRTC audio- video calling service on your website, you must hire a professional WebRTC application company that will provide you the requested solution.