WebRTC vs. SIP Softphones: Unveiling the Distinctions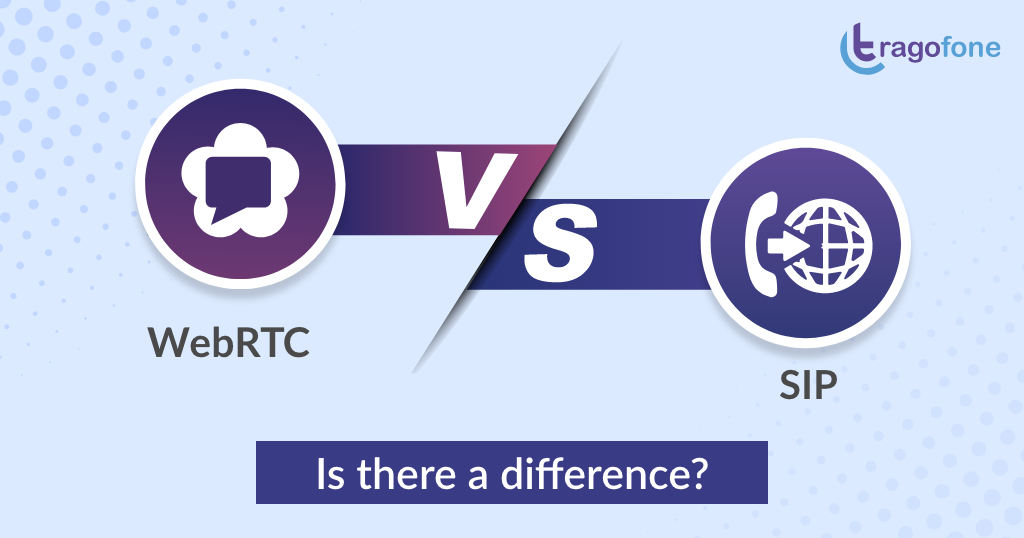 The most commonly used real-time communication protocols for VoIP based video and audio communications these days are the session initiation protocol (SIP) and web real-time communications (WebRTC). These protocols have been extensively used in WebRTC softphone and video conferencing applications.
Over the years, WebRTC has been standardized by International communities such as The World Wide Web Consortium (W3C) and The Internet Engineering Task Force (IETF) which are working together towards elaborating JavaScript APIs, HTML tags, and communication protocols to improve the quality of video and audio exchanged between peers in different types of applications.
SIP, is an application-layer control protocol developed by the Internet Engineering Task Force (IETF). SIP is the implemented standard for initiating, altering, and suspending an engaging user session which includes multimedia elements for instance voice, video, and instant messaging. SIP's prime goal is communication among multimedia devices.
As we become familiar with a world of new acronyms, it is interesting how the term WebRTC and SIP (Session Initiation Protocol) are often used to denote the same core technologies. Many companies use both in tandem to devise the best communication solutions. Are both these technologies really different or they do have some commonality? Let's find out. 
SIP and WebRTC share a unique relationship with each other. Both are infrastructures developed to support real-time communication and collaboration over the Internet. The difference however lies in the way both operate and in their capability. Although both seem to be similar in appearance, it does not make them competitors but rather siblings. 
WebRTC is not to be mistaken as a newer form of SIP. Instead, both WebRTC and SIP, are VoIP technologies. WebRTC expands on and integrates SIP functionality. That being said, the two infrastructures embrace a union where both complement each other.
In order to understand the difference and similarities between WebRTC vs SIP, we first need to understand what these two mean individually and how they function. 
What is WebRTC?
In 2011, Google built an open-source solution known as Web Real-Time Communications (WebRTC). This solution enabled peer-to-peer communication in web browsers and mobile applications through the use of application programming interfaces (APIs) which comprise audio, video, and data transfers.
WebRTC simplifies communication by reducing barriers. This disruptive technology leverages plugin-free APIs and can be used in both desktop and mobile browsers. Today, WebRTC is supported by almost all major browser vendors. Before the birth of WebRTC, external plugins were needed to achieve the same functions. 
"WebRTC empowers traditional web browsers to perform browser-to-browser communication such as voice calling, video chat, and data sharing without the need of any plugin."
In the last decade, WebRTC has seen steady growth in popularity and adoption. By 2016 there were an estimated 2 billion browsers enabled to work with WebRTC. It has also logged over a billion minutes and 500 terabytes of data transmission per week from browser communications.
WebRTC's main function is to allow access to devices. Users can access the microphone or camera on their phone or laptop, or even the entire screen. They can capture displays and even have that screen shared or recorded remotely.
WebRTC allows sending and receiving any type of data besides videos and calls. No wonder that WebRTC is becoming a popular choice for real-time communications. It is an open-source project, is free for commercial or private use, is available in all modern browsers, and since the source code is portable it can be used in mobile apps as well. WebRTC has created a vibrant ecosystem of different vendors and companies, which, in turn, has enabled the creation of new use cases and business models.
What is SIP (Session Internet Protocol)?
SIP is a signaling protocol for IP-based telephony applications. It provides the control layer for communications such as the establishment, maintains and release of a voice call. This communication technology does more than just connect agents to their clients. It allows users to manage and modulate every call that enters their system. What's more, SIP is content-agnostic. Although SIP was initially designed for voice communication, today it is also used for establishing sessions for instant messaging, video conferencing, SMS, file transfers, and more.
SIP is essentially used for internet telephony and disseminating multimedia between two or more endpoints. For instance, a user can start a telephone call with another user using SIP, or initiate a conference call with multiple participants.
"SIP (Session Initiation Protocol) is a protocol for VoIP that is widely used for controlling multimedia communications such as voice and video calls over Internet Protocol (IP) networks. It delivers telephone services and unified communications to customers on IP-PBX and Unified Communications platforms."
The SIP protocol was designed to be simple, with a limited set of commands. Since it is text-based, anyone can read a SIP message that is passed between two endpoints in a SIP session. The protocol is also flexible and comes with great depth. It was designed to set up real-time multimedia sessions between different participant groups. For instance, apart from facilitating regular telephone calls, SIP can be used to set up video and audio multicast meetings, or instant messaging conferences. 
Since SIP is an open standard, it has sparked enormous interest in the telephony market. SIP is not voice, not video, and not data – the protocol is not restricted to any one media. Also, while it is mostly applied to VoIP, it's not exclusively a VoIP protocol as well.
SIP launches and ends IP communication sessions that could either be voice calls between two users or a team video conference. It initiates the session by sending messages – in the form of data packets – between two or more identified IP endpoints, also known as SIP addresses. Every SIP address is linked to a physical SIP client – like an IP desk phone – or a software client – a softphone, for instance.
During these sessions, SIP does not decode or transfer any information. Therefore, the protocol can be used for video conferencing and instant messaging besides making internet voice calls. 
Difference between WebRTC vs SIP
Basic functionality
WebRTC

is a communications technology that enables a user to add real-time media such as audio, video, and file transfer to every web browser. This means that one need not install a softphone on their computers, phones, tablets, and other devices. Rather, any device with a web browser will have real-time communications capabilities.
SIP's

primary function is to set up connections between groups of users/participants.

This process involves 5 parts: 
User location:

This tells the protocol where the end system that will be used for the call is located.

User availability:

This tells the protocol whether the party that is being called is available to take it.

User capabilities:

This determines the media that will be used for the call.

Session setup:

This involves connecting a call from one user to the other.

Session management:

This involves the running of the call session – for example: transferring and ending a call.
Method of connection
WebRTC

only sets up and describes the media and its capabilities. This generates a need for a method of exchange still necessary for a session to be established. WebRTC is suitable for users who want to enhance an existing service with real-time audio and video. However, a protocol will still be needed to move past this function and communicate with others. WebRTC will need a protocol like SIP that reaches out and sets up a session.
SIP

devices can communicate directly with each other. They often use other intermediary systems (SIP proxy) and other protocols to connect SIP servers to SIP endpoints.
WebRTC vs SIP Benefits
#1. WebRTC is an attractive technology option because of the following benefits it has to offer:
Low latency delivery and networking

Platform and device independence

Open source technology

Adapts to any network condition

Enables screen sharing

Enables multi-user video conferencing and collaboration

Provides real-time services for live communication

Interoperability with VoIP and Video

Secure voice and video calls
#2. SIP offers the following benefits:
Establishes a direct connection between private and public phone networks

Provides end-to-end authentication and encryption

Supports both unicast and multicast communication

Allows easy addition of capabilities

Asynchronous events notifications

SIP is non-numeric, it is text-based

Remains unaffected by external elements like weather, leaving less margin for errors

SIP is much cheaper than traditional telephone lines
How do WebRTC and SIP softphone co-exist?
Although WebRTC seems to be an attractive option for a wide variety of applications ranging from online gaming to business, the issue of connectivity still persists. (Read it as a protocol is still necessary.) This is where WebRTC will need SIP.
Do SIPs also need WebRTC? The simple answer is no. SIPs have the capability to use multimedia systems on a computer without a browser. Users can use SIP with the help of a VoIP provider and SIP softphone software. 
However, from a user's usability and convenience point of view, it is WebRTC that makes SIPs easier to use. This is primarily because WebRTC uses the device's browser which is usually already installed on all computers.  As mentioned earlier, one does not have to install any additional software or softphones which negates the need to learn anything about using new software, applications, or devices. WebRTC is compatible with your browser, with which you are already familiar.
SIP and WebRTC are both VoIP methodologies as they both stand for real-time communications and look to send voice (and video) over an IP network (using the same standards/codecs). 
Applications that used the combined power of both WebRTC and SIP
You will be surprised to know that the apps that we use on a day-to-day basis showcase the power of WebRTC and SIP trunking when combined, enabling real-time communications across browsers and phone systems. However, one thing that is noteworthy is while all other apps mentioned below cater to the B2C segment, Tragofone is the only softphone mobile app that caters to the B2B market.
WhatsApp: WhatsApp launched as a simple messaging service. However, after its acquisition by Facebook in 2014, WhatsApp has grown into one of the world's most popular platforms for real-time voice and video communications. The technology that backs WhatsApp's native Android and iOS applications rely heavily on WebRTC (such as the use of acoustic echo cancellation and active gain control from the WebRTC voice engine). WhatsApp also leverages SIP for faster call setup and more reliable communications.
Google Hangouts: Google Hangouts enables a user to make phone calls, send SMS, do video conferencing, and messaging capability all within the browser. Though there are many similar applications out there, Google's software remains a solid benchmark for demonstrating the scope and capabilities of WebRTC.
Google Meet: Meet is Google's premium enterprise video conferencing tool. It supports the seamless collaboration of more participants on a video call and real-time speech-to-text transcription.
Discord: Originally created to serve the online gaming community, Discord is a perfect example of how WebRTC can easily accomplish the same tasks that were once performed using VoIP applications. Discord enables group voice calls and uses WebRTC to support in-app messaging and enables users to add an unlimited number of people to calls.
Tragofone: Tragofone is a custom-built, white labeled softphone app that enables mobility, one-on-one audio/video calling, collaboration with the team all using WebRTC. Unlike other players mentioned in this list, Tragofone caters to the corporate (B2B segment) rather than B2C like WhatsApp and other players. Tragofone is more tuned to business requirements and also provides white labeling in softphone and other customizations.
Final thoughts
Despite all the similarities and differences, both WebRTC and SIP technologies represent two sides of the same coin. WebRTC may not necessarily use SIP, it can function by using another protocol, or in time all by itself. SIP on the other hand does not need WebRTC, it can function on its own or utilize other protocols such as Real-time Transport Protocol, SIP proxy servers, registrars (requests and places information to correlating locations), redirect servers, session border controllers, and/or gateways to send voice data between phones after setting up calls. 
Though singularly both technologies have very strong functionalities, one cannot deny the fact that both technologies benefit from the other's inclusion. WhatsApp is one of the most successful apps which has beautifully used both WebRTC and SIP together.
So, to answer our question, yes there are differences between WebRTC and SIP in terms of functionality. However, the end goal is the same, to create a seamless communication channel between people. By using the best features of both technologies one can do wonders.