What is VoIP Latency and Why Does It Matter and How to Fix It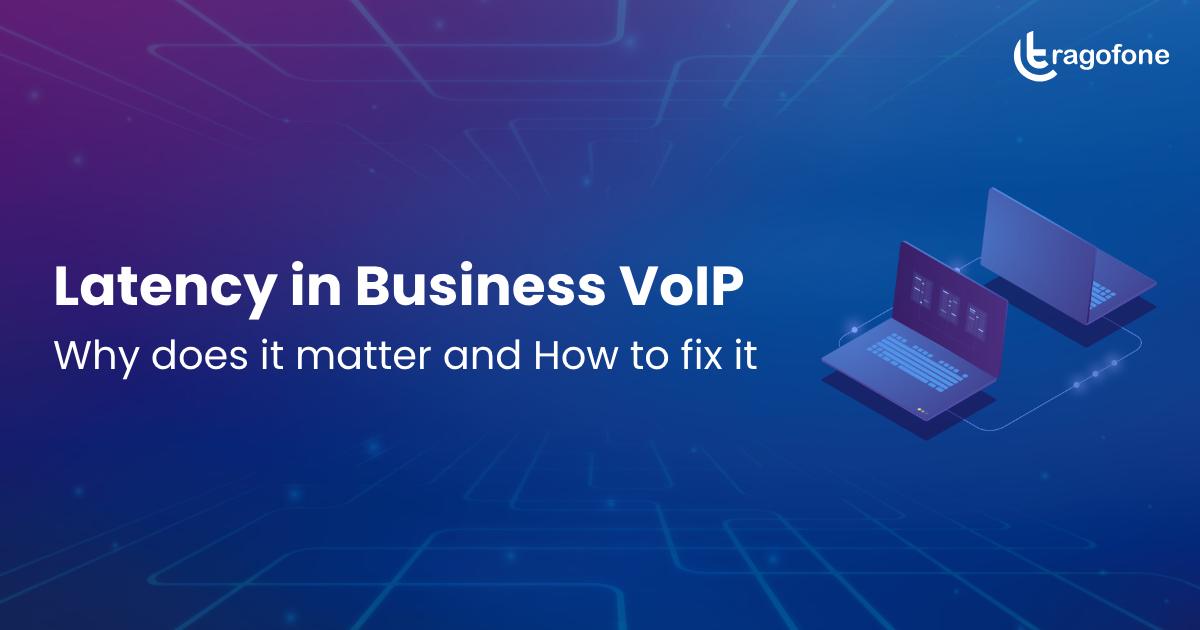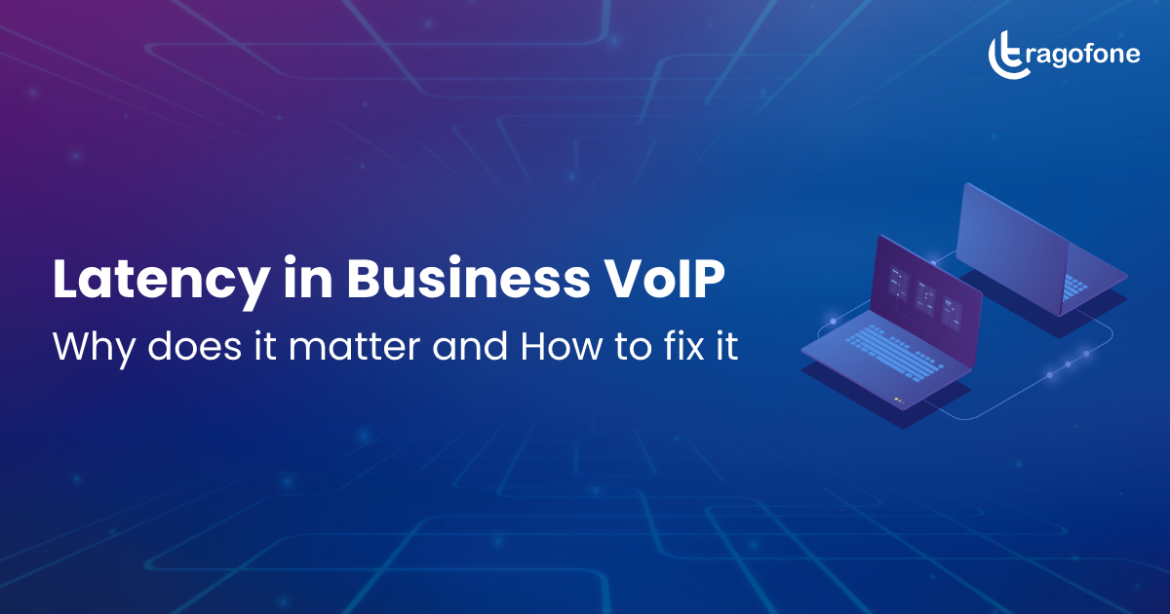 In the last few years businesses have moved from traditional phone systems to VoIP systems given its flexibility, cost-effectiveness, and technological efficiency. However, despite a plethora of benefits that VoIP offers; latency in VoIP calls remains a big concern for many business owners and thus the hesitance to make a shift. Given the fact that VoIP calls are in real-time even the minutest of delay is immediately noticeable. Latency in VoIP is a serious issue and can significantly impact call quality and put your business reputation on the line. You may not even realize it but low latency VoIP can lead to a significant revenue loss for your business.
In this article we will delve into:
What is VoIP Latency?
Why does latency matter?
What is VoIP?
Acceptable limits of latency
Ways to measure latency
Factors behind latency
How to fix low latency issues?
What is V

oIP Latency

?
Latency refers to the lag in response time between action initiation and the corresponding action completion time. The data transfer from one endpoint to another gets delayed or takes longer than we had expected resulting in latency. One of the most common examples of latency is a slow loading web page or the time taken for a video to buffer and play smoothly on YouTube.
Latency in VoIP refers to the delay that occurs when a caller speaks and when the receiver on the other end of the line hears what is being said. VoIP data basically are compressed digital files made of raw audio which are transmitted via data packets. These data packets are delivered in a sequence through the device being used to make the call, a router, VoIP platform's server, a carrier network, and finally, to the recipient's device. When the receiver responds, data packets travel through the same sequence to the caller. Given the long and complex journey latency in VoIP is common and unavoidable. As a matter of fact any business phone service that relies on the Internet will face some minor latency issues. A major VoIP latency however can have a significant negative impact on business communications.
Why does latency matter?
Today businesses function in a world of  real-time communication and for industries such as call centres and contact centres a good phone system is a non-negotiable for business growth and survival. Being internet based technology some latency is bound to happen in any VoIP system. However, persistent latency in VoIP can impact the quality of phone calls and businesses negatively.
Impact of low latency VoIP on business
Latency in VoIP has a direct impact on a company's communication services. High levels of latency in VoIP translates to a compromise in quality of inbound and outbound calls. Persistent latency leads to a significant loss of company productivity, reputation, and revenue. Let's understand the impact of latency on a business with the help of a few use cases.
Low productivity: A team of fresh interns have been assigned the task of  doing research on an upcoming new project for automating the payment system for a client. They need to prepare a report on technologies being deployed, solutions and features offered by competitor's, and the basis of the current payment system the client has. As a first step they surf the internet to gather as much information as they can. However, it takes hours for the webpages to load and videos to stream on YouTube. The research that could have been done in two hours takes up the entire day thanks to a high internet lag.
Loss of reputation: A renowned online fashion portal announces its 4th July sale with 24×7 support available on call. However, due to latency issues the website crashes when so many people log-in together to shop the sale. Customer calls soon start flowing in, however, again latency leads to distorted calls and high call drop incidences. The sale is a big failure, results in bad user experience, and a loss of reputation for the company.
Revenue loss: With all systems of day to day business operations such as inventory tracking,  payments, and more moving online persistent latency can break down the flow of operations and eventually lead to revenue loss.  Latency will lead to delays and long waiting times with frustrated customers walking into your competitors nearby.
Understanding VoIP and VoIP latency
VoIP (Voice over Internet Protocol) is a technology that enables users to make and receive calls over the internet using a device of their choice by converting voice into digital signals. However, as delivery of calls happens through the internet therefore quality of VoIP calls depend on the following factors:
Quality of internet connection of the person initiating the call
Call recipients internet connection
Connection along the path in between
The Internet is thus one of the most important factors that determines VoIP performance. While both developers and business owners focus on all aspects such as the features offered, network latency is often overlooked and can lead to significant communication issues.
Acceptable limits of latency in VoIP
VoIP systems use the internet to transmit data so  some form of latency will be there. But how much latency is too much and what is the VoIP latency limit that does not hamper VoIP call quality? Industry experts suggest that latency of 20 ms (milliseconds) is normal for and up to 150 ms the latency is barely noticeable and hence acceptable. A latency higher  than 150 ms diminishes the call quality. Latency levels between 150 ms to 300 ms are within acceptable latency limits. However anything beyond 300 ms becomes unacceptable and you may face severe interruptions and noticeable lags during calls. In such a scenario connect with your VoIP service provider and demand for a VoIP latency test.
Measuring latency in VoIP
VoIP latency is usually measured in two ways:
One-direction latency: This is the time a data packet takes to travel from the source to the destination (one way).
Round-trip latency: This is the time a packet takes to travel to and from the destination back to the source. Do note that the data packet that travels back to the source is different from what was sent.
Factors behind latency in VoIP
As iterated multiple times a minimum latency will be there. Eradicating latency completely is impossible and occurs due to many factors which are beyond our control. Let's delve into what causes VoIP latency.
Overcrowded network: A business VoIP phone system uses the internet that may be connected to computers, smartphones, and other web-based devices that employees are using. With so many devices connected to the same Internet network results in a network that is overburdened or overcrowded. If you have an internet connection which has low bandwidth with so many devices connected to it, data packets are bound to travel slow or get delivered in the wrong order resulting in VoIP latency.
Using Wi-Fi network: Using your VoIP system on Wi-Fi while on the move can lead to a significant lag in data transfer from one device to another.
Hardware issues: A damaged ethernet cable or an outdated internet modem, outdated device that is incompatible with the latest updates on your VoIP phone system can lead to significant lags in the call.
Wrong codecs: You as an user have no control over the codecs your VoIP provider is using  to encode voice signals into digital data for transmission over the network. A wrong codec can lead to high latency in VoIP.
Fixing low latency VoIP
Though there is no escape from VoIP latency, a lot can be done to minimize latency in VoIP to a level that it does not interfere with the call quality and performance. Re-visit your equipment, hardware, routing, and bandwidth speed to make sure VoIP latency is significantly reduced. Let's look at the solutions to reduce latency in VoIP one by one.
Re-asses and replace equipment and devices that are slow: It is a good practice to keep checking the condition of your network equipment such as modem, cables, devices on a periodic basis. Immediately replace faulty, damaged, and outdated devices. In short, keep all devices up to date.
Disconnect devices that are not in use: With so many employees working on the same network it is highly likely that there are many such devices connected to your network which are actually not in use but they still utilize some bandwidth. Make sure to disconnect all unused devices from the network for a seamless VoIP experience.
 Business continuity plan: At times your primary network may collapse due to unforeseen circumstances. It is always a good idea to have an Internet connection from two different providers, one being your primary network on which all your high-traffic devices are connected and the secondary network on which you have all your low-traffic devices. This solves two things, first the primary network does not get overcrowded or overburdened. Second, on days you experience alarming latency issues or a network failure, you can always move to the secondary network and make sure business continues as usual.
Assess your network traffic and prioritize based on usage: Do you have a remote team working out of various locations? How do these teams collaborate? Is it more of audio calls or video calls? Assess your usage and prioritize the network traffic based on the applications that are most important. Invest in a good quality VoIP-priority router which does not impact call quality even when users have to share or download large files during a meeting.
Optimize your data packet routing: At times your data packets may be taking a longer route than required to reach their destination. It is a good idea to get a professional data routing test done and make a more optimized and shorter route for faster delivery and seamless call experience.
SD-WAN (Software Defined Wide Area Network): A smart way to optimize your data routing is to invest in a SD-WAN, a software to manage Wide Area Network (WAN) connections and to optimally route all network traffic between headquarters, remote and branch offices, and the cloud. SD-WAN also automatically  moves your phone system to a backup connection in case of a network failure. It helps in significantly reducing VoIP latency and ensures a stellar application performance.
Choosing a good Internet plan and service provider: It is now well established that the internet is the lifeblood of a good VoIP phone system. Assess your network load and requirements and invest in a high speed internet connection with adequate bandwidth to support call volumes. A reliable high-speed bandwidth and a good ISP provider can make or break your VoIP phone system experience.
Periodic inspection of your communication infrastructure, re-visiting your communication strategy, connecting with your VoIP provider from time to time to modify plans as per your business needs are simple ways to ensure latency is at bay. There is no doubt that VoIP phone systems are the best thing to happen to businesses. Consider moving to a VoIP softphone app such as Tragofone, which can be tweaked, customized, and white-labelled to address all your business communication needs. VoIP latency is never an issue with softphone apps.