What is a Cloud based VoIP Phone System?
This is an apt description to highlight how significant the internet and telecommunications have been in bringing the modern world together. And one of the most innovative inventions utilizing both these tools has been "Cloud based VoIP Phone System".
"The Internet is the heart of the new civilization, and telecommunications are the nervous system or the circulatory system." ~ Carlos Slim
Statistics do not lie. They are a good indicator of where technology stands in the present scheme of things. As per a survey report by Global Survey Research, the global VoIP phone system is expected to grow at a CAGR of 3.1% between 2019 and 2024.

Cloud phone systems have enabled companies to re-imagine how they can connect with other people without compromising their budgets. It has also emerged as a key technology for improving productivity in the workplace and providing flexibility and mobility to employees. No wonder then, that many companies that are trying to control costs are in awe of cloud based VoIP systems.
Busting Some Myths About Cloud VoIP Phone Systems
Most people get confused between a Business VoIP (Virtual PBX) and Cloud hosted VoIP phone systems and tend to believe that both are the same. Though essentially the same thing, there is a significant difference in their functionality.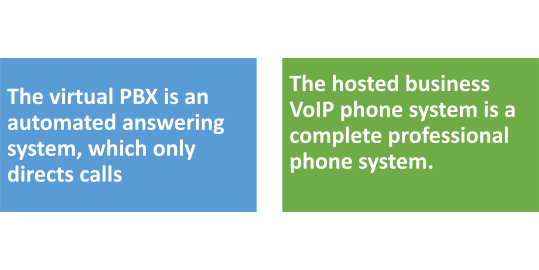 Both VoIP phone systems play an important role in lowering business costs when compared to an on-premises VoIP phone system. Deciding on the right cloud phone system is an important decisive factor in making a  business a success or failure. Multiple factors play an important role in determining the best cloud phone solutions. With so many service providers in the cloud phone system domain, one needs to evaluate the strengths and weaknesses of each provider to see what suits their requirements the best. As a business owner, you must internally evaluate the output that you expect from a hosted business VoIP phone system or cloud phone provider's solution. Is that too much information to process? Let's break it down step by step.
Cloud Based VoIP Phone System: The Basics
A cloud hosted VoIP phone systems is essentially a business communications solution. It is hosted and maintained by your cloud VoIP service provider in its data centers. The services are delivered to you through your internet connection. The key features of a cloud VoIP phone system are:
Hosted PBX capability, having the same routing and call management features as that of a traditional PBX using voice over IP (VoIP) to facilitate calls over the internet. 

A cloud based VoIP phone system has other capabilities as well, like a traditional office phone system. But these come at a much more cost effective VoIP app development point. One example is long-distance calling. 

The cloud VoIP phone solution is designed to be offered as a service on a subscription basis. This makes it budget-friendly for small businesses, as they do not have to invest in an expensive on-premise system.

Cloud phones systems can also be

white-labeled

, thereby helping small businesses in brand building.

VoIP technology converts analog audio signals into digital messages. This message can travel over the internet. VoIP and softphones enable companies to be mobile without losing the personal touch of voice communications.
Key Takeaways:
Cloud VoIP phone systems are hosted at the VoIP provider's data center, rather than the office premises. 

They are better known as 

cloud phone systems

 or 

off-site VoIP

, which means business owners do not have to manage any phone system hardware or "PBX".

From a technical and functionality standpoint it means that cloud VoIP is a package of a traditional phone system (or PBX) and a local/long distance phone service provider, connecting them to hardware that is highly secure, redundantly powered, that is present in geographically diverse data centers, instead of being located at your office. 

Cloud VoIP = Hosted VoIP. Cloud phone systems are also known as

Hosted VoIP

or a 

cloud-hosted PBX

. 

Hosted 

refers to a phone system hardware or PBX that is physically located at an off-site place and managed by a team of dedicated VoIP experts. 

VoIP is increasingly becoming a popular option as businesses do not have to invest money and resources to maintain and upgrade their business phone system hardware or PBX.

It is possible for an office to have a VoIP telephone service that powers their phones in the office. However, they could exercise the option of their PBX to be hosted at their VoIP provider's data center, hence the term: "hosted VoIP".
Benefits of "Cloud Based" VoIP Phone System
#1. Text messaging friendly
The millennials and most of the middle-aged population find texting and messaging as an easy way to communicate with peers, co-workers, and companies. According to an article in The Washington Post, a whopping 70% of consumers prefer to message businesses rather than call them. Interestingly, the customer satisfaction ratings are also 25% higher for text-based interactions. One can attribute this to a number of reasons, such as:
Texting is a convenient option over waiting endlessly on a call. 

People may not have the time or interest to stay on a call with a company executive when they are at work or taking care of their family in their personal time. However, it is easy to stay connected by texting when multitasking. 

Texting will not require them to move to a private place.

Today's customers are aware and demanding. They appreciate it when companies provide multiple options and convenience. A cloud VoIP phone system gives companies the option to provide the flexibility to switch between phone, text, or chat. 
#2. Call recording features
Exceptional business communication is based on a few tenets such as listening, understanding and following up on important discussion points. This can be difficult in the case of voice conversations as they do not leave a paper trail like emails and texting. However, modern phone systems come with a call recording feature enabling executives to save their conversations. A few benefits of the call recording feature include:
Executives can listen to the call recordings and make notes of the important points discussed, verify important details, share call recordings as proof to supervisors to settle customer disputes and fraudulent claims in some cases.  

Call recording is an important tool for employee training, performance monitoring and feedback. 

Call recordings depict a clear picture of the conversation between the customer and the representative. It helps companies gain insight into what worked, and what didn't.
#3. Smart Voice Intelligence (VI) backed transcriptions
Gone are the days when one had to plow through bulky transcriptions to find a single detail. Modern day cloud based phones come with machine learning and Voice Intelligence (Vi) features that have made transcription smarter. The modern day transcripts listen to what is being discussed and quickly summarize what is required to base the discussion. These smart transcriptions help:
Flag action items and critical call snippets while an executive is still on a call. 

This enables the executives to action highlighted items or searches through the full transcription for a particular keyword.

This feature eliminates the need for making in-detail notes during a call. The notes taking activity with traditional phone systems can take away the focus from what the other person is saying. Automation of transcriptions powered by Voice Intelligence saves you from the effort of talking and taking notes simultaneously.

Smart transcriptions thus play an instrumental role in eliminating the need for mid-call multitasking. This automatically translates to team members being good listeners and communicators.
#4. Promotes a hybrid work culture
The business has to go on as usual despite countries going into lockdowns, pandemics, or for any other reason. With what humanity has been enduring in the last 2 years, the flexibility to stay connected from anywhere is a necessity. This makes cloud VoIP phones a great choice. Employees just need a device (phone/laptop/i-pad) connected to the internet and Voice over Internet Protocol (VoIP).
The softphone app makes it possible to start a call from a computer or a device that is connected to the internet. Softphones often go hand in hand with VoIP as they are commonly powered by VoIP is key game-changer. They have been designed to integrate with the productivity apps that a business already uses. Being software, that can be installed on any device, and employees can click to call directly from Salesforce or within the business communication hubs like Slack. This also enables team leads and managers to log all call activities of the team members.
Consistency and brand identity is important in today's business scenario. Customers these days use nearly six touch points to communicate with a company, and they expect the communication experience to be consistent across channels. That's a challenging expectation to meet for enterprises using traditional phone systems. However, the white labeling capabilities of cloud VoIP phone systems have made this possible.
Shifting to Cloud VoIP Phone is The Future
VoIP technology has come a long way from its initial days but is still far from reaching its full potential. However, to meet the need of more and more employees seeking flexibility coupled with technological advancements the shift to VoIP phones is significant. As per a report "Artificial Intelligence" (AI) will back 95% of customer interactions by 2025. The COVID-19 pandemic has impacted our lives in unimaginable ways, the most significant being an overnight shift to remote work and hybrid work models. Data shows that cloud VoIP phones have played an indispensable role in this transition. See the figures below:
Post pandemic 42% of the U.S. workforce works from home. (Stanford Institute for Economic Policy Research, 2020)

India witnessed a rise in the usage of VoIP chat applications—from 3.45 hours per week to 5.22 hours per week—in the first phase of the country's nationwide lockdown. (Nielsen, 2020)

Webex supported 25 billion meeting minutes and half a billion meeting participants in April 2020. These figures are triple the software's average volume. (PR Newswire, 2020)

In March 2020, Microsoft Teams witnessed a 500% surge in calls, meetings, and conferences. (No Jitter, 2020)
Closing Thoughts 
The message is loud and clear. If you as a business have still not made a shift from a traditional phone system to cloud VoIP, now is the time to do it. VoIP helps businesses bridge the gap between managers and remote employees. It enables businesses to connect with customers in any part of the world and enables businesses to make the communications aspect of operations more cost-effective. Cloud hosted VoIP systems can easily accommodate voice calls and video calls and some providers can also enable access to instant messaging and built-in SMS.