How Much Does It Cost to Build a VoIP Softphone App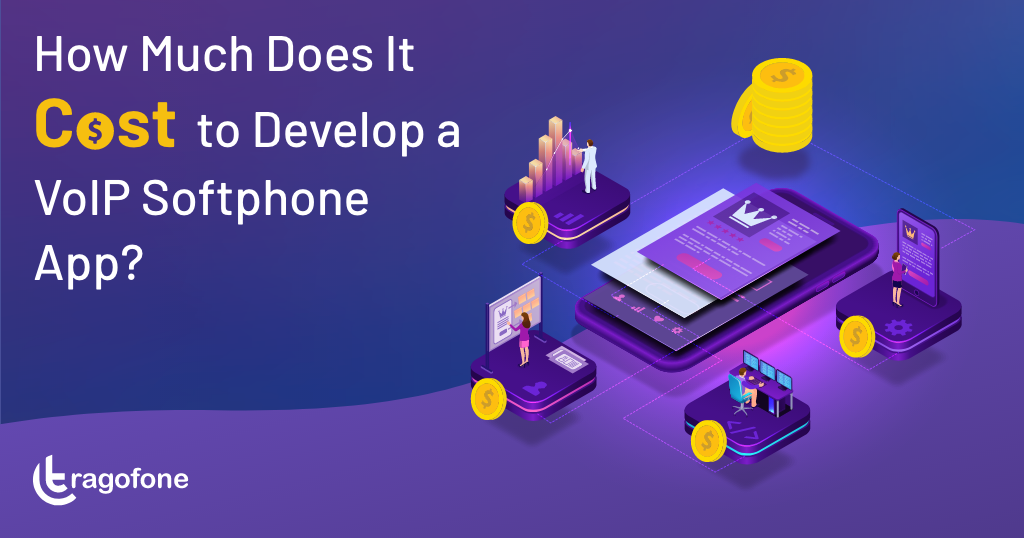 An average mobile application can take between 3 to 9 months to build. An app that is powered by VoIP is a different ball game altogether. It incorporates complex features that take time and effort to develop – even if you boast of a highly qualified VoIP app development team working on the project. This is primarily because constructing a real-time communications platform with end-to-end encryption, cross-platform support, and high-quality audio and video capabilities is not like any basic coding job. It needs technical expertise and time. 
Businesses that want to stay competitive, provide seamless communication and collaboration opportunities to their employees, and deliver exceptional customer experiences, have moved past the limitations of desk phone systems – that come with expensive hardware and physical phone lines in tow. 
Adopting the VoIP app has empowered enterprises to reduce their communication costs, while enabling their workforce to collaborate on the go or work from any location, without compromising on security or quality. 
Riding on the latest advancements in IP technology, VoIP-powered communication technology like VoIP softphone apps has revolutionized the way people stay in touch. It marks the end of the hardware era, as VoIP softphone apps can run on your computer, tablet, or mobile phone, and act as fully functional phones that facilitate audio and video calling, messaging, and file sharing. A VoIP mobile dialer application, or VoIP mobile app, is no longer an option for enterprises. 
Since softphone for business has become the prime mode of business communication, many technology enterprises are contemplating going to the drawing board to figure out how they can build a unique VoIP-enabled telephony solution that is tailor-made to fit their business needs. So what is the real cost, effort, and time involved in building a mobile application? 
In this blog, we will look at how an organization can undertake a project to build an in-house SIP softphone application, what key features they will need to incorporate into a suitable and high-performing VoIP mobile app, the resources they will need to bring on board, and the time and effort that will be involved in the process. 

Calculate the softphone system pricing now!
What it takes to Build a VoIP Mobile App
Building a VoIP mobile app that is secure, advanced, user-friendly, and empowers seamless communication and remote collaboration via smooth audio and video calling facilities and easy file transfer is a complicated – even costly – process. Such VoIP calling software must come loaded with premium features that will make it stand up to the demands and requirements of remote work and cater to the real-time communication needs of enterprises and their employees. 
A mobile dialer app that is built to facilitate strong communication needs to fulfill certain parameters that are unlike other, regular applications. What are these parameters that you need to take into account? 
 

Seamless audio and video codecs: Quality

VoIP apps stand for high-quality communication. Whether you are a customer service executive talking to a client, a contact center agent handling an incoming customer call, or employees collaborating over a conference call, high-quality audio and video capabilities will boost productivity and help your customers build confidence in your services.
 

Cutting-edge collaboration tools:

Quality VoIP applications make collaboration easy for employees and a critical and advanced feature of the application. Ensure that the application you build offers effective SMS and instant messaging, file transfers, and push notifications. Make sure that each feature gets individual and complete attention at the VoIP app development stage.
 

Security and end-to-end encryption:

This is a key feature that will have to be developed on a war footing. In these times of application hacking, cybersecurity risks, and the need for enterprises to keep their data secure, the security of your VoIP mobile app is supreme. Building best-in-class security systems will protect your messages and files from being leaked.
 

Cross-device support:

Portability and compatibility across devices are a key features of softphones. The VoIP softphone app that you build must offer support across Android and iOS devices and desktop support as well. This will require your VoIP app development team to be skilled in building cross-platform applications.
 

Enable auto provisioning:

Manual configuring of VoIP mobile dialer applications, once they are ready to be installed, can be a time-consuming and cumbersome job for users. Also, with employees increasingly working remotely it is difficult for organizations to facilitate manual configuring of their VoIP softphones. So

auto-provisioning

should be a key component of your softphone.

 
 

Extended tech support:

VoIP softphone

applications

require to be updated periodically, where the operating system needs to be navigated systematically, for both Android and iOS. Make sure that you build the bandwidth for providing this support.
 

SIP-empowered:

VoIP uses Session Initiation Protocol, or

SIP

, to manage the processes around setting up a call and transmitting audio. If a business needs a network system that will provide crystal clear images in long-distance video conference calls, SIP does the job seamlessly. It's also an easy way for organizations to send files and documents to their employees and outside its office. Include SIP into your softphone to make it function like a pro.
Resource Requirements for Building a Softphone Application 
Developing a VoIP softphone application requires a team of engineers who have expertise in a range of technical jobs, including VoIP app development and quality testing. Let's now look at the resources you will need to build a cutting-edge softphone solution: 
 

Software developers:

They will do the coding for the application, building all its many functionalities. If you are looking at designing a fully-loaded VoIP softphone application then you will need to hire a larger pool of developers.
 

Enterprise architects:

They will be the middlemen to liaise and build a channel between an organization's business strategy and its technological functionalities. They are usually clued into the latest tech trends and will know the fundamentals that are needed to build a strong VoIP softphone application that is user-friendly and optimizes communication for the enterprise.
 

Project Managers:

Your VoIP app development team will need a competent set of project managers in order to function as a cohesive, well-oiled team. The PMs will lay out work agendas for the team, see that they meet timelines and targets, build the project in line with the organization's vision, and take on troubleshooting.
 

Designers to build the UI and UX:

They will ensure that your application provides the perfect user experience once it is built. They are a critical part of the VoIP app development team as all applications need a seamless UI in order to strike the right chords with the end-users.
 

QA engineers:

Once the application is built, it has to be tested to see that it works in a glitch-free way. This is where the Quality Assurance engineer comes in. They will test the final product to check for quality, the stability of the code, and to ensure that it is bug-free.
Essential Features of a Powerful Softphone App 
Your VoIP app development team is ready and you've got all the fundamentals of building a VoIP softphone application in place. It's now time to roll up the sleeves and get to work. A powerful mobile dialer application comes with certain must-have features which you must factor in while building a solution for your enterprise. What are these features? 
 

Contact directory

: Every softphone comes with an inbuilt contact directory. A good way to test out a new softphone is to find out how simple it is to import existing contacts and create new ones.
 

Number management:

It will be great to add a feature to your softphone to customize the use of numbers, including assigning multiple numbers to one user. Also, a group hunting feature where an incoming call rings on multiple handsets is also a useful feature.

 
 

Extension dialing:

Business softphones are required to be as functional and easy to use as desk phones. One of the features they offer is the ability to connect with co-workers via extension dialing. This is an especially useful feature for joining conferences.

 
 

Voicemail to text:

This feature will automatically convert all voicemails into text messages or emails. With this feature, users do not have to ring a voicemail number to listen to their messages.

 
 

Call transfer:

What makes a good business-grade softphone stand out is its ability to easily transfer calls, be it to another extension, an outside line, or to the same line on a different device.

 
 

Call queuing:

No business wants to let an important incoming sales call go into voicemail. With the call queuing feature, your customers will stay on hold and will be informed about an estimated waiting time as they wait.

 
 

Call hold

:

Besides managing calls, VoIP softphones also display how long a call has been on hold so that the end-user knows who to address first.

 
 

Caller ID

:

This is an essential feature, as it lets users know who is calling on their business number. Softphones provide detailed caller ID information – ranging from a number, name, place of call origin, and more.

 
 

Virtual extensions:

In order to ensure that your business does not miss any customer calls, you can set up a forwarding system feature, where an inbound call can also be redirected to a fixed line or a mobile phone.

 
 

Three-way conferencing:

This

is not the same as a conference bridge. With three-way conferencing softphones enable a third person to join a regular call. However, not all softphones have this feature, and all browsers don't support it either.

 
 

Presence:

This is a valuable softphone feature, where a user gets to know

which co-workers are online and available to talk.

 
 

Call recording:

It always helps to record the interactions between your customer service executives and customers. These recordings come in handy for training and also to understand the quality of service you are offering to your customers. Some organizations have regulatory policies that dictate all official calls are recorded.

 
 

Volume control and mute:

Since

softphones can be used while on the move, there are times when users are not in an appropriate place to take a call. This makes the volume control and mute options critical.

 
 

Dial pad:

Although there are some

softphones that have done away with using the dial pad as their main interface in favor of a more modern-looking app, it still remains a vital feature for phone menus and conference PINs.

 
 

Video calling capability:

As the concept of remote working gains traction, video calling has become a crucial communication feature for organizations because it adds a visual element to a long-distance conversation presence and makes collaboration easier. Softphones can enable or disable video feeds during a call.
 

Online messaging:

This feature allows employees to use their softphones to text people directly from their business phone line. It's become a key softphone feature as messaging evolves as an important means to create personalized customer experiences.
 

Web integration:

If you want your customers to get in touch with you easily then you can add a call-me feature to your company website. This function will automatically generate an outbound call from your VoIP softphone solution.
Challenges to Developing a Softphone App
Now that you have a clear roadmap of what you need to do to build a perfect seamless softphone solution, let us look at the common challenges that organizations may face once they take on this task: 
 

If you go for a low-cost solution, it will not work in the long run:

Quality VoIP app development processes usually generate low-quality codes that do not perform optimally once they are up and running. This will end up in customer dissatisfaction.
 

Competent software developers are difficult to find:

89% of enterprises across the world reported a

shortage of tech talent

.

The best brains in the industry opt to work for the best brands, so you will have to compete with the top tech giants out there to acquire and retain the best talent. So it's important to stock take and understands if you have the resources to compete with the big boys of the tech industry.
 

Maintaining a softphone app requires sustained time, money, and effort:

You can disband your VoIP app development team once your app is built. A VoIP softphone application requires support in order to stay stable, updated, and bug-free. Maintaining your VoIP app development team costs about 20% of the original VoIP app development cost. These costs include hosting the app on a server, offering a stable experience across over 24,000 Android, Windows, and Mac devices, maintaining licenses, and providing tech support.
Conclusion 
Building a VoIP softphone solution from scratch can be a cost-intensive and time-consuming exercise. You have to factor in the costs of hiring a highly qualified VoIP app development team, providing ongoing support, and building an application that provides customer-friendly experiences to your users. 
The other option – that is easier, equally effective, and will give you a customized softphone to suit your business needs – is to go for a white label softphone app. Using VoIP white labeling, your VoIP partner will build a VoIP mobile dialer solution that your company can brand as its own. Your service providers can customize the look and feel of the theme of a softphone solution as per your business needs, as well as brand the product or solution with your brand name and logo. The softphone's features can also be customized to fulfill your organizational requirements. 
With white labeling in softphone, you get a custom-built softphone without investing the time, effort, and costs into developing one.