Automated Provisioning – Everything You Need to Know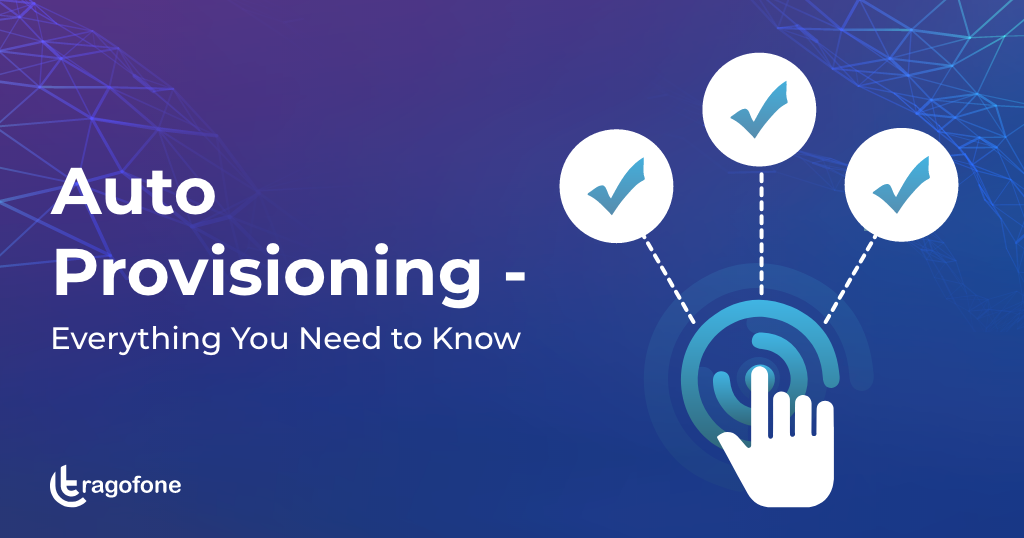 Automated provisioning uses the power of cloud-based technology to help VoIP businesses automatically provision their IP devices.  Without this automation technology, every IP phone would require manual provisioning by a qualified technician, at every customer location.  And if the phone's firmware or feature set were to upgrade or change over time – which they often do – it would require a follow-up technician visit. This can be a costly and time-consuming process.
It is important for an organization's communication system to be easily available to all its stakeholders – be it employees, managers, or clients. All these users need to have easy access to the communication resources on its network, so they can connect with each other and do their jobs effectively. 
The process of accessing an enterprise's communication resources would get complex if every individual user had to follow a long-drawn manual provisioning process to activate their device. Automated provisioning is emerging as an automated, one-click solution that is freeing users from the time-consuming process of manually provisioning their phone systems. 
The tool is used to provision IP phones in bulk. This includes configuring all user information, local phone book, firmware, and more. With automated provisioning, what once took hours now happens with a few quick clicks. Businesses can easily deploy an entire enterprise-grade phone system without any IT support or technical know-how. The setup and management of their account happen inside the web browser, just like any other subscription-based service.  
Cloud based auto provisioning nips this problem in the bud. Using this tool, an organization's IT department can streamline its operations using a scalable and secure process. The fact that nearly all mainstream IP phones are supported by auto provisioning is a marker of the convenience that this tool provides. 
In this blog, we will look at how automated provisioning works, its impact on the management of business phone systems, and the benefits it brings to businesses.
What is Auto Provisioning?
Automated provisioning allows an enterprise to deploy its telecom services instantly through a software application, rather than doing it manually for every device. This tool is especially useful when deploying large numbers of IP phones that require advanced configuration. 
There are two types of provisioning: manual and automated. An organization's customer experiences and operational efficiency are directly impacted by the method they choose to provision their devices. 
Manual provisioning, on the other hand, requires time and hands-on availability of your network engineers. Choosing an auto provisioning model is a much simpler and time-saving tool. For instance, to deploy VoIP devices, service providers can connect them to a centralized, automated provisioning server, allowing them to streamline the deployment process and onboarding operations. IP telephony service providers usually manage thousands of users for multiple clients. A centralized automated system can save time and effort for both their service engineers and users. 
Auto provisioning is emerging as a go-to tool for telecom service providers as it enables them to deploy IP phones that automatically locate the provisioning server and download the correct configuration files once it is plugged into the internet. It allows users to activate their phone service through a web interface without having to enter any configuration settings.  
Automated provisioning comes with a set of pre-defined instructions and procedures that can be carried out electronically to provide customers with speed and instant access to their phone solution. This highly scalable activation solution addresses the multi-services needs of softphones and IP desk phones to accelerate business and productivity. 
Why Automated Provisioning is Important?
In the past, all VoIP PBX and handset provisioning was done manually, unless it was a proprietary system. It was common for IT engineers to spend long hours setting up a business office due to the tedious task of provisioning each phone. This also made the management of the phones a tedious job, as certain phone models were provisioned differently. With each addition, move, or change, the provisioning process became longer, more complex, and less manageable. It was also difficult to quickly diagnose and isolate bugs and other issues. 
Modern-day service providers, however, are transitioning their operations from providing traditional telephony services to offering a hybrid of innovative physical and virtual telephony solutions. Not only are these services delivered to customers on-demand, they are also required to respond to the surrounding changes in the network in real-time.  
With a growing pressure to deliver services faster, in a more flexible manner, and at minimal costs, it has become critical for IP telephony service providers to use the benefits of automated provisioning to maximize service agility and operational efficiency. 
Automated Provisioning makes companies more Secure
When an employee leaves a company, it becomes imperative for the business to immediately remove all their accounts and access. If a former employee has access to an organization's system and data, it can be a huge security risk. 
Automated provisioning makes the manual process of onboarding and offboarding users seamless and fully automated. It also fills all the loopholes and gaps in security by minimizing the impact of human error and providing better user experiences. What's more, it frees up the IT and HR departments to work on more strategic tasks. 
Organizations that fail to provision and deprovision quickly can end up battling huge and crippling security breaches. For instance, a study has found that the average cost of a data breach in the US is $3.86 million per breach. Major data breaches can result in companies underperforming in the market for years. 
Automated provisioning helps organizations keep their systems and data secure by ensuring that employees have access only to the applications that they need. Automated deprovisioning, on the other hand, helps them reduce security risk by ensuring that whenever an employee leaves, their access is automatically removed from all connected applications. 
How Auto Provisioning Works?
Using auto provisioning, organizations can remotely set up their VoIP softphone systems across multiple locations. They can do so in bulk and manage the system through an intuitive cloud phone service platform. 
Usually, after buying a VoIP softphone, organizations have to connect it to their network, locate its IP address and then navigate to the phone's GUI from their web browser for the initial configuration. At this stage, they need to indicate the SIP server that the IP phone should connect to and provide other details. This is a long drawn process and is normally performed by a company's IT team. 
Automated provisioning is a game-changer. It's a plug-and-play tool as VoIP phones auto provision themselves as soon as they are plugged into the network. 
This automated provisioning tool works by connecting a plugged-in phone to a provisioning server. This server is housed either at the PBX provider or the phone manufacturer's data center. Using the MAC address of the IP phone the server allows it to download the required provisioning files. These files contain the complete configuration details of the phone, which include the username, password, proxy server, and time zone. 
This provisioning setup saves the carrier the cost and effort that goes into programming an VoIP phone system to connect to their servers. This method is often used by mail order VoIP firms as they don't need to log into an IP phone if there is an issue to be resolved. Instead, they change the configuration file on their server, and all the user has to do is restart the phone. 
Some VoIP routers provide the option to point all phones on a network to one provisioning server. Each phone that connects to that specific router receives a packet that points the phones to the provisioning server. It automates the process of pointing the actual devices to the provisioning server. 
8 Main Benefits of Automated Provisioning
Modern businesses gain a lot from automated provisioning as it eliminates deployment and management roadblocks, allows service providers to configure and manage all devices remotely, enables bulk provisioning, provides flexibility, and saves costs. All that a user needs is a computer and internet access to get started. 
Let's look at the top benefits of adopting an auto provisioning solution:   
When an organization brings in new employees or partners, they need access to company applications, resources, and data, and the company has to provide them with this access in a quick time. Manual onboarding can take several days to create an account, approve and move access requests for every user. This can massively increase the workload of the IT and HR departments, especially when bulk provisioning is required as you scale your business. Automated provisioning reduces the time, effort, and costs incurred in configuring and provisioning phone systems.
Auto provisioning allows businesses to scale their IAM (Identity and Access Management) platforms at the same pace as their growth, by automating and streamlining the onboarding and offboarding process as well as the lifecycle management of their identities. 
If an organization's workforce is working at capacity, it can be difficult to add additional load without the risk of a process breakdown. Auto provisioning, however, is run by predefined workflows that are extremely scalable. Instead of adding people to their processes, enterprises can simply boost their IT infrastructure to cope with the new workload. It's also easy to add to your technical capacity, as the software is able to perform multiple tasks in one go.
Helps organizations stay compliant
Using automated provisioning, organizations can exercise control over what tools and applications they grant access to, and can also trace account activity, and review and certify access. This helps them keep their network secure. 
Many regulatory compliance policies ask for strict provisioning requirements, like assigning each user with a unique ID or revoking access immediately for a terminated user. Auto provisioning ensures compliance with such policies.
Reduces the risk of manual errors and revenue leakage
For businesses, systems that are out of sync with service platforms are the most common cause of errors and revenue leakage. This usually happens because processes are either incomplete or have been wrongly completed. This means the services are not activated or suspended correctly and this often results in clients being billed for services that they haven't utilized. 
It is imperative for organizations to reduce these errors by ensuring a seamless connection between provisioning and billing. This can be achieved through auto provisioning.
Auto provisioning provides a single window, connected platform
A manual provisioning process usually involves a lot of paperwork and disconnected software and systems. Automated provisioning, on the other hand, provides a single, connected platform to manage the entire process. 
Every department is connected to the same database. This makes it easier for organizations to manage and maintain their VoIP phone systems more efficiently. It also minimizes the need to invest in maintaining the system and plugging holes.
Increases transparency and optimizes visibility across the environment
Automated provisioning gives employees access to tools and applications based on their roles in an organization. This gives their managers a complete view of who is accessing what tools and how they are utilizing this access. This way, resource access is not left to chance. Manual processes, on the other hand, can create inefficiencies as they don't provide transparency into the tools being used by employees or in tracking access. Auto provisioning gives a centralized, connected view of user access and identities.
Automated provisioning removes the need for manual data entry, thus reducing the chances of errors. It ensures that all attributes are mapped correctly.
Improves user onboarding experiences
It's not just organizations that benefit from automated provisioning. The seamless onboarding improves employee experiences, and in the long run, helps enterprises retain their workforce. 
Conclusion 
Automated provisioning is becoming a must-have tool for organizations as it secures and speeds up provisioning, helping businesses scale and optimize the onboarding and lifecycle management process. It's emerging as a key to building an agile framework to support enterprises through technology, architecture, and software, by creating a connected operational process environment that is managed by a single software. In the long run, organizations achieve increased productivity and efficiency, reduce human error, increase security, and maintain compliance.