What is SIP Protocol and How Does It Work?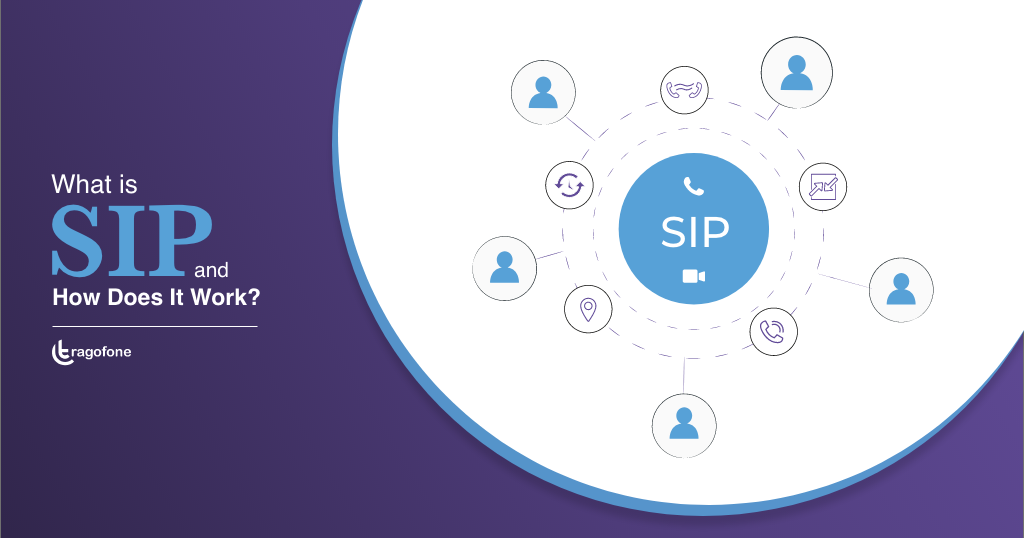 All conversations need an introduction and a reliable framework to initiate them. SIP protocol (Session Initiation Protocol) does this job in the digital world. It's a seamless way to begin and end online conversations. Here, in this blog, we are going to share a complete guide on Session Initiation Protocol, from how SIP protocol works to advantages of SIP to businesses. Let's get started.
What is SIP Protocol?
SIP protocol is a signaling protocol for IP-based telephony applications. It provides the control layer for communications like the establishment and release of a voice call. This communication technology does more than just connect agents to their clients. It allows users to manage and modulate every SIP call that enters their system. What's more, SIP is content-agnostic. Although SIP was initially designed for voice communication, today it is also used for establishing sessions for instant messaging, video conferencing, SMS, file transfers, and more.
SIP protocol features is essentially used for internet telephony and disseminating multimedia between two or more endpoints. For instance, a user can start a SIP call with another user using SIP, or initiate a conference call with multiple participants.
The SIP protocol in VoIP was designed to be simple, with a limited set of commands. Since it is text-based, anyone can read a SIP message that is passed between two endpoints in a session. The protocol is also flexible and comes with great depth. It was designed to set up real-time multimedia sessions between different participant groups. For instance, apart from facilitating regular SIP calls, SIP can be used to set up video and audio multicast meetings, or instant messaging conferences.
Since SIP protocol is an open standard, it has sparked enormous interest in the telephony market. Marketers of SIP-based phones are witnessing huge growth in this sector.
In this blog, we will get a macro as well micro view of what SIP is, how SIP protocol works, how it compliments VoIP, and why businesses should invest in this technology:
What does SIP protocol do?
SIP Vs VoIP and how SIP adds value to VoIP.
Features of SIP.
How SIP enables a VoIP session call flow.
How SIP protocol works during a voice call.
Benefits for businesses.
What does SIP protocol do?
SIP is not voice, not video, and not data – the protocol is not restricted to any one media. Also, while it is mostly applied to VoIP, it's not exclusively a VoIP protocol as well.
Now the question is- what are SIP calls, where is SIP used? SIP launches and ends IP communication sessions that could either be voice SIP calls between two users or a team video conference. It initiates a session by sending messages – in the form of data packets – between two or more identified IP endpoints, also known as SIP addresses. Every SIP address is linked to a physical SIP client – like an IP desk phone – or a software client – like a softphone, for instance.
During these sessions, SIP does not decode or transfer any information. Therefore, the SIP protocol can be used for video conferencing and instant messaging besides making internet voice calls.
SIP's primary function is to set up calls and end them once they finish. This process involves 5 parts:
User location: This tells the protocol where the end system that will be used for the call is located.
User availability: This tells the protocol whether the party that is being called is available to take it.
User capabilities: This determines the media that will be used for the call.
Session setup: This involves connecting a call from one user to the other.
Session management: This involves the running of the call session – for example: transferring and ending a call.
SIP Vs VoIP: How they differ?
Since both SIP and VoIP (Voice over Internet Protocol) are both internet-based telephone service technologies, it is common to confuse between the two. The key differentiator between the two is that while VoIP is a type of telephone service, the SIP protocol is used to commence and end communication through VoIP or any other technology.
If your business only requires voice communication, you might want to invest in technologies other than SIP with your VoIP system. However, organizations are rapidly adopting advanced technologies in order to stay competitive and scale rapidly. With its superior unified communications platform and strategies, Features of SIP provides businesses with this opportunity.
Finally, businesses must consider what solutions work best for them. If an organization is considering consolidating its communication technologies, then integration of SIP and VoIP services would be a high-value option for them.
How SIP adds value to VoIP?
SIP in VoIP calling plays an important role. A primary reason for SIP's soaring acceptance as a go-to telephony technology is that it supports a wide range of communication platforms. Besides being easy to implement and manage, SIP builds on an enterprise's VoIP system strengths and fills the tech gaps, allowing them to turn more productive.
SIP adds value to VoIP in various ways:
If a business needs a network system that will provide crystal clear images in long-distance video conference calls, SIP powered technology will do the job seamlessly.
If an organization is looking for an easy way to send files and documents to its employees and outside its office, SIP technology offers the functionality it needs.
Because of SIP's flexibility, enterprises, as well as service providers, use it to deliver VoIP services. There are some limitations of using VoIP desk phones. So, SIP even builds on VoIP's capabilities by adding video and data transfer potential to it.
SIP services enables network operators to gain more control over their services. For instance, not only does SIP set up the initiation of contact between devices, it also allows users to add more parties to a call, or switch between communication methods.
Features of SIP Protocol
SIP softphone can handle a diverse range of media technologies as the protocol is not restricted to any limited media types. Let's look at some features of session Initiation protocol:
Direct connection between private and public telephone networks:
One of SIP's main benefits is that it provides a direct connection between private or local telephone systems and public telephone networks. This way, individuals and businesses don't need legacy phone lines to connect calls.
Provides end-to-end authentication and encryption:
VoIP networks opt for SIP as a call control protocol because of its open and extensible properties. However, the integrity of call signaling between two sites is a priority for businesses, to counter eavesdropping concerns. SIP protocol  provides this by supporting comprehensive end-to-end and hop-by-hop authentication, as well as end-to-end encryption.
Supports both multicast and unicast communication:
Users in a SIP session can communicate using multicast or unicast relations, or even a mix of the two. SIP supports session descriptions that allow participants to accept a common set of compatible media types. It also facilitates user mobility by proxying and redirecting requests to the location where the user is at the moment. SIP is not restricted to any one conference control protocol. This makes it one of the top SIP features for businesses.
Additional capabilities can be added easily:
SIP doesn't make any presumptions about the underlying transport protocol. It can, therefore, be easily extended with additional capabilities and is actively used for many media applications. This also makes SIP an enabling technology for providing innovative new services that integrate multimedia with internet services like e-mail, instant messaging, and the worldwide web.
Asynchronous event notifications:
In addition to real-time services, SIP can be used for asynchronous event notifications, such as automatic callbacks, message-waiting indicators, SIP proxy statistics changes, presence information, session changes, buddy lists based on presence, and more. This is one of the best added advantage of SIP technology
Unlike other telephony systems, SIP is non-numeric:
Telephony is usually associated with numeric addresses. In SIP, an end station has a SIP URI (which is a form of URL) that recognizes it and is used in the SIP protocol.  Because phones generally have numeric keypads, they translate what you dial into a SIP URL.
The SIP Protocol is text-based and has a notable resemblance to the HTTP protocol. The text-based messages and SIP's request-response mechanism make for easy troubleshooting. Also, it is easy for anyone to read and decipher the text-based SIP messages passed between the endpoints in a session.
SIP leaves fewer margins for error:
Because SIP isn't affected by external factors, there are lesser things that can go wrong with it. While traditional phone lines can be affected by bad weather, SIP trunks use the internet and can have back-ups set up to ensure that even if your internet connection goes, you aren't offline for too long.
SIP works out to be much cheaper than traditional phone lines. Small to large businesses that switch to SIP-enabled VoIP phones reduce the cost of their local calls and save on international calls as well. Once the initial setup is done, the only thing that businesses pay for is the Wi-Fi that you use to place these calls and your unlimited SIP trunk subscription.
How SIP enables a VoIP session call flow?
Now that we have understood the dynamics of how SIP works, let's look at how a SIP call flow or SIP conference call flow establishes a VoIP call:
    Registration:
When a user agent – let's suppose it's a SIP softphone – launches, it has to register with a SIP server so it can be found by other users. This happens by using the SIP Register request message. The message provides the location details through the To and From SIP URIs. Besides the message, additional binding can be provided through the contact field.
    Establishing a call:
This is where the real work happens of how SIP enables VoIP – in the following steps.
SIP invite request:  The SIP invite initiates an attempt to establish a call. This is sent from the caller to the SIP server where it finds the call receiver's number. In larger networks, the SIP server may need to consult other SIP servers if this user number is not local. Once the number is located, the invite is forwarded.
SIP response 100:  A message is sent from the SIP server to the number of the end-user in order to confirm the invite request.
SIP Response 180: This message is a confirmation that the invite has been received and the user agent is alerting the user.
SIP Response 200: A 200 response is sent to confirm a call when it is answered by the end-user. Also, the user agent sends a message with the VoIP call parameters. This message results in an exchange and negotiation of VoIP call parameters.
SIP Ack Request:  In the final lap, the caller confirms the call by sending an Ack request to the number he has called.
    VoIP Call:
The VoIP call is transmitted between the user agents using RTP (real-time transport protocol), which is also used for sending audio and video data over Internet Protocol networks. Besides this protocol, RTCP (RTP control protocol) is used to provide statistics and control for the RTP transmissions.
    Terminating a call:
When a user ends a call, a SIP Bye request is sent. The call can be ended from either side of the line. The termination is confirmed by the other user agent with a SIP 200 status code response.
How does SIP telephony works during a voice call?
Before voice information is sent over the internet, it needs to be encoded in codecs. This enables audio signals to be translated into data. There are two primary types of codecs that are used: G.711 and G.729. Let's take a step-by-step look at how SIP connects voice calls:
Real-time transport protocol (RTP) is used to transport packets of encoded audio data. RTP comes with its own protocol application layer which facilitates the movement of audio and video data in real-time.
In the next step, the RTP and SIP packets are transported by protocols at the transport layer. This is done either by using a Transmission Control Protocol or a User Datagram Protocol. User Datagram Protocols are considered to be better suited for transporting VoIP calls.
In the final step, as SIP is a media-independent application, another application layer protocol – known as the Session Description Protocol (SDP) – works with SIP. SDP indicates the type of media that the SIP client sending the call and the client receiving the call can support.
Benefits of SIP protocol for Businesses
Enterprises today are trying to figure out how to support a host of new unified communications applications in an era of new devices, mobile connections, and sophisticated end-users. In such a scenario, how does SIP benefit organizations?
Customer engagement is a top priority for sales agents, and this is where SIP stands out the most. Using a text-based medium to transcribe messages, this VoIP function enables both agents and clients to run through the messages exchanged during every session, and makes it smoother for both developers and network managers to find and correct mistakes.
Whether it's through their computers or mobile phones, clients can efficiently communicate with agents through SIP. Since its appearance, SIP has played a key role in the success of internet telephony as a critical tool for call centers in providing customer service.
SIP for VoIP technology function has played a significant role in helping companies become cost-efficient in their communications. You could be located anywhere in the world SIP trunks has made it possible to make free audio or video calls.
Telecom major AT&T has confirmed that SIP "can reduce access costs, improve bandwidth utilization, and bring down operational expenses. Enterprises using SIP can save significant money by converging their voice and data networks, particularly if they are covering multiple locations." Gartner estimates that SIP trunking will reduce telecom expenses by 50% in the US.
Since SIP has become a well-accepted telephony standard, it has helped enterprises eliminate telecom complexities, accelerate innovation and avoid vendor lock-ins. Using SIP, technology organizations can construct diverse multi-vendor networks that meet their functional and financial needs.
SIP is a valuable tool for companies that have employees working in locations across the world, and need to collaborate over long distances. As SIP facilitates fast and powerful multimedia sessions, it's an ideal solution for such businesses.
Businesses deploy SIP to boost efficiency and increase ROI within their organizations. For example, instead of having several platforms to manage video, telephony, and other services, they can use SIP to manage them all with one interface.
The last important benefit of SIP calling technology that an enterprise is always available and on-call for their customers to contact them. White labeled SIP empowers support team to improve user experience.


Conclusion
SIP protocol has become one of the most common protocols to be used in VoIP technology, as this application layer protocol works in conjunction with other such protocols to control multimedia communication sessions over the internet. SIP is fast gaining momentum as being a protocol of choice to facilitate audio calls, video conferencing, and instant messaging in next-generation networks, to boost efficiency and cost-effectiveness for businesses.