SIP Vs VoIP: Functionalities, Similarities and Differences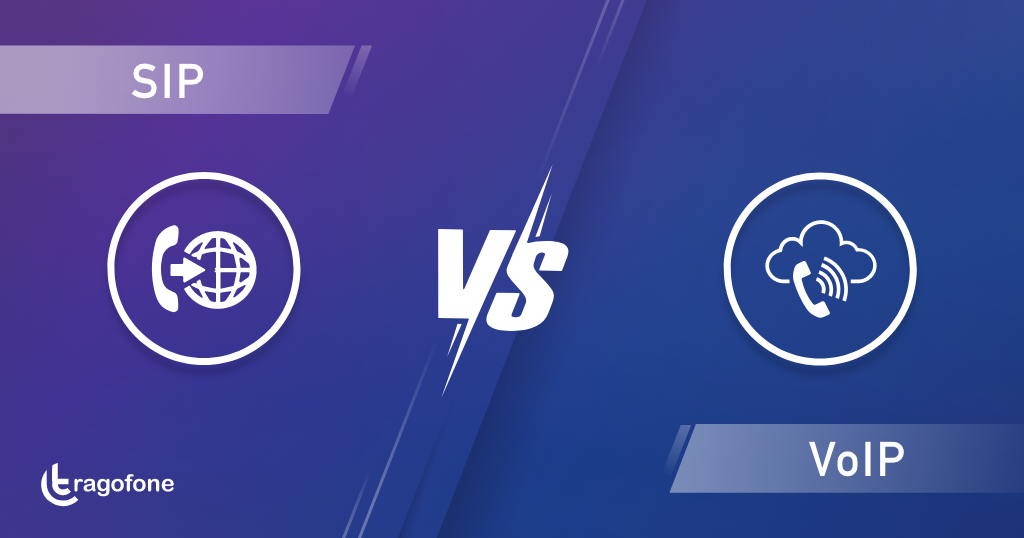 SIP vs VOIP: Enterprises around the world are fast moving from traditional phone lines to cloud-based internet telephony. This is because cloud technologies support more cost-effective and hardware-independent communication options.
Internet telephony has also become a go-to choice for many businesses due to its increased reliability and accessibility – and VoIP and SIP are providing the foundations for IP technology.
Difference between SIP and VOIP
However, in this new age of telephone technologies, voice represents only part of a modern organization's communication needs. Because of the popularity of this, Commsbrief explain the 280 telecom abbreviations with so many terms and make a list of them.
Starting from the 1990s, VoIP (Voice over Internet Protocol) has gained attention and traction, and become one of the most successful voice communication tools across the world.
VoIP has enjoyed soaring popularity as it can seamlessly support a growing global mobile workforce. Tech watchers predict it may overtake traditional public switched telephone networks in the coming years.
But VoIP isn't the only cloud-based technology that businesses must consider to cater to their unified communication needs. SIP (Session Initiation Protocol) is also an important contributor to cloud-based business communication.
In this blog, we will look at the comparison of SIP vs VOIP, how VoIP and SIP function independently of each other, and also how they complement each other and provide the best results when SIP and VOIP are used together.
What is VoIP?
Unlike traditional phone lines or public switched telephone networks (PSTN), Voice Over Internet Protocol VoIP refers to any telephone communication over the Internet. VoIP is also referred to as IP telephony, internet telephony, or voice over broadband. This technology uses the internet as a channel to digitally transmit voice signals to another telephone or endpoint. VoIP is deployed in conjunction with mobile or browser-based applications, through an Internet Telephony Service Provider (ITSP).
For basic voice functions, enterprises need a VoIP-enabled phone and VoIP software, to make and receive calls over the internet. It's turned into a popular choice for organizations that want to remove the clutter of landline phones in their office. With a VoIP setup, they get to retain an official line for their business.
What is SIP?
While VoIP refers to a type of phone call, SIP refers to the protocol used for setting up these calls. SIP is a communication protocol that enables VoIP and transmits VoIP calls, by governing the establishment, termination, and other essential elements of a phone call.
SIP can transmit information between two or more endpoints. With SIP, enterprises are not limited to voice communication only and can expand into video conferencing, instant messaging, media distribution, and other applications. Most IP phones that you will find in organizations are SIP-compatible.
Besides being fast, flexible, and scalable to meet specific business demands, one of the main benefits of SIP over other VoIP protocols is its ability to interact intelligently with other protocols. This enables it to adapt its signaling protocol to match that of the client system.
SIP Vs VoIP: What are the Differences
Comparing VoIP to SIP is akin to comparing apples with oranges. While VoIP describes any internet-based telecommunication system, SIP is a specific type of VoIP deployment.
Although both VoIP and SIP refer to internet telephony, they are technically very different. While VoIP is an Internet-powered alternative to landline phone calls and is a voice-oriented technology, SIP technology is a multimedia communications protocol and an industry-standard method used to enable VoIP calls between devices.
VoIP refers to any call made over the internet and depends on data connectivity to transmit voice information packets, rather than PSTN. On the other hand, SIP is a protocol used to initiate, maintain, and terminate multimedia system communication sessions in VoIP applications. SIP protocols enable the management of voice, video, and electronic messaging applications.
Let us look at some key differences between SIP and VOIP technologies:
In a comparison of SIP vs VoIP, we can say that VoIP best supports voice communications between single parties. On the other hand, SIP supports a broader set of applications, including multimedia conversations between multiple parties, including voice, video, and instant messaging. SIP systems allow users to make voice and video calls online, most often for free.
A major difference between VoIP and SIP is their scope. VoIP is not a discrete technology, but a family of technologies that are used within modern telecommunication networks. SIP is a signaling protocol used within the umbrella of VoIP technologies.
VoIP handsets and SIP handsets vary in terms of devices – although a SIP handset can also function as a VoIP handset. VoIP handsets, or VoIP phones, must be connected to a computer to make or receive calls. SIP phones work without a computer – requiring only a modem. This makes SIP phones more like traditional phones.
VoIP hosts handle traffic differently from SIP systems. SIP systems are processed by individual systems that are located on every user's system. This peer-to-peer system can handle large amounts of data and traffic as its users have access to more bandwidth and resources. On the other hand, VoIP hosts direct traffic from one central network. This can result in a system overload when there is a large amount of traffic, impacting its overall performance. However, a single network system also has its benefits – as fewer points of communication result in stronger security.
How SIP and VoIP Work Together
Want to know how SIP works better with VoIP? The relationship between VoIP and SIP is similar to websites and HTML. A website is a collection of pages that can be accessed using a web browser. HTML is a language used to build websites. However, websites can also be created using other languages like Java.
Likewise, VoIP is a method used for sending voice calls over the internet – covering any type of voice communication ranging from Skype and FaceTime to enterprise phone services. SIP is one of the many protocols that can be used to implement VoIP. Most phone systems used by organizations today rely on SIP, as it is considered an industry-standard today.
Pros and Cons of VoIP with SIP
Despite their fundamental differences, VoIP and SIP overlap in many ways. Softphones, also called SIP telephones as they use SIP technology, and they connect devices to VoIP networks. SIP softphones integrate using a computer or a cloud-based phone system, making phone numbers independent of any single device. This is their most distinctive feature when compared to traditional landlines. However, VoIP adapters allow phones that were traditionally used with landlines to incorporate the functions of softphones as well.
When SIP and VoIP come together, they offer several advantages to enterprises:
VoIP and SIP allow organizations to consolidate technologies via unified communications (UC). Communication methods that support SIP can integrate with other business cloud applications, such as customer relationship management (CRM) systems. This way, users can share data via SIP-supported platforms.
As part of an organization's UC solution, VoIP and SIP help consolidate administrative tasks associated with video, voice, and instant messaging.
SIP plays a big role in supporting VoIP and other unified communications across the globe. In 2019, SIP trunking technology held the largest share of the global $15 billion VoIP market. With the VoIP market estimated to double by 2025, SIP will get a big share of the pie.
What works best: VoIP, SIP, or VoIP with SIP
Now that we know the pros and cons of VoIP compared to SIP and how this SIP VoIP system works, we can now conclude that VoIP and SIP may work well together, but they're not mutually exclusive.
VoIP and SIP may work well together, but they're not mutually inclusive. If you're using only voice communications then VoIP doesn't need SIP to function. There are many internet protocols that enable voice communications, though SIP is the most widely used.
Besides voice, SIP also enables text and video communication. Any enterprise on the lookout for an all-around UC provider will go for VoIP with SIP. Using only VoIP can limit their options, while SIP allows them to scale their communication as per their business needs. Also, as SIP can interact with other protocols, it means your VoIP won't develop a snag while trying to connect with other systems.
Pros and Cons of VoIP vs SIP
More and more organizations are finding that, sooner or later, they have to upgrade to using VoIP with SIP – it's emerging as the most popular option. Using this tech combo, they can integrate different types of multimedia channels into a single system, to transmit voice, video, and conference calls, and create seamless UC suites.
VoIP Pros
A big reason for SIP going mainstream is that it supports diverse communication capabilities. It takes VoIP's capabilities and adds the power of video and data transfer to it. SIP has you covered if you:
–        Need a network that provides seamless long-distance video conferencing.
–        Need a convenient way to send files and documents to a co-worker.
SIP builds on a VoIP system's strengths, helping it to boost productivity. It's also easy to implement and manage, as long as your IT department is familiar with the protocol.
VoIP Cons
The benefit of using VoIP-only services is that it has portable components and easy-to-manage payments. If an enterprise requires only voice communication support, they might find it more cost-effective to use a protocol other than SIP with their VoIP system. However, this can limit their future communication growth.
SIP Pros
SIP is a protocol that is compatible with cloud applications and provides more growth opportunities. Industries are increasingly adopting advanced technologies to stay competitive and to scale up quickly. As organizations seek better unified communication strategies, they are turning to SIP services to provide this opportunity.
SIP Cons
In a final analysis, the VoIP Vs SIP debate is more about what solution works best for you, rather than which one comes with greater advantages. If an organization is looking at consolidating its communication technology, integrating SIP with VoIP services could be a game-changer.
VoIP or SIP: What's the Right Fit for your Business
Now you understand this SIP vs VoIP comparison with pros and cons and how it affects your business.
For organizations seeking a unified communications approach, the most important question is whether voice-only VoIP phone service best serves their business needs, or if a SIP implementation – with its UC capabilities – is a better fit.
Factors that help organizations decide whether UCaaS (Unified Communication as a Service) is the right match for them include their budget and a desire to adopt multimedia communications tools. If they're already using collaboration apps or technologies, which are a component of UC, they have a strong case for SIP adoption. For many businesses, moving directly to SIP offers cost efficiency and a boost in productivity.
So should organizations go for hosted VoIP services or SIP trunking? It depends on a number of factors, including:
Business needs of an organization
When we compare SIP to VoIP or SIP versus VoIP in terms of business growth then we can say that the hosted VoIP services give businesses very little control over features, customization, and security. The opposite happens with SIP – you're in charge of everything. There are scores of VoIP services available for businesses to opt for these days. So finding a service provider who can meet their business needs is easy. But if a hosted VoIP does not offer the end-to-end communication needs of an organization, then SIP trunking is the obvious choice.
SIP vs VOIP comparison in terms of budget shows that SIP trunking needs a heavy upfront investment – as it requires an IP PBX and other hardware components to be purchased – although it does prove cost-effective in the long run. Therefore, small and medium businesses may do a double-take about the large spend. Hosted VoIP services, on the other hand, are easy on the pocket and fit well with any budget.
Availability of in-house expertise
If an organization opts for hosted VoIP services, they don't need an IT team to manage the system – everything is handled by the vendor. Professional service providers provide seamless troubleshooting and support services. SIP trunks, on the other hand, will require in-house IT expertise to deploy and maintain the phone system.
Long-term communication goals
Before zeroing on a communication technology, enterprises must answer some key questions. How do you see your business growing in the near future? What changes in communication methods do you anticipate in the long term? Hosted VoIP services can scale fast. But if you are aiming at dramatic organizational changes, then they might not be able to keep pace. Businesses that are looking at a sharp growth trajectory need better control over their phone systems – which SIP trunking can provide.
Conclusion
As modern businesses communicate using a combination of emails, text, video conferencing, and cloud-based IM platforms, they require a lot more from their communication services provider than just voice calls.
So, here the SIP vs VOIP comparison plays a major role to differentiate the features and requirements of these two technologies in different businesses.
Organizations that are looking at boosting their communication strategies by moving to VoIP should consider each of the ways they can deploy it, including SIP trunking, and opt for the one that provides the greatest benefits to them. If your customers appreciate the benefits that SIP and VoIP bring, they are likely to give a go-ahead to modernize their communications platform.
Want an easy and smooth transition of SIP and VOIP? Or having any questions about the benefits of using SIP or VOIP then Contact us now and we would be happy to help.