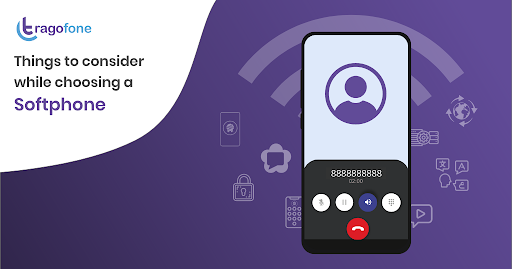 Softphone for Business: How to Choose the Best VoIP Softphone App
A survey of more than 1,000 IT decision makers by Frost & Sullivan found that, just like fax machines and typewriters, desk phones are headed towards becoming obsolete. The study found that half the respondents had already deployed the best business softphone to provide telephony and unified communications (UC) services using desktop computers and mobile devices.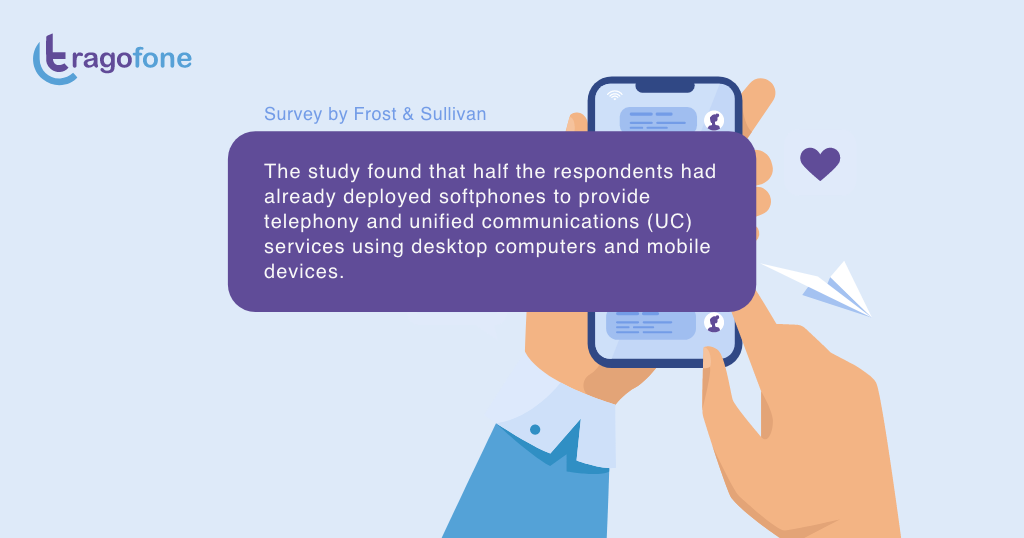 As the world grows increasingly digitized, companies are switching to VoIP-enabled business softphone apps for a more versatile and affordable solution to their UC needs. Not only do softphones for business improves operating effectiveness, they also cut telecom costs, boost responsiveness, and yield greater profits. According to FinancesOnline business can save $ 1,727 per month on mobile and long distance calls using VoIP app.
Also, remote working has been on the rise in recent years, especially after the pandemic. VoIP Softphones have become the new tools to support a telecommuting work culture.
In this article, we'll take a 360-degree tour of how business softphones work, their unique features and benefits, and everything you need to know to pick a right-fit best softphone app for your business.
What is a softphone?
Features of a business softphone.
Business benefits of softphone.
How to choose a softphone app for your business?
Use cases.
What is a Softphone?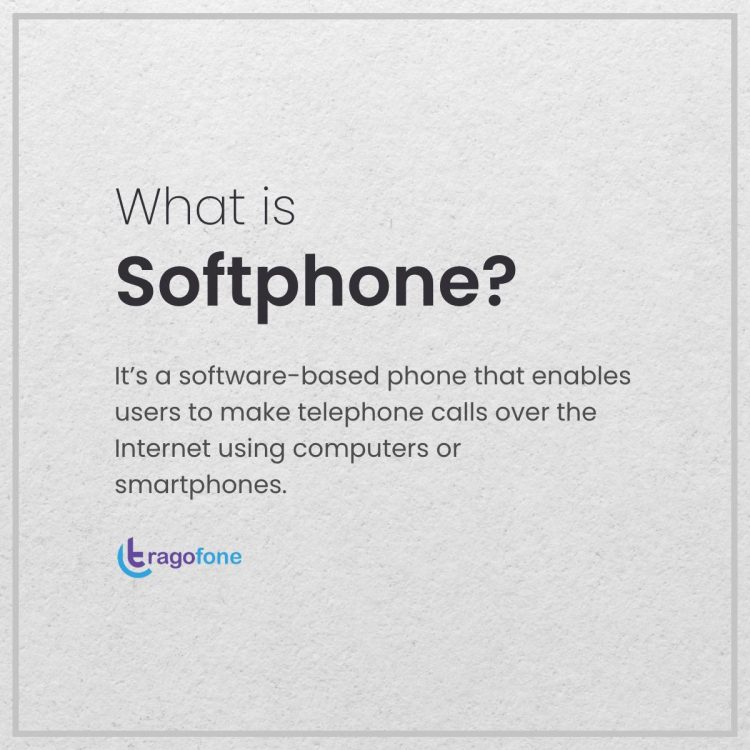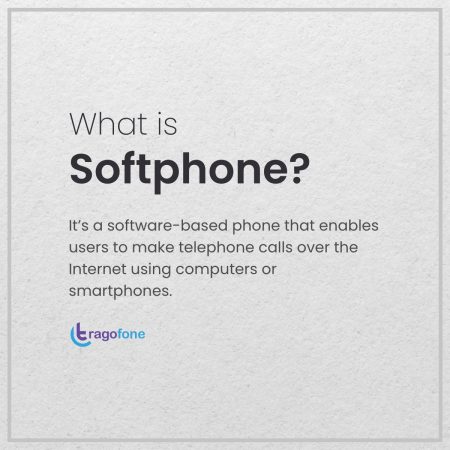 A softphone is not a physical phone. It's a software program or app that uses VoIP to make and receive calls over the Internet. It's designed to have a user interface that mimics traditional phones.
The software program can be installed on any communication device, and it works as a virtual phone system that allows you to call any telephone number without needing a physical telephone. All you need is an internet connection, and a laptop, or a mobile device.
With WebRTC softphone, enterprises can enable their workforce to communicate on the go, ensuring extensive mobility, greater interoperability, and powerful connectivity. As business softphones work over the Internet, they can integrate voice operations with your employees' everyday workflow and processes.
How to Choose the Best Business Softphone App?
Business softphone app checklist: key factors to consider
If you've decided to upgrade to a softphone service but are wondering which one to pick, here's the way to go: Do your analyses to see how each provider compares in features and costs to ensure maximum value for money.
Here's a checklist of features to tick off the list:
End to end integrations

The WebRTC based softphone application should be able to seamlessly integrate with varied hardware including Class 5 Softswitch, IP-PBX server, custom APIs, and the auto provisioning system management via REST APIs.

Auto provisioning system

The soft client or softphone should come with an auto provisioning system through which enterprises can provide zero touch provisioning to their workforce and customers. Using this feature, the soft client users don't have to memorize the SIP Credentials.

WebRTC Gateway and Push Call Server

The best softphone application's WebRTC gateway should embed highly secure interactive communication like audio, video and chat. This will enable organizations to incorporate real-time communication for their workforce and customers, even if they use a legacy SIP server.

Operating System Compatibility

All softphone applications are not compatible with every operating system. Check to ensure the software will work on your device. Whether you're on macOS, Windows, iOS, or Android, make sure the business softphone is compatible.

Number Porting

Your phone number is a valuable asset, and you don't want to lose it. As you seek out business softphone applications, avoid providers that don't port your existing phone number.

Support

Having a reliable support system is critical. Find out what customer support your business softphone provider offers. Is it available 24/7? Does it cost extra? Does the support team help you troubleshoot effectively? Are there training manuals or support videos available?

Customization

Are you able to change your voicemail message, or update a setting without any glitches? The best business softphone application that you choose should be easy to use as well as rich in features.

Security

Security is critical for every cloud-based service that you add to your organization's tech portfolio. Determine how protected your data is. The application should offer data encryption, and ideally, it should include more than one type. While Transport Layer Security (TLS) protects your phone data, Secure RTP encrypts media.Another form of security to look out for is access control. For instance, administrator-level permissions that only certain employees can access and strict password protocols allow you to maintain the first line of defence against hackers. It's also important to make sure that the business softphone application supports the same protocol as the VoIP provider.

Collaboration tools

Full-featured softphone services offer a variety of collaboration tools your employees can use to meet, interact, and work jointly online. Users can access these features – including SMS texting, video conferencing, and online meeting collaboration – through a range of applications.

Third party integration

This is one of the softphone's key draws. Because it's a software, these systems often have a list of pre-built integrations with whatever apps the vendor believes their customers like. Clients can use these extensions to create customized workflows, and boost efficiency.

Additional tech features

Ensure that the business softphone application you opt for comes with an extended battery saving technology, a simplified user interface (UI), uninterrupted SIP calling, and inbound and outbound calling support.
Use cases
Let's look at how the best softphones help make happy customers in the real world:
Don't let voicemail messages turn clients away

A service providing organization's account executive is traveling when he receives a call from a prospective client. Unable to reach the executive, the client decides to look for a competing service provider. Had the company invested in a business softphone service, the call could have been routed to a fellow account executive, and the caller could have turned into a customer.

Save manpower, save the cost

A company has several offices across the country, and each is serviced by different telecom providers. This adds to the company's overhead costs, as they employ maintenance staff at each location to deal with hardware issues. Cloud hosted WebRTC mobile dialer app solutions would remove this need to hire extra staff and save the company the additional cost.
Features of the Best Business Softphone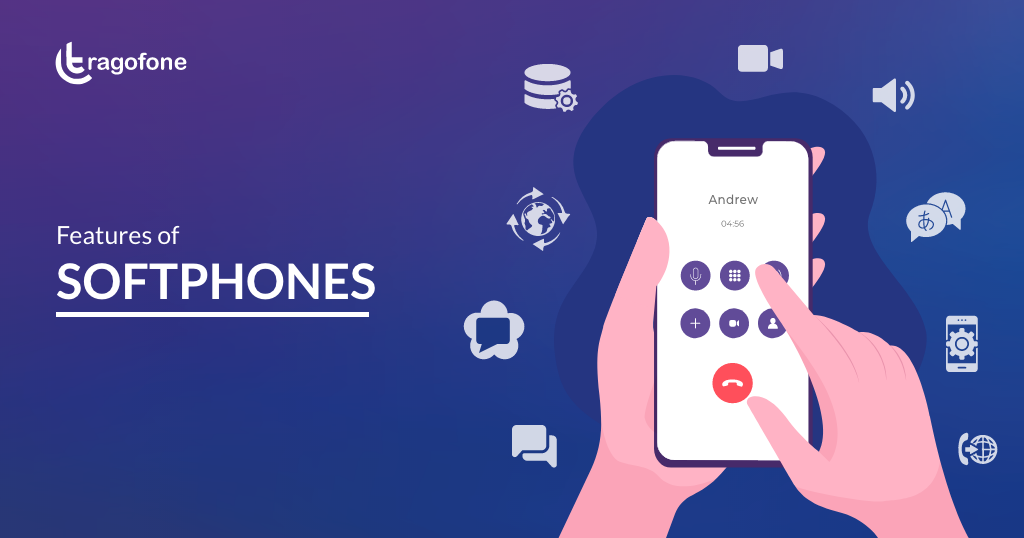 The right VoIP based mobile dialer application will give you the robust features of enterprise phone systems, as well as the convenience of a smartphone.
Let's look at some unique soft phone features:
Leverages WebRTC to make seamless audio and video calls
WebRTC has started a communications revolution, by making it richer and accessible to everyone. Supported by the World Wide Web Consortium (W3C), WebRTC allows open standard browsers to communicate with each other and exchange audio, video, and even files that use a simple Javascript based API. It allows users to make audio and video calls without requiring a plugin or any additional software installation, and integrates seamlessly with IP PBX, Class 5 SoftSwitch, Call Center, and Custom APIs.
Auto-provisioning enables users to activate their SIP dialer app service via a web interface without requiring any configuration settings. This makes the deployment and management of installation fast and easy.
Business softphone services like Tragofone offer multilingual support, so that users can converse in a language of their choice, along with embracing the other carrier-grade features of the SIP dialer app.
Can be integrated as a white-label mobile dialer app
White-label mobile dialer applications can be integrated under a company's brand, giving it the brand's look and feel. They have the enterprise's name, logo, and all other branding factors, and can be represented as their own dialer application.
Integration with other databases and directories
Some VoIP based mobile dialer apps implement compatibility with third-party applications like Microsoft Outlook. They also enable integration with shared LDAP (Lightweight Directory Access Protocol) directories, Microsoft Active Directory and ODBC compatible interfaces. This feature is especially benefits for call centers.
Having multiple, independent SIP accounts on a mobile dialer app allows you to consolidate your accounts and make or receive calls from a single software phone. Having multiple registrations enables organizations to shift between accounts on a per-outbound call basis, depending on which VoIP provider or ISP offers the best rates for the destinations they are connecting to.
Organizations are careful about the privacy and security of their communications. These security issues are applicable to softphones, where incoming and outgoing calls are vulnerable to `man in the middle' attacks, such as wiretapping and eavesdropping. Quality business softphone support encryption using Transport Layer Security (TLS) and Secure RTP (SRTP) protocols, as it reduces these threats.
Video Capabilities and online messaging
Most business softphone apps have a video call component, providing HD video and the ability to have multiple speakers at once. Online messaging allows users to text people directly from their office line.
Business Benefits of Softphone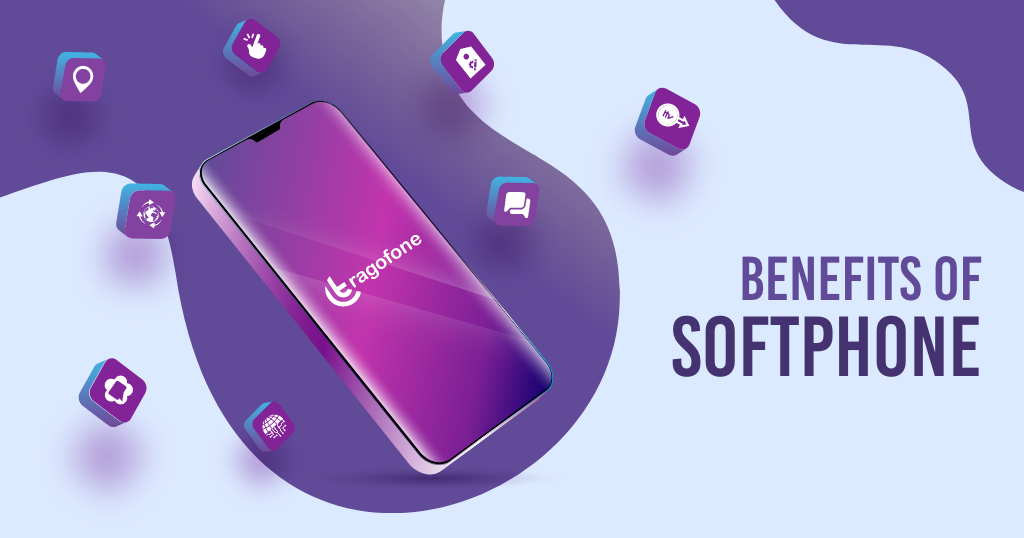 The best business softphones are the future of enterprise communication, as they provide accessibility anywhere, anytime. Software-centric communication solutions are in demand because of the flexibility, scalability, and security they offer. Organizations are using this new age technology to improve their communication processes and boost business efficiency.
Also, according to a study by Deloitte, voice communications is on the decline, and accounted for only 47% of customer interactions in 2019. People now prefer to text or use chat applications. With softphones, you can add these features to your official phone line.
What other benefits do VoIP mobile dialer applications bring to enterprises?
WebRTC softphones make communication a hassle-free process
They are quick and easy to install, low maintenance, and provide flexibility to users. Besides, they offer one phone system across multiple locations and scalability as per your business needs.
Provide the benefits of auto-provisioning
With an ability to deploy IT configurations through a web interface, rather than manually, business softphones ensure diverse benefits:
Save time on assigning IP addresses.

Reduce errors while configuring devices.

Improve accuracy of creating the right access.

Enhance user on-boarding experience.

Increase productivity of the admins.

Reduce costs on device operations.
Ease of use

To use VoIP based mobile dialer app, all you need to do is download it on your mobile device and you're ready to go. It supports almost all types of mobile devices and thus, provides the same seamless experience on any device.

Rich communication experience

VoIP dialer mobile applications come with varied communication features, including audio calls, video Calls, conference, and chat. Moreover, users can share files and images, transforming regular interactions into advanced business meetings.

Cost effective

Using VoIP signaling for conducting calls and conferences, business softphones reduce communication cost significantly, when compared to other mediums like PSTN. Businesses realize significant cost savings in the form of lower long-distance fees and minimal equipment costs.

Personalized branding

White label VoIP applications can become the face of a brand, as they can integrate a company's name, logo and other branding factors. Enterprise can either keep the app private or make it public. The more people using the white label application, the more traction a brand gets.

Location agnostic

Softphones for business can be used anywhere, providing the flexibility for users to work on the go. This makes them ideal for telecommuting employees.

Diverse tech advantages

WebRTC based softphones for business provide brilliant audio and video quality, consume 50% lower bandwidth, offer encrypted communication and 99% device support, as well as support legacy SIP servers, 3G, 4G networks and Wifi.
Conclusion
Best Business softphone are the future of enterprise communication, as they provide more access and flexibility to busy and on-the-go workforces. It's the newest tech tool that has transformed the way people make voice calls, video calls, share their screens, notify their presence, or chat using IM – by simply using a software application program. It is also redefining communication, collaboration, professionalism, and providing new-age user experiences that everyone seeks.