7 Reasons Why A White Label Softphone Is Ideal For Your Business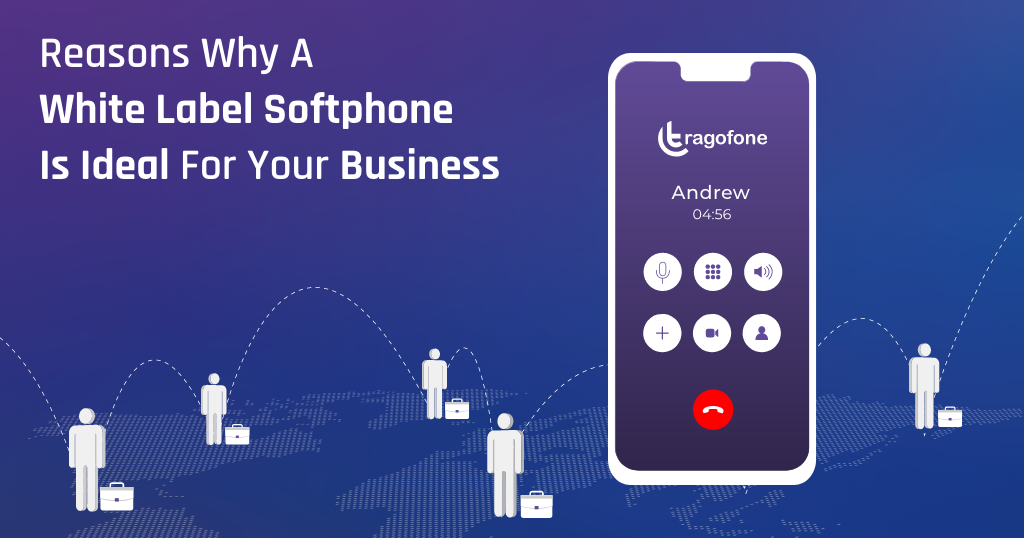 White label softphones help businesses harness the benefits of a personalized, branded communication system. Also, building an in-house hosted PBX platform from scratch can take years to develop and requires extensive domain knowledge and technical expertise. White label solutions, on the other hand, enable businesses to have complete autonomy and ownership of their VoIP softphone systems, without investing in development and support.
Today's fast-changing business environment and work cultures have made it imperative for organizations to adopt communication technologies that increase mobility and connectivity. A survey of enterprise IT employees conducted in 2017 found that 99% considered mobility a professional priority.
In keeping with employee expectations, organizations are prioritizing mobility in communication by opting for VoIP-powered mobile dialers and unified communication solutions. Modern enterprises are rapidly moving from traditional PBX phone systems to cloud based softphones that can be easily accessed and used by an on-the-go workforce.
VoIP Softphones can be installed either in a mobile phone, laptop, desktop, or tablet to make voice and video calls over IP networks. As businesses increasingly move to this real-time, diverse communication platform, they are seeking to white label their telephony systems in order to retain complete ownership of the solution, without having to build it from scratch.
What is white label branding? White labeling allows VoIP service providers to customize the look and feel or the theme of an existing softphone as per the business needs of the client. Enterprises can brand a white label softphone for business with their own brand name and logo and use this version to create a greater brand impact in the market.
Also known as mobile SIP dialers, SIP softphones are a software application that use internet protocol to provide varied communication features to its users. A white label softphone carries the brand name of the client, instead of the company that developed the dialer.
An organization can acquire a white label softphone in two ways:
By on boarding a third-party softphone app developer (like Tragofone) and customizing the solution as per their specific requirements.
By opting for a software multi-tenancy contract, where the core softphone application remains the same, but each user has access to different sets of features.
A white label softphone solution is a complete package that comes with the functionality and personal touches of an application that has been built from scratch. White labeling enables a business to practically own and use the technology without spending hundreds of hours on development and support.  It helps an enterprise carve its unique identity in the market by delivering exceptional user experiences. In today's tech-driven and hybrid work culture, the benefits of white label softphones are too lucrative to be ignored by businesses.
It is always better for businesses if they can customize and brand their ITSPs SIP Softphones, as it helps in building their own brand identity and visibility in the market, saves time and money and enhances customer loyalty.
In this blog, we will look at how enterprises can gain by investing in white labeled softphones and how personalized communication solutions enable them to build better businesses.
A Macro Look at How White Label Softphones can Benefit for Small Businesses
From basic aesthetic and logo changes to a fully overhauled user experience with customized features and specific settings, white label softphones can be developed as a solution that meets the unique needs of every enterprise. It provides businesses with the power of the best softphone applications, along with optional service additions for messaging, collaboration, and video conferencing, to meet their communications needs.
Let us look at the benefits that businesses can avail by opting for white labeled softphones:
#1. White label softphones provide functionality, flexibility and control
When opting for a white label solution you only pay for the features you want. Businesses get the required functionality and they can put their brand name to it and resell it further at a price they want. With white labeling, the customer information and controls over the softphone stay with the client and are not in the possession of the service provider. To top it, enterprises can carry out all their operations and services exclusively under their own brand name and don't need to compromise on the autonomy of their business.
#2. Customized softphones help businesses create unique user experiences
With white labeling, businesses can build a phone that reflects their company's image and provides their customers with unique user experiences. The customization options that white labeled softphones offer are endless:
Change the product name, logo, or branding.
They can change graphic and default settings
Add, remove, or lockdown certain features.
Specify and apply auto provisioning settings and custom configurations.
Add instant messaging features, screen sharing, or video conferencing services. 
#3. White label softphones help save time and development effort
Building an in-house hosted PBX platform from scratch requires knowledge, expertise, and experience. It involves years of research to develop a softphone and test it successfully. Even then, there is no guarantee of success. White label softphone solutions, on the other hand, are already tried and tested and save organizations the hassle of developing and testing a Hosted PBX. It thus enables them to get a head start over their competitors, as they have instant access to a fully managed VoIP platform that has been tested and is ready for immediate use.
#4. White label softphones are cost-effective
Developing any product in-house requires huge financial investment and there are recurring maintenance costs attached as well. Purchasing an already established Hosted PBX platform, on the other hand, saves money and enterprises also have the support of a service provider for any maintenance-related issues. Their overhead costs are considerably low and this enables them to start earning profits faster.
#5. White label softphones are easy to use and don't require any advanced technical know how
Building and managing your own hosted softphone platform is an incredibly labor-intensive task and requires specialized technical skill sets. White label softphones, however, provide organizations with a ready-to-use, fully developed platform that integrates seamlessly with other systems like selling, delivering, and invoicing.
#6. Customized white label softphones provide more privacy and mobility to employees
Any organization's support staff needs to be in touch with multiple people during a call, as they talk to customers to understand their issues and concerns. In case of a technical issue, a customer support executive needs to contact the concerned technician and be in touch with the customer as well as the technician in real-time until the problem gets resolved. They also have to ensure the customer does not feel ignored or unattended. As a result, the executive ends up juggling several communication applications.
On top of this, there is also a risk of an organization's data getting compromised. Softphone applications are an ideal solution to address such concerns. Most softphone solutions are designed in a way that they can be installed on any smart device like a smartphone, tablet or laptop. Once installed, the support staff can access the app 24×7 from anywhere.
The VoIP mobile dialer app supports audio calling and chats, as well as app to app calling is free – allowing customer support executives advantage to communicate with several people in one go. It also enables the support team to share images and files which enables them to resolve customer issues on an immediate basis. It also allows them to communicate from a business phone number even while working remotely, without sharing their private contact details with customers. This lends a professional touch to the organization.
#7. Enables businesses to focus on their core expertise
With its communication technologies in place, organizations are able to focus on their core business and competencies, marketing strategies, brand building, and work on strategies for better customer reach. Operating a thriving business needs time, energy, and commitment. With white label softphones, businesses don't have to worry about building a customized communication tool. They can, instead, focus their energy where it counts and bring their product or service to the market in quick time.
A Micro-Level view: Specific Advantages of Using White Label Softphones
Besides the broad benefits of time and cost-saving, here are some of the more compelling reasons why a company should opt for a white label softphone application rather than developing one in-house:
White label softphones are easy to use and are often built around user-friendly interfaces. Most white label applications can be customized or be fully featured with calling, conferencing, auto provisioning, and more.
A White Label application enhances a business's branding and promotion activities. Clients can change the solution's name to add their own brand name, and match it with their organization's look and feel – and all these features are available for a nominal fee.
White label softphone applications come with prior testing and have already gone through multiple layers of technical tests, quality checks, and revisions. This ensures that a client is opting for a sophisticated app on which they can essentially put their name and use without having to invest in any research and development.
By using a third-party white labeled softphone application, even small businesses can be technologically at par with their more established competitors in terms of advanced softphone features. They can do this without incurring heavy expenses involved in hiring a team of software engineers and UX designers.
White Label apps reduce the risk of failure, as third-party developers are responsible for any faults. Your investment is secure and you get to enjoy all the perks of a great tool. It is the responsibility of the third-party developer to take care of the troubleshooting.
There have been rapid changes in the way businesses communicate. Softphones initially emerged as a technology that was an upgrade on traditional phones, as it was an agile platform with highly advanced functionalities. Customer expectations about communication technologies are also constantly evolving and it can get difficult for enterprises to stay abreast of these changes. However, with white labeled softphones, this job is left to the service provider, who helps upgrade the technology and allows enterprises to keep up with changes.
With white labeled softphones, enterprises get to choose features that are relevant for their business and pay only for those. Some businesses may not need certain advanced features. White labeled softphones enable organizations to build a real-time communication platform that's fully customized to their business needs.
Conclusion
White labeled VoIP mobile dialers enable businesses to leverage the benefits of premium hosted PBX and VIP trunking without spending time or thousands of dollars. It also enables organizations to maintain complete autonomy over their communication solutions. They can use their brand name and logo to project their ownership in front of customers, as well as enable them to provide their clients with outstanding products while maintaining a high ROI, consistently. Most importantly, white labeled softphones save organizations the hassle of developing a highly complex software from scratch as well as allows them to retain privacy and control over their customer communication.