10 Crucial Features of Softphone Solutions for Customer Service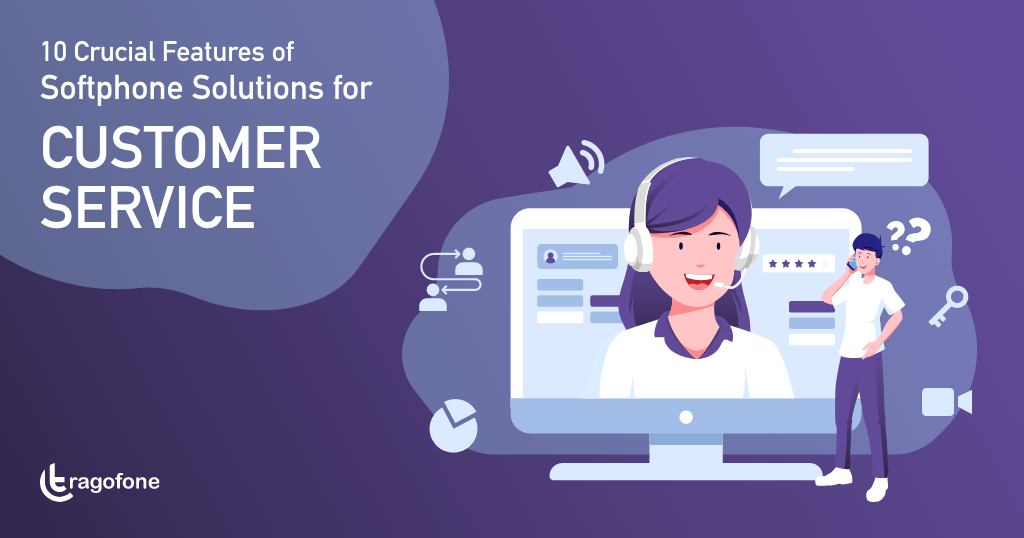 Businesses are constantly looking for ways to provide flexible and great customer service. Using telephones alone can be limiting and inefficient when it comes to accommodating your customers' needs. While there are countless automation options available now, the human element is still a critical factor in fostering deeper relationships with your clients. This factor is nudging businesses to invest in softphone services.
According to PwC, 82% of consumers want more human interactions while engaging with a brand. In fact, 59% of them claim that they are dissatisfied with automation-driven customer services as it takes away the human element from the business interaction. Softphone for business are helping customer-driven enterprises to bring personalization into their client interactions. Besides, they also offer flexibility, accessibility, and mobility in business communication.
A softphone is not, in fact, a phone. It is a software that allows you to use a computer, phone or tablet to place internet-based calls. This software is usually provided by a Voice over Internet Protocol (VoIP) provider, and functions as a user-friendly interface that operates similarly to a traditional phone – users can dial numbers and access other VoIP telephony features. Softphones offer all the features and services of desk phones – and much more.
Softphones services can operate entirely on the cloud, making them accessible from anywhere with an internet connection. With browser-based, mobile, and downloadable desktop phone applications, they make remote work seamlessly possible. 
Why Softphone services are emerging as the future of Customer Communication for Enterprises 
Customers today want convenience and accessibility when they contact an organization's customer service team. Softphone technology has convenience and flexibility built into its DNA. There are many benefits to using softphones within your business. Not only does it enhance customer experience, but it also improves employee workflows.
To give you a better idea of how softphones services can raise the bar in customer communication for enterprises, here are some of the key customer-friendly features of the app.
#1. Softphone's communication tools allow employees to address customer issues in real-time
Besides voice communication, softphones services also enable video conferencing and instant messaging. Since they can be installed on diverse, portable devices, they increase an organization's flexibility in communication, enabling employees to work anywhere, at any time.
Moreover, softphones notify users of incoming calls and messages in real-time. This significantly reduces waiting time for customers and ensures that company executives can immediately address and accommodate their needs. Softphones services also provide a user's presence status in real-time, displaying which executive is available to take a call. Likewise, it informs if a customer is available to take a call as well.
#2. Softphones allow customers to reach customer service executives over diverse communication mediums
VoIP-enabled softphones provide an integrated mix of omnichannel communications that include voice, video, and chat communication via a single, universal solution. This results in workforce optimization and allows agents to provide personalized experiences to customers.
By leveraging the unified communication benefits of softphones, customer service executives can integrate customer communication across channels. Customers can communicate with brands using a blend of these communication pathways, switching from one to another, as they would do with a consumer communication app.
#3. Softphones empower remote customer service employees to stay in touch with their clients using advanced UC tools
Remote working is fast becoming a norm among the modern workforce. Traditional telephony solutions worked well when employees remained on-premise, but fall by the wayside when it came to enabling remote work. Cloud communications have become critical for modern enterprises that are modernizing their operations and adding multiple communication channels to their workflows.
VoIP-powered softphones services keep customer service executives to their customers, irrespective of location or device. With mobile applications linked directly to a user's business phone number, employees can make and receive calls from their personal phone, while using their official phone number, staying connected with their clients even when they are on the go. 
Also, cloud-enabled VoIP mobile dialers provide organizations with the flexibility to onboard a remote workforce. Hybrid offices (that work with a combination of remote and on-premise agents) can use softphones to streamline team communications and build a collaborative work culture.
#4. Softphones provide HD audio and video quality to enable quality communication
The quality of your customer service can leave a lasting impression on customers. Choppy audio and lagging video calls can negatively impact your business credibility. Not to mention, it can make your company appear less professional to your customers.  Softphone service providers understand the importance of high-quality audio and video for businesses.
Nowadays, softphones leverage advanced technology for high-quality audio and video conferencing capabilities. Whether you are using your mobile phones, desktops, or any other device, it delivers consistent call quality. Tragofone, for one, uses WebRTC (Web Real-Time Communications) technology to facilitate peer-to-peer and direct communications between enterprises and their customers. This simplifies and improves customer experiences.
#5. Softphones bring the power of seamless collaboration using the right tools
Another benefit of using a softphone is the access to collaboration tools to streamline teamwork among customer representatives. You can use it to store and centralize your contact directory, call logs, voicemails, and other necessary documents. In turn, all authorized representatives and employees have access to such data from their own devices. You can also add, edit, or remove users and devices from your database to limit certain authorizations and accessibility.
Moreover, softphones solution provide organizations with automation tools that help reduce workloads. This allows them to focus on accommodating customers' needs and avoid getting distracted by other menial tasks. Its automation features also streamline workflows by routing calls to available representatives, forwarding calls to the right people, and enabling quick search directory dialing.
#6. Softphones have your security issues covered
You might think that using a traditional telephone is safer than using the internet for communications. However, both are equally vulnerable to hackers, scammers, and fraudsters. But one advantage of using a softphone is its built-in security features that safeguard your representatives and clients.
Popular VOIP software often comes with robust and reliable security features. These include:
–        End-to-end encryptions of calls and data
–        User authentication upon logging in
–        Monitoring and tracking tools
–        Management and control features
With softphones services, you can add layers of protection around your communications, unlike traditional desk phones.
#7. Softphones power your communication with analytics and reporting
One of the most outstanding features of softphones for enterprise use are its analytics and reporting functions. This allows organizations to collect and analyze data based on the calls and interactions between their representatives and customers. They can use this information to evaluate their employees' work performance. Likewise, they can also use it to gather critical customer data such as their behavior, demands, and preferences.
By leveraging data and analytics, businesses can identify their customer service strengths and weaknesses, determining specific areas that need improvement in order to provide better customer experiences. You can check out this article comparing different VOIP software systems to find out which ones offer effective and accurate analytics and reporting tools for your business.
#8. Cloud-based softphones can easily integrate with other software tools
The phone has always been a device that was used along with other business tools. Modern softphones enable a wide range of possibilities in terms of collaboration and productivity. Cloud-based softphones can connect diverse business tools to produce faster workflows and less human error.
A customer usually connects with a customer service executive when they face a problem with a product or a service. This means the representative has to have instant access to the customer's background information.
Softphones enable CRM integrations that give customer executives more context and background about a customer. They can be easily integrated with a company's CRM to provide complete customer information. This equips executives to provide satisfactory answers to customer queries without any time-lapse. Calls can be auto-logged into the CRM and agents can view customer data while speaking to them.
With integrated softphone software, enterprises can:
–        Make calls from directly within their CRM.
–        Sync call data and notes between applications.
–        Enhance customer surveys.
–        Assist with sales automation.
#9. Softphones ensure that customer service executives never miss calls
A VoIP softphone solution ensures that no call is unanswered, as it automatically routes every inbound call to the best representative who can service a customer's needs. If the first-choice agent is not available, the call automatically goes to the next person who is best equipped to handle the query.
Softphones make call forwarding simple, ensuring that a customer's needs are always met. With this phone system, no call goes to an automatic voicemail. Customer service executives can ensure that their customers are met with a live person when they call in, thus improving overall customer satisfaction.
#10. UCaaS and IoT is the future of enterprise customer interaction – and softphones are the go-to UCaaS medium
Unified communications-as-a-service (UCaaS) and the Internet of Things (IoT) are the next steps of enterprise-client interaction. Softphones support this by providing a simple, lightweight communication platform across multiple devices and offering most of the features that organizations seek from UCaaS deployments. Softphones are revolutionizing the way customer service executives work and connect with customers.
Conclusion
Softphones are enabling organizations to set themselves apart from the competition by delivering seamless customer service and thus boosting productivity. For customer service executives softphones have directly translated into fewer missed calls, more opportunities to connect with clients, and better customer engagement. Softphones have helped organizations to completely re-imagine their customer relationships – by enabling omnichannel communication and ensuring they are just one quick call away from their consumers.