Top 18 Key Service Features Your VoIP Softphone Must Have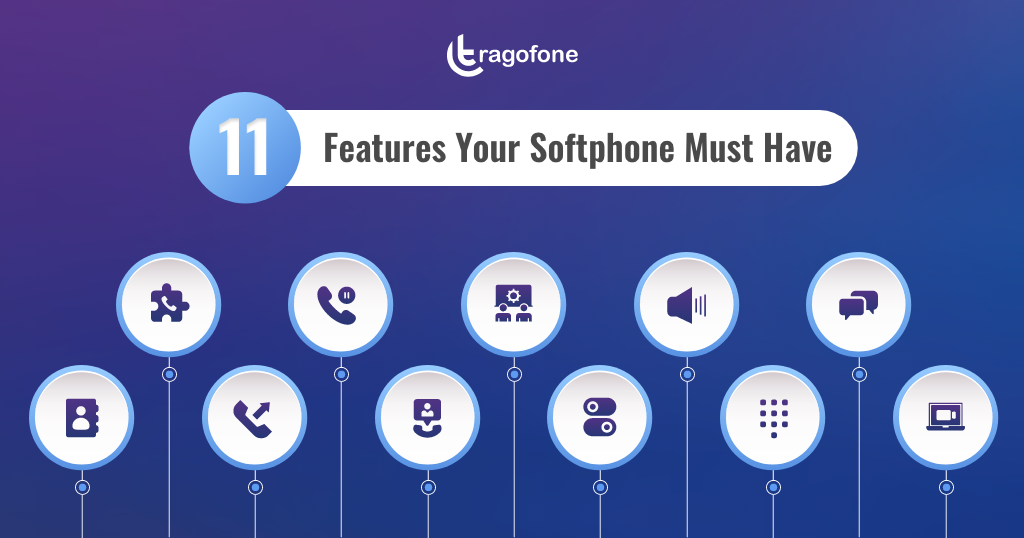 Organizations around the world are in the midst of a revolution – as business operations evolve in response to changing customer needs, market fluctuations, and a transformation that tilts towards remote work. 
Forbes predicts that 50% of the corporate workforce in the US will be working remotely in the near future. Moreover, with the rise of co-working spaces, the concept of having an assigned desk in an office has fallen by the wayside. Best VoIP Softphones are emerging as an evolutionary technology for these on-the-go employees, as it enables them to carry their business phones in their pocket. 
Professional communication has emerged as a priority for organizations, as they strive to seamlessly service their customers and keep their employees connected. This means their communication channels should be consistent, reliable, secure, agile, and uninterrupted.  Besides verbal communication, enterprises are also increasingly deploying video calling, instant messaging, presence, and cloud base provisioning tools to enable robust collaboration among their workforce, clients, customers, and partners. 
In order to meet these multiple communication requirements, enterprises are upgrading their legacy phone systems with collaborative solutions to develop secure, streamlined, and productive communication across the company. VoIP Softphones, or mobile dialers, are emerging as a next-generation solution that is helping businesses to collaborate efficiently. 
A Business softphone is a device-agnostic app that can be downloaded on diverse devices and allows users to make and receive phone calls over the Internet. The interface of a softphone typically looks like a traditional telephone dial pad, besides displaying useful additional information like the caller's identity, contact information, and history. Other than the calling function, softphone for business also allow users to access the other features in their VoIP service package – including video conferencing, team messaging tools, and analytics of recent call activity – in a single dashboard. 
The Best VoIP softphone is not a standalone solution. Instead, it is directly connected to your cloud based phone system, allowing you to access your business phone on your laptop, desktop computer, tablet, or mobile phone. This removes the requirement of investing in expensive hard phone equipment. Business Softphones for business enable users to make VoIP calls over diverse web browsers, including Google Chrome, Safari, and Firefox. 
How Does Softphone Work?
Softphones are integrated with three key features that are turning it into a must-have solution for enterprises:
– Customization to meet every enterprise's unique needs.
– Best-in-class user experiences.
– Supports a multi-generational workforce. 
Most softphones come equipped with SIP (Session Initiation Protocol) that supports VoIP calls and enables networks to send/receive data associated over the internet. SIP softphones make voice calling possible over internet-connected devices, using a softphone client that offers the user interface for VoIP and SIP phone calls. 
VOIP is a translation tool that allows audio to be connected over the internet, providing a basic platform that makes softphones possible. The best VoIP softphone communicates with another device when both endpoints support the same VoIP Protocol. Both endpoints must have at least one common codec. 
Being software, business softphones can be installed on desktops, laptops, and mobile phones, or accessed via cloud computing. This makes them fully portable and usable wherever there is an internet connection. VoIP Softphones also come with deep integrations with CRM software, thus providing enhanced customer service experiences from a computer. 
To use a business softphone, you need four basic assets:
– A high-bandwidth internet connection.
– An internet-enabled device, which could be a desktop computer, laptop, tablet, or mobile phone.
– A VoIP headset.
– A VoIP service provider/ IP-PBX. 
The process of deploying a softphone is simple. You need to install the softphone application on your device, and you are set to use it, if you have a high quality, reliable, and secure internet network. Softphones enable users to form a computer to a phone line, from a mobile phone to a computer, or between any internet-enabled devices that have the softphone app. A business softphone runs on most devices and platforms – Mac OS, Microsoft Windows, Linux, Android, and iOS – as well as from a web browser. 
Why do you need a VoIP service provider/ IP-PBX for softphones? It offers the underlying service that carries the calling functionality. Every business softphone is registered and assigned a unique number under a specific provider. While the basic softphone functionality remains the same, the extended features vary from provider to provider. So, it's up to an organization to choose the right VoIP service provider according to their business requirements. 
Similarly, the best VoIP softphones can also be used with IP-PBX to access calling and other functionalities. It is configured into the softphone, and the functionalities are inherited and work along with other advanced features of the business softphone.
Top 18 Features of a Softphone
Softphones come packed with unique features. From an easy-to-use interface to built-in caller settings, users can customize a softphone's features to fit their business needs. Most VoIP mobile dialers also include standard telephony features like mute, hold, transfer, and flash, along with other unique collaborative communication features. 
No matter which business softphone you use, it should come with these essential features:
#1. Contact directory
Every business softphone comes with an inbuilt contact directory. A good way to test out a new softphone is to find out how simple it is to import existing contacts and create new ones.
#2. Extension dialing
Business softphones are required to be as functional and easy-to-use as desk phones. One of the features they offer is the ability to connect coworkers via extension dialing. This is an especially useful feature for joining conferences.
#3. Call transfer
What makes a good business-grade softphone stand out is its ability to easily transfer calls, be it to another extension, an outside line, or to the same line on a different device.
#4. Call hold
Besides managing calls, softphones also display how long a call has been on hold so that the end-user knows who to address first.
#5. Caller ID
This is an essential feature, as it lets users know who is calling on their business number. Softphones provide detailed caller ID information – ranging from a number, name, place of call origin, and more.
#6. Three-way conferencing
This is not the same as a conference bridge. With three-way conferencing softphones enable a third person to join a regular call. However, not all softphones have this feature, and all browsers don't support it either.
#7. Presence
This is a valuable softphone feature, where a user gets to know which co-workers are online and available to talk.
#8. Volume control and mute
Since softphones can be used while on the move, there are times when users are not in an appropriate place to take a call. This makes the volume control and mute options critical. 
#9. Dial pad
Although there are some softphones that have done away with using the dial pad as their main interface in favor of a more modern-looking app, it still remains a vital feature for phone menus and conference PINs.
#10. Video calling capability
As the concept of remote working gains traction, video calling has become a crucial communication feature for organizations because it adds a visual element to a long-distance conversation presence and makes collaboration easier. Softphones can enable or disable video feeds during a call.
#11. Online messaging
This feature allows employees to use their softphones to text people directly from their business phone line. It's become a key softphone feature as messaging evolves as an important means to create personalized customer experiences.
Besides these standard business softphone features, some VoIP mobile dialers also offer unique features to their users. Let's look at what they are:
#12. Leverages WebRTC to make seamless audio and video calls
Supported by the World Wide Web Consortium (W3C), WebRTC allows open standard browsers to communicate with each other and exchange audio, video, and data files that use a simple Javascript-based API. It allows users to make audio and video calls without requiring a plugin or any additional software installation.
Users can activate their business softphone service via a web interface without requiring any configuration settings. This makes the deployment and management of installation fast and easy.
#14. Multi-lingual support
VoIP Softphone services like Tragofone offer multi-lingual support so that users can converse in a language of their choice.
White-label VoIP softphone applications can be integrated under a company's brand, giving it the brand's look and feel. They have the enterprise's name, logo, and all other branding factors, and can be represented as their own dialer application.
#16. Integration with other databases and directories
Some softphones implement compatibility with third-party applications like Microsoft Outlook. They also enable integration with shared LDAP (Lightweight Directory Access Protocol) directories, Microsoft Active Directory, and ODBC compatible interfaces. This feature is especially useful for VoIP based call centers.
#17. Multiple SIP Accounts
Having multiple, independent SIP accounts on a softphone allows users to consolidate their accounts and make or receive calls from a single softphone. Having multiple registrations enables organizations to shift between accounts on a per-outbound call basis, depending on which VoIP provider or ISP offers the best rates for the destinations they are connecting to.
#18. Security and privacy
Modern organizations are very particular about the privacy and security of their communications. These security issues are very relevant for softphones, where incoming and outgoing calls are vulnerable to attacks such as wiretapping and eavesdropping.  Quality softphones support encryption using Transport Layer Security (TLS) and Secure RTP (SRTP) protocols, as it reduces these threats. 
How Organizations Benefit from using Softphones
Softphones are the future of enterprise communication. Software-centric communication solutions are in demand as they provide flexibility, scalability, and security, improve communication processes, and boost business efficiency.
What other benefits do VoIP mobile dialer applications bring to enterprises? 
Softphones save you money. As softphones use VoIP signaling, they reduce communication costs significantly, when compared to mediums like PSTN. Businesses can save costs in the form of lower long-distance fees and minimal equipment installation.
Softphones can be used anywhere, providing the flexibility for users to work on the go. This makes them ideal for telecommuting employees. 
Softphones require much less equipment than older voice solutions – be it the copper wiring or the costly PBX server installation. 
Softphones use the internet to make and receive calls, negating the need for a dedicated connection for voice communications. This results in cost savings for businesses. 
24/7 employee connectivity
You can take your softphone anywhere. You can install it on any computer or add it to any additional mobile phone device – without worrying about reinstalling equipment. 
Manage and control your calls
A softphone's intuitive interface provides you with a single view of multiple calls. Users can easily switch calls, mute calls, or send callers to voicemail. They can also park a telephone call on a virtual location and retrieve it from any other phone or softphone in their system. A call can also be transferred to any phone number or extension. 
Get high-quality sound with HD voice
Calls made through softphones are clearer and the voice quality is richer as compared to traditional desk phones. 
Users can record a single call or change their settings to automatically record all calls. They can also download recorded conversations, store them on your computer, or forward them to others. 
Send text-to-speech messages in real-time
When a softphone user is busy, she can send a default message or type a personalized one that is transmitted via text-to-speech technology. These options are useful when employees are participating in a web meeting or are on another call. 
Intercept callers leaving messages
Users can listen to voice messages as they're being recorded by a caller, and can even intervene in the middle of a message and accept the call. 
Conclusion 
In recent years, businesses have changed the way they work and communicate. And this shift is here to stay. This could mean that traditional phones could soon become a thing of the past. 
Softphones are emerging as the new tool that is transforming the way employees make voice calls, video calls, share their screens, notify presence, or chat using instant messaging. All this is done by simply using a software application. This is reshaping how organizations communicate, collaborate, and provide seamless customer experiences.