Build Your Own VoIP Calling App without Coding Knowledge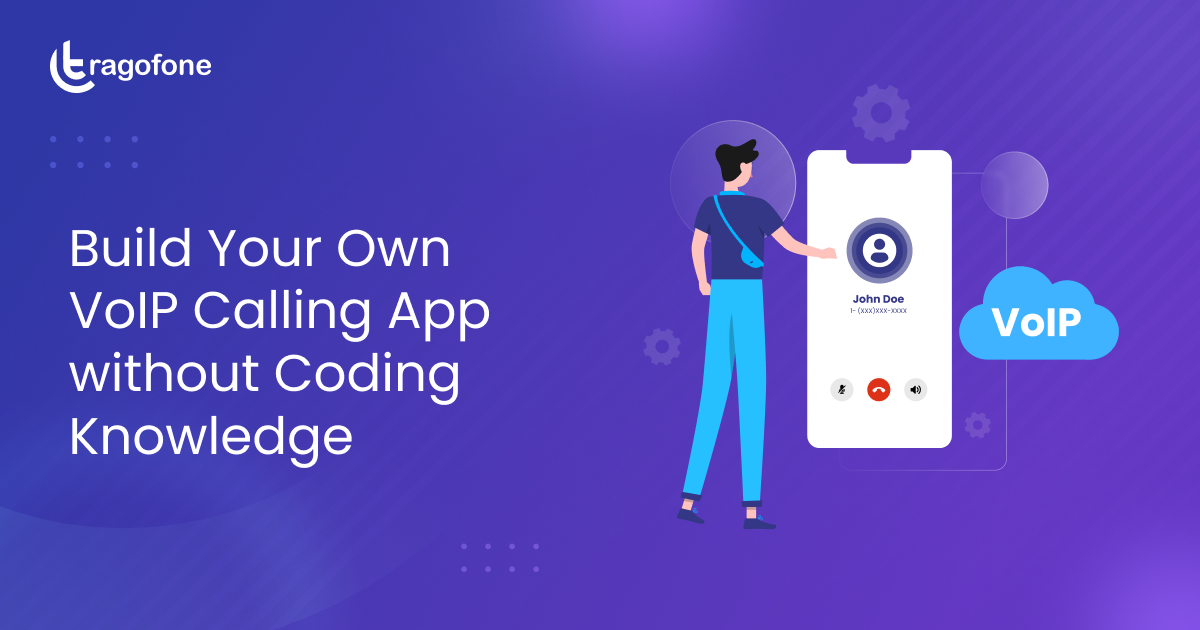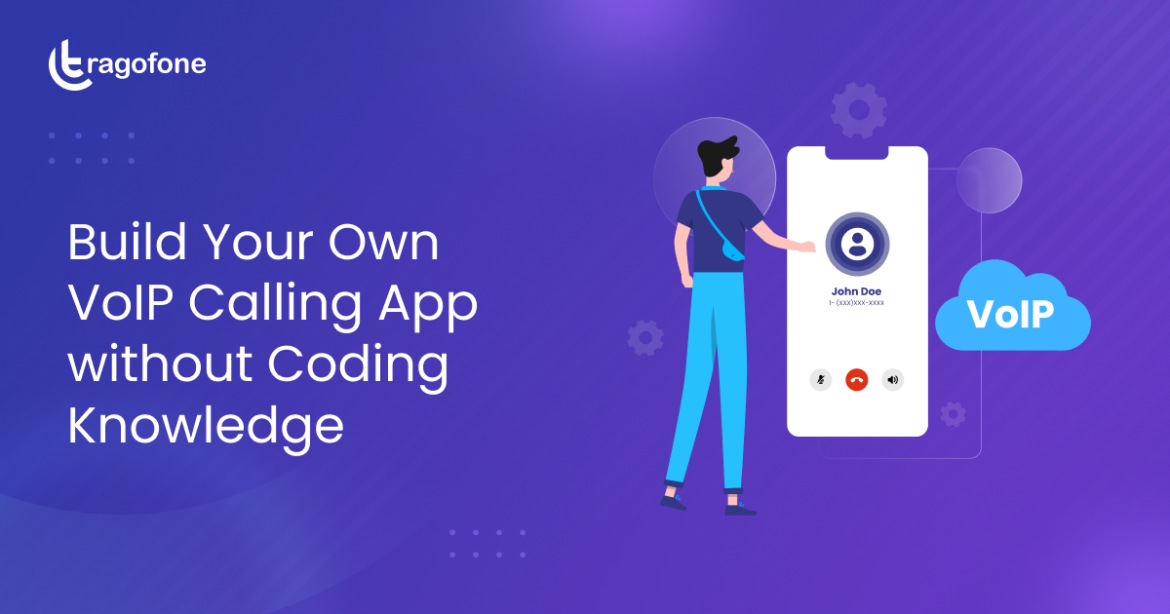 In today's digital realm, more and more businesses want to build customized VoIP calling apps to improve communication and collaboration for their workforce. Employees are increasingly mobile and need unified comms capabilities like voice, video, chat, etc. while on the go. Companies want white-labeled calling apps tailored to their brand and workflows to enable this. 
However, developing fully customized VoIP apps from scratch requires significant time, effort, and investment. Businesses need to build mobile/desktop apps, program the SIP calling capabilities, provision users, manage infrastructure and so on. This complex process can take months with high risks. Many companies need more in-house skills for app dev and VoIP as well.
This is where white label VoIP softphones like Tragofone come in. They provide the complete readymade capabilities and infrastructure in branded customizable apps. Companies don't need to build everything from zero. They can quickly get tailored calling apps that sync with their brand in weeks, without any coding needed. Tragofone handles the tech so businesses can focus on customizations for their workflows and users.
In summary, white label softphones bridge the gap between the need for customized calling apps and challenges in in-house development. With Tragofone, businesses can get off-the-shelf apps fast and cost-effectively, with flexible branding and configurations. The proven technology and robustness results in low-risk deployments. It's the ideal way to enable mobile collaboration for teams without spending months.
Understanding White Label Softphones
A white label softphone allows businesses to get custom branded VoIP calling apps without developing everything from scratch. The apps are based on the vendor's core technology but can be tailored to the company's needs.
White label apps prominently feature the company's branding and identity. The splash screens, icons, colors and styling reflect the company instead of the vendor. This allows delivering a seamless user experience aligned with the brand.
Under the hood, the apps utilize the proven VoIP capabilities and infrastructure built by the vendor. But the customer can customize the apps by selecting required features, configuring workflows, integrating with company systems and more.
Compared to fully custom development, white labeling saves significant time and cost. Businesses avoid overheads like managing app dev teams, developing calling features, testing, infrastructure setup etc. Just the customization work is needed to tailor the vendor's solutions.
White label strikes the right balance between off-the-shelf and fully custom. It provides the convenience and speed of readymade software with the ability to customize for specific needs. For VoIP calling capabilities, it emerges as a pragmatic approach for most modern businesses.
What Tragofone brings to the table
Tragofone provides immense value as a white label VoIP calling app solution through the following benefits:
Readymade VoIP capabilities —

Get carrier-grade voice and video calling,

VoIP conferencing

, messaging etc out-of-the-box without reinventing the wheel. Tragofone has invested years into building robust telecom-grade capabilities you can leverage.

Custom branding and UI —

Align the apps visual identity and workflows to your brand for consistent user experiences. Configure colors, logos, icons, terminology etc. to match your brand guidelines.

Add/remove modules —

Pick and choose features like chat, PBX integration, call recording etc. as per exact needs. No need to pay for unused modules. Select the optimal mix for your workflows.

Proven technology —

Build on top of robust VoIP technology validated across thousands of global customers. Tragofone powers many large telecoms and enterprises reliably.

Faster time-to-market —

Launch calling apps in weeks rather than months by leveraging readymade components. Focus on user testing and adoption rather than building from zero.

Responsive support —

Get end-to-end technical support for customization, integration and usage from VoIP experts. Tragofone's specialist team provides guidance throughout. 

Scalability —

Add more users, locations and use cases over time as your business grows. The platform handles it seamlessly. Built to scale to millions of users globally.

No coding needed —

Focus on user workflows and customizations without worrying about coding complex call features. You need no in-house VoIP or telecom expertise.

Cost savings —

Save significantly compared to a fully custom developed VoIP solution across all aspects – dev, testing, infrastructure etc. Reduce TCO by up to 60%.

Seamless integration —

Tightly integrate the calling capabilities with your existing systems like CRM without headaches. Leverage APIs and webhooks.

Reliability —

Get built-in disaster recovery, redundancy for high reliability suited for mission-critical use cases. Deployments across 25+ countries.
Tragofone's white label offerings
Tragofone provides a robust set of capabilities in their white label VoIP calling apps:
Multiplatform apps —

Get iOS, Android, Windows, Mac and Linux apps to support all your user devices. Ensure uniform experience.

WebRTC calling —

Leverage the most advanced

WebRTC technology

for superior quality audio/video calls. Get carrier-grade calling reliably. 

Auto-provisioning —

Provision and configure

any number of users easily without manual setup. Automate rollout at scale.

Dashboards —

Get pre-built and customizable dashboards for monitoring usage, performance etc. Data for optimizing utilization.

Security —

Enterprise-grade security like SRTP, TLS for securing calling and signaling. Protect from fraud.

Encryption —

End-to-end encryption for privacy along with two-factor authentication. Maintain compliance.

Customization —

Tailor UI flows, integrate company APIs & databases as per your needs. Support your workflows.

Conferencing —

Audio and video conferencing capabilities for collaboration at scale. Enable workgroups.

Chat/messaging —

Real-time chat and offline messaging between users. Increase engagement.

Call recording —

Record calls for audit, quality and compliance purposes. Drive accountability. 

PBX support —

Integrate with existing on-premise or cloud based PBX systems. Leverage investments.
Tragofone allows building secure, scalable and fully-customized VoIP calling apps across platforms in a brandable package – enabling businesses to maximize productivity and customer experiences.
The era of customization
Tragofone allows immense flexibility to tailor their white label apps as per specific business needs: 
Branding —

Customize colors, themes, logos, app name, launch screens and more to align with company brand.

Configurable workflows —

Build customized call flows, contact lookups, click-to-call integrations matching real-world processes.

Add/remove modules —

Select required capabilities like audio/video calls, chat, screen sharing, call recording etc. and remove unnecessary ones.

PBX integration —

Tightly integrate with existing telephony infrastructure like SIP trunks, IVRs, contact centers etc. 

Custom reports —

Get role-based real-time and historical reports on usage, performance and trends.

Access control —

Apply granular access policies and restrictions based on user roles.

API integration —

Leverage Tragofone's APIs to integrate with business applications like CRM, HRMS, databases etc.

Admin portal —

Get a centralized console for provisioning, monitoring, alerts configuration etc.

Carrier integration —

Onboard with telecom providers for calling and number management services.
In essence, Tragofone allows customizing both the frontend experience and backend capabilities as per unique needs. This removes any constraints to tailor workflows for specific users, use cases or industries. 
Businesses get the best of both worlds – robust VoIP technology and the flexibility to modify it for their requirements. This accelerated time-to-value and delivers better user productivity.
Getting started with white label VoIP calling app
The process of onboarding and launching Tragofone's white label calling app is simple and structured:
Onboarding —

First, an account manager will help set up your account, enroll subscribers, assign software licenses based on needs, configure billing and complete legal formalities.
Branding —

Next, you can start applying your branding to the apps. This includes colors, themes, logos, naming, custom images and more. You can fully align the look and feel with your company identity.
Feature selection —

Now choose the capabilities like audio/video calling, chat, conferencing, recording etc. and customize workflows as per your requirements. Tragofone will help identify the optimal feature mix.
Provisioning —

Once configured, Tragofone will provision your apps by creating accounts, allocating numbers, generating credentials and preloading any custom data as needed.
Deployment —

You can now roll out the branded softphone apps to your users. This can be done via app stores, internal portals or manually. Tragofone will assist in user training and adoption.
Admin access —

Get access to the admin portal and dashboards to manage users, configure additional settings, monitor usage and performance post deployment. 
Support —

Ongoing premium support for enhancements, troubleshooting, new integrations etc. provided by Tragofone's experts to keep your apps updated and optimized.
The combination of Tragofone's purpose-built platform and expert guidance ensures your tailored VoIP calling apps can go live quickly and smoothly without business disruption. You get the right foundation to maximize ROI from day one.
Postscript
The white label model for VoIP calling app delivers a compelling value proposition for most modern businesses looking to equip their workforce with advanced unified communications capabilities. 
It allows companies to get custom-branded calling apps built on proven technology quickly, cost-effectively and with minimal business disruption. Instead of investing months in ground-up development, white labeling provides readymade VoIP capabilities that can be tailored to specific needs.
With Tragofone's white label offerings, businesses can align the solution to their brand and workflows with flexible customization options. The multiplatform apps powered by WebRTC provide enterprise-grade voice, video and messaging features out-of-the-box. Responsive support and expert guidance further smoothens the experience.
As businesses recover from the pandemic's disruption, digitally transforming communication is key to building resilience and agility. Tragofone's white label softphones enable this by making it easy to deliver seamless mobile collaboration to employees. It unlocks productivity for remote/frontline workers and improves customer engagement – providing a competitive edge.
For IT leaders looking to equip their workforce with secure and unified communication capabilities, trying out Tragofone's customizable softphone is highly recommended. The tailor-made apps can significantly accelerate your mobility and collaboration initiatives without prolonged development cycles and costs. Purpose-built for the needs of modern enterprises, it's an ideal way to leverage VoIP technology for powering digital transformation.