What is SIP Trunking? Understanding with Real-life Scenarios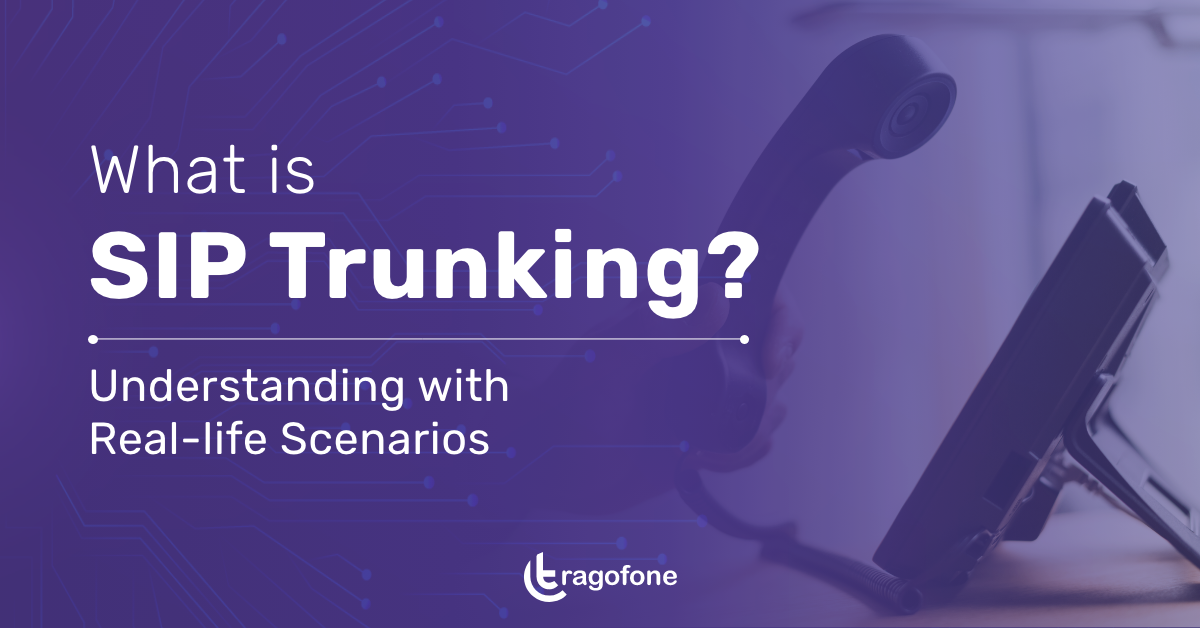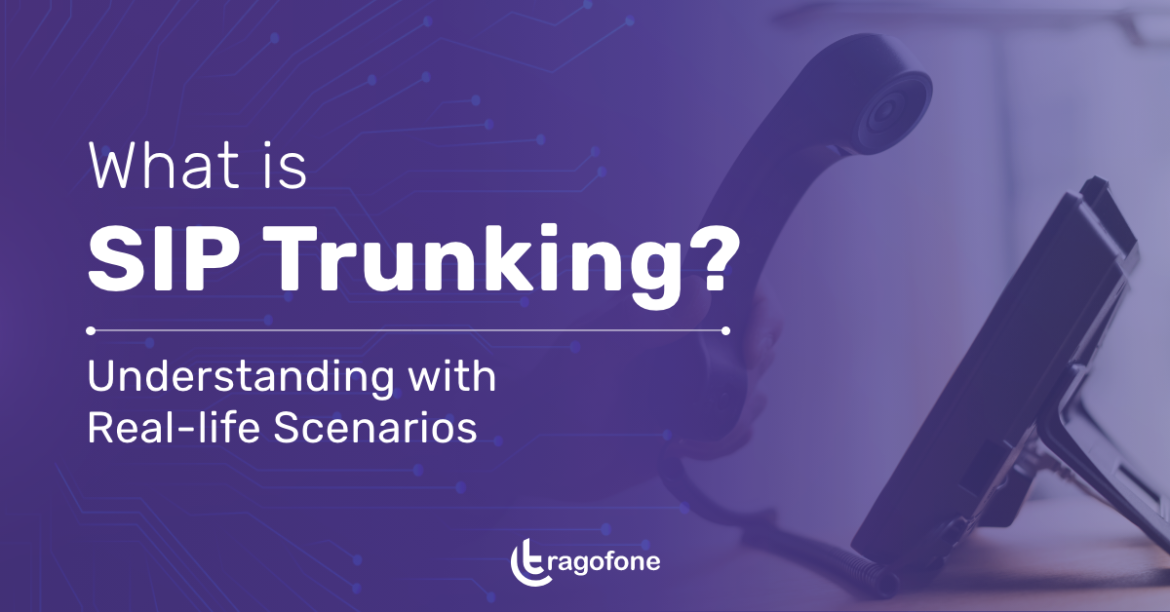 SIP trunking can be a true game-changer for your business communication systems. It empowers your business to quickly upgrade from a PBX phone system to IP based phone system without investing in brand new hardware systems. What's more, SIP trunking is affordable and brings with it a myriad of benefits to both large and small enterprises. So let's get cracking with the basic tenets of SIP trunking.
Picture this. You are interacting with a prospective client for the first time and the call quality is extremely poor. The audio is choppy, the call keeps getting dropped, and a host of other issues overtake the conversation. It can be such an embarrassment and possible loss of business too. However, with SIP (Session Initiation Protocol) trunking you can be assured about crystal clear audio-video call quality and an overall superior call experience.
In this blog we will delve into:
What is SIP Trunking
SIP trunking refers to operating phone systems over the internet, in place of traditional phone lines. Let's understand the terms SIP and Trunking one by one.
#1. SIP
An application layer protocol that enables a user to run a phone system over an internet connection instead of traditional phone lines.
#2. Trunking
The backbone of phone lines used by multiple users that connect to a telephone network.
With SIP trunking, a user (businesses/ individuals) can make and receive calls from multiple different clients or handsets, all of which share a dedicated internet communications channel the "trunk". They also use the same protocol SIP to connect, maintain and disconnect calls.
#3. SIP Trunking use-cases
SIP Trunks facilitate Voice over Internet Protocol (VoIP) connectivity between an on-premise phone system and the public switched telephone network (PSTN). If your office has an existing PBX for phone service, SIP trunks facilitate phone service to the entire office so as to connect with the outside world.
SIP is capable of doing much more beyond basic telephony. Like traditional phone line subscriptions, SIP trunking is provided by a SIP provider. Most SIP trunking services allow a user to use their existing PBX equipment to upgrade to an internet-based phone network. SIP also lets a business synchronize all their communication channels in real-time, thereby enhancing their productivity, collaboration, and efficiency.
How does SIP Trunking work
SIP is a set of protocols or standards which describes how phone systems can:
Establish calls
Maintain the connection between phone systems for easy transfer of voice and data during an active call
Terminate connection when the call is over
The entire process involves phone systems sending signals to each other. These signals contain instructions to begin a call, play-back ringing sounds, stream audio or data between the systems, and terminate the connection. A call is established using SIP, from here other protocols handle the transfer of audio and data also known as media streaming between the phone systems.
SIP Trunks work as a link between your business phone systems and your ITSP (Internet Telephony Service Provider). Earlier enterprises had ISDN circuits physically installed on their premises. Voice calls were transferred over these circuits. SIP replaced this physical infrastructure with a virtual one, it sends data via networks instead of the copper wires of an ISDN.
Direct Inward Dialing (DID)
If you are an organization with a large headcount, consider installing a DID to effectively manage phone systems and save costs. DID enables a business to have multiple phone numbers. What's more each of these numbers rings a specific SIP phone instead of going to a queue or an auto-attendant. One does not need  separate phone lines for each number, the SIP provider sends an incoming call to your PBX over the SIP trunk.
The PBX then routes the call to the concerned recipient based on the number dialed. DID with a SIP trunk comes at no additional infrastructure costs, however getting DID services from a phone company involves additional costs for hardware and maintenance.
SIP Trunking vs PRI
Primary Rate Interface (PRI), uses a physical telephone line carrying multiple voice and data connections (for handsets and clients) to connect businesses to the telephony network. The difference between SIP and PRI:
SIP: It is an internet communications protocol. SIP trunks eliminate the need for hardware installations or services of telecom providers. It is much easier to set up, scale, and configure SIP over PRI systems.
PRI: It is a voice technology based on physical phone lines.
SIP Trunking vs VoIP
Both SIP and VoIP are protocols describing voice and data communications carried over the internet.
VoIP is a broad term that comprises a myriad of protocols for voice communications over the internet, including voice calls.
SIP on the other hand is a protocol that explains how VoIP calls are established, maintained, and disconnected. SIP is a protocol that enables VoIP.
SIP Trunking and PBX
PBX (Public Branch Exchange) is a telephone system that enables switching calls between multiple users on the same connection within an organization or enterprise. Businesses prefer PBX as it enables them to provide multiple phone connections using a single phone. However, PBX must be connected to a PSTN in order to make and receive calls outside the organization. This connection can be a PRI circuit or a SIP trunk. A PBX can be an on-premise PBX (physical PBX), or a cloud-based hosted PBX or a virtual PBX managed by an external provider.
Benefits of SIP Trunking
#1. Scalability
Traditional business telephone systems like the PRI contain 23 voice channels. Adding more connections beyond 23 lines can be a problem and hinders the scalability of a business. Similarly, even if one is not using all the 23 channels, they still need to pay for the same.
However, with SIP trunks adding or removing phone lines is easy as it is implemented as software. A few SIP trunk providers offer to scale as a self-service tool through a user interface (UI). Thus, SIP trunking offers its users the flexibility to scale up and down as per business needs and pay only for what they use.
#2. Ease of connectivity across the globe
SIP trunking enables a business to expand voice communications across the globe with ease over a traditional business telephone system. SIP trunking providers collaborate with local providers in foreign countries and route calls over the internet across the globe but pay local call charges eliminating the need for enterprises to collaborate with local telecom operators in each country in which they wish to do business. This way a business gets access to local numbers in different countries to make and receive calls, without having a physical presence in those countries.
#3. Cost-effective
One of the USPs of SIP trunking is cost-savings on hefty physical infrastructure. Unlike traditional telephone companies, SIP trunking providers need not maintain large-scale infrastructure leading to low operating costs when compared to traditional telecom companies. SIP providers pass these cost savings benefits to their customers in the form of low usage rates. Businesses can leverage SIP trunk's internet-centric nature by implementing smart call routing and saving on international calls.
#4. Return on investment
Switching to a SIP trunking service involves almost no capital investment in infrastructure as SIP trunking communications are carried over the internet. Most businesses already have robust broadband connections in place, giving them an immediate return on their internet connection investment.
#5. Reliable
As iterated in the starting, SIP trunking is more reliable than traditional phone systems. Why? Most SIP trunking providers operate their own private network with multiple points of failure and automated failover routing. This particularly helps in times of disasters such as flooding, earthquakes, and more.  Rough weather conditions and calamities can wipe out telephone exchange infra across wide areas. On the contrary SIP, trunking providers who operate on their own networks leverage their network's multiple points of presence for redundancy and ensure businesses communications continue as usual.
#6. Business continuity
SIP trunking ensures business continuity in many situations besides natural disasters mentioned above. SIP trunks operate on SIP softphones (software that can be installed on mobile/desktop) too. Softphones for business help in saving costs by eliminating the need to purchase expensive desk phones, and can be scaled more easily than physical phones. In the last two years when the world went into a forced lockdown, it was this flexibility provided by softphones that ensured business continuity.
By using SIP trunking and softphones businesses ensured employees continue their work seamlessly maintaining communications channels and phone numbers that are familiar to their employees and customers alike. What's more, with SIP trunking calls made to employees' desk phone numbers could be easily forwarded to their mobile devices giving them the flexibility to stay connected with their team members, vendors as well as customers.
#7. Easy to configure
Being a completely software-based communications system, SIP trunking enables businesses to control every aspect of their communications. Adding or removing newlines, setting up call forwarding between numbers, routing calls to different employees, departments, or even offices, monitoring call volumes and traffic in real-time, configuring calling extensions, enabling or disabling calling to certain destinations, call recording, and much more.
Most SIP trunking providers provide configuration options through an easy-to-use user interface, or through application programming interfaces (APIs). This enables customers to interact with their configuration settings programmatically and automate configuration changes as per their needs.
#8. Unified communications capabilities
SIP trunking enables organizations to combine or unify all communication endpoints being used in the organization in a single interface enabling employees to communicate seamlessly with each other and with customers as well. UCaaS implementations encompass voice communications, video calls, messaging, conferencing, fax, chats, and more in a single. Implementing a  unified communications system translates to cost savings by virtue of bringing together all communication services being used under one SIP trunking vendor.
Features to look for in a SIP Trunking Service
A service is only as effective and beneficial as the features it offers. To make the most out of your SIP Trunking service do look for the following features:
#1. Network
A good SIP trunking provider must have its own private IP network built for communications traffic with collaborations across the globe.
#2. Licensed carrier
A SIP Trunking provider with a licensed carrier status globally is proof that they comply with all regulatory requirements of the countries for which the license has been issued. This also is an assurance, that your service provider has complete access to local telephony assets of that country.
#3. 24×7 Support
Though fairly easy to configure, a lot of complex technology goes behind the scenes in the world of SIP. Look for a service provider that offers 24×7 support such as in-house or on-call engineers, chat support, etc.
#4. Easy and flexible configuration
Look for a SIP service provider that gives you the flexibility to configure your communications systems as per your requirements. Things to look for:
Easy to add and remove lines
Blocking certain destinations
Flexible billing plans
SIP – The future of business communications
The current business landscape and its communication needs are very different from what they used to be a decade ago. Traditional telephony systems no more make the cut. To cater to modern-day business communication needs of remote working, communicating through multiple channels of communication, collaborating, going places, and more requires a robust technology like SIP and VoIP.