Session Initiation Protocol (SIP) and Its Function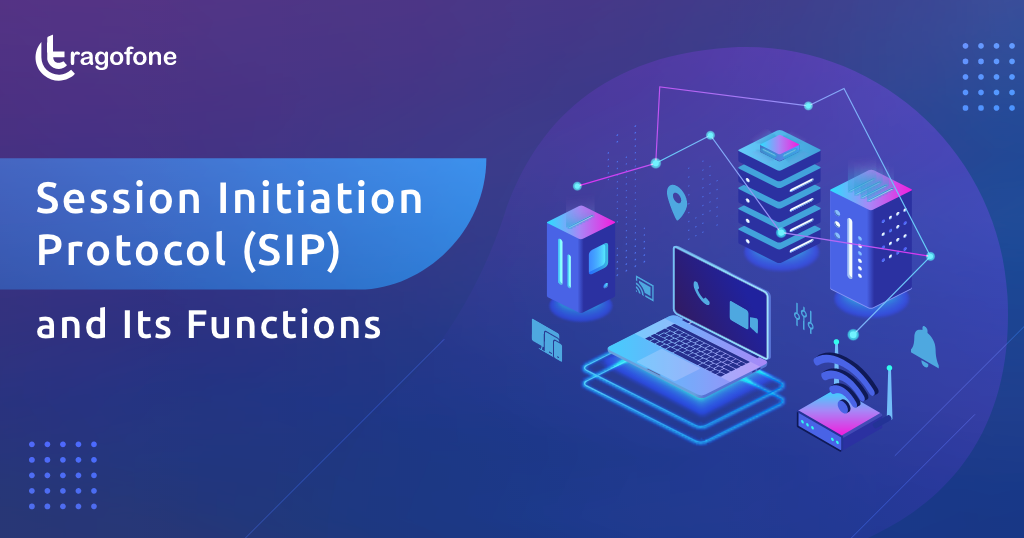 VoIP, WebRTC, and many such names have been making a lot of buzz in the digital communication world in the last few years. On the face of it, these appear to be more complicated than they are and SIP is no exception. However, all the buzz around SIP is because of the fact that it is a widely adopted standard. It enables service providers and enterprises to eliminate cost and complexity, accelerate the pace of innovation and avoid vendor lock-in. 
SIP is not a complicated technology as most people perceive – instead, it's a lightweight set of protocols that are delivered via a SIP provider that empowers enterprises to unlock the vast benefits of internet-based phones.
In simple language, "protocol refers to a set of universal standards for computer communication." SIP refers to a "signaling protocol" used for initiating, maintaining, modifying, and terminating real-time communications sessions between internet protocol (IP)devices. 
A Breakdown of The Term SIP
Session Initiation Protocol – 'Initiation translates to or means beginning. SIP means initiating a live communication session such as phone calls, conferencing, and videos. SIP technology is widely used for VoIP calls, but it has many other uses as well such as video conferencing, instant messaging, and even computer games. Basically, SIP is used to set up and terminate sessions, or conversations, in a UC (Unified Communications) environment. 
Voice over Internet Protocol (VoIP) telephony is built on the basic tenets of SIP. Making a shift to VoIP and SIP trunking gives enterprises more communication options than traditional legacy PRI (primary rate interface) services. 
SIP trunking uses IP to enable organizations to make calls through PSTN (Public Switched Telephone Network). For this, SIP requires an internet connection, a VoIP vendor, or an IP-enabled PBX.
Over the years, SIP has become the backbone of the VoIP, voice, and video world. It is the matriarchal figure who holds the infrastructure together, enabling these applications from different vendors to communicate and integrate with one another. These applications range from presence, instant messaging, voice, or video. SIP boosts productivity for businesses by helping them take advantage of these UC applications.
A Brief History About SIP
SIP was developed in 1996, by the "Internet Engineering Task Force" and standardized in 1999. It was originally designed by Mark Handley, Henning Schulzrinne, Eve Schooler, and Jonathan Rosenberg in 1996 to facilitate establishing multicast multimedia sessions. 
SIP was accepted as a 3GPP signaling protocol and permanent element of the IP Multimedia Subsystem (IMS) architecture for IP-based streaming multimedia services in cellular networks in November 2000. In June 2002 the specification was revised and various extensions and clarifications have been published since.
SIP addressed the evolving needs of IP communications, such as in-house support for mobility, interoperability, and multimedia support. SIP was originally designed to provide a signaling and call setup protocol for IP-based communications supporting the call processing functions and features present in the public switched telephone network (PSTN) with a vision of supporting new multimedia applications. With the evolving needs, it has now been extended for video conferencing, streaming media distribution, instant messaging, presence information, file transfer, Internet fax , and online games too. 
What makes SIP stand apart from its contemporaries is that SIP has roots in the Internet community rather than in the telecommunications industry. 
What problem does SIP solve?
SIP is not restricted to any one media. Though extensively applied to VoIP, it's not exclusively a VoIP protocol as well. SIP launches and ends IP communication sessions that could either be voice calls between two users or a team video conference. 
SIP initiates a session by sending data packets – between two or more identified IP endpoints, also known as SIP addresses. Every SIP address is linked to a physical SIP client – like an IP desk phone – or a software client – a SIP softphone, for instance.
During these sessions, SIP does not decode or transfer any information. Therefore, the protocol can be used for video conferencing and instant messaging besides making internet voice calls.
Primarily, SIP sets up and initiates a call and then ends them. In doing so, it performs the following steps:
User location and availability:

SIP allows the user to tell the UC system whether or not they're available at any given time, giving rise to functions such as presence.

Device capabilities:

SIP can determine what kind of device the end-user is employing and what sorts of communication the device can support, so it can set up the call appropriately. For instance, a user may want to initiate a video call with three people at a time. However, one of them is using a device that only supports voice calls. SIP will initiate a video call for those who can handle it and a voice call for participants who can't.

Session setup:

SIP establishes the ground rules or parameters for a call between two or more participants.

Management:

SIP handles management of the call, including any transfers, modifications (such as graduating from audio to video), and call termination.
This pretty much sums up the core capabilities of SIP. However, over the years SIP has been termed as "the lingua franca – or bridge language – of the VoIP, audio and, increasingly, the video world." 
This means that SIP enables UC applications from different vendors to communicate and integrate with one another, whether it's presence, instant messaging, voice or video. To summarize SIP enables productivity enhancements for the enterprise by enabling them to leverage all its UC applications.
How does SIP work for VoIP?
A voice call is made up of two components: call setup and data transfer. Voice over IP (VoIP) transmits the voice and multimedia content over the internet and SIP performs the function of a telephone switchboard operator. SIP handles the call setup phase of VoIP calls which involves organizing the details that enable two phones or devices to connect. The data transfer happens after the call setup. 
A SIP network is made up of multiple elements that manage SIP requests between two endpoints. These are the elements required to set up a VoIP call, which means to make each endpoint aware of the other's IP address and to begin exchanging data.
So, what are these SIP network elements? Let's find out:
User agents:

 The endpoints or devices that can be clients or callers and servers or receivers.

Registrar services:

 Commonly referred to as domain name systems in this case, they store information about the user agents — such as the network/IP address — in a database and authenticate users in the network.

Location services: 

Location services receive the invite requests from the calling user. The query is raised to the registry for the call recipient's IP address and sends the invite to the recipient user agent. The recipient's responses to the invitations are sent back through the location server.
The location service and registrar service are hosted together on one single server, the proxy server. The proxy server enables the registrar and location servers to perform the task of user authentication and provides the necessary details to communicate. They can also be hosted on their own independent servers.
VoIP only deals with voice communication, whereas SIP can handle other media (images and video) transfers as well. 

SIP is a protocol, whereas VoIP is a collection of technologies and methods that enable internet telephony. 
More and more organizations these days use SIP trunking to improve VoIP efficiency in the enterprise. SIP is largely preferred for initiating IP network communication. 
Features of SIP
SIP is versatile in the sense it can handle a diverse range of media technologies. Let's look at some of its interesting features:

Enables direct connection between private and public telephone networks:

SIP provides a direct connection between private or local telephone systems and public telephone networks. This means that both individuals and businesses don't need legacy phone lines to connect calls.
Provides end-to-end authentication and encryption:

VoIP networks opt for SIP as a call control protocol because of its open and extensible properties. At the same time, security and integrity of call signaling between two sites is a priority for any business, to negate concerns around confidential information getting leaked. SIP provides this by supporting comprehensive end-to-end and hop-by-hop authentication, as well as end-to-end encryption.
Supports both multicast and unicast communication:

SIP enables users to communicate both multicast or unicast relations, or even a mix of the two. SIP enables participants to accept a common set of compatible media types. It also facilitates user mobility by proxying and redirecting requests to the location where the user is at the moment. SIP is not restricted to any one conference control protocol.
Enables customization and additional capabilities: 

SIP doesn't make any presumptions about the underlying transport protocol. It can be easily extended with additional capabilities and is actively used for many media applications. This also makes SIP an enabling technology for providing innovative new services that integrate multimedia with internet services like e-mail, instant messaging, and the worldwide web. 
Asynchronous event notifications:

Besides real-time services, SIP has asynchronous event notifications capabilities, which means it allows for automatic callbacks, message-waiting indicators, SIP proxy statistics changes, presence information, session changes, buddy lists based on presence, and more. 
SIP is non-numeric:

We normally associate telephony with numbers, binary coding, and numeric addresses. Since SIP has its roots in internet technology, an end station has a SIP URI (which is a form of URL) that recognizes it and is used in the SIP protocol.  Because phones generally have numeric keypads, they translate what you dial into a SIP URL.
SIP is text-based:

The SIP Protocol is text-based and has a notable resemblance to the HTTP protocol. The text-based messages and SIP's request-response mechanism make for easy troubleshooting. Also, it is easy for anyone to read and decipher the text-based SIP messages passed between the endpoints in a session.
SIP leaves less room for any errors:

SIP operates independently and is not affected by external factors. This considerably reduces the scope for any errors or outage. As children, we all have memories of traditional phone lines not working on a stormy and rainy day.  However, technology has changed. SIP trunks use the internet and can have backups set up to ensure that even if your internet connection goes, you aren't offline for too long. 
Cost benefits:

SIP is a cost-effective solution compared to traditional and legacy phone systems. It is a boon, especially for small businesses as it helps reduce cost on local and international calls. There is only an initial setup cost involved which many service providers waive off or provide flexible payment plans for. The only recurring cost is the Wi-Fi charges and unlimited SIP trunk subscription fee. 
SIP – the future of telecommunication
The last decade has witnessed an unimaginable evolution of both technologies and work culture. Pandemic expedited the changes faster than anticipated and remote working became the new normal of doing business. This generated an urgency to update our communication infrastructure needs. Countries like the US, Australia, Belgium, France, Germany, Switzerland, Sweden – and the UK have already made the switch to SIP. Businesses that are still using legacy telephony will eventually need to migrate to SIP. It is the future of telecommunications.