Why Tragofone Stands Out as Your VoIP SIP Softphone App of Choice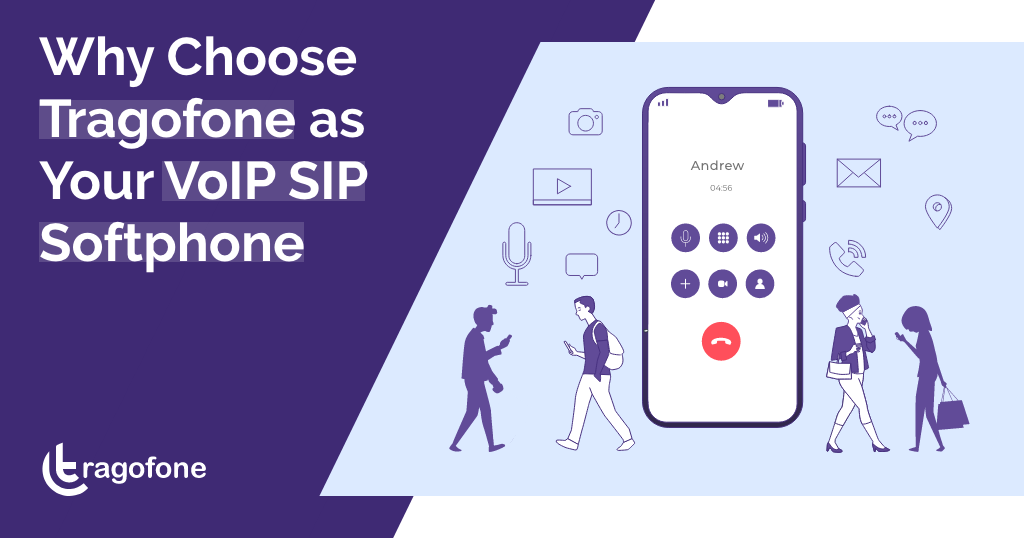 With the world turning rapidly digital, flexible communication solutions are gaining increasing traction. And as telecom technology turns sophisticated, enterprises are increasingly using Softphone apps instead of traditional desk phones to ensure their business phone systems are more accessible and cost-effective. 
Softphone applications are typically provided by Voice over Internet Protocol (VoIP) providers, and function as a familiar, user-friendly interface that comes packed with unique features. From an easy-to-use interface to built-in caller settings, users can customize a softphone's features to fit their business needs. Most VoIP mobile dialers also include standard telephony features like mute, hold, transfer, and flash, along with other unique collaborative communication features. 
The Softphone or VoIP mobile dialer is the next new technology in the communication world. A softphone is a software application that duplicates the functionality of a telephone, but on a smartphone, computer, or any other device. Such apps are fast turning into standard equipment for small and mid-sized businesses. 
Softphones offer many benefits, especially as modern business owners require flexible, reliable solutions that allow their workers to be available on call at all times, no matter where they are. 
Picking the right softphone for your organization determines how efficiently your business interacts with its customers. 
Tragofone softphones have been engineered keeping the requirements of enterprises and end-user at the center. They're easy to use and require no steep learning curve. The calling experience is seamless – with comprehensive features ranging from auto pop-ups on incoming calls, a customized `Get Started' screen, and a comprehensive home screen that displays the call history, contacts, and settings. 
Most importantly, enterprises can breathe easy with Tragofone's VoIP mobile dialers, as its security features are the ultimate deterrent for hackers and cyber miscreants. Secure Real-Time Transport Protocol (SRTP) is just one of the weapons in its arsenal. Organizations can enjoy end-to-end protection with Tragofone's superior encryption and secure communication. 
In this blog, we will explore the top features of Tragofone, its unique selling points, and why it's a best-fit VoIP softphone for modern enterprises. 
Tragofone Decoded
Softphones like Tragofone are fast turning into standard equipment for small and mid-sized businesses. This is because its functions include a lot more than just making calls. Because it's a software, the Tragofone mobile dialer app comes packed with a variety of features – including making video and conference calls, sending and receiving files, voicemail management, and chat and SMS capabilities. You can start the app and use your softphone wherever you plug in your device. 
Although Tragofone isn't a physical phone, its user interface mimics traditional phones. The software program can be installed on any mobile device, where it works as a virtual phone. Also, because Tragofone is software-based, it can interact and integrate with many third-party applications and services such as CRM integration. 
A Checklist for Businesses: Key Factors to Consider while choosing a Softphone
Businesses are becoming more competitive and are under pressure to streamline their business operations into lean, efficient, and cost-effective entities. Softphone for business are becoming the preferred business phone solution for companies as they are realizing the benefits of having a unified communication portal that comes with the ability to integrate third-party applications. 
Softphone applications can benefit a wide range of businesses, from small to mid-sized companies, to global enterprises. Any organization that has to cater to a large number of customer calls can benefit from the accessibility and flexibility of this system. 
Softphones help organizations improve productivity, business efficiency, and unified communication. 
Softphones are a good fit for businesses that have:
Telecommuting employees.

VoIP based call centers to handle customer calls.

Remote employees.

Need to make frequent long-distance calls.

Need to record calls for training purposes.

Customer support staff.

 
The industries that can benefit from softphone systems include telecommunications, IT, manufacturing, real estate, banking, education, retail, and healthcare.
If your organization has decided to upgrade to a softphone, then here is a checklist of features that you must tick off the list: 
End-to-end integrations: The WebRTC based softphone application should be able to seamlessly integrate with varied hardware including Class 5 Softswitch, IP-PBX server, custom APIs, and the

auto provisioning system

management via REST APIs.
Auto provisioning system: The soft client or softphone should come with an auto provisioning system through which enterprises can provide zero-touch provisioning to their workforce and customers. Using this feature, the soft client users don't have to memorize the SIP Credentials.
WebRTC Gateway and Push Call Server:

The softphone application's WebRTC gateway

should embed highly secure interactive communication like audio, video, and chat. This will enable organizations to incorporate real-time communication for their workforce and customers, even if they use a legacy SIP server.
Operating System Compatibility:

All softphone applications are not compatible with every operating system. Check to ensure the software will work on your device. Whether you're on macOS, Windows, iOS, or Android, make sure the softphone is compatible.
Number Porting:

Your phone number is a valuable asset, and you don't want to lose it. As you seek out softphone applications, avoid providers that don't port your existing phone number.
Support:

Having a reliable support system is critical. Find out what customer support your softphone provider offers. Is it available 24/7? Does it cost extra? Does the support team help you troubleshoot effectively? Are there training manuals or support videos available?

 
Customization:

Are you able to change your voicemail message, or update a setting without any glitches? The softphone application that you choose should be easy to use as well as rich in features.

 
Security:

Security is critical for every cloud-based service that you add to your organization's tech portfolio. Determine how protected your data is. The application should offer data encryption, and ideally, it should include more than one type. While Transport Layer Security (TLS) protects your phone data, Secure RTP encrypts media.

Another form of security to look out for is access control. For instance, administrator-level permissions that only certain employees can access and strict password protocols allow you to maintain the first line of defense against hackers. It's also important to make sure that the softphone application supports the same protocol as the VoIP provider.

 
Collaboration tools:

Full-featured softphone services offer a variety of collaboration tools your employees can use to meet, interact, and work jointly online. Users can access these features – including SMS texting, video conferencing, and online collaboration – through a range of applications.

 
Third-party integration:

This is one of the softphone's key draws. Because it's a software, these systems often have a list of pre-built integrations with whatever apps the vendor believes their customers like. Clients can use these extensions to create customized workflows, and boost efficiency.
Top Features of Tragofone
Tragofone raises the bar in customer communication for enterprises with its customer-friendly features. Let us look at some of these unique features: 
Leverages WebRTC to make seamless audio and video calls:

WebRTC has started a communications revolution, by making it richer and accessible to everyone. Supported by the

World Wide Web Consortium

(W3C), WebRTC allows open standard browsers to communicate with each other and exchange audio, video, and even files that use a simple Javascript-based API. It allows users to make audio and video calls without requiring a plugin or any additional software installation and integrates seamlessly with IP PBX, Class 5 SoftSwitch, Call Center, and Custom APIs. Tragofone is the only VoIP mobile dialer in the market that comes with WebRTC support.
Auto-provisioning:

Auto-provisioning enables users to activate their Tragofone service via a web interface without requiring any configuration settings. This makes the deployment and management of installation fast and easy.
Multi-lingual support:

Softphone services like Tragofone offers multi-lingual support so that users can converse in a language of their choice, along with embracing the other carrier-grade features of the softphone.
Can be integrated as a white-label mobile dialer app:

White-label dialer softphone applications

like Tragofone can be integrated under a company's brand, giving it the brand's look and feel. Your Tragofone becomes your company's brand ambassador. Put your logo and brand name on the welcome screen. Customize colors, fonts, and even the user interface if you want. Enterprises can reinforce the power of their brand to users.
Integration with other databases and directories: Some VoIP-based mobile dialer apps like Tragofone implement compatibility with third-party applications like CRM. This feature is especially useful for call centers.
Security and privacy:

Organizations are careful about the privacy and security of their communications. These security issues are applicable to softphones, where incoming and outgoing calls are vulnerable to `man in the middle' attacks, such as wiretapping and eavesdropping.  Quality softphones like Tragofone support encryption using Transport Layer Security (TLS) and Secure RTP (SRTP) protocols, as it reduces these threats.
Video Capabilities and online messaging:

Tragofone offers

a video call component, providing HD video and the ability to have multiple speakers at once. Online messaging allows users to text people directly from their office line.
How Tragofone Benefits Businesses
Software-centric communication solutions like Tragofone are in demand because of the flexibility, scalability, and security they offer. They also enable organizations to improve their communication processes and boost business efficiency. 
What benefits does Tragofone bring to enterprises? 
Using WebRTC Tragofone makes communication a seamless process
Tragofone is quick and easy to install, is low maintenance, and provides flexibility to users. Besides, it offers one phone system across multiple locations and scalability as per your business needs. 
Provide the benefits of auto-provisioning
With an ability to deploy IT configurations through a web interface, rather than manually, Tragofone saves time on assigning IP addresses, reduces errors while configuring devices, improves the accuracy of creating the right access, enhances user onboarding experiences, increases the productivity of admins and reduces costs on device operations. 
To use Tragofone, all you need to do is download it on your mobile device and you're ready to go. It supports almost all types of mobile devices and thus, provides the same seamless experience on any device. 
Rich communication experience
VoIP dialer mobile applications like Tragofone come with varied communication features, including audio calls, video calls, conferences, and chat. Moreover, users can share files and images, transforming regular interactions into advanced business meetings. 
Using VoIP signaling for conducting calls and conferences, Tragofone reduces communication costs significantly, when compared to other mediums like PSTN. Businesses realize significant cost savings in the form of lower long-distance fees and minimal equipment costs. 
Tragofone provides white label softphone applications that can become the face of a brand, as they can integrate a company's name, logo, and other branding factors. Enterprises can either keep the app private or make it public. The more people using the white label softphone, the more traction a brand gets. 
Tragofone can be used anywhere, providing the flexibility for users to work on the go. This makes them ideal for telecommuting employees. 
WebRTC based softphones like Tragofone provide brilliant audio and video quality, consume 50% lower bandwidth, offer encrypted communication and 99% device support, as well as support legacy SIP servers, 3G, 4G networks, and Wifi. 
Conclusion 
Softphones are the future of enterprise communication, as they provide more collaboration channels and flexibility to busy and on-the-go professionals. This VoIP-powered communication software has transformed the way people make voice calls, video calls, share their screens, notify their presence, or chat using IM, and redefined communication and collaboration. To top it, they're low on cost and maintenance and high on convenience and efficiency, making them a must-have in every organization's communication and collaboration toolbox.