9 Limitations of Using VoIP Desk Phones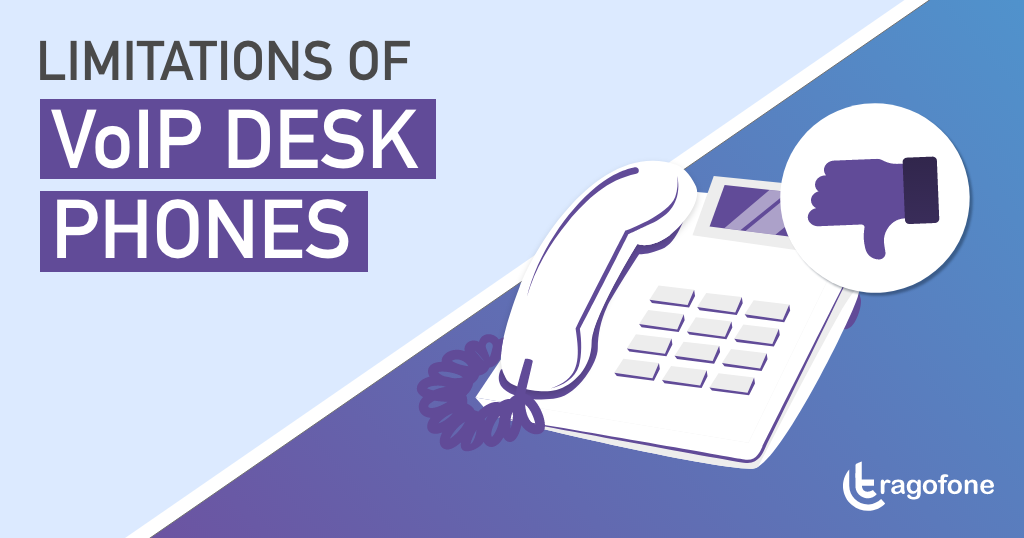 The development of VoIP, or Voice over Internet Protocol, has transformed desk phones, or traditional hard phones. The old traditional desk phones are fast turning obsolete, as most modern office desk phones now operate over VoIP. 
VoIP phones fall into one of two categories – desk phones and softphones. Desk phones are tangible devices that sit on your office desk. Although their look and feel are similar to analog PSTN phones, they connect to IP networks instead of telephone lines. On the other hand, softphones are applications that can be installed on PCs, laptops, tablets, or even mobile devices. Softphones don't need a physical phone and you can use a window on your computer to dial numbers and receive calls. 
As global workforces turn mobile and remote working becomes a norm in a post-pandemic world, organizations are increasingly leaning towards softphones, for the flexibility and mobility they provide to employees. Desk phones, on the other hand, keep employees desk-bound. 
In this blog, we will understand what VoIP desk phones are, how they work, why this telephony solution is no longer a go-to option for enterprises, and the reasons it's not considered a holistic communication solution by businesses any longer.
 

What is an Office VoIP Desk Phone?

 

Top reasons why businesses choose VoIP Desk Phones

 

The Different Types of VoIP Phone Systems that Organizations Use

 

Why VoIP Desk Phones Are Not a Best Fit for Modern Organizations
What is an Office VoIP Desk Phone? 
VoIP desk phones are the phones that plug into your company's IP network via an Ethernet cable to connect calls through the internet using a VoIP service. With this phone system, businesses can choose a managed service, where a service provider provides support and configures your system through a platform located in the cloud. 

Top Reasons Why Businesses Choose IP Desk Phones 
Organizations usually migrate from traditional copper-wire telephone systems to VoIP systems for two primary reasons:
–        To save costs.
–        To bring about bandwidth efficiencies. 
Since VoIP desk phones offer both voice and data to run on the same network, use a company's existing hardware, and are more cost-effective when compared to PBX (private branch exchange) lines, businesses opt for this phone system. Some of the other reasons that organizations go for VoIP Desk Phones include: 
–   VoIP phone systems for businesses offer a communication package deal that includes phone calls, fax, voicemail, email, and web conferences.
–        VoIP Desk Phones save organizations on monthly phone bills.
–      They can avail an array of features including customization, and personalize your phone, create shortcuts, and increase your efficiency. 
The Different Types of Office VoIP Phone Systems that Organizations Use 
Office VoIP Desk Phone systems digitally transmit communication as data packets via the internet. There are many ways in which this process occurs. Each process has its unique level of complexity that has an impact on the ease of deployment and maintenance. Let's look at the different types of VoIP technology that power the Desk Phone systems: 
This type of VoIP phone functions like traditional phone lines – where businesses can use their existing legacy phone systems. This happens by integrating the VoIP software with your phone system. Organizations stand to benefit as it reduces the cost of implementation, as they do not have to purchase any new hardware. They can keep their old equipment and phone number to access VoIP's telecommunication features. 
Session Initial Protocol (SIP)
SIP trunks create digital pathways for voice communication. They leverage existing traditional VoIP phone system hardware and add the benefits of VoIP to it. The flexibility of SIP trunk enables VoIP desk phones to easily integrate with private branch exchange (PBX) telephone systems and cloud technology. 
Businesses can avail the advantages of shared lines by transmitting voice and video information across data networks. Since all communications data goes through a network, SIP trunk acts as a replacement for analog phone networks. They also allow for an integration of legacy phone systems with SIP trunking using a VoIP gateway. 
Hosted IP Private Branch Exchange (PBX)
This type of Hosted IP PBX is one of the more popular forms of using VoIP Desk Phone technology. Telecom vendors host and operate a private branch exchange through which they offer unified communications solutions to businesses. Organizations can access a vendor's VoIP service by connecting to the cloud-based PBX network through their IP network. 
The vendor maintains all the hardware that is needed for communication in an off-site location and takes charge of hardware and software maintenance, upgrades, and security as well. 
In this type of office VoIP phone system, technology is very similar to Hosted IP PBX. The service is managed and maintained by a third-party provider. But the organization manages the phone hardware on-site. The PBX provider charges a fee as per the number of phone lines they install, configure, and update, as well as the equipment upgrades needed to facilitate VoIP communication.
Why VoIP Desk Phones Are Not a Best Fit for Modern Organizations 
There are several limitations of VoIP desk phones that enterprises are often not aware of. Let us look at them:
#1. VoIP Desk Phones need a reliable and fast internet connection
VoIP carries voice calls, texts, faxes, video chats, and all other types of data, across the internet. Your office VoIP hard Phone works only as well as your internet connection. This means that a VoIP Desk Phone service needs a reliable and high bandwidth internet connection to function seamlessly. If your network bandwidth is poor, it will affect the quality of your communication. It is critical for traditional VoIP devices to receive a low latency on your network. Each device should have at least 100 kbps of upload speed.
#2. VoIP desk phone systems can be expensive in some cases
Although one of the biggest USPs of modern office phone systems is that they're cost-effective, they need certain basic conditions to be met to offer monetary benefits. Factors such as expensive internet connections, hardware, mobility issues, service plans, and government-imposed restrictions can make VoIP systems dig deep holes in company pockets. For instance, you may register with the wrong type of VoIP service plan and end up using much less of the service than you are paying for. Alternatively, your call volume may go beyond the package you have taken, thus increasing your per-minute usage expenditure. 
#3. VoIP desk phones lack some key features and can be complicated to use
Many users find VoIP desk phones complicated to use and complain that the phone comes with unnecessary features and a confusing-to-use menu. For instance, these phones don't offer the one-touch buttons that are found on all digital business phones. These buttons enable users to access another extension with the touch of a button and make phone usage seamless. Modern VoIP phones usually use a complex menu that can be accessed using up, down, left, and right arrow buttons which can prove cumbersome. Also, VoIP based hard phones need six or more buttons to be pressed to connect to conference calls. 
#4. VoIP desk phones face battery backup and power source challenges
All VoIP phones need a 48-volt DC power source which is supplied through an expensive POE (Power over Ethernet) switched hub or a power pack. If an organization opts to use power packs, then the phones need to be located next to electrical outlets – creating an extra logistical burden in office spaces. Every VoIP phone doesn't come with its own battery backup and is generally connected to an AC wall adapter This means if there is a power outage, the phone goes dead. 
#5. VoIP desk phones don't have easy access to the Main Box or Voicemail box
VoIP phones have off-site computer servers, leaving the end-user with no control over the main box and open to facing issues like server crash, network lock-up, a failed switched hub, or a router lock up. 
#6. VoIP desk phones add to the IT departments workload
With VoIP phones, an organization's IT team will have its hand full, as they require constant maintenance such as virus updates, computer repair, and software and firmware updates. With IT engineers already busy servicing the company's network and computers, this unnecessarily adds to their workload. 
#7. VoIP desk phones can have complicated features
VoIP desk phones typically lack the one-touch buttons that are found on digital business phones. With these simple buttons, users can access another extension or any other phone feature with a mere touch. The complex menu of IP desk phones can be a problem for users to navigate. 
#8. VoIP desk phones have wiring issues
Wiring for IP-based desk phones comprises a 4-pair category 5e or category 6 cable with a modular plug. This means the wire is much larger than a standard thin one pair telephone line cord that is in traditional office phones – which, in turn, means that one may have to bear the expense of installing new wiring across their office in order to accommodate VoIP desk phones. 
#9. VoIP desk phones face challenges because of an off-site server 
If an organization has a VoIP phone network where the main server is off-site, your company's office phones and other organizations' phones will all share the same computer server. So when the server crashes, thousands of phones may go down. Additionally, these systems do not allow customized auto-attendant greetings and make do with a general voicemail greeting. 
Also, enterprises lose control over the main box with an off-site server. This can cause diverse challenges like a server crash, the internet may go down, the network may lock up, the switched hub may fail, the router may lock up, the VoIP company may shut shop, or even a rogue employee may turn your phones off from an alternate location.
Conclusion 
It goes without saying that people are used to desk phones, and even if VoIP desk phones are totally different from regular landline phones, people are comfortable with the familiarity of using them. 
However, organizations are rapidly realizing that VoIP desk phones are more costly than softphones, require regular hardware maintenance, and the cost of these phone systems increases with every feature that you add to them. 
In order to do away with these challenges, a growing number of enterprises are now gravitating towards using the VoIP softphone – to avail the low-cost, low-maintenance, and high-feature benefits they bring.