7 Benefits of Softphone for Call Centers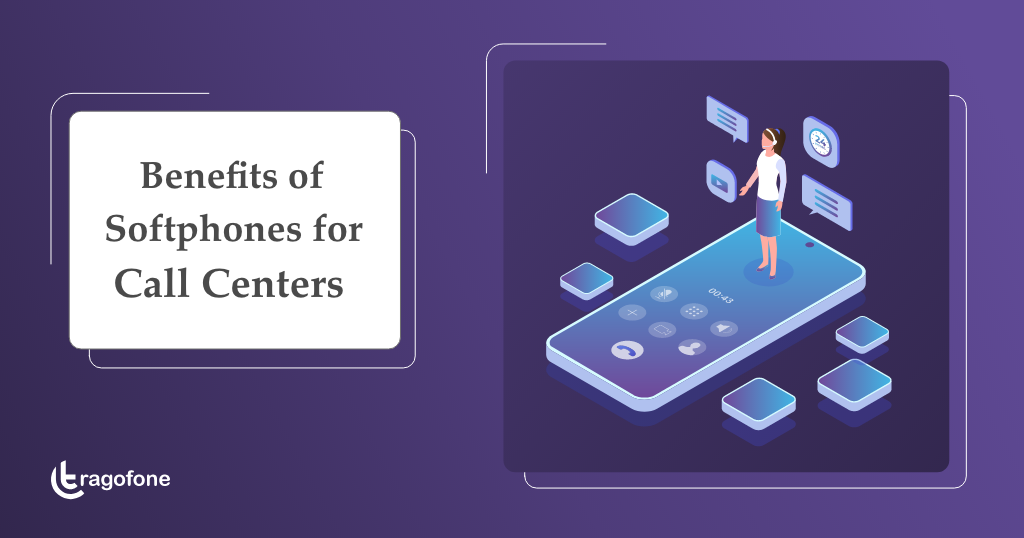 Best Call Center Softphone Application : A call center is normally associated with agents and managers. Although they play a huge role in building a successful communication hub, call centers are also defined by the technologies they employ, especially their phone systems – comprising hardware, software, and processes.
An efficient VoIP call center phone system is critical for a call center, as it facilitates functions like call routing and logging, agent desktop interface, multi-channel communications, and predictive dialing. Also, integrations – such as CRM integration – and workforce management can also be managed by internet-based telephony solutions.
If your business has made the transition from a traditional switch phone network to call center Softphones – or VoIP mobile dialers – in order to provide these functions, you have taken a step in the right direction.
Most modern call centers are powered by software, rather than telephone hardware systems. Organizations that are looking at setting up a call center to handle technical support, customer care, sales, and data collection often opt for a call center softphone or SIP (Session Initiation Protocol) phone solution. These internet phone options offer businesses general desk phones, wireless phones, or softphones with several optional call center features, to meet their needs for high-quality service and reliability.
In this blog, we will take a tour of how VoIP call centers work, how they optimize communications, and the benefits they provide to call centers.
What is a VoIP Call Center?
VoIP Call Center Features that Match Every Organization's Communication Needs
How unified communications can help your call center
How Softphones Optimize Call Center Communications
Softphone features that are tailor-made for Call Centers
Has your Call Center Switched to Softphones?
Introducing WebRTC into Call Centers
What is a VoIP-enabled Call Center
VoIP (Voice over Internet Protocol) has changed the way contact centers work, especially virtual call centers. A virtual call center is created by taking many small call centers and agents who work from home from different locations and connecting them. This is usually done using business softphones, IVR (Interactive Voice Response), ACD (Automatic Call Distribution), and CTI (computer telephony integration). 
VoIP based call center softphone are powered to handle higher call volumes and come with several additional features when compared to a traditional PBX phone service. These include routing incoming calls to the right person and integrating with other systems that provide essential customer information and capture operational data for analysis and control.
Most virtual call centers today use call center softphone, running entirely over the internet and automating multichannel customer support and self-service options. They are beneficial for businesses as they improve service levels, provide emergency backup and facilitate extended operating hours.
VoIP-powered Call Center Features that Match Every Organization's Communication Needs
Call centers have evolved over the past few years, handling higher call volumes and managing growing customer expectations. In fact, call centers are metamorphosing into multi-channel communication hubs, providing assistance through forums, live chats, and other non-voice mediums. This makes it necessary for them to stay flexible and use a phone solution that exceeds customer expectations.
What are the special features offered by VoIP-enabled call center softphone?
Interactive Voice Response (IVR): Set up your IVR to send incoming calls to the right call center agent.
Call recording: Record, pause, and listen to customer interactions at any time.
Automatic Call Distribution (ACD): Distribute calls based on business hours, technical support level, and IVR options.
VoIP phone numbers: Get local or toll-free numbers, or port your existing phone numbers.
Call routing: Manage customer interactions seamlessly. Don't disgruntle your customers by making them repeat requests.
Best Call Center softphone changing the way call center agents interact with customers: How unified communications can help your call center
By incorporating a unified communication (UC) system into call center workflows, organizations can streamline communication and improve agent productivity and customer experience. Let's elaborate on some of these benefits:
Enable digital transformation: HD video calling, message and presence screen sharing, and other UC features power up call center communications. These latest cloud communication technologies can help enterprises get ahead of competition.
Boost agent productivity: Agents can manage customer interactions using a streamlined, easy-to-use interface. With auto-answer capabilities, call notifications, and more, they gain the flexibility to work across all call control platforms.
Build customized user experiences: Add or remove communication channels that fit your organization's needs and track end-to-end customer journeys.
Make remote call centers efficient: UC supports an at-home agent environment with a centralized management of distributed networks. This boosts the productivity of remote agents.
How Call Center Softphone Optimize Communications
Good customer service begins with crystal clear communication. With HD quality calling and diverse call control features, VoIP call centers enable agents to have everything at their fingertips.
Like every other industry, there is a growing demand in the call center sector to move to the cloud. Therefore, organizations are increasingly tapping into cloud communication solutions, such as SIP softphones and UC-based call center apps to build a strategic and multi-faceted workforce – be it in a single location, multiple centers, or with work from home agents.
Call center softphone support cloud-based platforms, real-time messaging, and collaboration tools that allow customers to reach agents across locations and time zones. They facilitate communication as would happen in a traditional office while providing data security and flexibility.
Call center phone systems also allow enterprises to white-label or provide specific, customized features and collaboration that are aligned with their brand and built as per their unique use cases.
Call Center Softphone Features that are Tailor-made for BPO
An efficient call center phone system helps run a communication center smoothly. Softphones offer features that are way more advanced than simple dialing and receiving calls. The exhaustive features that call center phone solutions come with make them stand out from landlines and PBX systems.
We have already discussed the standard IVR and ACD features that softphones offer. Let's look at some specific VoIP features that add value to call centers.
Browser-based web phones:  Agents can easily take calls from their computer browser, irrespective of location and without requiring any physical desk phones.
Click to call:  Click to call browser plugins and auto-dialing numbers through a webpage help boost agent productivity. 
Global outbound dialing: Make outbound calls to any location, anywhere in the world, with customizable caller IDs. 
CRM integrations with screen pop:  CRM integrations give agents more context and background about a customer during calls. 
Instant set up: Setting up a phone has never been easier. Call center softphones can be set up and implemented in minutes. All that you need is a microphone and an internet connection.
Gain flexibility and scalability: call center softphone make it easy to add new agents to scale your team.
Cost-effective plans: Call centers can save on costly phone bills, as well as the cost of setting up and maintaining desk phone equipment and phone lines.
Easy administration: Reduce your dependency on IT teams, as softphone solutions are centrally managed, and can be deployed across multiple locations, and scaled with ease.
Has your Call Center Switched to Softphones? 
There was a time when pagers were the hottest business device used for instant business communication. The arrival of mobiles turned them obsolete and heralded a whole new era of wireless communication. Likewise, softphones are gradually replacing traditional hard phones as a call center communication solution of choice.
Let's discover the benefits that softphones bring to call centers:
Easy access to data: Softphones for call center can be easily integrated with the company CRM to provide call center agents with end-to-end background information on customers. This equips them to provide satisfactory answers to customer queries without any time delay. Easy access to data makes customer support faster and seamless.
Save time with one-click dial: The one-click dial feature of call center softphone saves valuable time for agents. Hard phones take time to dial a number and human error is a possibility.
Flexible and reliable: Call center softphones for call center make geographical limitations redundant. Agents can work from anywhere, anytime. Also, softphones can be easily customized to suit the needs of a call center. Besides speed dial, IVR, and ACD, cloud-based softphones come with a huge scope of innovation.
Easy installation and maintenance: All you need is an internet connection and a device to install a call center softphone connection. You can put your maintenance worries to rest as well. As long as your device is bug-free and the internet connection smooth, your softphone will work without a glitch.
Single window service provider: Call centers that opt for VoIP softphone systems can use the same provider for their phone and data transmission requirements.
Manage calls over browser: With cloud telephony solutions like softphones, agents can make and receive calls from their browser window. Managers can monitor employees in real-time and generate call recordings and productivity reports. 
Access CRM Data with ease: Quality customer experience is a key part of customer relationship management (CRM). In order to provide the best CX, call center agents can have secure access to applications, including CRM integration and other business tools. Calls can be auto-logged into the CRM and agents can view customer data while speaking to them. 
Scale your customer service team: When it comes to scalability, best call center softphone remain the solution of choice. Forget about increasing your office space or expanding an expensive PBX system. With cloud-based softphones, businesses can let their call center agents work from anywhere. Also, VoIP-enabled softphones cost a fraction of what landlines do. 
Introducing WebRTC Softphones into Call Centers
WebRTC enables voice and video calling directly inside a web browser, without a plugin or installation. One area where WebRTC technology is starting to make huge inroads is call centers. You may not know it, but the last call you make to a call center may have been picked up by a browser using WebRTC.
Why are call centers switching to WebRTC? The answer lies in the digitization that is sweeping across global organizations. Call centers are increasingly becoming omni channel communication hubs where customers can skip across channels while interacting with agents.
How do call centers benefit by transitioning to using WebRTC-enabled softphones:
Provides enhanced CRM and real-time communication support: A call center has two primary functions – a CRM that has a database of customer interactions and the other part is taking calls from customers. The CRM runs on the web, so the web part of WebRTC is well-suited for them. On the other hand, call agents handle real-time communication, so the RTC part is cut out for them. WebRTC fuses both these requirements.
Cut down on software installation and maintenance: WebRTC operates inside the browser. This means one less software application to install, update, and maintain. If you have 500 agents working in your call center, this translates to a lot of saved effort. By moving to WebRTC organizations cut down on their software installation and maintenance. The browser already uses CRM software. WebRTC gets added as another CRM feature. Upgrades to browsers are automatic and usually happen without a glitch.
Set up call centers anywhere in the world at no extra cost: WebRTC allows organizations to reduce the time it takes to set up new call centers in any country, with almost no CAPEX (capital expenditure) spending. This is a huge benefit for small and medium organizations looking to scale their operations into new geographies.
Conclusion
If you are looking at installing a call center phone system, consider a single, unified cloud offering that provides a fully-loaded set of real-time collaboration services that can help your agents become flexible and productive, and provide the best customer experience.
Moving to a VoIP powered softphone system is a step towards setting up a futuristic call center, which offers increased efficiency, seamless and versatile communication options, without incurring any exorbitant financial investments.