Why Mobile VoIP Should Be Part of Your Business Phone Systems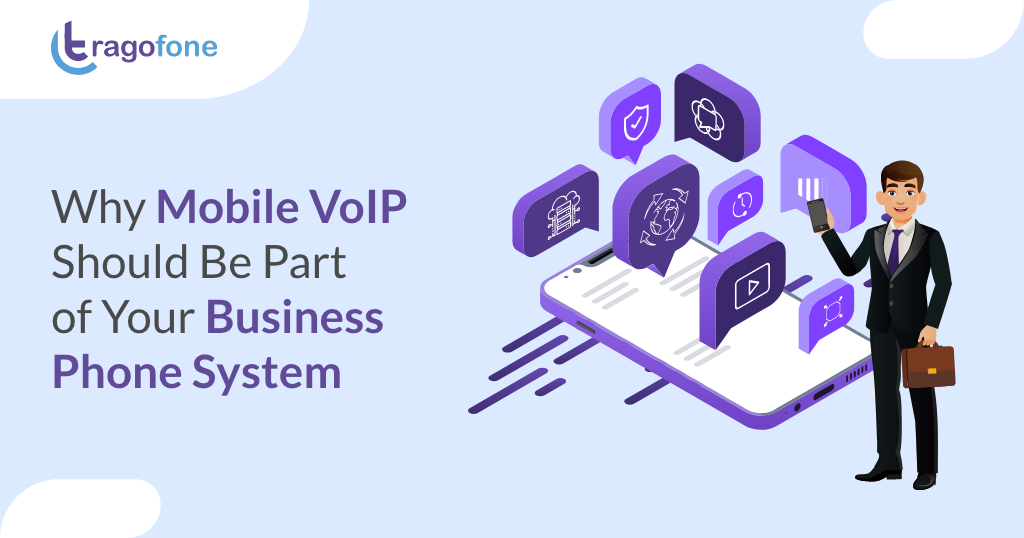 VoIP (Voice over Internet Protocol) is also known as Hosted VoIP, Business VoIP, Cloud PBX, Mobile VoIP. They are all essentially the same thing. VoIP has many benefits over a traditional phone system, and every business, irrespective of its size, stands to greatly benefit by implementing a sophisticated VoIP technology. 
Mobile VoIP is particularly useful for small to midsize business (SMB) operators. However, most such businesses fail to realize the benefits of a mobile Voice-over-IP (VoIP). They tend to believe that since mobile devices are already data-enabled, it does not really matter if they're running on a local or provider network. 
However, if you do an online search, you will come across a number of mobile VoIP services that are likely unknown to you. Most of these providers will provide information revolving around cost-benefit. However, the benefits of a mobile VoIP are much more than a mere cost advantage. It is important for businesses to have a VoIP phone system that fits into their overall business strategy and support its requirements.
The Characteristics of VoIP Mobile Phone System
The phone system should have specific characteristics, to achieve this. What are those characteristics?
24×7 connectivity

: One should be able to answer business calls at all times irrespective of location. When making calls to a customer or business partner it should appear to be coming from an office number, and not a cell phone. A few minutes of network downtime can cost thousands of dollars to a business, and a long-term outage can jeopardize the whole business. Hence, having a system like VoIP that supports 24×7 connectivity always helps.
Integration:

A phone system should enable a user to transfer calls to an extension within the company, exchange information, and reach out to peers by dialing an extension. In the current remote working environment, VoIP ensures a seamless connection between employees used to contact each other quickly and easily via extensions on desktop phones.
Secure:

 Business phone calls are usually confidential and hence need to be secure and protected by 

encryption

. Security issues are paramount for mobile VoIP applications, where incoming and outgoing calls are vulnerable to `man in the middle' attacks, such as wiretapping and eavesdropping.  Quality VoIP devices support encryption using Transport Layer Security (TLS) and Secure RTP (SRTP) protocols, as it reduces these threats.
Quality 

–A poor quality phone connection will hamper the quality of calls. You do not want to earn a reputation of someone having a distorted, gibberish, and poor-quality connection. Poor quality calls can adversely impact the credibility of a business. 
Video Capabilities and online messaging:

Most mobile VoIP softphone apps have a video call component, providing HD video and the ability to have multiple speakers at once. Online messaging allows users to text people directly from their office line. 
Integration with other databases and directories: Some VoIP-based mobile dialer apps implement compatibility with third-party applications like Microsoft Outlook. They also enable integration with shared LDAP (Lightweight Directory Access Protocol) directories, Microsoft Active Directory, and ODBC compatible interfaces. This feature is especially useful for VoIP call centers.
Leverages WebRTC to make seamless audio and video calls:

WebRTC

has started a communications revolution, by making it richer and accessible to everyone. Supported by the

World Wide Web Consortium

(W3C), WebRTC allows open standard browsers to communicate with each other and exchange audio, video, and even files that use a simple Javascript-based API. It allows users to make audio and video calls without requiring a plugin or any additional software installation and integrates seamlessly with IP PBX, Class 5 SoftSwitch, Call Center, and Custom APIs.
Auto provisioning:

Auto provisioning

enables users to activate their Mobile VoIP applications via a web interface without requiring any configuration settings. This makes the deployment and management of installation fast and easy.
Multi-lingual support:

Some mobile VoIP dialers

like Tragofone offer multi-lingual support so that users can converse in a language of their choice, along with embracing the other carrier-grade

features of the softphone

.
We have put together a list of why you should consider incorporating mobile VoIP as a part of your business phone system.
11 Advantages of Mobile VoIP Business Phone System
#1. Cost-benefit
Cost savings tops the list of advantages when we talk about VoIP. This is one factor that all enterprises irrespective of their size strive for. Adding multiple phone lines can quickly plummet an enterprises day to day operational costs, more so if a business regularly requires to make long-distance calls.
VoIP technology has made it possible for communication data to be modified into data packets and sent over the IP network. This has eliminated the issue of a single phone line being able to be utilized by only two callers. 
Traditional phone lines tariff plans are designed such that they charge for each minute of call time. In the case of VoIP, the only costs are the monthly charges of the ISP (internet service provider.) 
Reduced Hardware and Software costs:

VoIP has very limited costs associated with hardware and software required to operate the system. VoIP service providers provide both the software and the hardware to support the technology. Also, being a software, users can install the same on their devices like mobile, laptop, etc., and then use it to make and receive calls. This eliminates the need to purchase

desk phones

which saves a lot of upfront costs.
#2. Ease of doing Conferencing
VoIP eliminates the need for dedicated phone lines which makes conferencing an easy task. Though traditional phone systems enable conferencing, one needs to pay extra as it is considered an additional service. One also needs to host multiple callers every time conferencing is done. However,  a converged data network (coexistence of video, data, and telephone communication in a single network) has the in-built capabilities for conferencing and the cost is already included in the lower price of the VoIP service. 
Voice Calls and much more:

VoIP enables users to do much more than voice calling and video conferencing. Not only does it simplify video conferencing, it also allows users to transfer various media formats (images, video, text) during a phone or video call. Conducting presentations becomes fairly easy, thanks to this feature.  
#3. Ease of access globally
Pandemic changed the way we work. With everyone forced to work in isolation, employers soon discovered the benefits of VoIP along with many other benefits such as decreased utility costs, small office space, etc. VoIP enabled employees working remotely to telecommute effectively and utilize the voice, fax, and data services of the office. Modern VoIP technology is sophisticated and portable and enables users to connect from home, offices, and abroad. 
Mobility:

As mentioned VoIP service is highly mobile, even if you outgrow your current office or need to change locations for any reason, your VoIP system can be easily transferred. Traditional phone systems on the other hand require a unique number to be assigned to each line and transferring those numbers can be complicated.
#4. Optimization of Bandwidth usage
VoIP technology optimizes the usage of your existing bandwidth. In a majority of voice conversations, both parties are silent 50% of the time. VoIP fills the information gaps with other data from other bandwidth consumers to optimally resources. VoIP also enables compression and elimination of speech redundancies to further improve efficiencies.
#5. A Plethora of Additional Features
Most businesses are unaware of the benefits and additional features that are packaged in a VoIP service. VoIP systems allow a user to connect with a wide variety of devices such as mobile, laptop, desktop, tablet, etc. ensuring unhindered business operations.  Multiple features like caller ID, virtual numbers, contact lists, voicemail can all be used in more sophisticated ways to boost operational efficiency. For example, a message can be forwarded to multiple people with a single click, voicemail-to-text transcriptions can be sent directly by email. Being flexible in the nature of the service, custom VoIP services can be designed based on the unique needs of a business.
#6. Network adaptability
The underlying network for VoIP does not require a specific technology layout. Now, what does this mean? It means that your existing ethernet, SONET, ATM, or even your WiFi can be used as the foundation for setting up the VoIP system. This eliminates the complexity of traditional phone networks. The adaptability also enables for a standardized system to be implemented that supports a variety of communication types. It also is more tolerant of faults and requires less management of equipment.
#7. Facilitates effective communication 
Hybrid and remote working is a given in these unprecedented times. With employees scattered at different locations within the office, home, or around the world, staying connected with one another is extremely crucial. One interesting feature of VoIP is that the call automatically gets forwarded from your desk phone to your mobile phone, tablet, or laptop if the call goes unanswered. This ensures that urgent calls are answered and less time is spent checking voicemail or communicating over other platforms.
#8. Reliability
There is a misconception about VoIP. Most business owners feel that in the event of a network outage or internet downtime they would be without a phone. However, VoIP enables call forwarding to mobile phones and other devices in any such situation. Switching to VoIP ensures that weather issues and power outages no longer present the risk they once did.
#9. Easy to Install, Configure and Maintain
VoIP is extremely easy to install—even for people who are less technically savvy. The new age IP phones are virtually plug-and-play. These eliminate the need for expert technicians running phone wiring throughout your office.  Hosted VoIP software allows you to add new users, and a web portal makes moving, adding, or changing your system's configuration much easier. Easy installation and configuration also mean maintenance is straightforward and requires minimal professional support.
#10. Scalable
VoIP systems enable a business to add more connections as they hire a new employee and eliminate connections in the case of downsizing. As the model is subscription-based, one can increase or decrease the number of users and only pay for what they need. This scalability and flexibility are not possible with traditional phone systems. By giving quick Scalability VoIP enables a business to function with more efficiency and better productivity while remaining highly cost-effective.
#11. Allows Integration with Other Business Systems
A business comprises many systems and technologies to enhance its operational efficiencies. VoIP easily integrates with a variety of existing business systems. What does this imply? It implies that a business can utilize the benefits of VoIP without forgoing or modifying its existing applications and IT infrastructure. 
Final thoughts
The world and its ways and technology both have witnessed umpteen changes over the last decade and more so in the last year. Being visible, 24×7 available, and connected is the essence of success. Digitization is slowly blurring all boundaries and distances. One cannot help but notice the many benefits of that modern-day sophisticated VoIP technology has to offer. The drawbacks are almost next to none. Businesses are quick to realize the potential and competitive advantage that VoIP offers and hence happily embrace it. 
The way VoIP stepped up to fill the gaps thrown in by unforeseen challenges and ensured seamless functioning of businesses globally has for sure has helped it earn its place and is here to stay.