10 Reasons Your Business Needs a Unified Communications Solution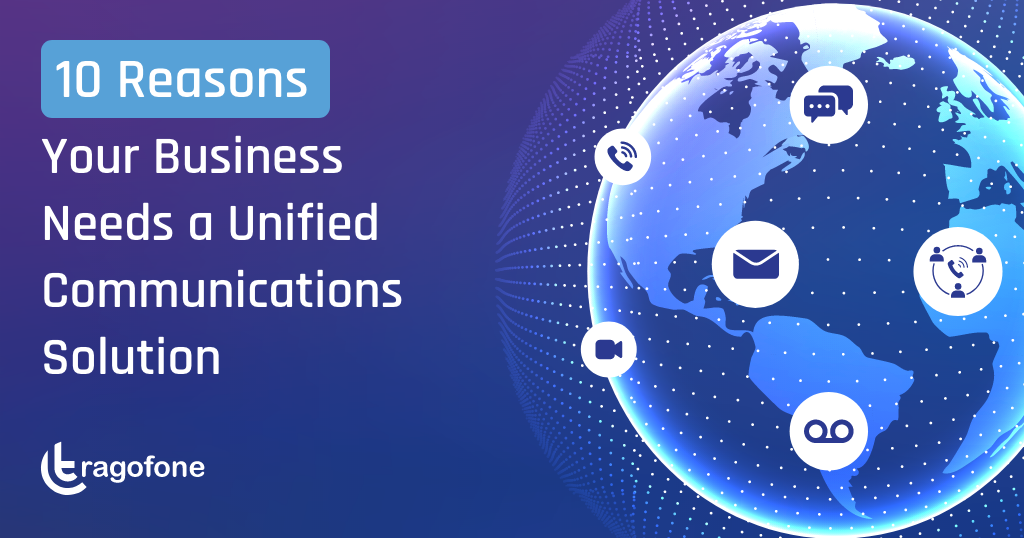 Staying connected is the keystone of running any successful enterprise. However, keeping a tab of all day-to-day activities and different channels of communication can be intimidating. No wonder that most companies, be it small, big, or medium is making a shift to Unified Communications as a Service or more popularly known as UCaaS.
These statistics will tell you a lot about the growing popularity of UCaaS:
The global UCaaS market saw a growth of more than 29 percent in 2020.

The size of the UCaaS market was at 47.2 billion U.S. dollars in 2020. 

The UCaaS market is expected to grow to almost 50 billion U.S. dollars in the next few years. 

68% of businesses say they 

prefer a single-pane-of-glass solution

 for communications.
The COVID-19 pandemic in 2020 forced organizations to allow their employees to work remotely. Unified communication and collaboration tools stepped up and enabled remote and hybrid workforces to stay connected.
What is UCaaS?
Before we delve into what UCaaS is, it is important to understand what all does "unified communication" entails. A Unified Communications (UC) system is essentially a VoIP phone system that integrates, or unifies, a wide range of communication technologies and methods to a single platform. Organizations use multiple channels to communicate such as voice, video, instant messaging (IM), email, etc. A UC system integrates them as a single solution to work seamlessly.
UC v/s UCaaS: UC and UCaaS primarily offer the same features, like voice and telephony, real-time messaging, presence, and video and audio conferencing. Though almost similar, there lies a fundamental difference. UCaaS essentially is a deployment method to deliver UC to organizations through Cloud.
UCaaS is more like a subscription service with low or no upfront costs, unlike traditional on-premise UC systems. UCaaS is cloud-based and inexpensive which makes it a preferred option for a wide range of enterprises, irrespective of their scale. 
Unified Communications as a Service or UCaaS is a cloud-based unified communications model that supports the following communication functions:
Meetings, be it on audio/video or web

Enterprise telecommunications

Mobile

Unified message

Instant messaging and presence

Communications backed business process
The service provider owns, operates, maintains, and delivers the UCaaS infrastructure. The main characteristics of UCaaS are multi-tenancy and self-service web portals for provisioning, management, and performance reporting. 
The service provider delivers applications through a common platform. They license the service on a monthly/recurring/subscription charge basis.
Also, with UCaaS, changing the call routing of inbound calls happens in just a few clicks. It simplifies technical telephony tasks that can otherwise get complicated. Therefore, it is easy to see why UCaaS has become the new norm for large and small enterprises.
UCaaS vs. CPaaS
As you explore the world of UCaaS, you will come across the option of CPaaS or Communications Platform as a Service. 
CPaaS is essentially built for developers to enable voice and text functionality in a communication application. They can also use CPaaS to add select messaging functions into their software, by using APIs. 
UCaaS, however, is a different ball game. It provides a fully-loaded communications solution that does not need any software development or even any major technical skills to operate. 
If your business is looking for an app that connects calls and messages between users, then you can go with a CPaaS solution. However, UCaaS provides businesses with an edge as it consists of an all-in-one platform that they can use immediately.
Why Enterprises need a Unified Communications Service
Implementing a unified communications service strategy ensures that your organization is ready to handle both internal and external communications at all times. If you keep your telephone, email, text messaging, video conferencing, and other communication channels as separate, discrete functions – you put your ability to communicate with both employees and consumers at risk. It also impacts your productivity and customer service.
Let us look at how can you as a business benefit from implementing UCaas:
Disaster readiness:

No one really knows what will unfold in the future. A disaster or an emergency situation could occur anywhere at any time. Effective communication is extremely important in unforeseen situations to restore the faith of employees, investors, and other business associates.

Having a cloud-based unified communications strategy ensures that all your communication channels continue to function uninterrupted and in a smooth manner through a secure online system that can be accessed from any device. In the event of a major system failure, UCaaS keeps the show running. "A unified communications solution ensures business continuity by providing a single platform for teams to communicate." The risk of miscommunication during an emergency is thus eliminated. UCaaS also ensures that everyone is connected and ready to respond.
Mobility:

The sudden outbreak of Covid-19 and subsequent lockdowns caught all businesses off-guard. Companies had no choice except to exercise the remote work option. Having a UCaaS allows freedom of mobility to the workforce. UCaaS enables employees working remotely to answer calls from a laptop or any internet-enabled device from any location.

Giving employees greater control over communication preferences ensures that they are easily accessible and responsive irrespective of their location. The flexibility to access all communications via a portable device like a phone or tablet saves substantial amounts of productive time.
Scalability:

It is impossible to accurately predict the rate of growth in any business. This often poses a challenge for an enterprise to accurately budget long-term and short-term investments in communications technology. Unified communications give a business the freedom of scalability.

As UCaaS is a subscription-based service, a business can change the subscription plans as per the growth and requirement. They can scale up or scale down the services and associated costs as and when required. UCaaS also helps companies save on expensive communication equipment costs. As a business owner, you get the freedom to invest your money in other important areas.
Productivity:

As we discussed earlier, organizations and their employees use multiple channels of communication to communicate on a day-to-day basis. Having a unified communications solution makes it easier for your staff to get in touch with one another both during and after work hours. Employees will have a clear understanding of which communication method to use to reach out to each other. They do not have to scan through emails and other communication apps like messenger etc. to find people since all communication takes place in one location.
Improved collaboration:

Modern-day tools like videos, audio and web-conferencing come with features like real-time screen share, file sharing, live presentations, etc. It helps them work on a file simultaneously from their respective devices irrespective of their location. 
Unified communications solution helps employees working remotely easily answer emails, phone calls, send messages and share files while not in the office.  They are also able to attend team conference call from the comfort of their home. Such collaboration and connectivity are possible only when you have a single UCaaS solution.
System management:

Having a unified communication system saves you the time and effort

that goes into managing several different systems of communication. By bringing together all your communications in one place managing it becomes a breeze. It is much easier for your staff and IT team to only have one system to deal with compared to managing and maintaining several different ones. It helps you save money, time, and many critical resources.
Greater security:

A unified communications solution ensures better security of your business communications. When all calls and communications flow through the same platform, it is easy to encrypt everything. With cyber security threats on the rise, it makes sense to invest in a solution that provides added data security. Some businesses have certain compliances wherein they need to back up all their e-mails and any other form of communication. A unified solution makes it much easier to implement a single solution to back up all communication.
Faster Internal communications:

When one employee messages you on one communication platform, and the other messages you through another platform tracking it can be intimidating.  The struggle of managing channels of communication with your employees is real. Communicating within a business should be an easy and joyful experience. It should not be a reason for stress. Having a unified communications solution can help you better manage your internal communications and focus on the bigger and more critical aspects of your business. 
Costs:

Having multiple communication platforms for your employees also means spending money on several different communication platforms. It is actually mismanagement and wastage of money that could be put to use in areas that would help your business grow better.

When you invest in a unified communications solution, you spend money only on a single platform.

Your costs become much lower and remain predictable. You also save on equipment costs. Having one company to cater to all your communications needs helps you have a customized bouquet of services and save.
Improves customer service and gives you a competitive edge: Having poor communication service for your customers can cost you a lot of business. You do not want to lose your hard-earned reputation to a lack of good customer service. Unified communications help you provide a constant and predictable customer experience when using a unified communications solution. It can also relay the information that goes to your VoIP based call center to other departments seamlessly, thus improving your business efficiency. 
Build better customer experiences:

With a

fully-loaded UCaaS system, organizations can create the best customer experiences, which can go a long way in boosting customer engagement and retention. UCaaS allows businesses to let their touchpoints focus on customer satisfaction. A study by

Gartner

found that

80% of enterprises that are on the growth path collect customer experience data using surveys. 
Using UCaaS, they can create more value and drive long-term business growth. Also, by surveying and understanding customer requirements at key junctures along the customer journey, they can significantly reduce churn. UCaaS empowers customer service executives to know more about their customers through every interaction. 
Unified communications solutions are being quickly adopted by several companies over the past few years. The UCaaS market has been showing consistent and steady growth. In order to keep up with its competitors, a business needs to have the tools needed to compete, which is where having a unified communications solution gives you a competitive advantage. With all systems gradually moving to cloud services UCaaS seems to be the future. 
In these modern times, the business world is constantly connected and communicating. By adopting a unified communications system, a business can turn its separate devices into one solution that is able to handle both internal and external collaboration at a short notice. It can better utilize its available funds in other areas by not having to invest in bulky equipment and hardware, which anyways become updated every few years. 
If you as a business owner are still not invested in UCaaS, now is the time to do the same.