How Different Industries Benefit from a VoIP Softphone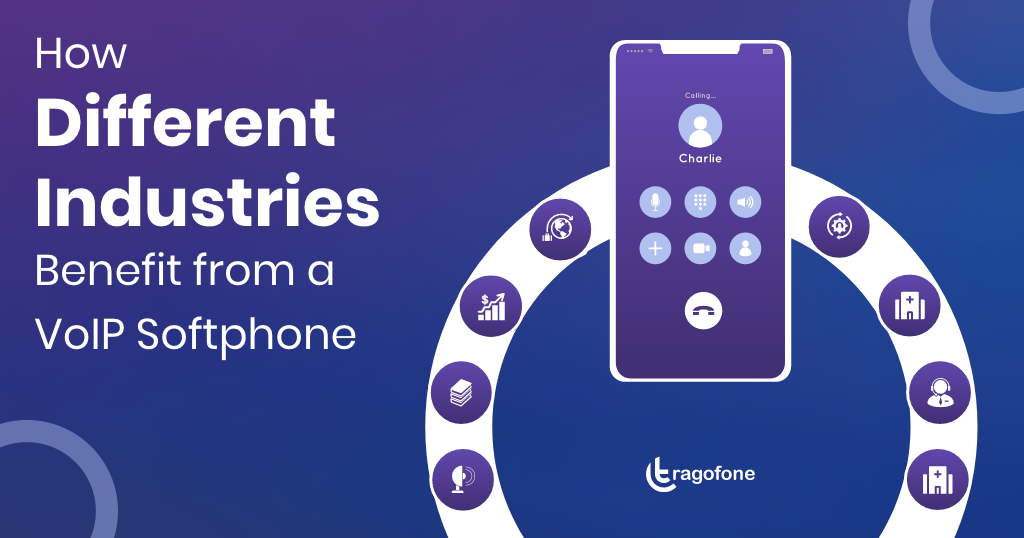 In today's hybrid work world, mobile VoIP softphones services are fast gaining popularity over traditional EPABX (Electronic Private Automatic Branch Exchange) systems. As per reports, the global VoIP services market is expected to be worth $194.5 billion by 2024. 
Despite the advent of e-mails and other forms of communication, 92% of customer interactions still happen through phones. Many businesses have realized the benefits of mobile VoIP softphones, that range from reduced costs to better productivity. In fact, different industries are using softphones in different ways to meet their communication and collaboration requirements. 
The unique and varied benefits that VoIP mobile dialers offer to industries include an easy-to-use and responsive UI, secure and private communications, multi-lingual support, auto provisioning, video capabilities, and online messaging. The flexibility and wide feature range of softphones help a cross-section of industries benefit from this cloud based VoIP phone system. 
In this blog, we will look at how mobile VoIP softphones are being deployed by industries that range from VoIP call centers, healthcare, finance, hospitality, to airlines, and how these industries have benefited from using this unified communication system.
The Benefits of VoIP Services for a Cross-Section of Industries
#1. Call Centers
An efficient VoIP phone system is critical for a call center, as VoIP softphones facilitate functions like call routing and logging, agent desktop interface, multi-channel communications, and predictive dialing. Also, integrations – such as CRM integration – and workforce management can also be managed by internet-based telephony solutions. Organizations that are looking at setting up a call center to handle technical support, customer care, sales, and data collection often opt for a VoIP phone system to meet their needs for high-quality service and reliability. 
Call centers have evolved over the past few years, handling higher call volumes and managing growing customer expectations. In fact, call centers are metamorphosing into multi-channel communication hubs, providing assistance through forums, live chats, and other non-voice mediums. This makes it necessary for them to stay flexible and use a phone solution that exceeds customer expectations. 
By incorporating a unified communication (UC) system into call center workflows, organizations can streamline communication and improve agent productivity and customer experience. Some of the other advantages they gain include better agent productivity, offering customized user experiences, increasing the efficiency of remote call centers, and enabling digital transformation. 
#2. The Telecom Industry
The rise of remote working made mobile VoIP softphones an integral part of the bouquet of unified communication services offered by telecom companies. This is also because VoIP services platforms can easily integrate with 5G adoption, UCaaS growth, and the use of AI and ML. 
Global enterprises have a growing requirement for a cost effective VoIP app solution that can support workforce mobility. This is where VoIP systems will play a critical role for telecom companies. This technology allows users to implement flexible communication systems that cater to voice, SMS, email, video conferences, and other types of communication methods that modern businesses require. VoIP technology can help reduce company phone bills and teleconferencing costs by up to 30% and save 90% on international calls. 
As organizations go global, they need phone systems that improve communication and collaboration between employees spread across the world. This is increasing the demand for mobile VoIP products such as IP phones. Also, telecom companies and governments are investing in wireless telecommunication technologies such as 4G and the upcoming 5G network, leading to higher transfer speeds for high-quality voice and data services. This will have a greater impact on VoIP for the sector. 
Mobile VoIP softphones are one of the big reasons why the global telecom industry is undergoing such a drastic transformation. VoIP softphones offer features that traditional telephony does not. It is cost-effective and does not require heavy-duty physical infrastructure. It's also gaining traction as the gig economy grows and the changing nature of business requires enterprises to communicate anywhere in the world, at any time. 
#3. Customer Service Industry
Customer service is a high-pressure job.  Customer service agents are often at the receiving end of queries, questions, and troubleshooting inquiries from end-users. In order to resolve the doubts of every customer quickly and efficiently, the agents need to have all information at their fingertips. 
A mobile VoIP phone system seamlessly links with a CRM system and ensures all data is in one place, on an easy-to-use online portal. This enables an agent to see every small detail about the customer's background and past queries. Agents are also able to make and upload detailed notes of the discussion. This makes it easy for agents handling subsequent calls to pick up from the last discussion. 
Mobile VoIP phone services also enable business owners to monitor both customer history and agent performance. The statistics and call recordings help in identifying improvement areas and designing effective training programs. VoIP also ensures that agents perform well and deliver a great customer experience by making all required information available in one place so that multiple teams can have easy access to it. 
Business softphones also give business owners the flexibility to place agents anywhere in the world and enable them to easily connect with each other using internet-powered VoIP phone systems. Having agents in different time zones ensures there is someone always online to take customer calls. 
#4. The Hospitality Industry
The hospitality industry is a fast-paced, 24-hour business. Round-the-clock communication and efficient 24×7 help desks are key to building and running a successful business in this sector. Most big and small hotel chains also have multiple properties, across global locations, or in a number of cities in one country.  VoIP service enables free conference calling between multiple locations and also facilitates easy liaising with colleagues across the world to ensure smooth service delivery to customers. 
VoIP softphone services are designed to handle multiple calls at any given point in time. The system can also automatically divert calls to a customer service agent who is free at the time. This ensures that despite heavy call inflows no customer call gets missed or that customers have to wait for their query to be answered. Hotels receive multiple calls and inquiries for reservations, cancellations, grievances, etc. Attending each call is important given the nature of the industry.  
Also, if all customer service agents are busy, a virtual assistant can take messages from the customer and send them to a designated email address. This way a business can ensure that all customers receive a response to their query on time and without making multiple calls to the company. 
The support that VoIP softphone services can give to a hospitality business is unparalleled – as they make work glitch-free for employees. Companies can also customize or white label their softphone systems to enhance branding and have a better brand recall with customers. 
#5. The Finance Sector
The financial sector has evolved rapidly in the last few years, metamorphosing into a fast-paced industry that never sleeps. A mobile VoIP softphone system is robust and equipped to handle the pressure of such an industry.  
Every penny counts in any business. This motto is most emphasized for finance professionals. Using a cost-effective phone system like VoIP softphones is highly financially beneficial and show the keen business acumen of financial enterprises.  
Besides the cost, softphone systems are also flexible and secure. Banks and other financial institutions deal with heavy call traffic, and most calls involve sensitive financial information. Therefore, using a secure service like VoIP softphones makes perfect business sense. The flexibility and ease with which calls can be transferred is another point to consider for VoIP systems.  
In situations where executives are on client visits, softphones offer them the ability to access their company phone line from any device with an internet connection. This allows them the flexibility to attend to multiple customers and not miss any important calls. Mobile VoIP also allows them to check messages while on the move. 
IP phone systems allow financial businesses to add as many phone lines as they require. This helps them to handle busy work periods with ease by adding customer service agents who can direct the calls to the right person and also deal with new leads and business inquiries. 
Most finance companies and banks operate globally. mobile VoIP softphone for business help offices in different parts of the world to stay connected at minimal costs.  
#6. The Airline Sector
The air travel sector is huge and comes with many moving variables. Airlines often develop a poor reputation when it comes to communication and customer service. The traditional phone systems, with which they were working for years, were unable to maximize communication performance for them as mobile VoIP softphones do. 
The airline industry also faced severe challenges with its customer care when the pandemic broke in 2020.  With countries going into lockdown, their phone lines were overburdened with customer calls. 
Initially, a shortage of staff posed a huge challenge for airline companies. But those that moved from traditional lines to VoIP services found it to be a game-changer, as it offered significant benefits like reduced costs, a smoothly functioning customer support team, flexibility for the staff to connect with customers while staying at home, and using a device of their choice. This helped companies provide seamless experiences to their customers. 
#7. Online Retail Sector
The retail industry needs a robust and cost-effective calling system to stay connected across levels. Be it stores, warehouses, the management, or the company at large, uninterrupted calling facilities hold the various teams together and ensure the proper functioning of the business. 
With large swathes of consumers moving to online retail portals for their day-to-day shopping needs, mobile VoIP softphones have become an even more important asset for retail companies. The influx of calls for order status, product inquiries, refunds, and cancellations has increased multifold in the last few years. 
VoIP softphones also provide retail enterprises the option to have customer calls transferred automatically to the first free employee. This helps save time and keeps customers happy. During the pandemic-induced lockdown, the customer care teams of retail companies continued to stay up and running thanks to the flexibility of connecting through any internet-enabled device from any corner of the world.  
The VoIP softphone system also enables retail businesses to send mass texts with the latest deals, making it an effective promotional tool for the industry. 
#8. The Education Sector
The education sector has grown multi-fold over the years and continues its march towards further expansion. Education has gone beyond the traditional realms of schools and colleges, as online homeschooling and professional courses gain popularity. 
Even traditional schools and colleges are providing parallel online teaching alternatives. This means phone systems have become a critical asset for schools and colleges today. Also, the infrastructure and day-to-day functioning of schools and colleges are dependent on their internal intercom system, which is usually spread over a large campus.  
Having a wi-fi-enabled phone infrastructure makes for a smooth and sophisticated communication network. It saves money, improves day-to-day operations, and boosts the overall image and infrastructure of the institution.  
The customization that mobile VoIP softphones offer can be easily adopted in the education sector. It can be tailored to meet the requirements of varied educational institutes. 
#9. The Travel Sector
With improved technology, exposure, and with the growing availability of comfortable and affordable means of travel, the tourism sector has experienced exponential growth in the last two decades. Though this was the sector that was most critically hit by the pandemic, travel is anticipated to bounce back in a big way. 
Travel companies receive huge volumes of calls for holiday inquiries from far-fetched corners of the world. A travel agent's job involves answering customer calls and providing them with information as per their travel request and planned itinerary. Having cost-effective VoIP softphones saves money and makes communication seamless for companies in the travel space. 
VoIP softphones also have the added advantage of offering seamless audio connections and automatic call forwarding, which keeps travel agencies available for customers even when an agent has to step away. 
Conclusion 
With digitization, business sectors across the board are changing rapidly, and VOIP technology is set to replace traditional telephony. It's no longer a question of if, but when. The use of new technologies and the flexibility and efficiency that they provide have become non-negotiable aspects of our work life. It is, therefore, in the best interest of businesses, employees, and customers to adapt modern communication methods like mobile VoIP softphones over traditional communication systems.