Enhancing Support Teams: The Advantages of White Labeled Mobile SIP Dialers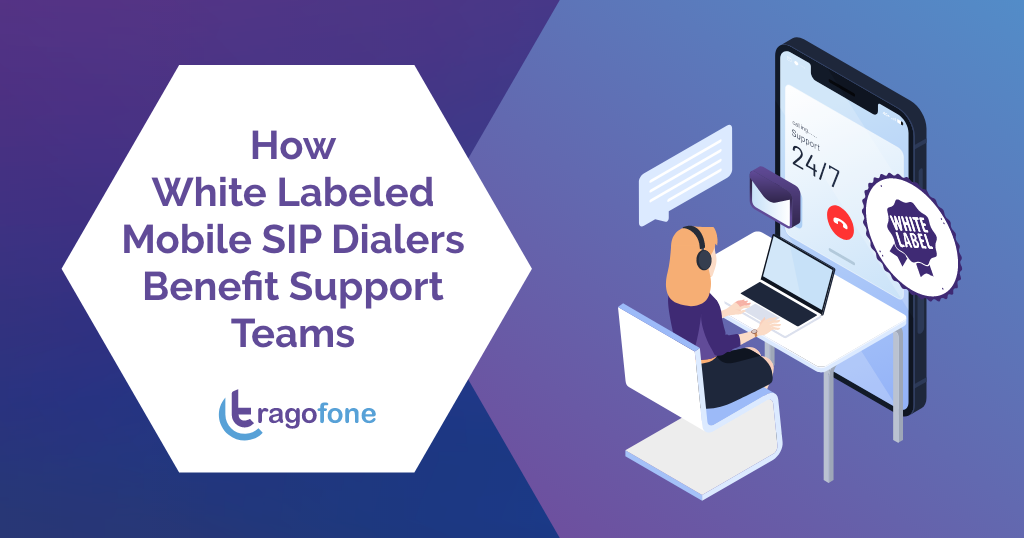 Let's start with a hypothetical situation: A US-based customer of a product company calls the support team to resolve an issue. Since the support team is based in another time zone and not available in the office, there are no agents at hand to answer the customer's call. As the organization had positioned itself as a brand with a global footprint, that serviced clients across the world, the no-show of the support team negatively impacted its image and profits.
This lapse in customer service could have been avoided – by deploying a softphone or VoIP-powered mobile dialer solution. 
In today's digital world, providing users with a real-time communications system doesn't just set enterprises apart from the competition; it keeps them in the competition. SIP Softphones enable businesses to engage with customers in a personalized way, grow their audience, and drive sales. 
White label softphone solutions offer an extra edge to enterprises by offering all the functionality and personal touches of a phone system that has been built from scratch, without incurring high costs and spending long hours on development and support. These solutions help businesses carve a unique identity for themselves by delivering the exceptional experiences that users seek from customer support teams. 
Softphones are the future of business communication. These internet-powered solutions have all the functionality of a traditional desk phone, plus many time-saving benefits. They're also flexible in terms of setup and adjustments. Also, SIP mobile dialers operate entirely on the cloud, which makes them accessible from anywhere with an internet connection, making remote work possible with browser-based, mobile, and downloadable desktop phone applications. 
Also, modern businesses today need branded solutions that build professionalism and reputation. White label softphones provide companies with enterprise-level communication solutions that are packed with the richest feature set and adapt to the needs of their business. 
In this blog, we will understand how softphones help support teams provide seamless services to customers and why they are critical for providing glitch-free user experiences.
Why Softphones Are Critical for Support Teams
Professional communication has become critical for enterprises. In fact, 40% of customers say that they prefer talking to a real customer support agent over the phone to handle complicated issues like payment disputes. This is where VoIP mobile dialers are emerging as game-changers for customer support teams. They ensure call consistency, and they are reliable, secure, and agile. Besides, they allow your support team the flexibility to work from remote locations. 
Customer support teams usually need to stay connected with many people, in order to address their concerns and resolve technical issues. If they are unable to solve an issue on their own, the support teams need to liaison with the company's technical engineers or developers. This means an organization's phone system should have the facility to enable three-way communication between all parties. 
There are several free software solutions available that companies can deploy to facilitate multi-party communication. However, they come with the risk of compromising consumer data. Softphones, on the other hand, offer an encrypted and secure communication solution that provides complete privacy to the customer and company data. Besides, white labeled softphone solutions are owned by the company that uses them. Thus, all information remains confidential with the company. 
How White labeled Softphones Enhance the Workflows of Customer Support Teams
As the modern business world continues to acclimatize to new developments in communication technologies, like BYOD (Bring Your Own Device), mobile VoIP, and unified communications (UC), enterprises are increasingly arming their customer support teams with all-encompassing UC solutions in order to help them gain a competitive edge. 
How do softphones help support teams enhance the user experiences they provide? White labeling and customizing VoIP softphone enables enterprises to transition existing customers to a new solution within a cloud-based environment. Also, the ongoing innovations in the VoIP market empower organizations to maintain complete control of their brand from designing to managing, while also allowing them to offer their customers unique user experiences. 
Also, VoIP mobile dialers can be installed into the mobile phones of support staff, allowing them to be available to customers at all times. They support voice calling, video, and messaging facilities, besides free app to app calling for internal communication. Support teams can also share images and files via softphones, helping resolve customer issues on an immediate basis. 
Cloud-based softphones also make workflows simpler for support teams by integrating with other software tools. They can connect with nearly every business solution in an organization's toolkit to enable faster work turnaround and less human error. Using the integrated phone software, support teams can make calls directly from an organization's CRM, sync call data and notes between applications, enhance customer surveys, assist with sales automation, and connect with transcription and AI services. 
Benefits of White labeled Softphones for Customer Support Teams
White label softphones provide diverse benefits to customer support teams – ranging from being location agnostic to enabling easy integration with other software. Let's take a detailed look at these advantages: 
Softphones support the flexibility to work from anywhere
The internet-enabled calling capabilities of VoIP mobile dialers empower support teams to serve customers from anywhere in the world. The CoVID-19-triggered pandemic forced organizations to look for alternate ways to connect with their customers. Softphones enabled their support teams to establish these connections via their desktops and or any other communication tools used on-premise. This way, they can speak to customers and troubleshoot their issues from any remote work location. 
Further, softphones also provide a huge boost to businesses that have a global reach. Customers can now reach out to support teams at any time, even during off-hours or on public holidays. These VoIP mobile dialer features ensure seamless customer services, thereby showcasing a brand as a trustworthy partner.  
 

Enables integration with a host of software and tools
Software products today are able to communicate with each other in ways that traditional solutions couldn't. Integration of softphones with CRM tools helps organizations to import customer contacts into a single interface. No customer wants to enter their personal details and relate their query every time they call a support team for assistance. This can also be a deal-breaker for organizations, as it poses a roadblock in building long-term customer relationships. 
With CRM integration, support teams get instant access to customer details like name, location, and history of interactions with a company. This allows the customer and the support engineer to resume a conversation from where it was left off rather than starting on a fresh slate every time. As a result, supporting employees save time, effort, and win the goodwill of the customer, leading to higher customer retention and satisfaction. Also, all customer calls can be logged and documented automatically. 
 

Softphones provide fully customizable interfaces
No two businesses are alike. VoIP mobile dialers allow enterprises to boost their brand with fully customizable interfaces. They can build their own unique interface, select the features that their business needs and deliver a customized, branded experience to their customers. 
 

Boosts team collaboration
Seamless collaboration between an organization's support team members is critical for the success of a business, especially when employees work from distributed locations. With features like video conferencing, one-on-one calling, and instant messaging, VoIP mobile dialers allow team members to reach out to each other in case of any emergency situation or to seek assistance. In a situation like the pandemic, softphone apps enable employees to engage with each other, bounce ideas and queries, and avoid feeling like they're working in isolation. 
 

Improves employee efficiency
An organization's support team members may need expert assistance while clarifying customer queries and may want to reach out to a manager or a senior supervisor immediately. Softphones come with instant messaging capabilities that allow employees to message each other and seek immediate clarifications.  
In a situation where there is a need to escalate calls, softphones show the availability status of the manager, which could be a 'Do Not Disturb'. This way the support engineer contacts someone else to resolve the customer query instead of trying to reach a manager who is not available at the moment. 
Softphones also provide better insights into queue monitoring for sales and support teams. During peak working hours, supervisors can monitor the caller queue and route calls to agents who are available. This removes unwanted waiting time, missed calls, and confusion over the availability of agents and results in a streamlined customer call management process.  
 

Allows support teams to engage better with customers
Most customers don't like to be put on hold when they call a company to resolve a query. They also don't enjoy their calls being forwarded to multiple support team representatives. Some prefer to message instead of call. Softphones resolve all of these issues for customers. Softphone solutions allow customers to easily connect with a business by sending text messages instead of speaking with an agent. These multiple engagement tools allow support teams to engage with customers in a more holistic way and thus expedite their problem resolution. 
 

With softphones, support teams can scale and improvise easily
The demands of your customers are always changing. VoIP mobile dialers let the support teams of enterprises offer new features, communication options, and new support tools to customers to reach and engage with them on a platform of their choice. 
 

Softphones can be easily upgraded
VoIP mobile dialer solutions need regular updates. To do so, organizations can simply opt for the latest version of the software within the application interface without paying any additional charges. These upgrades are also readily available for use without onboarding any additional equipment or tools to the existing devices. 
 

Softphones make support team workflows seamless
Accessing call recordings is much easier with cloud-based VoIP mobile dialer solutions. For instance, a link to an online audio file can be automatically created after each call and can be stored or shared with ease. This can be used for monitoring and tracking customer calls. 
Making adjustments to call routing structures, like categorizing incoming calls, was a difficult process with traditional phone systems. Virtual softphones, on the other hand, make this process as easy as adjusting your email inbox settings. Additional customizations, like personalized voicemail messages, are also achievable through an admin dashboard. These adjustments make workflows seamless for support teams. 
 

Softphones make it easy to implement advanced web-based features
Softphones offer web-based features that aren't supported by most other native communication apps. Additional functionality can be coded and integrated into your app for web app capabilities. These added functionalities offer enhanced flexibility that support teams can use to display the types of content that matter to their customers. 
Conclusion 
Softphones are emerging as an irreplaceable asset for next-generation communication systems. Businesses are using these internet-powered mobile dialers to connect over remote working ecosystems and avoid the need for employees to stay glued to their desks. Besides, integrations with high-end tools and improved team collaboration are other advantages that support teams can avail by using softphones. 
White labeled softphones empower businesses to fine-tune their solutions to fit their exact specifications and requirements, facilitating a one-stop UC experience for their customers even in the most diverse technical environment.