10 Reasons Why Your Financial Institution Needs a Modern Contact Center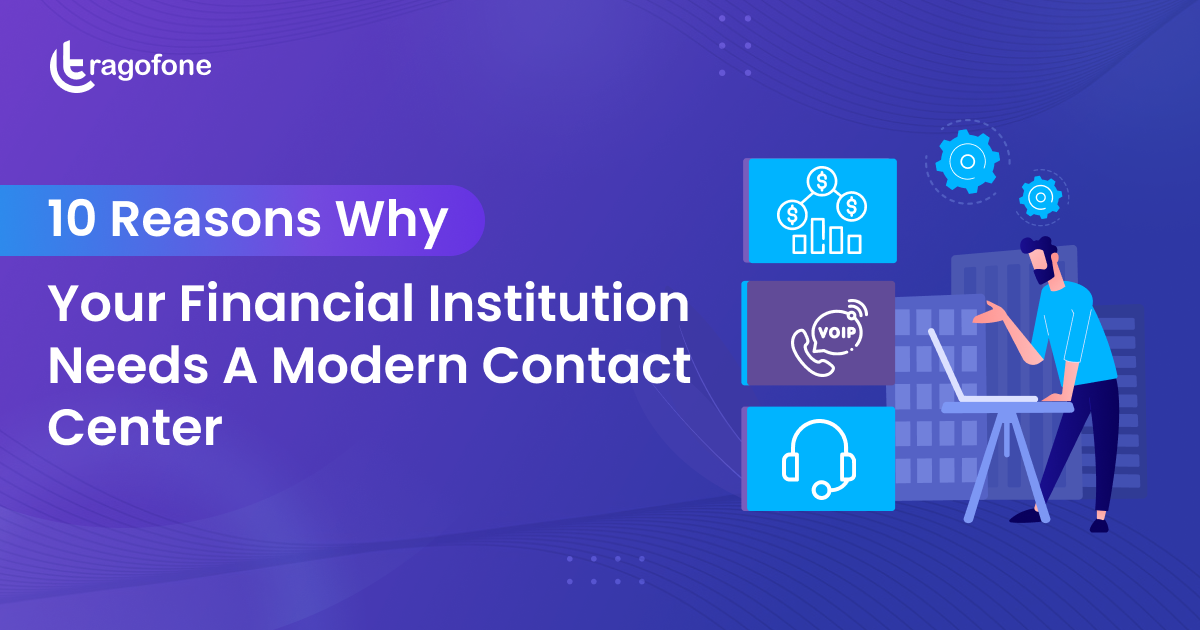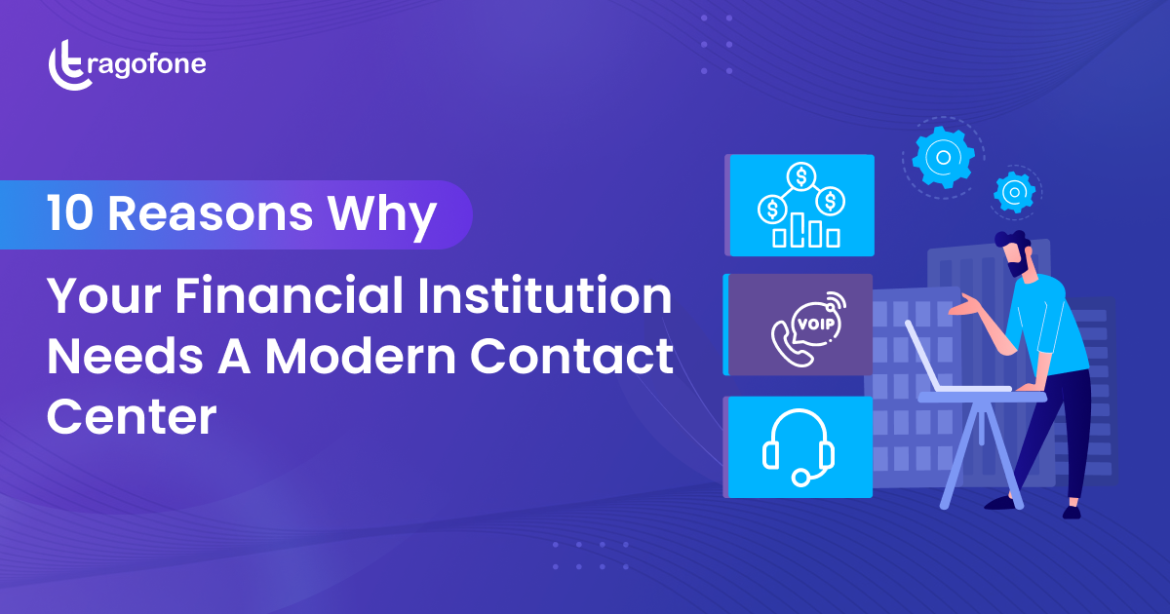 The advent of the internet, advancement in telecommunications, and some unprecedented circumstances in the last couple of years  has accelerated the pace of digital transformation in the finance industry. Financial service providers such as credit unions, insurance companies, banks, etc. are focusing on improving their customer experience through mobile apps and websites.  With the rapid implementation of digital financial services, financial services contact center technology must be upgraded to keep up with customer expectations.
88% of financial institutions have realized that improving customer experience through exceptional customer support is an important step to achieving their digital transformation goals. Financial service providers can invest in contact center software, especially a cloud or hosted one to deliver a stellar customer service experience. Let's delve into the roles of financial service contact centers and why it has become imperative to modernize them.
What does a financial services contact center do?
A financial services contact center offers assistance to customers and prospects in understanding different products, services, and processes. A customer may reach out to a contact center of a financial service provider for queries, complaints, or concerns regarding the following:
Status of policy/ cheque/ deposit

Renewal of scheme or policy

Application for loans

Tracking the status of loan application

Theft or misplacement of debit or credit card

Activation of credit or debit card

Information related to credit cards such as available limit, credit limit, used credit, annual fees, etc.

New services or products introduced recently

Blocking  debit or credit card

Current purchase and refinancing rates in case of a mortgage, etc.
Contact centers act as a channel of communication between the financial service provider and its clients or potential clients. It is crucial for aiding clients in their journey of investment, banking, or lending through modernized financial services contact center technology. 
10 Noteworthy Reasons to Upgrade your Financial Contact Center
Financial services contact centers are becoming increasingly cloud-based and incorporating other features to improve customer service. But why has it become so important now? 
#1. Change in behavior pattern 
The worldwide spread of coronavirus in 2020 led to a global healthcare crisis. The lockdowns and government restrictions forced businesses to close down their physical contact centers and give employees the liberty to work from home. As a result, business operations were disrupted. Businesses that switched to cloud contact center technology were favored by customers as they continued to serve them in this time of uncertainty.
Today, business operations are getting back on track again. However, there is a significant change in the behavior patterns of both employees as well as customers. While employees demand greater flexibility, customer demand enhances convenience and accessibility.
#2. Advanced functionality
According to a survey, 58% of respondents admitted that customer service expectations have heightened compared to the pre-covid era.. Customers are demanding faster and more accurate resolution when contacting a business. Therefore, it is essential for financial service providers to adopt a contact center solution that offers advanced features.
Call routing, auto attendant, and call back scheduling are some of the advanced functionalities that have become mandatory features for today's financial services contact center solution.
#3. Need for personalization
Financial service is a complex topic for common people. Modern customers understand that 'one size does not fit all'. Therefore, they always look for brands that realize their requirements and recommend products and services accordingly. A Deloitte survey infers that customers demand high-touch interaction for making purchase decisions on complex products and financial advice.
Financial services contact center technology must be modernized enough to fulfill this demand. CRM integration along with data analytics helps agents to provide personalized financial services that actually add value to the customer's financial goals.
#4. Demand for an omnichannel experience
Customer contact channels have changed over the last few years, with customers using email, live chat, social media messages, etc. to gain information from a business. They expect consistent customer service experience across all channels. Contact center solutions must offer omni channel communication in order to meet customer expectations.
By integrating all channels into a unified platform, omnichannel communication ensures a seamless customer experience. According to a Forrester report, 62% of enterprises believe that they will fail to achieve marketing results if they do not adopt social media customer service technology. The flexibility offered by omnichannel communication is therefore an essential component of contact center solutions.
#5. Ease of scalability
Most businesses were forced to scale back their contact center services when the pandemic struck.  Some businesses had to bleed money as their contact center solution provider/ conventional customer service provider did not offer the flexibility to scale down. A scalable contact center software is therefore essential for businesses to adopt along the way.
When financial service providers experience fluctuations in call volumes, it is important to strike a balance between supply and demand. New-age contact center technology simplifies the process of adding and removing users with minimal effort. Furthermore, cloud-based contact center solutions eliminate the need for on-premise infrastructure. The flexibility of such solutions also allows one to add or remove features as needed. 
#6. Shift to remote and hybrid work model
In recent years, hybrid and remote models have become the norm rather than the exception. Cloud contact center technology ensures seamless communication between employees, not just within the workplace, but also from anywhere in the world.
Employees can execute their daily tasks from anywhere if provided with the right tools that support current work models. In today's financial services contact centers, cloud technology integrates mobile and flexible features without compromising productivity.
To ensure business continuity, every business will have to adopt this future-proof solution sooner or later. There are a number of benefits to a hybrid work environment that make it the right choice for the future workplace.
Provides remote and on-site work environments

Extends the hours of operation

Expands access to global talent

Employees can enjoy a proper work-life balance
Businesses must equip their contact centers with modern tech features such as call forwarding, conferencing, document and file sharing in order to adapt to the hybrid work model.

#7. Implementing self-service capabilities
According to Harvard Business Review, 81% of customers try self-service first before getting in touch with a live agent. Since customers are more inclined to solve their own problems, financial service providers need to offer self-service options.  A modern financial service contact center offers self-service capabilities through a multi-level IVR system and the integration of artificial intelligence (AI) to create conversational chatbots.
CNBC reports that chatbots will handle 90% of customer queries within five years. Another interesting way for financial organizations to level up their self-service options is by leveraging speech analytics. A contact center handles hundreds and thousands of calls every day. Using speech analytics, a business can identify frequently used words in the conversations between agents and customers. Those frequently used phrases often address specific pain points or common customer concerns and can be used as keywords. 
Financial organizations can address these issues by developing content around the keywords in the form of blogs, social media posts, and newsletters. It helps customers to access the required information easily on the website or social media handles of the finance company.

#8. Requirement for improved security
A data breach is a prominent threat to every business in today's digital era. Cyber hacking methods such as malware, phishing, and hacking are on the rise every day. An organization's reputation depends greatly on the security of its data and the privacy of its customers.
 If customers realize that their data has been leaked, leading to numerous annoying sales calls, they would surely sever ties with that business. As a result, modern contact center solutions offer improved security to reduce your company's vulnerability to cyberattacks.
Security and privacy are enhanced through a variety of security compliance certifications. Additionally, it provides end-to-end encryption and fraud prevention methods.
#9. Reduce agent attrition
A high attrition rate has always been a problem in contact centers. In the last few years, it has been between 35% and 45%. The top causes of agent attrition are as follows.
High-pressure and stressful work environment

Lack of career growth opportunities

Agent burnout

Lack of work-life balance
Financial service contact centers can leverage technology to eliminate these challenges and improve agent retention. How? 
Tools like CRM integration, real-time call monitoring, call transfer, etc. reduces the stress for agents making their lives a bit easier. 

Implementing automation of some mundane repetitive tasks unburdens the agents

Data analytics help in identifying training needs helping business offer employees adequate training opportunities

IVR, chatbot, voicemail, and call-back features help in cutting down long hours of duty without compromising after-office hours customer service. 
#10. Becoming a data-driven organization
In today's competitive business environment, business intelligence has become essential for success and sustainability. A contact center is a hub of rich customer information resources that can be used to optimize customer service. Call center data analytics can help financial companies better understand the customers' financial goals, risk appetite, frequency of investments, common behavioral trends, etc.  Using these insights, you can tailor personalized financial services.
Data analytics offers different operational benefits besides those that pertain to the customer. For instance, it enables businesses to identify areas where automation can be implemented resulting in significant operational cost savings. Similarly, data analytics helps in optimizing overall contact center operation and evaluates agent performance. It also helps in making data-driven marketing decisions. Using contact center analytics, business owners do not need to spend countless hours deciphering data from numerous pages as it produces easily interpretable reports based on the data analyzed.
7 advantages of modern-age contact center solution
Spreads brand awareness cost-effectively

Builds credibility and reliability

Accelerates customer issue resolution

Decreases call abandonment rate

Empowers upselling and cross-selling

Boosts agent productivity

Improves overall customer service experience
Boost customer engagement through a modernized contact center solution
Financial services contact center technology helps organizations gain a competitive edge. In addition to ensuring employee job satisfaction, it drives business growth. A contact center can help you deliver impeccable customer service by disseminating information about complex financial services and recommending the best option for your customer. Tragofone is a WebRTC softphone software that caters to the customer service and communication needs of businesses of all sizes. It is a quick plug-n-play software that can be installed and configured on any device having internet access. Moreover, Tragofone allows white labeling softphone services that financial companies can leverage for generating a new revenue stream. In addition to offering multiple advanced features, it simplifies the management of the contact center and optimizes business operations. Learn more about Tragofone.