Best Softphone App with Live Chat Feature for Connecting Teams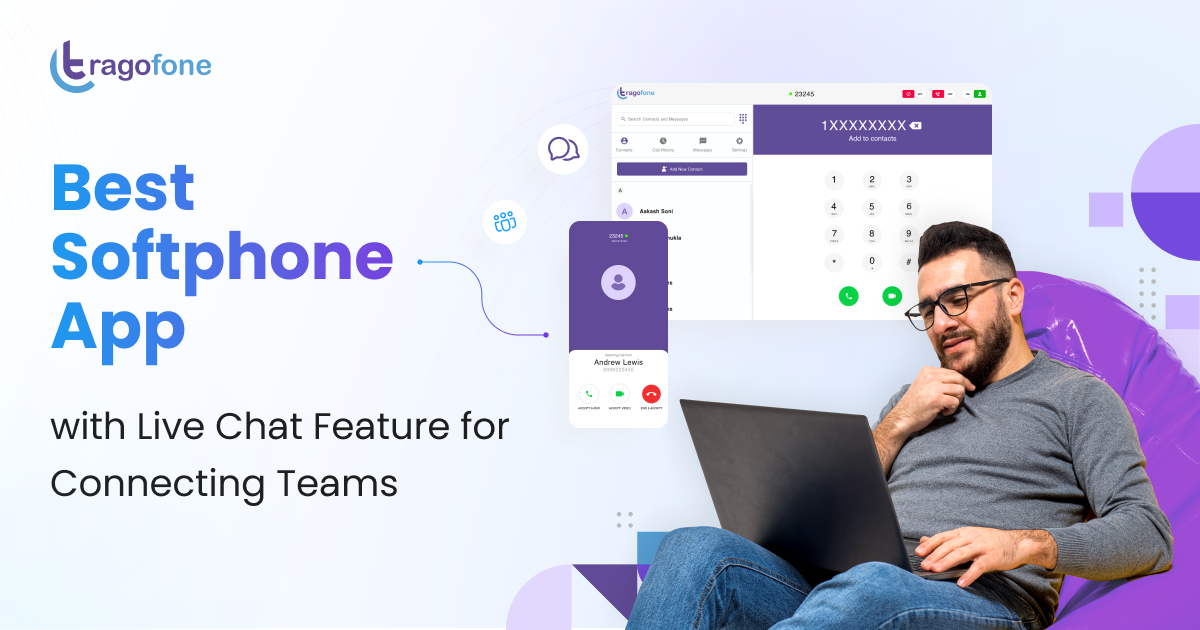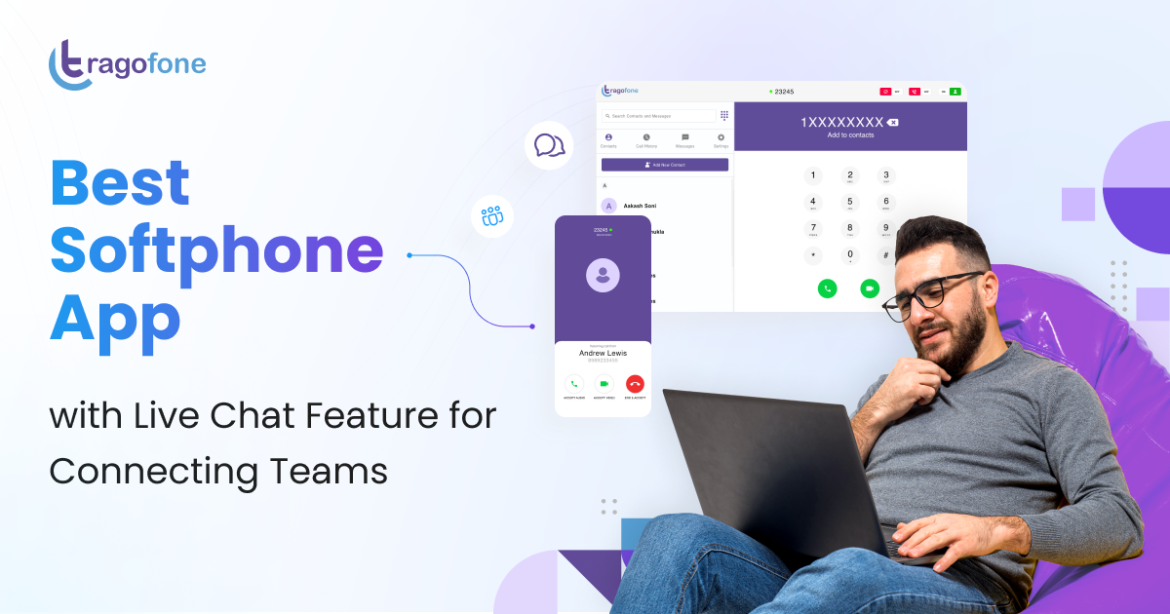 Live chat came into existence way back in 1961 and has come a long way since. In the modern business scenario live chat is much more beyond a fancy accessory on your company's website. Today, businesses across the board are catering to a customer base that has literally grown up consuming the internet. A very interesting research by Statista on internet usage reveals the number of people using the internet to be a whopping 5 billion, which is nearly 63% of the global population. 63% millennials and 36% Gen-Z prefer connecting with companies on live chat to get their queries resolved.
All these numbers indicate a trend of the rise in demand for real-time engagement. Among all support channels available, the new age consumer prefers live chat over phone support, email, or even social media. Why? We live in an age where people want instant gratification and live chat does just that and more. It also brings convenience into the mix. Throw into the mix other ingredients like shift in work culture, adaptation of VoIP enabled softphones by enterprises and hence the rise in demand for the best softphone app with live chat functionality.
What to expect in the best softphone app?
In this blog we discuss all about:
Live chat
Live chat and softphones
How live chat works
Features
Benefits of live chat
What is live chat?
Live chat is a software or a tool which connects customers with actual human support representatives enabling executives to resolve customer issues in real-time. From a customer's standpoint live chat helps customers get quick answers translating to less waiting time to find a solution, easy navigation through a knowledge base on a company's website to find a solution, and more. However, instant messaging and chatbot are often confused to be the same but that's far from the truth. Though  both are real-time support communication tools, live chat connects customers with human support representatives whereas a chatbot is just that, a bot.
Live chat software and softphones: The live chat software is typically embedded within the code of a  website or a mobile app as a widget. It loads as an icon or link on a company's web page. Most live chat software enables users to customize the design of the chat widget. VoIP enabled softphones can integrate the live chat feature as well. But why a live chat feature in the best softphone application?
Research indicates that a staggering 230 billion mobile apps were downloaded globally in 2021. Having a instant messaging feature in a mobile friendly softphone makes sense as most consumers and even your employees have easy access to a mobile phone. A mobile compatible softphone app such as Tragofone enables companies to give their agents the flexibility to work from home. Besides, most of the time when an individual faces an issue with a product or a service they are on the move and accessing a computer can be a challenge.
In such situations customers want an easy way to reach out to you. Equipping your agents with the best softphone app integrated with live chat ensures you're giving both customers and agents new channels to work and communicate with both within and outside the organization. Depriving customers and agents from such mobile experiences will make them go places which offer such options.
How live chat work in VoIP softphones application
Live chat can be integrated into the best softphone mobile app as a plug-in. A widget can be created on the softphone app menu screen which the user can click to start a conversation. Different live chat platforms operate in a different manner. However most of them can be linked to a phone system enabling messages to be easily managed within web clients, desktop applications, and iOS and Android mobile clients as well. Steps involved:
Installation: Download and install the live chat and customize as per your requirement.
Receive query: An app visitor starts a conversation. All member agents responsible for handling chat queries will receive a notification pop up in their softphone chat window. An agent who responds by clicking on the "take query" button becomes the chat owner.
Transfer query: Most softphone apps with live chat will have an option to transfer the query to another agent in an event where the agent who took up the query  beyond his knowledge base or expertise. The agent to whom the chat is moved can view the chat history and take it forward from there.
Resolving: If the query is resolved the agent can close the query. In an event where the customer becomes unresponsive and an agent can mark and archive the conversation for future reference.
Best Softphone app with live chat: Must have features
Choosing the best softphone app with live chat can be overwhelming given the number of options available in the market. Choose one that aligns with your business requirements. When planning to invest in a softphone app with instant messaging do look for the following features:
Lead and agent routing to optimize customer experience.
Ability to integrate with social media channels to deliver an omni-channel experience.
Integration with CRM and any other tools a business uses so that no legacy or customer history information is lost.
Automated customized triggers for most commonly asked queries.
Customizable reports.
Customer and agent profiling.
Live chat: Advantages
1. Omni-channel experience
Keeping an audience hooked on your website and offering them timely support when stuck somewhere is important in today's cut-throat competition. Live chat connects a person browsing your website with an agent to get the required information without a customer going through the hassle of calling customer care or writing an email. With integration capabilities with CRM and other software, saved chat history and other such features, live chat eliminates the need for a customer to repeat their problem statement over and over again, a perfect omni-channel experience. What's more agents can share screens and explain certain processes like how to place an order to a customer step by step.
2. Helps onboard and acquire new customers and facilitates good rapport
Live chat helps in  building a customer's trust and gives them the confidence to purchase your product or service.  They know help is available, acquiring new customers thus becomes easy. Seasoned agents are often able to gauge a customer's likes and  dislikes, the kind of conversation a customer is comfortable in and adjust their way of responding to them. This way they are able to build rapport and establish a friendly, helpful relationship with a customer much faster.
3. Helps boosts service agents productivity
With live chat an agent can multitask. They can juggle between replying to emails, answering a phone call while they wait for the customer to respond in the chat window, and handle 2-3 simple queries on chat simultaneously. Here, a feature like automated customized triggers for some commonly asked questions can be particularly helpful. A difficult case may require undivided attention, but in most cases an agent will be able to do much more besides replying to chats thus increasing their overall productivity.
4. Live chat enables 24/7 support
A workforce spread across different time zones, meticulous planning and scheduling and you can live chat support available 24/7 to your customers. With support available throughout the day customers seldom have a chance to complain about not being heard or responded too. Besides, have a robust knowledge base about your product or website which is easy to navigate. DIY (Do-it-yourself) is all the rage among Gen-Z and millennials. You would be surprised to know how happy your customers will be to help themselves with the information they have been looking for. Live chat coupled with a knowledge base is a winning formula to ensure customer delight.
5. Live chat helps in customer retention
With live chat available customers have an easy way to reach out to you. Long wait times when calling up your call centre, unanswered emails, and instances where customers find it difficult to reach out often result in them ditching your product or service and possibly moving over to a competitor. Live chat is easily accessible, results in significant increase in customer engagement and helps you retain customers.
6. Live chat helps you stay ahead of your competition
A robust, 24/7 live chat support makes sure you have a bigger share of the market pie. Not all your competitors may have a live chat feature or have it 24×7.
Use case: Imagine you are browsing a website for buying a non-stick cookware bundle. You see two options, one set which is pre-seasoned cast iron and the other in aluminium with Teflon coating. You are confused on which one is better to suit your needs, and you may be doing this at 10-11 pm at night after a long tiring day. You obviously are in no mood to call up some customer support team to help you out. However, if there is chat support available you can quickly connect on chat, ask questions, and quickly decide on which bundle to purchase.
7. Live chat provides opportunities for automation
Since live chat is directly embedded into your website/app/softphone app it is easy to automate routine and repetitive tasks of your sales and customer support agents. Business owners can also integrate a live chat tool with a chatbot so that routine queries can be addressed with the right information and zero waiting time.
Use case: A customer wants to purchase a set of Bluetooth headphones and wants to know about the warranty and replacement policy. Such queries can be attended through pre-fed automated replies using chatbots.
Best practices for live chat to be a success
Optimize, update, and gear up your technical infrastructure to be agile.
Always have an offline strategy in place. Not all companies can have a 24/7 live chat service. An extensive self-help, easy to navigate knowledge base is handy for customers who might not wait for your team to be back online.
Stay on top of your customer service game with live chat
Ensuring stellar customer service goes way beyond providing quality service and the correct information. A business needs to have a deep  understanding of what a customer is trying to achieve. Live chat support can play a pivotal role in helping an enterprise achieve this. How? Live chat encourages  a customer to open up about the problems without being judgemental. A seasoned agent can get more information by asking the right questions at the right time, provide solutions in real-time and direct a customer to where they need to be.
With live chat integrated in softphones agents get the mobility and flexibility to respond anytime and from anywhere. Combining real-time chat support with self-service options allows enterprises to  deliver a plethora of support experiences available to their customers. Live chat is doing much more beyond what it did in 2022.