6 Benefits of Video Conferencing for Finance Advisors and Banks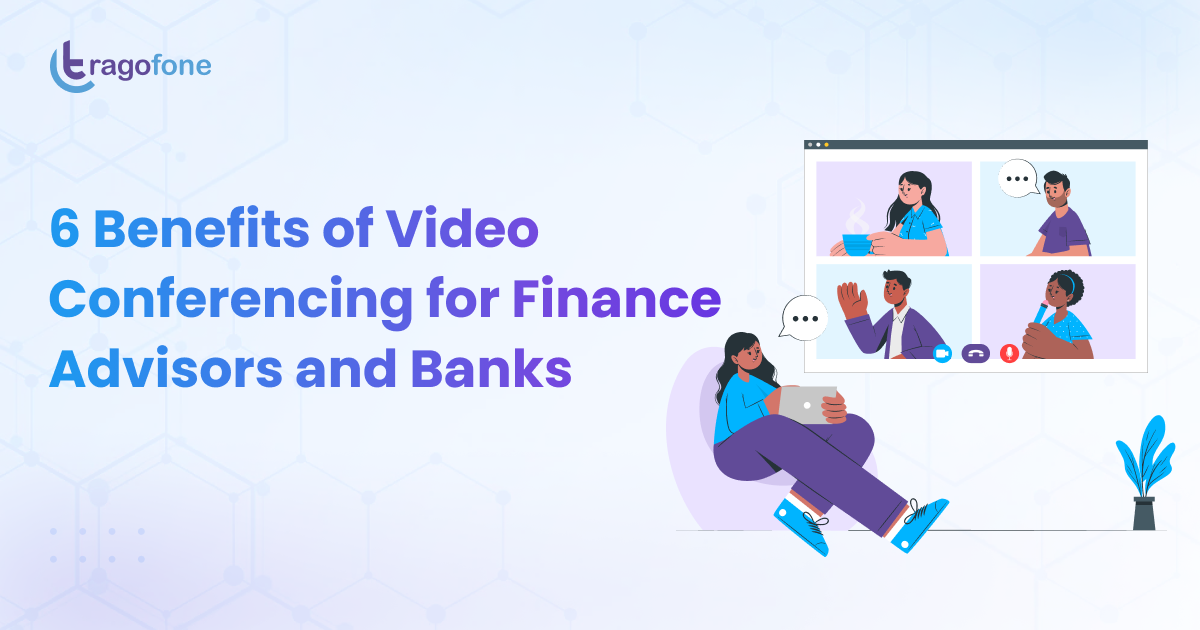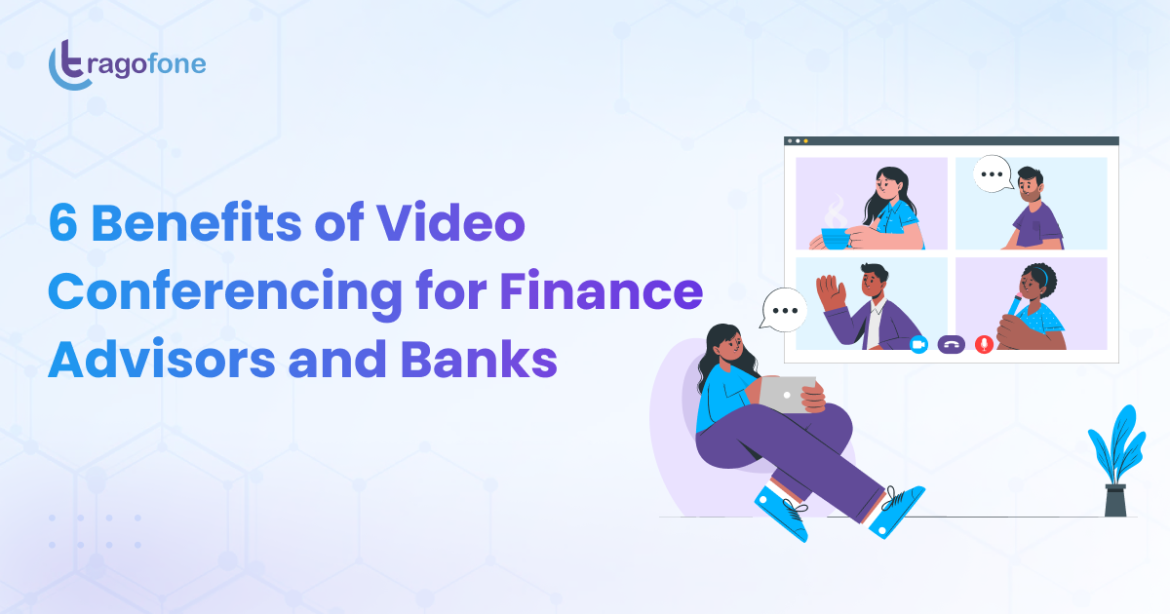 Traditionally, financial advisors or anyone working in the banking and financial domain have always delivered their services in person. Clients either visited the bank or financial firms premises for in-person meetings or the bank representatives did home visits to counsel and advise their clients. But with technological advancements many banks migrated to offering services online through online apps and video conferencing and the way financial advisors and other bank representatives work totally changed.
The transition from traditional brick and mortar banking to digital left a void which video conferencing helped overcome. Be it insurance companies, wealth management firms, or banks they have all come to realize the many benefits of video conferencing for finance more so in the last few years with remote and hybrid work culture becoming the new normal. 
Morgan Stanley, the giant wealth management firm for example, has a wealth management app which enables their clients to keep a tab on their portfolio and also reach out to their advisors through chat and video calls using the app. VoIP conferencing offers a myriad of benefits to both finance industry insiders as well as the consumers. In this blog we look at the benefits of video conferencing for finance professionals. Let's get cracking.
Benefits of video conferencing for finance advisors
#1. Making the unimaginable a reality
When we think of banking transactions we imagine walking into a bank to the cashier and withdrawing or depositing cash. However, there are many other dealings we do with a bank like investments, insurances, taking a personal or home loan, etc. Though a cashier still needs to be physically present in a bank to discharge duties a lot of other roles like that of an investment manager or a financial advisor or an insurance agent can be discharged online through video conferencing. VoIP (Voice Over Internet Protocol) and easy availability of the internet has now made it possible for financial advisors to connect with their customers on a video call in a safe and secure digital environment.
#2. Video conferencing is a better alternative to communicate
Having face to face interactions is always better over talking on a phone especially in sensitive matters like finance. No wonder, we have been visiting banks and financial institutes in person all these years. The past few years pushed us to adapt to new ways given the situation such as the global pandemic and countries going into lockdown overnight. However, VoIP enabled video conferencing made it possible to have video meetings with your financial advisor with just a camera enabled phone and internet connectivity. A great alternative to face-to-face meetings video conferencing in circumstances where in-person meetings is not possible is a win-win both for the customer and the concerned finance personnel. In testing times such as the Covid a video call over a regular call sure made both parties involved much more confident.
Use-case: Adam applied for a home loan using his bank app. There was a curfew in his county because of a shooting incident the day he was to visit the bank for all the paper-work and pre-approval of his loan. However, this did not become a hindrance in initiating his loan approval process thanks to video conferencing. He got on a video call with his agent using the video call facility on his banking app and duly completed the identification process sitting at home. Face-to-face interaction also instills more confidence in the bank to approve the loan.
#3. Helps you stay ahead of the competition
Banking and finance have been one of the oldest industries around with the Bank of North America dating back to 1782. Given the nature of the industry and the confidentiality involved the industry has always been conservative in adapting new technologies and new ways of conducting business. The hitch is understandable given the growing cases of cyber frauds and crimes. However, new-age apps and technologies are safe and secure, and the new-age customer prefers using them. Besides, more and more people want to interact with their financial advisors virtually rather than meeting them in person. 
As of now there exists a gap between the demand and supply for online banking and virtual interactions with representatives. By offering online financial services and personalized one-to-one virtual interaction before others you can get a head start. This will not only make retaining existing customers easier, but it is also a sure shot way to acquire a new client base.
#4. New technology to attract millennials and Gen Z
Millennials are the largest generation comprising 72.19 million people followed by Gen Z (20.66% of the population) in the US. Both the groups have grown up on the internet and are living in a world of social media and smartphones. Both the groups are at a stage in their life where they will take loans, home mortgages, make investments, basically start making their own financial decisions. 
Attracting and retaining this huge customer base as well as potential workforce pool requires technology that is convenient to use. Having the right people with the right skillset (employees comfortable using tech and hands on with video conferencing and social media) to attract this audience is non-negotiable. A whopping 82% of millennials prefer face-to-face meetings with their financial advisors and the uncertain times we are living in video-conferencing seems to be the perfect alternative to replace those meetings.
Both millennials and Gen-Z seek support from their financial services providers and strongly advocate for sustainable change and growth. Using video conferencing in day-to-day dealings with customers enables finance professionals to deliver the support expected and come up with creative solutions for serving clients.
Businesses today must be fluid and adaptable to changes in the financial space and be open to incorporating new tools for managing the expectations of this new breed of customers and employees.
#5. Cost-effective
We live in a digitally connected world today. The internet and modern telecommunications technology such as VoIP have made it possible for businesses to conduct operations and acquire new customers across the globe. Banks too have multiple branches in not just the same country but in different countries too, which also means clients in different cities and countries.
Physically traveling for every client or internal meeting is both a time-consuming and expensive affair. A video conferencing tool saves you all the hassle, all you need to do is to schedule a meeting using the app and send a link to the person you wish to have a discussion with. No more months of planning, hotels and flight bookings, or waiting time to resolve matters that need immediate attention.
Be it hiring a new resource or a brainstorming session or formalities for opening a new account all of this, and more is possible at a fraction of the cost with video conferencing. Not only are video conferencing apps budget friendly, but most of them are also subscription-based services and require no additional or new hardware or infrastructure. All that one needs is a phone/laptop/tablet and a good broadband.
#6. Saves time and increases team efficiency
Video conferencing not only helps cut down on the travel time it accelerates decision making as well thereby increasing the overall efficiency of processes. Wondering how? Some discussions involve many people such as team members, managers, investors, partners, etc. Getting all of them under one roof at the same time can be an issue. However, with a feature rich VoIP enabled app such as Tragofone getting on a video call, sharing screen, and files during a call aids in making quick decisions and bringing projects to a closure on time. Think fast and efficiently, video conferencing helps you achieve both.
Still thinking if your finance business needs a video conferencing app
If you are still wondering whether your business needs a VoIP enabled video conference app, do consider these features they offer:
Being cloud-based VoIP

video conferencing

apps ensure continuity of business even in events like a global pandemic or terrorist attack or any unprecedented situation.

It gives finance professionals the right tools to do their job effectively and gives them flexibility and freedom to work and stay connected even on the move.

Promotes hybrid and remote work culture, the new normal.

These apps offer omnichannel flexibility, which means customers can now touch base across channels.
Closing thoughts
Financial services have a plethora of opportunities to utilize video conferencing as a tool to improve their day-to-day operations and increase the overall efficiency. The full potential of video conferencing remains largely untapped in the financial services domain. A video conferencing app helps establish better connections with existing and prospective clients and helps instill more confidence in them towards your business.
Video conferencing can make a business improve efficiency, increase productivity, streamline both internal and external collaboration which eventually translate into strong and long-term business relationships. Scheduling meetings, hosting live virtual events, and maintaining a record of those meetings is a breeze with video conferencing.
If you haven't already started using video conferencing for your finance business, now is the time to take the leap. Address the shifting customer preferences by introducing video conferencing as a way to communicate. To know how Tragofone can help, visit our website to schedule a demo.