How Video Conferencing Helps Accounting Firms Talk to Remote Clients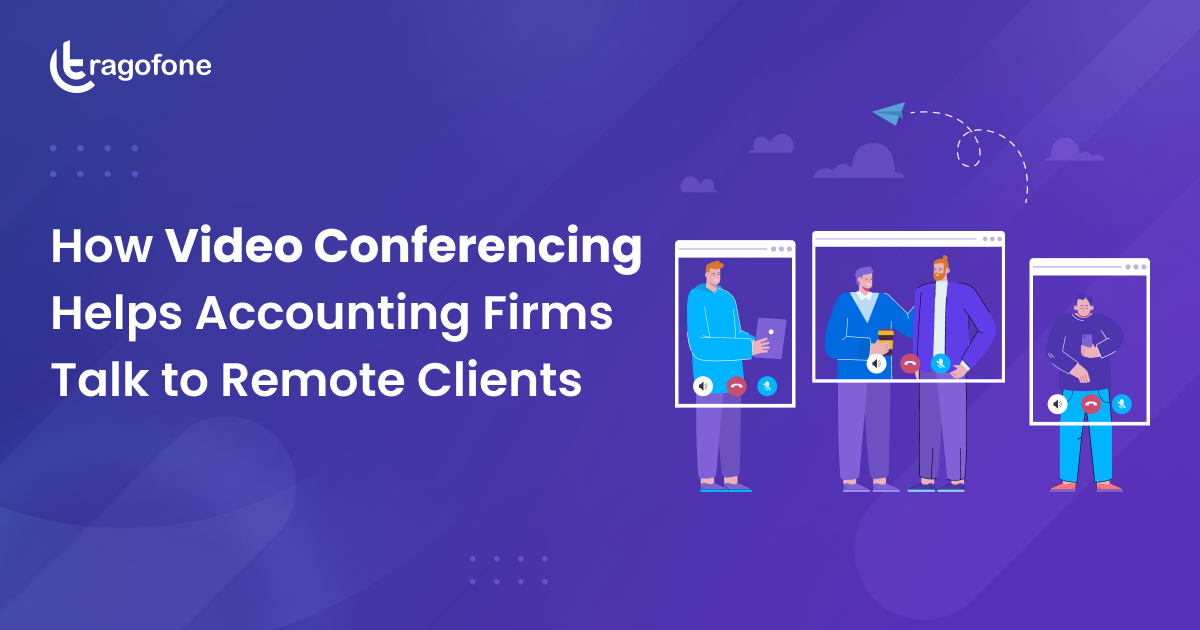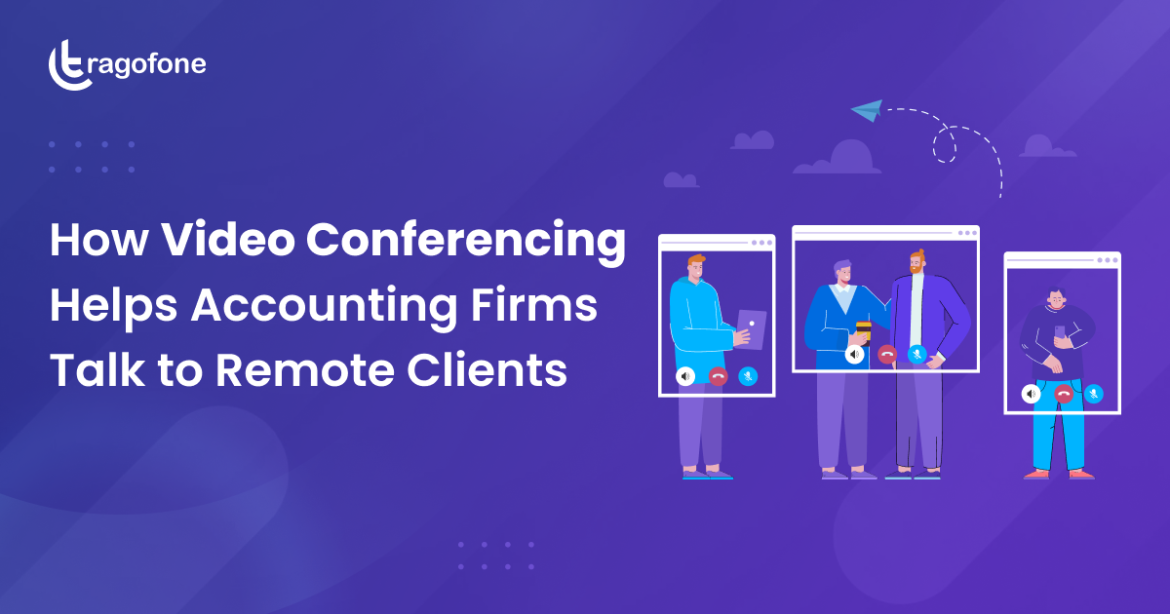 The pandemic affected the way people work, and remote accounting became a possibility. The lockdowns imposed restrictions on travel, and many companies had to rely on their teams working remotely. In a study, it was revealed that 56.8% of teams are happily using the work from home routine and as high as 83% of hiring managers feel that remote teams are very effective in getting the work done.
98% of respondents in another study also accepted that improved communication and collaboration led to increased productivity. Know where we are headed? Video conferencing of course. Video conferencing helps improve productivity and there is evidence too. 89% of respondents agree that video conferencing helped reduce the time taken to complete tasks.
Now that's enough proof that video conferencing is great for remote teams. Though today the corporate work culture has survived the pandemic and returned to normalcy, many people are still working remotely as they feel they function more productively and have a better work-life balance. 
And this major shift in favor of work from home is also due in part to the rise of video conferencing. 
The case of remote accounting firms
Just like any other business, a business owner needs to answer a few questions before his/her remote accounting firm can be established. You have to figure out your goal, the purpose of the firm, and the market. Now you must decide on the location. As a remote accounting firm where do you want your head quarters to be established? 
After this, you must decide how you want your accounting team to work. This is a crucial question and here's where video conferencing might actually help. If you decide to go fully remote, rest assured that video conferencing will still help you keep track of your teams across time zones. Record meetings so that you could share it with others. Put your thoughts down on a whiteboard. The possibilities are endless even with work from home.
Video conferencing for remote work in accounting firms
Now let us see how remote accounting firms actually put video conferencing to work to handle remote teams and better communicate with clients. There are in fact a series of steps you could follow to make sure that you have a virtual office setup for your accounting firms. These are outlined below:
#1. Pick the right video conferencing tool
Make sure you have chosen the right video conferencing tool. This is because you would be using this tool not only to communicate with your employees but with leads and your loyal customers as well. Make sure the video conferencing tool has every feature you need. If you are looking to understand what works and what doesn't you have reached the right place. To be an VoIP conferencing phone app worthy of your consideration, it must have the following features:
Visual voicemail: Sometimes you really don't want to listen to voice messages you have received. You would rather read your voicemail in a very neatly written format with a great visual style. And what if it could be delivered straight to your inbox? That's possible too. Sounds good, doesn't it?
Business ID for any caller: Don't use your personal phone number for any of the calls you make to your client. You can set the calls to appear from a company number that you use for your business. This is convenient especially to provide every customer with a consistent experience no matter which agent they talk to.
Call forwarding: Incoming calls can be routed to specific agents. If you feel a particular set of calls need to be routed to agents with a certain level of expertise, then this is very much possible. Calls can also be routed to agents who are free, so that everyone's time is well utilized. 
Voice assistant: You must have wondered how great a hotel experience was. This is due to the amenities but also due to the familiarity of the receptionists and attendants. An attendant can help automate the delivery of calls to people within the team. In other words, the voice attendant acts like a virtual receptionist.
Premium support at all times throughout the day: Always pick a video conferencing software or app that has a great team to offer assistance in case you face any issues. A team that is online 24×7 to sort out your video connection issues might just be the difference between a disgruntled customer and a happy one. A human agent is miles ahead of a chatbot when it comes to offering a reliable solution.
#2. Integrate your calling system with your calendar
How do you know if a client is free at a particular time? One way to ensure that they are free is to set up a meeting beforehand at the given time. Being able to monitor the events that are setup with your clients is a great advantage and this is why a calendar integration for your video conferencing system is welcome. 
#3. Schedule calls with customers at your convenience
Remember 30% of your leads will go to other companies if you do not respond in time. To qualify your leads, be on your toes and follow your calendar steadfastly. According to the five-minute rule, you must get back to a new lead within 5 minutes of receiving a call. The chances that a lead will convert drops by 80% if you contact after 10 minutes. If you think the five-minute rule is relevant, you have to schedule your calls early. And when you have multiple leads, it helps to have this built into your video conferencing solution.
#4. Launch your meetings at the selected time and share your thoughts
Plan ahead and schedule your meetings to launch at a particular time. Set up screen sharing to work from home fluidly and instill trust in your customers. Make sure you share important files and resources that will enrich your presentations. This will give your customers all the benefit of an in-person experience, even though the meeting is virtual. It will also inspire faith that your remote accounting firm knows its job well, is capable of executing on time, and is customer-friendly.  
#5. Manage call logs and filter customers you think will convert
Examine your call logs and place calls to customers who call you frequently, customers you have had positive conversations with. Also include others who have expressed interest to submit their accounting needs to you. This will help your remote accounting firm get more loyal customers who will work with you for the long run.
#6. Track agent performance with reliable analytics
Remote accounting firms also must have great customer service teams to deliver a stellar experience to your end customers. But how do you manage such a big team of agents?
Get a birds-eye view of all the key metrics to better understand agent performance and recommend steps to improve it. 
Look at metrics like how your agents are performing, how many calls were dropped, and how many concluded with a higher customer satisfaction score. On the flip side, also look at how many customers expressed dissatisfaction.
Advantages of video conferencing for a remote team
There are several reasons why video conferencing becomes a time and cost saver for remote teams. In fact, it is the sum of all these reasons that has led to the widespread adoption of video conferencing. Let us now look at some of them. 
#1. Lesser capital costs
This is perhaps the biggest advantage of having remote teams working for you. There are several costs associated with physical meetings which can be avoided if you move to work from home. One main cost is that of the commute to the office. Many organizations would have to reimburse these costs and since not everyone stays close to the office, it becomes a great additional cost. 
Other capital costs are the cost of infrastructure, which includes seating, equipment, food, sanitation etc. Most of these costs can be done away by moving to a remote work environment. In video conferencing, your employees can join from wherever they are; even in the midst of emergencies, work is not hampered. 
#2. Improves productivity
A face-to-face meeting is not always possible in a world where business is going global and people interact across borders and oceans. Even if the client is willing, you or your employees may not be able to travel. With video conferencing, employees can connect with others in their teams and clients from around the globe from the convenience of their homes or any other place.
When people collaborate in real-time, it reduces the risk of errors in communication, it is easier to clarify any doubts, and the turnaround time for each stage of the project is also reduced because issues are cleared so much faster. It also serves as a great way to brainstorm, and the team can come up with ideas that may help solve a problem much faster.
#3. Helps build relationships
In an audio conference, we do not see the other person. A lot of times, people would be multitasking, and this can affect the quality of work and lead to errors in communication as well. In a video conference, everyone can see each other and this improves the quality of relationships with the clients and between employees. 
There is greater trust, empathy and understanding in relationships with clients and boosted morale and camaraderie among the employees within a company. In turn these factors again help bring in more work and also increases the productivity of the employees and improves employee retention. This could be particularly helpful for industries where the rate of attrition is quite high.
#4. Easy and secure way to share resources
It is easy to share multiple resources, be it a file or a video, through video conferencing. Not only can you share every resource digitally and securely as you would in-person but the recorded video from the video conferencing also serves as a proof that the interaction happened and that information was exchanged.
In a video conference, the focus of the video also shifts to the person who is talking. This allows the person to present with greater clarity, take questions easily, and answer them in order to give the audience that is listening better understanding. The person can also share pertinent links and files in order that the audience gains a better understanding. 
Closing words
If you don't have the right tools, you can never come up with a masterpiece. The same holds good for a remote accounting firm. And the platform we are referring to is video conferencing. Accounting firms can function remotely remarkably well, thanks to video conferencing and how far the technology has actually progressed today. Accounting firms derive a number of benefits from video conferencing. Lower capital costs, improved productivity, and faster turnaround times are the main ones.
The key to having work from home teams functioning well in your accounting firm comes down to the video conferencing platform you pick, its features, and how best you use them to support your needs. You can see shorter turnaround times in your projects, improved productivity levels, greater customer satisfaction and much-needed accuracy.