Warnings that you might have a VoIP cybersecurity problem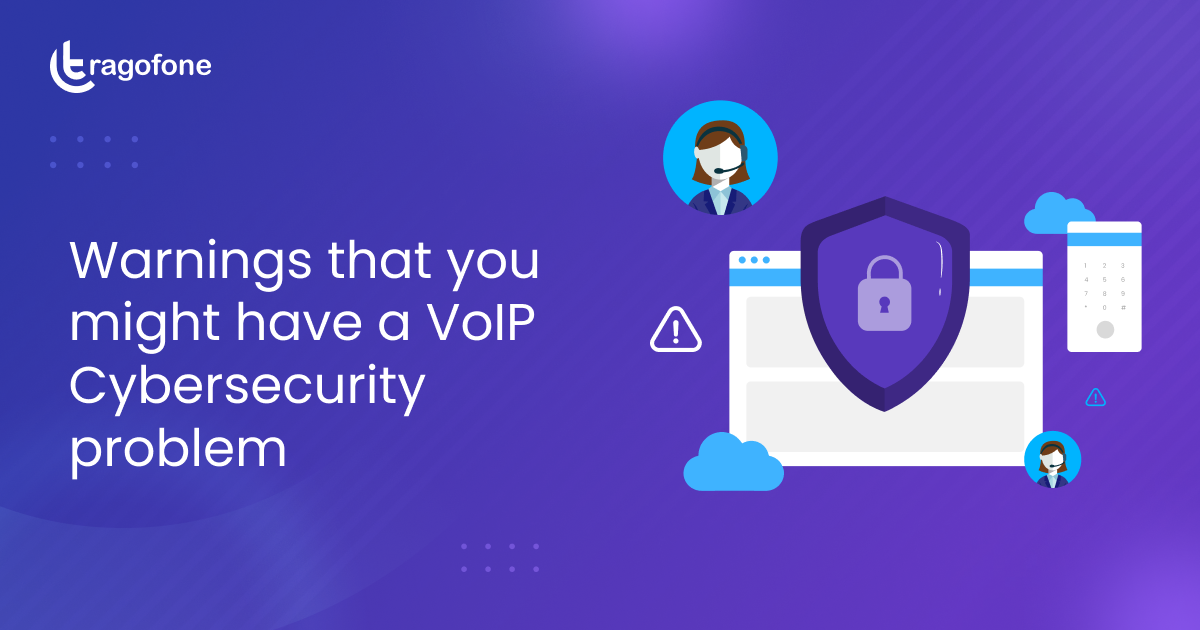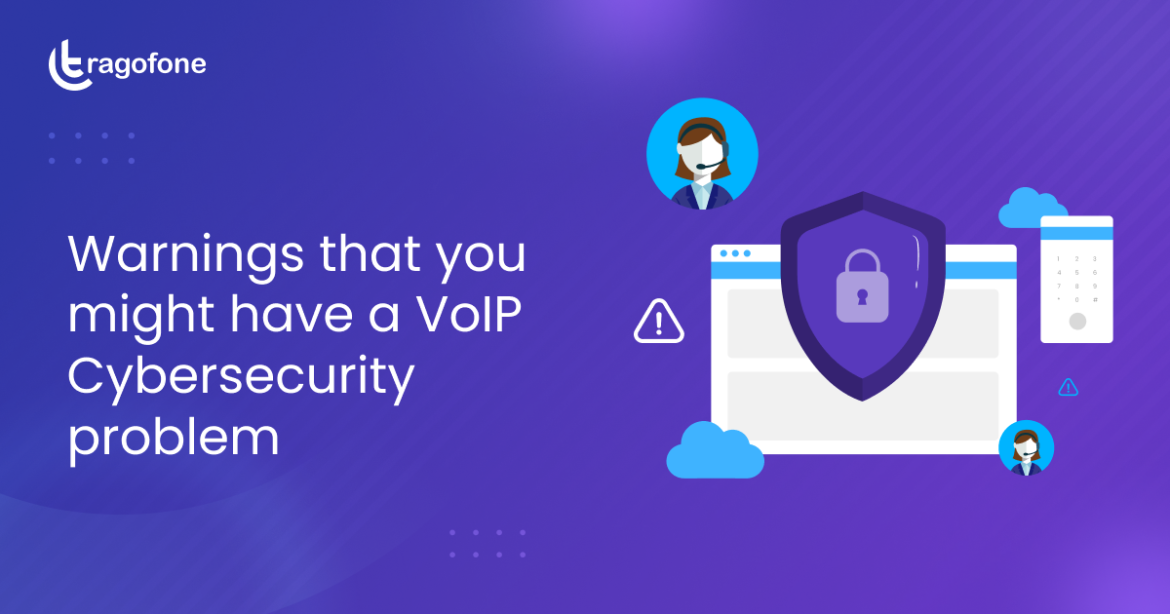 Integrating VoIP(Voice Over Internet Protocol) systems bring in a plethora of benefits and versatility to business operations. They are, however, vulnerable to cybersecurity attacks, just like any other internet-connected system. VoIPReview.org indicates that over 46% of worldwide illegal calls involve VoIP (Voice over Internet Protocol) technology. Without preventive measures, using these systems can put your business at risk and exposed to cybersecurity threats and data breaches which can lead to financial losses and reputational damage.
The first step towards prevention is awareness. The warnings that you might have a VoIP cybersecurity problem are subtle, and easily ignored, but with attention, you can avoid the threat to all your hard work. In this blog, we will discuss the often overlooked signs that your VoIP system may be at risk, the sirens calling you to take action.
So, let's start!
What is a VoIP cybersecurity problem?
VoIP is a technology that allows voice communication and multimedia sessions over the Internet. Unlike traditional phone systems that use analog signals, VoIP translates voice communication into data packets and sends them over an IP network. This enables people to make calls using a broadband Internet connection instead of a regular phone line.
A VoIP cybersecurity problem refers to potential vulnerabilities or threats that could affect the security of a VoIP system. These issues can result from unauthorized access, malware, or other malicious attacks all of which can affect your business continuity. 
Common types of VoIP cyber security breaches
To protect your VoIP phone system from security breaches, recognizing the potential vulnerabilities and being aware of the frequent types of cyberattacks is essential.
#1. Toll Fraud
A common VoIP cyberattack occurs when attackers access a VoIP system to make long-distance or premium-rate calls at the system owner's expense. Toll Fraud also exposes other vulnerabilities within the system. This breach occurs when weak or compromised security measures are exploited, allowing the attacker to bypass authentication processes. The consequences can be severe, with significant financial losses attracting illegitimate long-distance charges. 
The best defenses against it 
Multi-factor authentication (MFA) requires users to provide multiple forms of identification before granting access, significantly reducing the risk of unauthorized users gaining entry. Whether it's a combination of passwords, smart cards, biometrics, or one-time codes, it ensures that only authorized individuals can make calls, bolstering the defense against toll fraud.
Persistent surveillance of call logs is vital for identifying irregular patterns in VoIP systems. You can pinpoint unusual behaviors by consistently tracking call activities, such as frequent calls to high-cost or long-distance numbers that deviate from the norm. 
By establishing a cap on the number of calls made within a specific period, rate limiting acts as a buffer against excessive, unexpected call activities. This prevents rapid unauthorized call runs and offers an additional layer of protection, ensuring that any illegal activities are quickly identified and curtailed, minimizing potential damages.
#2. Vishing (Voice Phishing)
In email phishing scams, the sender's details and subject line mislead people into revealing information, causing security risks. These deceptive tactics aren't limited to emails. VoIP systems face a similar threat. Here, the attacker uses spoofed caller-IDs, mimicking the tactics of email phishers. Instead of a tricky email subject line, unsuspecting recipients see a familiar or trustworthy caller-ID, making them more likely to answer the call and potentially fall prey to scams. Like email, the goal is simple: deceive, extract information, and exploit.
Prevention strategies to consider
Ensure your employees and stakeholders are aware of vishing techniques and can recognize suspicious calls. Frequent training sessions can help keep everyone updated on the latest tactics.
It's essential to treat calls from unfamiliar or unexpected numbers with skepticism. Instead of instantly trusting the displayed information, be vigilant and cross-reference numbers when in doubt and show caution about sharing personal information.
Embracing anti-phishing tools
These tools identify suspicious calls by cross-referencing with a database of malicious contacts. By actively screening calls in real-time, they provide an added layer of defense, safeguarding you from potential threats and ensuring more secure communication.
#3. Denial-of-Service (DoS)
This malicious attack disrupts the regular functioning of a server, network, or online service. The primary mechanism behind this strategy involves flooding the VoIP systems with a deluge of call requests, leading to system overload.  As a result, you can find yourself unable to access the affected online services or websites. Often, the intent isn't to breach data, but rather to incapacitate the system, creating chaos and mistrust.  
Proactive Measures to avoid this risk
By consistently monitoring and scrutinizing network traffic, businesses can identify deviations from the usual, such as sudden surges or unfamiliar patterns. A diligent approach to traffic analysis aids in detecting threats and understanding network behavior, which is crucial for proactive defense and system optimization.
Content Distribution Networks (CDN) serve as a decentralized server system that delivers content based on users' geographical locations. Integrating CDNs, allows you to efficiently distribute incoming traffic across multiple servers, reducing the load on any single point. This manages sudden user request surges without overloading primary servers. 
Create an incident response plan
This plan outlines clear, step-by-step procedures to identify, mitigate, and recover from threats caused by DOS. By having a well-defined strategy, businesses can reduce downtime, safeguard critical data, and maintain their reputation in the event of an attack.
#4. Spam Over Internet Telephony (SPIT)
SPIT is to VoIP what spam emails are to your inboxes. The attack involves cybercriminals sending mass unwanted robocalls and voicemail messages to phones using internet connectivity. These calls are often indiscriminate, targeting vast numbers of VoIP users. The primary intent can vary from marketing unsolicited products to scamming users into paying high international calling fees. The mechanism is similar to email spamming, but instead of clogging up an email inbox, SPIT clogs up your business' voice channels. 
Steps to safeguard against SPIT
When a call is made to a user, the call filter software cross-references the incoming number with its database. The call gets automatically blocked if identified as a known SPIT source, saving the user from potential disturbances and threats.
Whitelist and blacklist calls
Whitelisting confirms that only pre-approved, trusted numbers can reach you, making it a proactive way of securing quality communication. Blacklisting, on the other hand, blocks specific numbers that have been identified as suspicious or that have previously been sources of unwanted calls. 
Just as websites use CAPTCHA to verify that users are human and not automated bots, some advanced VoIP systems challenge unknown callers with an audio CAPTCHA. Automated systems, like those used in SPIT attacks, fail to bypass this layer, ensuring only genuine human users can establish the call. 
#5. Man-in-the-Middle(MitM)
During a MitM, the attacker secretly intercepts communication between the two parties. As two VoIP devices converse, they exchange encryption keys. The attacker captures this exchange to decrypt or modify the conversation. VoIP calls can be at risk from MitM attacks because of their digital format and possible weak security settings. These attacks can reveal personal data or business secrets, posing a significant VoIP cybersecurity risk. 
How to prevent this risk?
Particularly with sensitive data, encryption is a must. For VoIP systems, protocols such as TLS (Transport Layer Security) or SRTP (Secure Real-time Transport Protocol) offer robust voice-traffic encryption mechanisms. 
A VPN (Virtual Private Network) is like sending a sealed, anonymous letter to a trusted courier. Rerouting your connection through a protected server masks your online identity and encrypts the data you send or receive. This dual-function confidentiality shields your data from potential eavesdroppers or cyber-attacks.
Regularly update software
Outdated software often contains vulnerabilities that cybercriminals can exploit. Regular updates patch these vulnerabilities, minimizing potential entry points for attackers.
Warnings of a VoIP cybersecurity problem 
Ignoring VoIP cybersecurity warnings can lead to significant consequences. To avoid becoming the next victim, follow these warnings. 
Network traffic is like the lifeblood of an organization, flowing seamlessly under normal circumstances. However, when there's an unexpected surge or unusual patterns in the flow, it's often a red flag signaling potential cybersecurity issues. Such anomalies could indicate that an external source is trying to exploit the system or that malicious software is sending out stolen data. The excessive traffic might be a sign of someone trying to overload the system or intercept calls.  
Unexpected system reboots or crashes
Just like a person repeatedly getting sick might hint at an underlying health issue, frequent system crashes or random reboots can be symptoms of an infected or compromised VoIP system. Such erratic behavior might result from malicious software trying to embed itself deeper or a direct consequence of an ongoing cyberattack. 
Addressing these symptoms promptly by investigating the root cause is important. Ignoring them can lead to more significant vulnerabilities, prolonged downtime, or data loss.
Suspicious account activity
Account behavior can often provide insights into potential security breaches. If there are unexpected password resets, unauthorized call logs, or inexplicable configuration changes, it might be a sign that someone has gained illicit access. Especially in VoIP systems, where call logs and account settings are critical, any unauthorized or suspicious activity should be treated with utmost urgency and thoroughly investigated.
In VoIP space, call quality is paramount. While occasional glitches might arise due to network issues, consistent poor call quality — such as dropped calls, latency, or garbled voice — can indicate a deeper cybersecurity problem. Attackers may try to tap into conversations, or malware might consume significant system resources. When call quality deteriorates without apparent reason, a security audit may be warranted to ensure your system's integrity.

Unrecognized IP addresses
Every device connected to the internet has a unique IP address. In a VoIP system, it's a clear warning sign when unfamiliar or unexpected IP addresses start showing up in logs or access records. These could be attackers trying to gain entry or already inside the network, trying to mask their activities. Constantly monitoring and cross-referencing IP addresses against a trusted list can help in early detection and swift action against potential threats.
Counterfeit antivirus alerts
The IT team should know all the antivirus software deployed within the organization. A frequent sign of malware presence is the sudden appearance of counterfeit antivirus alerts.
If you encounter such alerts, immediately contact your VoIP service provider. It's necessary to allow your technical experts to manage the system's shutdown and subsequent purification to ensure the integrity of the communication platform.
VoIP services enable users to conduct audio and video calls via online communication tools, utilizing your device's microphone and camera. While this provides unmatched convenience, being aware of potential webcam breaches is required.
The primary intent behind such invasions often revolves around corporate spying to gather private or sensitive data. Although physically covering your camera is an option, alerting the security department if you notice unexpected camera or microphone activity is essential.
Prioritize VoIP security protocols to avoid the threat
The International Federation of Accountants indicated that over 38% of small businesses have no established protocols for cybersecurity protection. Thus, there's a rising need for varied defenses tailored to each specific threat. Adopting a layered security model is one of the most reliable strategies for ensuring VoIP PBX safety. This involves integrating several protective mechanisms to shield the system's weak points. Even if one defense layer gets compromised, others remain in place to offer continued security. 
Tragofone WebRTC based softphone stand out in this domain, delivering tailored security solutions to sectors such as Telecom, ISP, ITSP, and UCaaS providers.