What is Telecommuting: Why it Matters and its advantages?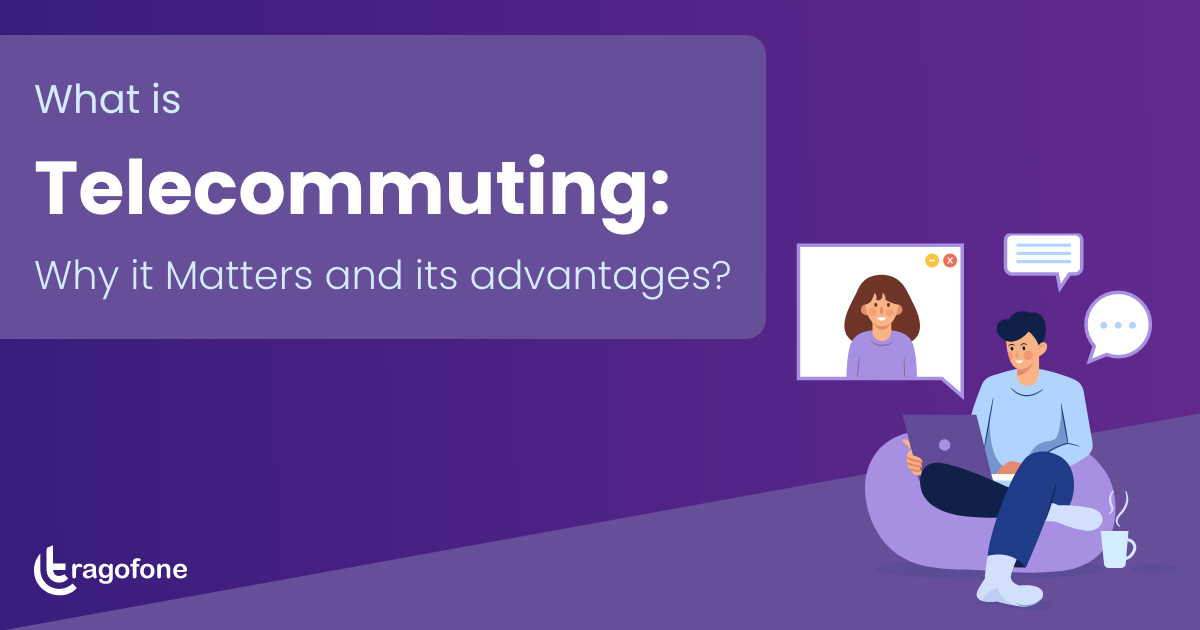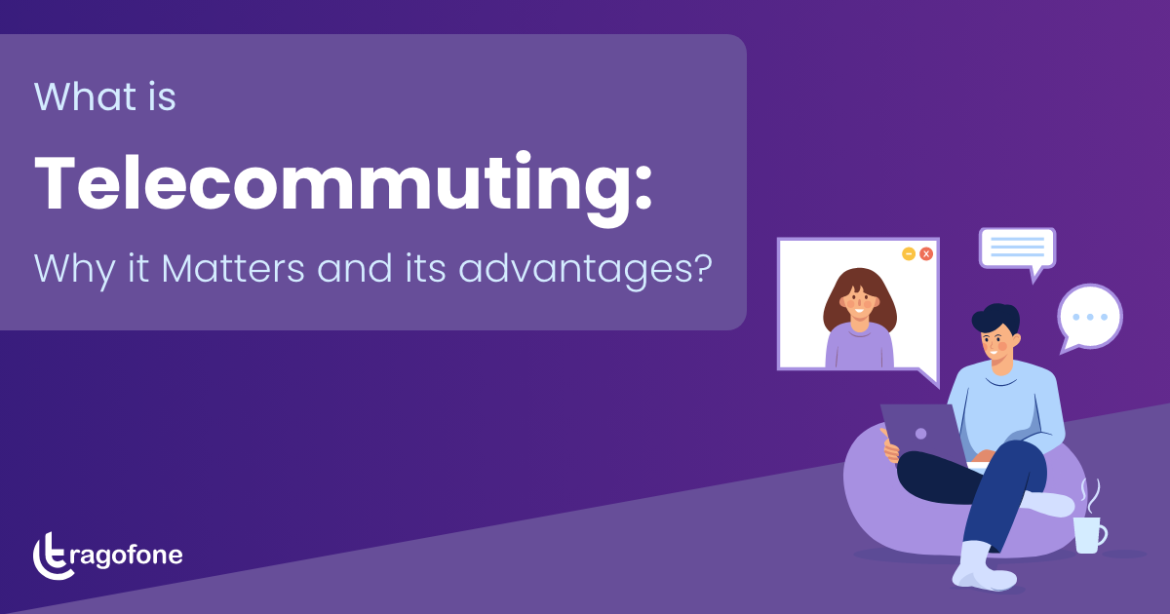 Evolution of telecommunications, advancement in internet technology, and unforeseen global challenges have transformed the way we work and live. The paradigm shift towards a hybrid work culture has in part been accelerated by the unexpected closing down of offices worldwide. This new arrangement generated a fair amount of interest towards telecommuting from companies worldwide. But what is telecommuting and why does it matter in the current scheme of things? Let's find out.
What is Telecommuting?
As per Telecommuting Definition, it is typically a work arrangement where employees work outside of the office space. This may involve employees working from a co-working space, home or even remote areas. Work from home is the most common term that represents telecommuting.
Telecommuting works when an employee's work can be done from anywhere irrespective of the location. Because of the flexibility of location, telecommuting removes the need of commuting to work every day. The employees usually rely on telecommunication technology back by a robust wi-fi connection to do their work remotely.  Communication and collaboration are important for effective telecommuting. Remote employees make use of VoIP phone app or collaboration software like Slack and  Zoom to communicate with their team, employers or even clients.
Telecommuting arrangements can differ from company to company and depending on their company's needs employees can visit their office from time to time to touch base. But the big question, is telecommuting is the right fit for you?  Well, that depends on the nature of your work. Employees with customer-centric jobs such as in retail or sales, don't have the option of telecommuting. Their presence is required at work on a daily basis. Web developers, writers, programmers, accountants and many more with similar profiles on the other hand can conveniently go the telecommuting way.
Types of Telecommuting
Telecommuting arrangements can be done depending on the needs of an organization and employers. The three most common telecommuting types are:
#1. Full-time telecommuting
Mega-Tech companies like Facebook, Google, and Microsoft are among the slew of companies offering employees to telecommute on a full-time basis. Full-time telecommuting includes employees working exclusively out of office space; they usually use their home office as a dedicated space for office work. Full-time telecommuting is best suited for jobs that can be done from anywhere. The employers can come into the office when needed or attend important work-related events.
#2. Part-time telecommuting
As per the recent forecast by Global Workplace Analytics after the pandemic around 25-30% of the employees will work from home a couple of days a week. Part-time telecommuting is working from the office a few days of the week and working from home on other days. This work arrangement can be altered depending on the company's telecommuting policy. For example: A part-time telecommuting employee can work two days from the office and the other three days from home, also popularly referred to as a hybrid work model.
#3. Special arrangement telecommuting
Special arrangements for telecommuting are done in special situations so employees can carry out their jobs with ease. For example, a specific employee from the company may need to telecommute because they might be pregnant or they may be suffering from a disability or illness. There could be instances where an employee has to look after a child, an elder or a sick family member. In such  cases special telecommuting arrangements can be made. Being part of the millennial generation comes with its own sets of responsibilities of looking after parents, your children or ageing relatives, and so on. Special arrangements of telecommuting on compassionate and humanitarian grounds can be of huge help and ensure the company does not lose out on a good resource.
What seemed like a distant dream a decade ago has now become a reality. Technology has afforded us the luxury to adapt to telecommuting. Let's now look at the benefits of telecommuting.
Top Advantages of Telecommuting
#1. Higher Employee Satisfaction
Around 20% of employees reported an increase in employee happiness by working remotely. Telecommuting can significantly improve employee satisfaction for a number of reasons. Firstly, employees are less distracted when working remotely. They are likely to be fully immersed in work and hyper-focused. When employees are fully invested in work, they are more satisfied with the work and proud of their accomplishments and there's nothing more satisfying than a job well done. With higher employee satisfaction comes higher employee retention rates.
#2. Improved productivity
Telecommuting eliminates all of the distractions of a traditional office setting such as gossip with fellow employees, commuting, health problems or more. Therefore, it promotes employee productivity. It allows employees to better manage their time, their mental and physical wellbeing and a balance between work and personal life for optimizing productivity. This Prodoscore research reports a 47% increase in productivity for people working from home. With less time spent commuting employees spend extra hours every week. A survey by Airtasker shows that employees working from home spend 1.4 extra days working each month and spent 15% less time avoiding work.
#3. Higher Flexibility
Buffer says the best benefit of telecommuting jobs is flexible work hours. Employees' lives have become easier since they have started to arrange work timings which are in harmony with their personal life. Employees have become more productive as they can spend their travel time in yoga, breakfast and quiet time before kick starting their day. A typical 9 to 5 job takes the employees 7 to 7 due to travel, traffic and other indeterminate factors. Employees save around 16% of their daytime, which helps them indulge in activities that make them happier.
#4. Affordable operational costs 
During COVID, companies forcibly had to adopt telecommuting since inviting employees to the workplace for their jobs wasn't an option. This scenario made companies realize the true potential of the remote work model. They quickly saw the opportunity of saving costs, lower bills for maintaining infrastructure, and expenses spent on commuting.
If you as a business owner are based in an expensive area such as San Francisco, and are looking to expand your team without too many overhead costs, telecommuting may just be the right choice. Grow your team without investing in a larger real-estate, give you employees the choice to work remotely, Once the IT helpdesk is established and configured properly, everything else is good to go!
#5. Reduced cost to the company 
Telecommuting is a cost-saving option as you will need to set up only a conference room and a few desks for client meetings, which implies a reduction in cost per employee. According to research data, an average employee saves up to 4000 USD by working remotely. Telecommuting enables employees to save money on gas, public transport and other overheads. A win-win situation for the organisation and the employee.
#6. Ignore the noise, focus on what's important 
It's hard to ask your employees to come back to desks and ask them to work, especially when they take multiple breaks and have a habit of making excuses. Telecommuting helps employers focus on what the employee brings to the table and saves time.
#7. Zero commute
Telecommuting has made zero or no travel to work a reality. Employees no more need to commute in stressful rush hour traffic. Over a week, a single employee has to spend over 8 hours on travel, employees can spend these hours working or doing chores which they would have otherwise spent on travelling to the workplace. Additionally, telecommuting helps employees start the day on a positive and energetic note. Adapting zero commutes is better for the environment too as it helps significantly reduce the carbon footprint.
Challenges in Telecommuting 
#1. The right choice of technology setup
Telecommuting changes the way of communication internally within the organisation. A traditional desk setup offers you quick access to your colleagues and managers whereas in the teleworking setup the organisation has to spend on tools which will help them work collaboratively. An investment in virtual phone systems helps everyone to stay on the same page and makes managing projects easier. The organisation might also need to invest in tools related to project management software to keep everything organized. These tools are subscription-based models and might need skilled IT support for resolving/sorting employee issues.
#2. Monitoring the teams
While telecommuting has made work life balance easy, it has also raised some serious concerns for employers and managers with regards to monitoring and managing their teams. Employees working from home can easily be distracted by social media, noisy roommates, children,unexpected guests visits and more. This can significantly impact their productivity, more so when there is no one to monitor what's happening with the employee during work time. Managers find it difficult to track what's happening with the employees and what they are up to, especially if they are not available with you on the same premises. A "Out of Sight is Out of Mind" mentality is prevalent in this scenario. Any absence of right check-in procedures will make it harder to understand the status of projects. Adapting  project management tools can however help overcome these problems to a large extent.
#3. Security concerns 
With remote work and most operations and data moving to the cloud, cyber crime and security has become a big concern for companies across the globe. Many  employees working may not be aware of the potential risks of a shared and unsecured network at public places. When using communication through the internet or a company portal, there is a potential risk of cyber attacks and hacking. Therefore, it is essential to undertake security measures seriously while telecommuting.
#4. Lack of face-to-face communication
When telecommuting, employees may lose the emotional connection with their teammates. This often makes remote employees feel lonely and isolated. Lack of face-to-face communication can create a hurdle for the organisation to build a cohesive unit and work in separate silos. For a few employees, less facetime is not a problem, on the other hand, a few employees may feel deprived and left out. If the team leads to extroversion, the isolation can make the team introverted and creates a synergy problem for the organisation. Team bonding is important.
#5. Risk of favouritism 
Another factor which comes into consideration after facetime is favouritism. If an extroverted employee keeps themself in the loop with the manager and follows up with everything, they are appreciated by the manager and loved by him, whereas the introverted employee feels left out because he is unable to match the level of other employees. Interpersonal growth gets stagnated and problem resolving factors can be reduced.
#6. Disconnected employee synergy 
Lack of human interaction can affect an employee in several ways. It can be difficult for employees to understand the worth of their work and feel like they are not doing enough. Lack of personal interaction makes the employee feel that they are alone running the organisation, which can leave them frustrated and furious. The outcome can often be an unproductive and unmotivated team.
However, not all is lost. The good news is that you can eradicate these challenges of telecommuting by investing in the right plan. Technology supports telecommuting depending on different industries. There are a bunch of software and tools out there that can help you transition to telecommuting. Google G-Suite, the business version of Google Drive, has grouping software which has Google Docs, sheets and slides. Zoom is preferred for screen sharing and video conferencing, Slack is used for communication between employees.
There are multiple vendors in the market who can provide you with the exact services and infrastructure you are looking for. For instance, Tragofone offers softphones to set up a reliable VoIP phone system. It comes with advanced features like call monitoring and analytics. Moreover, employees and call centre agents may use it through softphones and have the mobility and flexibility to work from anywhere.
People often get confused between working remotely and telecommuting, at the core, working remotely means the employee is working from any geographical location across the world while telecommuting implies that the employee lives in the same city or nearby and close enough to participate in office work part-time as well. An organisation can enjoy a group of employees telecommuting from a moderate distance or a group of employees remotely working as per their business needs.