Bria Alternatives: A Comparison of the Best Communication Platform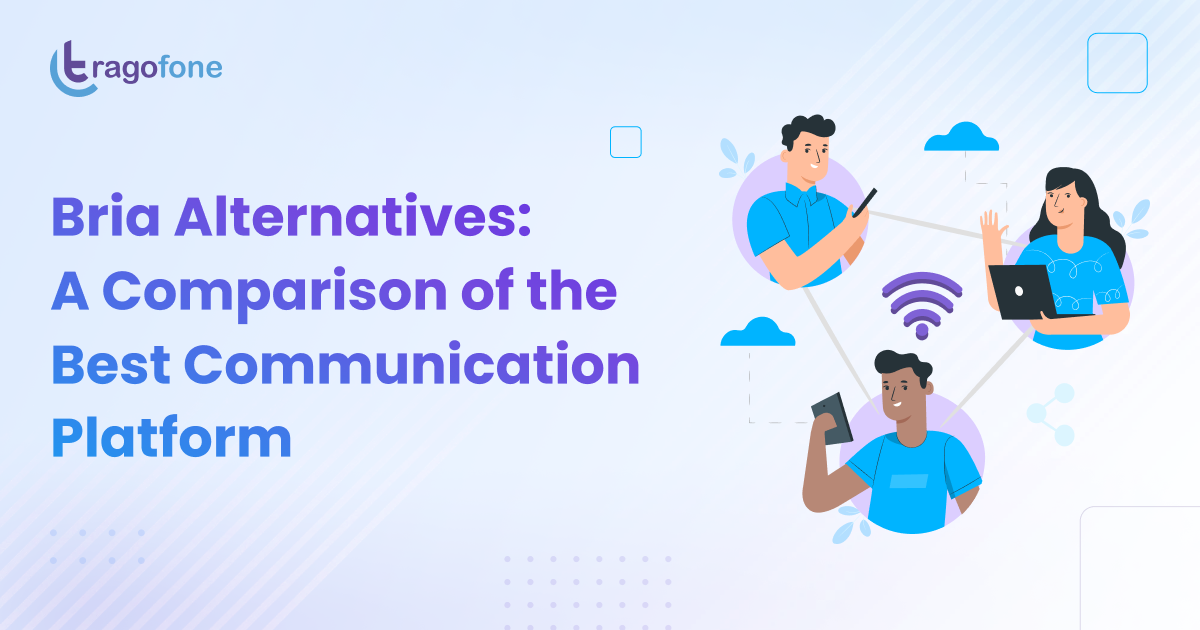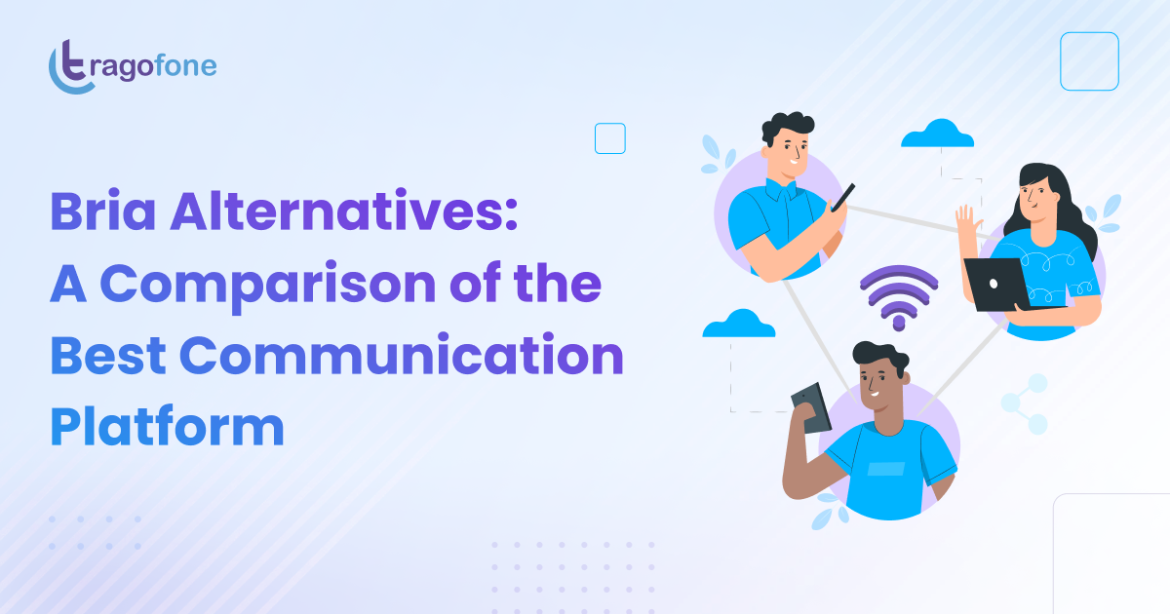 A softphone is a software-based telephone system that enables online call placement and reception. Softphones are a more cost-effective alternative to traditional phone lines since they employ Voice over Internet Protocol (VoIP) technology to make and receive calls. In essence, VoIP softphone applications let you turn desktop, laptop, smartphone, or tablet computers into phone systems that can place and receive calls equivalent to those made on a hardware phone.
One of the most dependable and feature-rich communication programs made for Apple iOS and Android devices is Bria Mobile, the upgraded mobile VoIP app from CounterPath. As an extension to a company's PBX or hosted voice service, it makes use of SIP and Open Standards. A broad range of communication alternatives, top-notch security and encryption, and cutting-edge audio codecs are all included. In this post, we'll be taking a look at what Bria has to offer and alternatives to Bria.
Bria Mobile — Harnessing the power of voice
Bria Mobile for iOS and Android offers HD voice and video calling, like most softphones, to keep employees in touch when they're on the go. Furthermore, thanks to the app's user-friendly UI, individuals or teams can utilize the native contact list on their devices to make voice and video calls for on-the-spot meetings, send real-time messages, and check team members' availability while at work, at home, or while traveling. But what does Bria Mobile offer that makes it stand out from the crowd?
Colleagues can interact from anywhere as long as there is a public internet connection since team voice is hosted in the cloud. Internal communication that uses team voice is effective everywhere. This is in contrast to using a premise-hosted phone system, such as a PBX, which you may only be able to access over a VPN or while physically present in the building.
Moreover, each Bria Teams subscription offers the option to add up to five additional SIP accounts; however, these accounts are not required to be used for team communications. Your personal VoIP server plan minutes are yours to keep for external communication. Calling team members does not need users to dial personal numbers.
For further privacy, Team Voice encrypts each and every call. Up to 10 other team members can participate in audio calls, while three team members can participate in video calls. Teams can communicate face-to-face or over audio calls from any location where they are working. The HD audio and video service make use of the OPUS and VP8 codecs, which deliver more realistic and pleasant-to-the-ear audio. Team Voice also provides up to 1080p video capabilities for two-way video calls. This is good because SIP extension calling with HD audio isn't usually supported by external PBXs.
Tragofone taking over
Tragofone is a cutting-edge communication solution that combines the convenience of a mobile app with the powerful features of a business phone system. Designed with user-friendliness in mind, Tragofone sets a new standard for enhancing customer engagement and productivity.
Here are some of its key features:
#1. Seamless audio and video calling with WebRTC technology
Tragofone utilizes the power of WebRTC, a technology supported by the World Wide Web Consortium (W3C), to provide effortless audio and video communication. It seamlessly integrates with IP PBX system, Class 5 SoftSwitch, Call Center, and Custom APIs without the need for additional software or plugins. Tragofone is the only VoIP mobile dialer on the market to support WebRTC.
#2. Easy auto-provisioning
With Tragofone's auto-provisioning feature, users can activate their service and configure their settings with ease through a web interface.
#3. Push Notifications
With this feature, you will never miss an important call or message, as you will receive an instant notification on your device. Whether you're on the go or in a meeting, Tragofone's push notifications keep you connected and in the loop. This feature enhances the overall user experience, making communication more efficient and convenient.
#4. Multi-language support
Tragofone offers multilingual support to accommodate customers who prefer to communicate in their preferred language.
#5. White labeling
Tragofone can be integrated as a white-label mobile dialer app, allowing businesses to display their own brand name and logo on the welcome screen. The user interface, fonts, and colors can also be customized to align with the brand.
#6. ERP integration and database compatibility
Tragofone supports integration with external programs such as CRM, making it an ideal solution for call centers and businesses that rely on real-time data exchange. They also giving free PBX integrations support on purchase. 
#7. Security and privacy
Tragofone prioritizes the security and privacy of its customers' communications by using Transport Layer Security (TLS) and Secure RTP (SRTP) protocols to encrypt all incoming and outgoing calls.
#8. High-definition video and instant messaging
Tragofone offers HD video calls and online messaging, allowing users to text from their office line without switching between multiple applications.
How Tragofone gives you the edge
The future of enterprise communication lies in the hands of business softphones that offer ubiquitous connectivity, anytime, anywhere. Tragofone, a leading software-based communication solution, stands out with its flexibility, scalability, and security. It enables businesses to improve communication processes and elevate operational efficiency.
Here are a few ways Tragofone is revolutionizing multiple industries:
Seamless Communication via WebRTC Technology
Tragofone is a breeze to install, maintain, and offers the ultimate in flexibility and scalability. It offers customization to suit the unique needs of your business, with a centralized phone system that spans multiple locations.
Auto-provisioning Made Effortless
Tragofone streamlines IT configurations through an easy-to-use web interface, cutting down on IP address assignment time, reducing configuration errors, improving user onboarding, and minimizing the costs associated with device operations.
Intuitive User Experience
Tragofone is simple to use, requiring only a quick download to your phone for immediate use. It supports a vast array of smartphones, providing a consistent user experience across all devices.
Rich Communication Capabilities
Tragofone is a versatile VoIP mobile dialer application that offers audio and video calls, conferences, chats, data and photo sharing, and more, transforming routine conversations into dynamic business meetings.
Cost-Effective Communication
Tragofone significantly reduces communication expenses compared to traditional PSTN platforms, using VoIP signaling for calls and conferences. With reduced long-distance rates and minimal equipment costs, businesses reap substantial savings.

Custom Branding at Your Fingertips
Tragofone offers a white-label softphone solution that can serve as the public face of your business, incorporating your name, logo, and other branding elements. Choose to make the app public or private, as your brand gains traction among consumers.
Location-Independent Usage
Tragofone can be used from anywhere, offering users the freedom to work on the go. Perfect for telecommuting professionals.
A Wide Range of Technical Advantages
Tragofone, a WebRTC-based softphone, supports 99% of devices, offers top-notch audio and video quality, uses 50% less bandwidth, offers secure encrypted communication, and is compatible with legacy SIP servers, 3G/4G networks, and WiFi.
Tragofone also offers live chat support, allowing businesses to provide instant assistance to customers and enhance their overall customer experience. The live chat feature is available 24/7, ensuring quick and efficient resolution of customer queries and issues.
With the added convenience of push notifications, Tragofone ensures that you never miss an important call or message again.
Alternatives to Bria and what they excel at
Now that you know more about Bria, its pricing and how it functions, and what features and benefits it offers, it's time to start looking into some Bria alternatives and also identifying which provider would be the best fit for your enterprise. Some of the best apps like Bria are listed below, along with what they excel at:
RingCentral Office –

Best business-specific softphone app
8×8 Softphone –

Easy to use and rapid setup
ZoiPer 5 Pro –

High-end security and encryption
GoToConnect –

Best for plug-ins and integrations
Cisco Jabber –

Ideal for large-sized enterprises
Line2 –

Economical and value for money
Acrobits Cloud Softphone –

Highly adaptable and customizable
3CX Softphone –

Recommended for windows users
Criteria for identifying the best suitable softphone provider for your business
Bria is one of the top softphone providers on the market thanks to its user-friendly design and affordable subscription options. But there are other things to take into account when deciding on a counterpath alternative softphone that is optimal for your business. In addition to phone calls, the ideal softphone can speed up your communications and put you in better touch with every single customer you have as well as your complete workforce.
The following metrics should be kept in mind while choosing the finest softphone provider for your business:
Value –

Although affordability is fantastic, it simply exists as a number on paper. What you get for that amount determines the worth of the product.
Convenience –

Reviews of a product's usability and customer assistance should be considered as time is money in business.
Exclusive technology –

When your softphone provider owns the software they provide, issues can be fixed more rapidly, and phone outages caused by technical issues might be pricey.
Quality of solution –

Which software as a service has the most credibility? Uptime is crucial when each and every call is important.
Integrations –

How well does the platform connect with your current business needs and apps, such your CRM? The less things you need to balance, the better.
Overall features –

Who, in addition to the standard services, elevates the development of your business, boosts productivity, and streamlines workflow, and why?
Final thoughts – Tragofone the best Bria alternative for you
Softphones have not only become ubiquitous in the consumer market but have also made great strides in the business market. In order to fully appreciate and reap the benefits of the many perks softphones offer, users must delve deeper. Softphones are here to stay and will continue to develop and innovate in the years to come.
Do your research and, as always, look for user testimonials on credible websites and social media. Tragofone is undoubtedly one of the best alternatives to Bria if you require a powerful and adaptable communications platform, thus we strongly advise trying our free trial. Customers utilize it in highly regulated sectors like insurance, healthcare, education, and others because it is user-friendly and scalable. Try out Tragofone if you're looking for a softphone provider or business phone system that can handle much more than just making calls. Schedule a demo to see firsthand how it streamlines, expedites, secures, and scales communication with teams of any size.