Top 8 Microsoft Teams Alternatives: You Should Know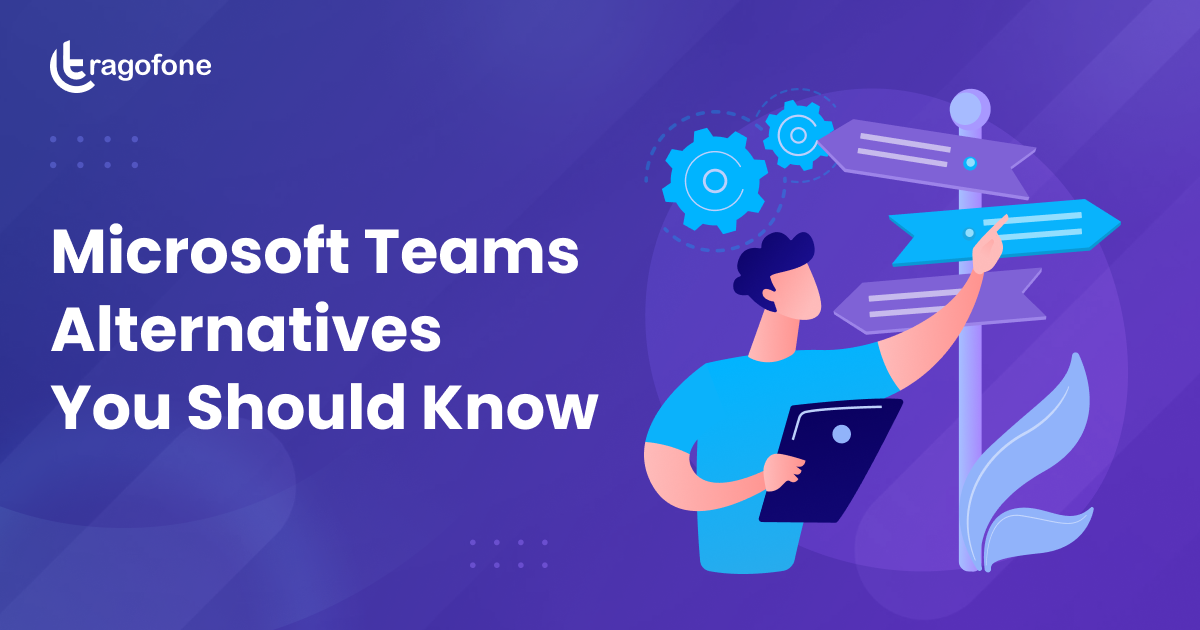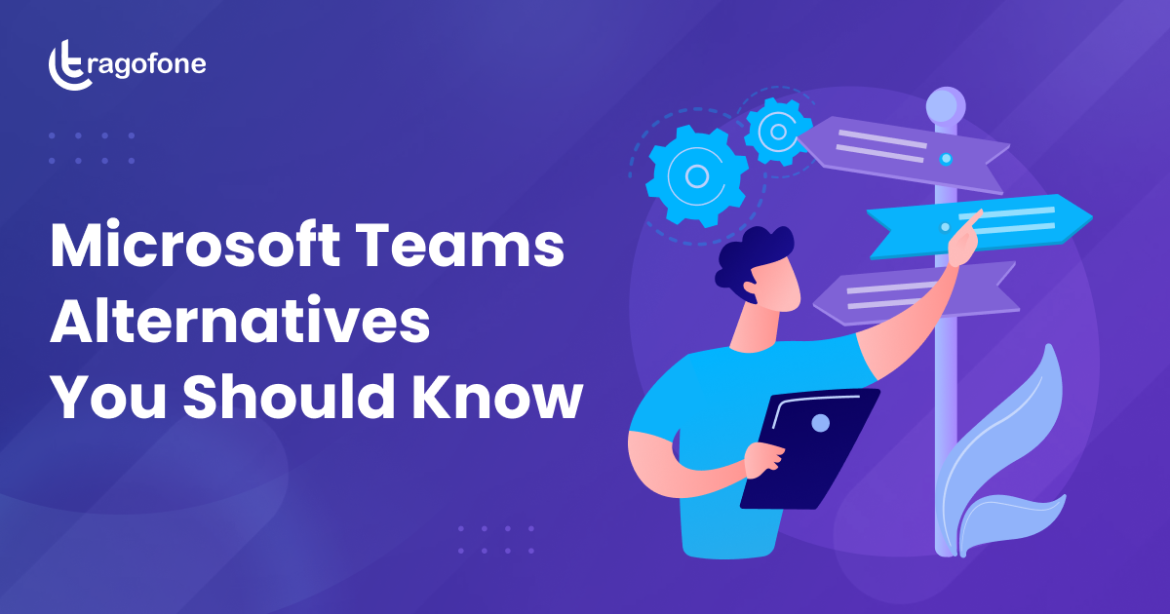 Hybrid and remote work culture is defining the new rules at workplaces around the globe, making unified communications a necessity rather than a luxury in the new scheme of things. Customers too now crave an omnichannel experience that goes beyond the boundaries of a voice call or chat or email alone. AI is becoming increasingly aware of human emotions and apart from only just transcribing, can actually perform sentiment analysis on conversations to glean insights. 
So what is the most popular unified communications platform? Microsoft Teams is quickly gaining ground and has overtaken Zoom. With around 270 million users accounted for by 2022, it is today considered the most popular business communication platform in the world. In comparison, a communications platform such as Slack has only 18 million active users. 
Why an alternative for MS Teams
There are several features that make Microsoft Teams a crowd favorite. But is the most popular platform always the best in every business use case? The short answer is no, there are alternatives that work really well for other use cases. Let us start by looking at the features that made Microsoft Teams popular and then consider the alternatives to MS Teams available today.
Features of MS Teams
MS Teams brings together instant messaging and audio and video conferencing on one platform. It also supports the creation of messaging channels based on teams, projects or interests. Each channel also has its own storage and one can get additional cloud storage too. It connects with all Microsoft Office 365 products, and if you already own a license for Office 365, Microsoft Teams comes free with the package.
Alternatives to MS Teams
Now that we have looked at the features of MS Teams, let us look at what other communication platforms have to offer. In the process, we will learn of other features that make these alternatives stand out and why they might just be much more solid value than MS Teams.
#1. Tragofone
A VoIP-based SIP softphone, Tragofone is not only a great alternative to MS Teams, but also offers a lot more features than Ringcentral or MS Teams. It has the features of a communication platform, with support for audio and video conferencing and messaging. 
It also has all the features of a phone-based system such as call tracking, call recording, and click-to-dial. This makes it very similar to Ringcentral in the approach that it takes. Call analytics are present too, to analyze call queues and manage calls better.
But Tragofone offers so much more out of the box, such as hardware integrations and reporting and compliance in addition to call scripting. Add on the support for white-labeling and this makes it a great choice for a business to rebrand and use as its own.
The dialer app is also easy to integrate with your existing on-premise/hosted telephone system and does not require any changes to the infrastructure. It's as simple as downloading, entering your credentials and then clicking to call.
Technical support is offered over the phone, email, and through live chat and the agents are available 24×7 to clarify any doubts that businesses may have. Tragofone also offers support for TLS protocol and enhanced security for unified communications in addition to two-factor authentication on login. Multi-lingual support is also available so that you can get your Tragofone softphone up and running, no matter where you are.
There's support for call routing too, and even if the office calls are routed to mobile phones, there are no additional charges, which makes it a very economical choice for businesses.
Backward compatibility with 3G and 4G networks and support for Wifi means that anyone anywhere can connect using the Tragofone dialer app with anyone anywhere on the Internet. And the backwards compatibility is not limited to just network types. Tagofone works with legacy SIP servers too, without any additional troubleshooting or integration steps required.
There is support for push notifications, despite the fact that the Tragofone app does not run in the background. In this way, it also helps to save battery. It does so by shifting the continuous listening that happens to the server side instead of the mobile.
Lastly, Tragofone offers both hardware and software integration. On the software front, it supports third-party integrations, and integrates well with your existing CRM. It can also integrate with any LDAP(Lightweight Directory Access Protocol), Microsoft Active Directory and ODBC(Microsoft Open Database Connectivity)-compliant interfaces. Since it is WebRTC-based, hardware integrations are supported with devices like Class 5 Softswitch and IP-PBX servers.
#2. Ringcentral
A business communication solution, to begin with, there are a lot of additional features that set Ringcentral apart as a worthy MS Teams alternative. Some common features include audio and video conferencing and chat capabilities. 
The features that set Ringcentral apart liken it more to a phone system than just a communications platform. With built-in AI and real-time queue analytics, Ringcentral is designed more with a business case in mind.
Ringcentral also offers a number of integrations (more than 200) but not as many as MS Teams (which offers as many as 700).
#3. Dialpad
Packed with all the features that MS Teams offers and then some more, Dialpad is another good alternative. It offers most of the features that Ringcentral offers, with what they claim is a more advanced AI. 
Their pricing is also relatively cheaper, with entry-level plans offering integrations, but Salesforce integration is only available in the Pro and Enterprise plans which cost significantly higher.
In this MS Teams alternative, single-click login is possible from the desktop or mobile browser without the need to register. The AI generates the transcript for each conversation, and the transcript is shared after a while in the host's inbox.
The analytics module is built into the platform and requires no additional charge, unlike Ringcentral, which makes this available through their white-labeled provider at an additional cost.
#4. Zoom
Zoom gained immense popularity during the pandemic as an alternative to MS Teams and even Google Meet. This was particularly because it supported a large number of clients and was free for up to a span of 45 minutes, after which the conference would have to be restarted. 
It became the communications platform of choice for businesses with employees working from home, overtaking Skype, MS Teams, and Google Meet. But it does not have features such as call routing and device switching.
The in-call transcripts are also close-captioned and the full transcript of the conversation appears in the inbox after a while. Attendees are prompted to download and register before they can join a meeting, which is a downside.
Live chat support is available in paid plans only for Zoom, while several other platforms offer live chat support in their entry-level plans too.
#5. Nextiva
The next popular alternative to MS Teams is Nextiva. However, it lacks in-call and meeting transcription, which means you would need a person to record the minutes of the meeting for every call. It does have voicemail transcription though.
Also while most platforms have a single app for inbound and outbound voice and video calls, Nextiva has separate apps for each use case, be it video calls, messaging, or email. When the user selects a particular use case, a new window opens. Appointments and reminders are placed on the left and they slide elegantly to reveal when you need to respond to them.
In Nextiva, the AI provides real-time suggestions and conversational analysis, but it does not perform any kind of sentiment analysis or provide any post-call summaries.
#6. GoTo Meeting
It is a SaaS-based communication platform with support for audio and video conferencing, but also certain advanced features such as toll-free numbers, "call me" and conference call dial-out.
There is download-free direct operation within the browser and it is also convenient for someone commuting as there is a commuter mode. GoTo Meeting also supports background noise suppression. It supports integrations with several workspaces such as those from Zoho, Salesforce and Google.
Recordings and meeting transcriptions are made possible, and the recordings can be saved in the cloud.
#7. Cisco Webex
Cisco also has an audio and video communications platform called Cisco Webex, which is another very popular alternative to MS Teams. It also supports file and video sharing and online collaboration with support for documents and sheets. It has a paid version which offers post-meeting summaries and translations. 
It has support for hundreds of integrations which makes it very versatile but the learning curve that is associated with implementing simple features like breakout rooms or drawing tools makes it more difficult to use. The highest plan for Webex is at least $5 more than the pro versions of other platforms, which makes it relatively expensive.
The free plan supports up to 100 users, with HD video, gesture identification, and drawing and screen-sharing support, which makes it quite economical for smaller organizations. But advanced call features such as call barging, call recording, visual voicemail etc. are not available in the basic plan.
#8. Slack
Popular as a messaging app, Slack does support audio and video calling. It even supports screen sharing and annotation. Conversations can happen on shared channels, as long as everyone is using the same app. Notification settings can be adjusted too. 
Slack allows for video calls between only two people in the free version. If you want to have a conference call, you must go for the paid versions. There is no direct click-to-call feature or push notifications regarding call activity in Slack.
Slack greatly streamlines the work done in the organization by allowing integrations with up to 2,200 services such as Google Drive, Office 365 etc, which makes it a worthy addition to the list of MS Teams alternatives.
Closing words
Video and audio communication platforms have come a long way since the first chat on AOL decades ago. There are a lot more options that platforms such as Tragofone have to offer over the usual suspects such as Zoom and MS Teams when it comes to scenarios such as remote meetings and collaborative work. Tragofone is also a more apt solution for several business cases including financial services providers, healthcare providers, and call centers. 
For instance, unified communications with superior connectivity and security will serve financial services teams well. This is because they need to screen several applications in a day and a reliable connection and security are necessary to ensure customers have a speedier experience and that the data exchange is private. 
When it comes to healthcare, it helps add the human touch by maintaining steady communication between staff and patients all the time anywhere they are. The patient data can also be kept confidential with a secure and end-to-end encrypted network. 
We hope you are now able to look beyond the features that Microsoft Teams offers to consider others that may prove more useful in your specific business use case. If you are looking to Tragofone to build an omnichannel call center or to support your existing healthcare practice, talk to us today. We are happy to help and are always listening!