Zoiper Alternatives for Android, iOS, Windows and Mac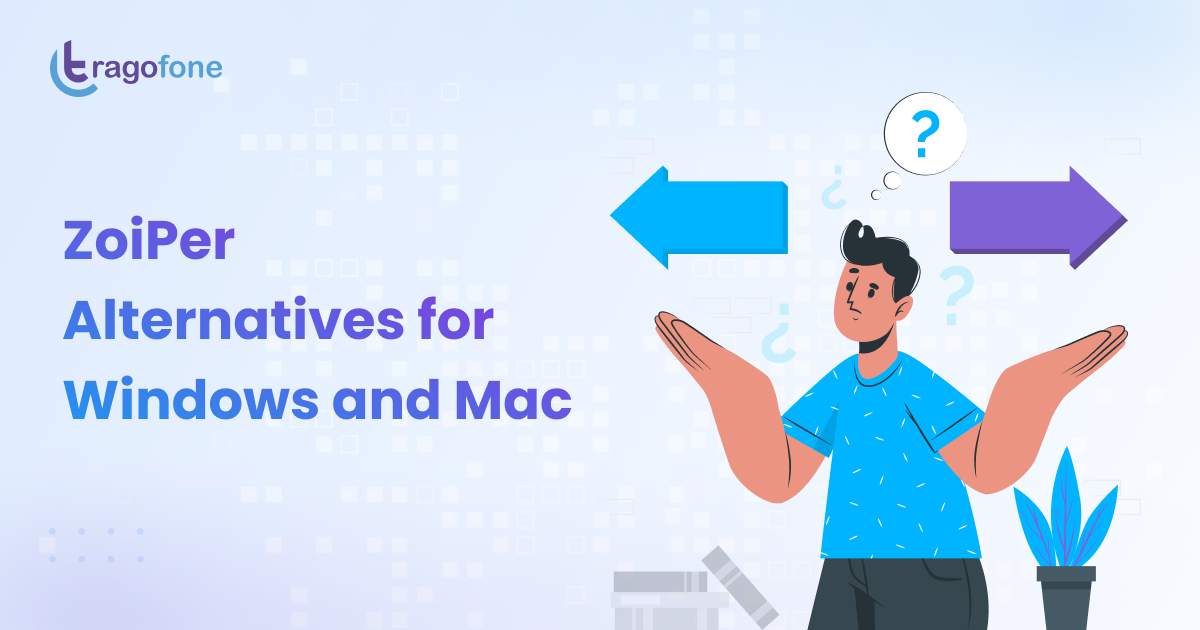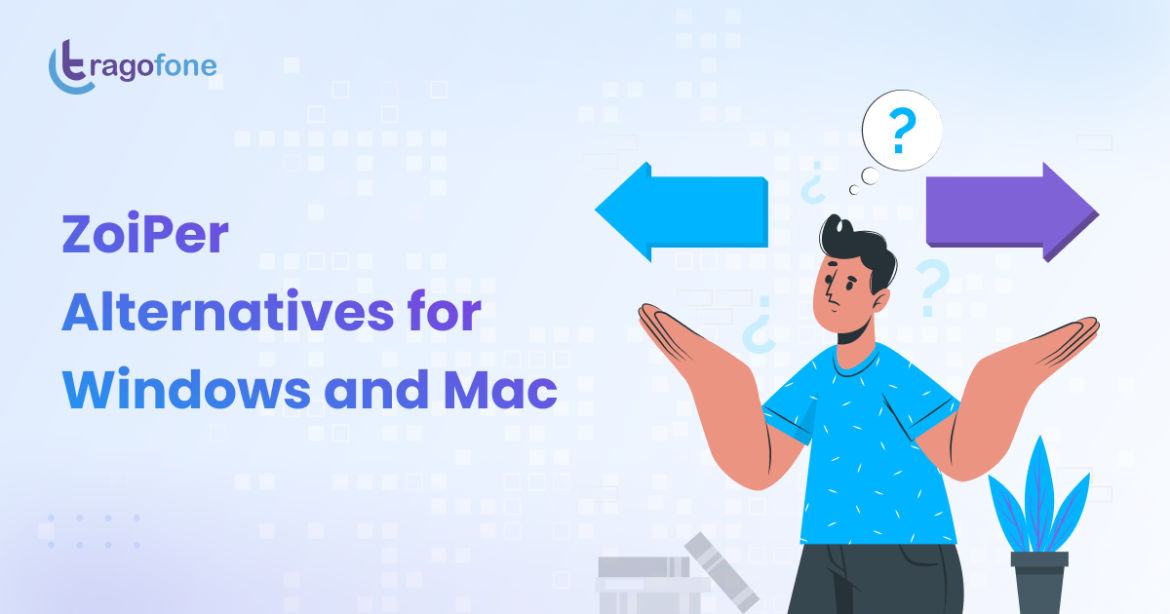 A consistent, secure, robust, agile, cost-effective, and uninterrupted communication tool has become a necessity in the current business landscape. Old-school audio calls are just not enough. Communication in the modern business world lays equal emphasis on other modes such as instant messaging, presence, video calling, and more for seamless connection and collaboration among colleagues, clients, and customers. 
Softphone, a software-based telephone system enables a user to make and receive calls without an actual physical phone. It not only supports simple voice calls but also other collaboration formats such as messaging, chat, video calls etc. A cost-effective alternative to traditional phone lines, softphone employs Voice over Internet Protocol (VoIP) technology to make and receive calls. Simply put, a VoIP softphone application enables you to use a desktop, laptop, smartphone, or tablet like a regular phone that can place and receive calls just like old-school phones.
Today the market has plenty of choices when it comes to softphones. However, Zoiper remains a popular choice among business owners given its feature-rich communication programs compatible with Mac, Windows, and Linux. Compatible with most VoIP providers and PBXs Zoiper offers a vast range of communication alternatives, top-notch security and encryption, cutting-edge audio codecs, and branding capabilities. In this post, we'll be taking a look at what makes Zoiper so popular and alternatives to Zoiper.
Zoiper Softphone: The New-Age Communication Tool
The Zoiper 5 for desktop is compatible with Mac, Windows, and Linux and comes with two plans, Free and Pro. It offers HD voice and video calling, has an  user-friendly UI, lets the user integrate the native contact list on their devices and from various sources on a single interface. Now, that's what we call convenience at its best. The app also enables users to make voice and video calls for on-the-spot meetings, send real-time messages, and check team members' availability while at work, at home, or while traveling. 
Zoiper makes it possible for team members to interact from anywhere as long as there is a public internet connection since team voice is hosted in the cloud. Internal communication that uses team voice is effective everywhere unlike an on-premises PBX, which can only be accessed over a VPN or while physically present in the building. Our personal favorite is the click2dial feature that converts phone numbers on web pages into clickable links. Click on a given number on your browser and Zoiper gets activated and dials the number. 
In times when we are on the internet 24×7 literally, Zoiper Pro 5 ensures complete security and privacy with military grade encryption using standardized TLS, SRTP, and ZRTP protocols. 
Zoiper benefits
The Zoiper 5  integrates with your current SIP-compatible call servers or VoIP service providers. A perfect fit for small and medium-sized companies, large teams, as well as individuals. Top notch features listed below make Zoiper a popular choice among business owners.
#1. Ease of use
With Zoiper, getting started is a child's play. Forget tedious manual configurations, the all new Zoiper 5 comes with automated wizards for setting up audio and video accounts. The procedure involves three simple steps as listed below:

Create your Zoiper account using your email and setting up a password

Put in your username, password, and domain for your SIP server

Download the Zoiper desktop client on your Mac, Windows, or Linux machines.  
Integrate all your contacts on a single interface, transfer calls, record calls, put callers on hold, alter your presence status, IM other Zoiper members, set up virtual conference rooms, mask your phone number, and more. Simply drag and drop contacts to start a conference call. A non-interfering UI helps you focus on what matters.

#2. Functionality
The Zoiper Pro plan is packed with a plethora of features as listed below:

Call features: Attended call transfer, unattended call transfer, call forwarding, ignore call, auto-answer, call forwarding, call recording, auto-opening of incoming call URL, opening of URL on pre-set call events, command line dialling, and voicemail to name a few.

Video conferencing: Conduct video conferences and provide shareable links to invite both internal and external users. Drag and drop contacts from your directory in an ongoing call.

Mobile app: Both iOS and Android users can access the Zoiper mobile application. Contacts and call history are always current thanks to the smooth syncing between Zoiper and other devices. Push alerts for new calls and texts are available to users as well.

Contacts integration: Directly import contacts from your CRM, Microsoft Outlook, or Mac address book on a single interface for ease of use.

Optimize codecs to suit your needs: Adjust the audio quality to your preference with Zoiper 5 Pro.

Screen share: Collaborate with colleagues and team members with screen sharing features and bring important discussions to a quick closure.  

Team messaging: Chat with co-workers', share files, and monitor each co-workers' availability status.
#3. Branding/White-labeling
Use your own brand name and logo instead of Zoiper, change colors to suit your brand identity, customize user-interface to give users an experience that ties in with your brand experience, smart provisioning, customized feature set for different user groups, encrypted and a safe communication environment.
#4. Customer service
Zoiper offers a comprehensive user guide and installation guide with step-by-step instructions and screenshots for each of its products to assist its customers. Users can also contact the company via a contact form. The executives are prompt in responding to inquiries and also assist with the relevant links to user and installation guides in case you face difficulty finding those. 

#5. Secure and safe communication
Zoiper understands the value of confidentiality and security of all company related conversations and data exchange. They also understand that 24×7 online monitoring can be irritating, which is why Zoiper offers what it proudly calls end-to-end military grade encryption with appropriate and standardized security protocols.

#6. Integration with existing VOIP/PBX systems
Zoiper is compatible with all major VoIP providers and PBX systems. This makes Zoiper an obvious choice for organizations wanting to migrate their internal and external communications to a softphone phone system. Zoiper lets users combine dialers with their preferred VoIP provider for the most cost-effective calls. 
#7. Pricing plans
Zoiper for Desktop comes in 2 versions, Zoiper 5 Free and Zoiper 5 Pro. The Pro version is packed in with a lot of features in comparison to the Pro. However, both versions are compatible with Windows, Mac, and Linux. Another major difference is the Free version lets you create only 1 user account and 2 telephone lines. Both of these are unlimited in the Pro version.
Zoiper Alternatives
Though Zoiper is one of the best softphone apps out there for desktop users, not to forget it has a mobile app too, the good news is it is not the only one. When it comes to softphones one is really spoilt for choices. Let's look at some equally good and in some cases even better Zoiper alternatives for Windows and Mac. Here are our top picks for Zoiper alternatives, we have also mentioned what it is that they bring to the table. Let's dive in!  
This one tops our list and rightly so. A versatile, dynamic, economical, easy to scale, Tragofone indeed is a one-stop solution for all your softphone needs. Features like white-labeling, auto-provisioning, and push notifications in addition to regular softphone features makes it a worthy investment. The icing on the cake, this is a WebRTC powered softphone which makes it one of the most user-friendly softphones in the market.
A softphone with features that enables businesses to optimize their communication systems by turning any device into a phone system. It also enables employees to access business voicemail, send and receive fax, and also use the company directory. With a feature-rich softphone like RingCentral MVP one need not carry separate devices for personal business use. One device takes care of it all while safeguarding the personal contact details of a user.
An AI-powered cloud communication platform and phone system, Dialpad combines together video, messaging, voice, and meetings on a single platform which can be accessed from any device. With Dialpad keep your teams connected across different locations connected and productive.
CloudTalk can be accessed on a browser or a desktop app making it one of the most user-friendly softphones. Packed with over 70 advanced calling features and pre-defined one-click integration capabilities, makes it an ideal  choice for SMBs. The best part, it comes with a 14 days free-trial period.
 A cloud-based on-premise VoIP solution, Bria by CounterPath is easy to set up. What makes it unique is its white-labeling capabilities which enables enterprises a softphone that's customized using a business own brand, logo, and color-scheme.
Looking forward – The Best Zoiper Alternative
The growing popularity of remote and hybrid teams and culture has made softphones a necessity for seamless business communication. They are here to stay and will continue to develop and innovate in the years to come. To fully reap the benefits, do a thorough research and choose a softphone that will not just meet your current business needs but future needs as well.
Tragofone is a great  alternative to Zoiper if you require a user-friendly, customizable, powerful and adaptable communications platform. Don't believe us to get a free trial now. Having already demonstrated its capabilities in highly regulated sectors such as insurance, healthcare, education, and others Tragofone is user-friendly, scalable, and does much more  than just making calls. Schedule a demo to experience first-hand the many capabilities of Tragofone.