VoIP CRM Integration: 10 Benefits of VoIP and CRM Integration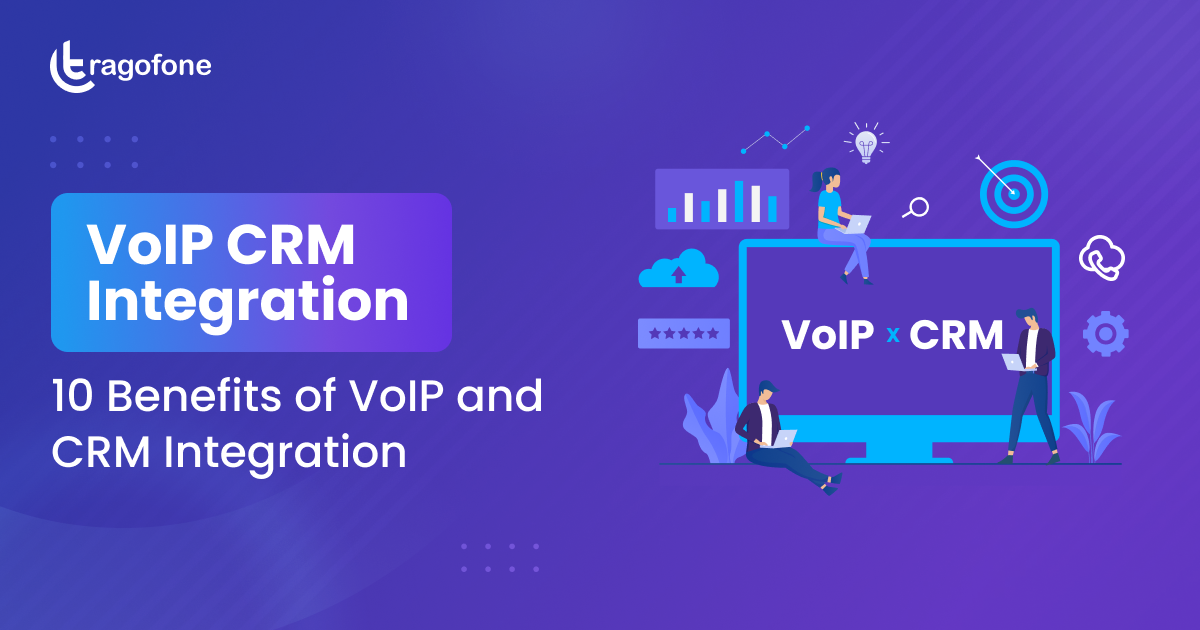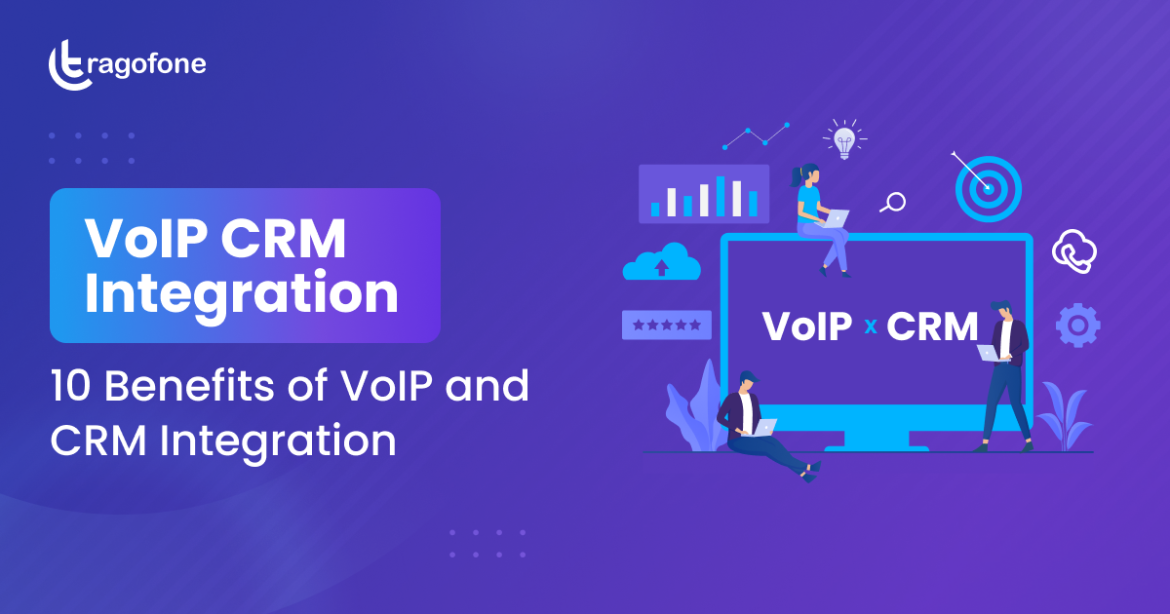 Effective communication plays an integral role in maintaining a business's brand identity in the current business landscape. And with the rise of remote work and global connectivity, companies are turning to VoIP (Voice over Internet Protocol) technology to streamline their communication processes. 
But VoIP is only part of the equation. Businesses are integrating their VoIP systems with CRM (Customer Relationship Management) software to optimize communication. The result is a powerful tool that facilitates seamless communication, enhances customer experience, and drives business growth. According to a survey conducted by Capterra, the incorporation of CRM software has a significant impact on customer retention and satisfaction rates.
In this blog, we will explore the key benefits of VoIP and CRM integration and how it can transform how businesses communicate with their customers.
What is VoIP Integration?
Integrating Voice over Internet Protocol (VoIP) with various tools enables seamless synchronization with your phone system. By merging a third-party business tool with the phone system, redundant manual tasks such as manually logging call details, filing data across different software applications, and manually updating customer records are eliminated. 
In a typical business setting, the use of a phone system for making and receiving calls is complemented by the use of Customer Relationship Management (CRM) software and help desk software. However, toggling between these tools and the phone system can disrupt the workflow and consume valuable time, energy, and resources, making agents spend more time on mundane tasks. To address this issue, VoIP integration serves as a practical solution.
What is VoIP CRM Integration?
VoIP CRM Integration refers to the seamless connection between a VoIP phone system and Customer Relationship Management (CRM) software. The integration facilitates automatic data synchronization between the two tools, eliminating the need for manual data entry.
CRM software is critical for businesses that engage in telecommunication or interact with customers over the phone, as it allows them to record and manage customer details and interactions effectively. Agents can significantly reduce their workload by integrating a VoIP phone system with CRM software, as important call details are automatically recorded into the CRM system.
Benefits of VoIP and CRM integration
Voice over Internet Protocol (VoIP) and Customer Relationship Management (CRM) integration offers several significant benefits for businesses. Here are some of the top benefits of integrating VoIP and CRM:
#1. Efficient and organized data collection
Efficient data collection involves systematically recording all information from beginning to end in a well-organized manner. This process is particularly beneficial for sales representatives, who require detailed prospect data to personalize their sales pitch, and support agents, who need comprehensive case histories for each customer. Critical data is automatically synchronized by integrating your phone system with your CRM software.
The standard procedure followed by a contact center agent is as follows:
 Initiating a call using the customer's name and phone number.

Recording the details of the call into the CRM system.

Documenting the customer's inquiries and concerns.

Following up on the call without the need to refer to a separate directory.
As a result of this process, the CRM software automatically records all relevant information, significantly streamlining the agent's work and making their job more convenient.
#2. Cost-effective Operations
Integrating VoIP and CRM substantially reduces operational expenses, as there is no need to purchase these software systems separately. Adopting a VoIP phone system with built-in CRM integration avoids additional software investments entirely. Research shows that the return on investment (ROI) for companies investing in customer relationship management (CRM) is approximately $8.70 for every dollar spent.
Furthermore, integrating VoIP phone systems and CRM solutions empowers employees to manage their activities better, promoting improved productivity and reduced unproductive hours.
#3. Direct Calling from CRM
Integrating VoIP with CRM enhances operational capabilities while streamlining manual processes. This integration enables agents to make calls directly from the CRM system, eliminating the need for unnecessary manual steps.
The time lag between searching for contact details and initiating or attending calls is often the most laborious aspect of an agent's job. Eliminating this time-consuming gap provides agents additional time to make more calls, enhancing their overall efficiency.
As a result, agents benefit from a more structured framework, enabling them to carry out their tasks more efficiently and easily.
#4. Simplifies Post-Call Processes
Integrating VoIP with CRM simplifies the post-call procedures for agents. Once a conversation with a customer concludes, agents record the information in the CRM system.
Rather than manually entering details for each call, the integration between the VoIP phone system and CRM software automatically syncs relevant information.
Additional VoIP functionalities such as call recording and call notes further enhance the process. Agents can conveniently record conversations and take notes, with the integration automatically saving these details in the CRM.
For subsequent follow-up procedures, call disposition codes activate a series of post-call actions such as emails, messages, calls, or any other necessary measures.
#5. Utilize SMS and Automation
Integrating a VoIP phone system with CRM software provides several additional functionalities businesses can leverage, such as SMS. In 2022, it was observed that 34% of individuals promptly accessed text messages within a 5-minute timeframe of receipt, while a significant majority of 89% read the message within the initial 30-minute period.
Furthermore, there are various other functionalities available that businesses can utilize by syncing their VoIP phone system with CRM.
Click-to-text icons:

A click-to-text icon is accessible next to each contact. This feature is a helpful shortcut for busy agents on a hectic workday.

SMS automation:

SMS automation is a useful feature that automatically sends text messages to contacts when a specific condition is met. This feature can be incorporated into follow-up and drip campaigns to send automated messages.

Bulk SMS:

Integrating VoIP with CRM provides useful functionality for SMS marketing – Bulk SMS. With this feature, businesses can send promotional and marketing messages to multiple contacts from their CRM.
#6. Improves Customer Relationships 
Personalization increases company growth by 40% compared to companies that don't invest in it. Seamless customer engagement facilitates the development of stronger and more meaningful customer relationships. This, in turn, enables businesses to retain loyal customers.
Moreover, regular interactions that cater to a customer's specific needs, preferences, and expectations can enhance the customer's lifetime value, increase retention rates, and even convert them into brand advocates.
#7. Monitoring important call analytics & KPIs
You can access crucial call analytics by utilizing a reliable integration of CRM and VoIP. This includes key performance indicators (KPIs) and metrics related to incoming and outgoing calls. This data can include call volume, duration, abandonment rates, resolution times, and other relevant metrics.
By analyzing call analytics, a business can gain valuable insights into how their customers interact with their phone systems and identify areas where improvements can be made. For example, if a business notices a high call abandonment rate, it may need to adjust its phone system to reduce wait times or offer a call-back option to customers.
Additionally, call analytics can provide insights into the effectiveness of sales or customer service teams. By tracking call resolution times and other metrics, a business can identify areas where employees may need additional training or support.
#8. Effective Marketing Campaigns
The integration of VoIP and CRM software offers multiple benefits for marketing professionals. By segmenting customers through CRM software, businesses can target specific groups with different marketing campaigns. CRM companies often automate this process, which helps save time. Even research shows businesses that implement CRM into their operations can see a 300% increase in conversion rates.
After segmentation, marketers can use VoIP to contact potential customers and promote their services or products.
#9. CRM Integration Ensures Scalability
In business expansion, organizations grappling with surging customer numbers require a sophisticated telephone infrastructure capable of handling increased call volumes. In this regard, integrating the customer relationship management (CRM) system with voice-over-internet protocol (VoIP) enables smooth scalability. You can easily scale up your system with additional users, locations, and features as your business grows without requiring extensive upgrades to hardware or software or overburdening your employees.
Rather, by utilizing the current system complemented with the CRM, businesses can efficiently manage a higher volume of phone calls. This ensures that your business can continue to operate smoothly and efficiently even as it grows.
#10. Boosts Team's efficiency 
Transitioning between platforms while initiating interaction with clients to gather information can be time-consuming and use up valuable bandwidth. Repeating previously shared information or waiting for representatives to locate relevant files is not a pleasurable experience for any caller.
By integrating VoIP with CRM software, customer support teams can avoid toggling between various programs and devices. They can instantly access all crucial details when they answer a customer's call – all within a unified platform. Consequently, the customer experiences minimal wait times.
The 5 Best VoIP Providers for CRM Integration
Tragofone

: Tragofone is a VoIP provider that offers robust CRM integration capabilities with popular platforms like Salesforce, Zoho, and HubSpot. Its cloud-based system provides maximum uptime, excellent call quality, and advanced call management features like call routing, call recording, and IVR. Tragofone also offers a mobile app that lets users stay connected on the go.

Vonage Business

: Vonage Business is a leading VoIP provider that offers seamless CRM integration with popular platforms like Salesforce, Zoho, and SugarCRM. Its cloud-based system ensures maximum uptime and excellent call quality. Vonage Business also provides robust features like call routing, voicemail transcription, and call analytics.

RingCentral:

RingCentral is a cloud-based VoIP provider with advanced CRM integration capabilities. It supports Salesforce, Microsoft Dynamics, and Zendesk, among others. With RingCentral, businesses can enjoy features like auto-attendant, call recording, and video conferencing.

8×8:

8×8 is a VoIP provider that offers top-notch CRM integration with popular platforms like Salesforce, NetSuite, and Zendesk. Its cloud-based system provides flexibility, scalability, and excellent call quality. With 8×8, businesses can enjoy virtual meetings, call routing, and call queuing features.

Nextiva:

Nextiva is a cloud-based VoIP provider that offers seamless CRM integration with platforms like Salesforce, HubSpot, and Zendesk. Its system provides advanced call management features like call recording, voicemail-to-email, and call analytics. Nextiva also offers a mobile app that enables users to stay connected even when on the go.
VoIP CRM integrations accelerate business growth
VoIP CRM integrations drive business growth by providing a unified platform for customer interactions and data management. This leads to increased efficiency, enhanced customer service, and better sales tracking, resulting in improved business performance and increased revenue.
Consider a VoIP CRM integrated platform for your business, which offers a versatile and adaptable solution that can expand and progress along with your company. Utilizing the advantages of Tragofone's VoIP services can enhance your business's competitiveness and keep you ahead of the game in the dynamic world of modern business.