Business Phone System for Financial Services: Bank Phone System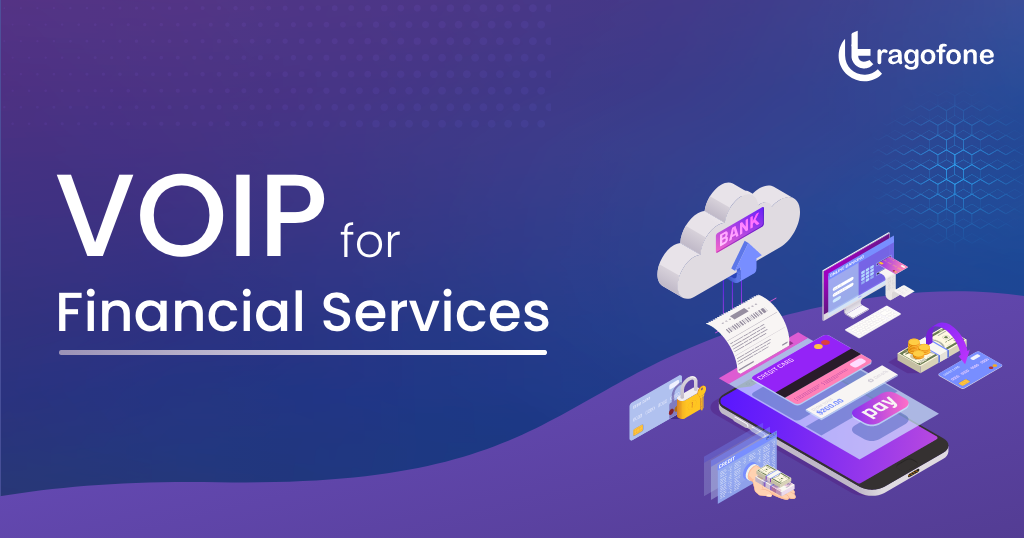 The financial sector provides a free flow of liquidity and capital in the marketplace. The growth of any economy and its ability to manage risk is dependent on how strong its financial services are. The financial services sector is no stranger to the utilization of technology to improve efficiency. A surge of 40% contactless MasterCard transactions globally, and a 35% surge in online banking digitalization has made strong in-roads in financial services.
The Banking, Financial Services, and Insurance (BFSI) industry has been open to digitalization for improved customer interaction and accessibility to a service model, which strives for minimal contact with the customers. Cloud has transformed how the BFSI industry functions, embracing more smooth operational processes to maintain productivity and efficiency. Leveraging the cloud nurtures connectivity between employees and fosters the development of more services such as seamless fund transfers and digital wallets. Amplifying connectivity favours the quality of customer service as there is an objective of uninterrupted assistance and plans established that can deal with fluctuating conditions. With the goal of more virtual and digitized experiences in the BFSI industries, we segway to Voice Over Internet Protocol or VoIP.
COVID-19 and the Digitization of Financial Sector
Digital innovations and strategies made in-roads in the financial space way before the pandemic hit. But when the pandemic hit the world in 2020, the pace picked up rapidly. The pandemic accelerated the switch to digitized banking. In fact, Europe reported a 72% increase in the usage of Fintech apps (mobile banking apps and other financial services apps). As the world adjusted to the new normal of social distancing and remote working, industry insiders saw the shift as a key indicator of the importance of 'digitized banks' in the future.
Why VoIP Phone System for Financial Services 
Digitization of banking gave users the freedom to do their banking activities anytime, anywhere. However, digital banking and cyber-crime are evolving hand in hand and so are online frauds. Banks have a myriad of issues to deal with.
When it comes to how digital services work for customers and partners,  financial institutes have kept their focus on some key areas:
Redefining customer experience: When building online and mobile solutions, financial institutes, and banks have always put customers and their needs at the forefront. A seamless way to communicate has been another top priority. A combination of technology and communication tools is what helps redefine customer experiences.
Mobile-first view: Today's consumer wants contact less banking, account access, service accessibility, all of it readily available on their mobile devices. Convenience, no waiting time, access to executives through multiple communication channels is what financial institutes have to focus on to survive in this digital environment. VoIP app provide all this and more.
Choosing the right technology solutions: Building tech-enabled services interspersed with legacy processes, assets, that are subject to regulations and scrutiny, choosing technology solutions that are secure and easy to use is essential.
Taking these key focus areas into account cloud technologies offer the biggest opportunity for banks. VoIP in particular offers a secure, cloud based VoIP phone system, that is sophisticated, personalized, and enables banks to provide real-time services that clients and customers expect. VoIP enables:
Service executives to communicate securely with partners and customers via voice and team messaging anywhere, anytime.
VoIP helps financial institutes deliver strong bottom lines, enables workforce mobilization,  and ensures seamless communication with customers and other channel partners for a great experience.
Features such as enterprise-grade voice and video meetings, fax, text, and call management feature help businesses by optimizing their communications and enables access to all the important features in a single solution.
The accelerated digitization of banking systems and changing consumer expectations have led financial institutes to adopt advanced technology.  This new digital ecosystem will be central to the success of financial institutions and shape the future of the industry as a whole. Modern VoIP technology can help significantly reduce communication costs and deliver better online/mobile platforms and stellar customer experiences.
Making The Choice: Features and Benefits of VoIP
The banking sector in particular stands to benefit in terms of improved customer experience. Banks have come a long way from physical deposit of checks to mobile and internet banking. The quick adoption of banking applications and virtual money transactions have been well received by consumers. Advanced and sophisticated VoIP solutions have played a key role in this digital evolution.
In a bid to confirm their presence and create a large client base across the globe, financial institutions are opening branches outside their homeland. With such an aggressive expansion strategy, banking professionals often find maintaining a proper flow of information between headquarter and branch offices challenging. However, by deploying VoIP bank phone systems, employees working at different locations can be brought on the same communication platform which can translate into delivering improvised customer experiences.
Must-have Features of Financial Services Phone System

The BFSI industry is fast-paced and requires prompt communications, so a comfortable interaction system between employees is essential. In crowded places such as a work environment, you require good service so that your communication networks do not fail. Each of these aspects is thoroughly covered by VoIP, and here are some insights on such features that would benefit the financial services sector:
#1. Mobile communication system
Covid-19 has changed the work culture beyond our imagination. With banks expanding their operations globally choosing a VoIP system that enables your employees to remotely utilize the voice, fax, and data services of your office via your intranet is important. It is not unusual for banks to transfer employees between branches or change the branch location within an area due to several unforeseen factors (outgrow the current office due to a larger team size, lease not renewed, and so on). Your VoIP provider should be able to transfer your bank telephone system and eliminate the need of assigning a unique number to each line and transferring those numbers like in traditional bank phone systems.
#2. Auto-attendant 
Banks receive thousands of calls every day. Make sure your provider includes the automated receptionist or auto-attendant service. This feature efficiently routes callers to the right person or department, ensures no call is unanswered, and also records messages in case the right person is not available. 
#3. Secure system
Data security is of utmost importance in banking and financial services. Look for a provider that provides a military-grade security system such as logical call routing, real-time tracking of calling plan usage, call encryption, is PCI (payment card industry) and SOC 2 (service organization control) compliant.
#4. Advanced call features
Your VoIP service should typically include features such as caller ID, call hold, automated call distribution (ACD), integrated voice response (IVR), virtual numbers, contact lists, voicemail etc. These sophisticated features can boost operational efficiency by enabling employees to forward voicemails and messages to multiple colleagues with a single click, send voicemail-to-text transcriptions directly to your inbox to be reviewed while on the move, and more.
#5. Unified communication
Your VoIP bank phone system should enable your employees to seamlessly switch between various modes of communication such as text, chat, email, SMS, phone, video conferencing, social media, and more to effectively collaborate internally and also with customers and other channel partners.
#6. Integration 
As a bank or financial institute, you may be already using technology platforms to manage customer data, track investments, etc. Your VoIP system should seamlessly integrate with your existing tech stack and facilitate the migration of legacy data to the new communication system software. Implementing VoIP should not necessarily require modifying or upgrading your existing systems.
#7. Analytics
To improve customer service one needs data to build a strategy. Your bank phone system should track metrics and provide in detail analysis to help you enhance productivity, system efficiency, and strategize for the future.
VoIP systems besides being cost-effective have a variety of other benefits, which when optimally utilized can transform the flow of a workplace.
Benefits of Bank Phone System

#1. Cost-Effective 
VoIP has limited and at times no hardware costs. Modern softphone providers like Tragofone, enable a user to just install the software on their device (mobile or computer) to make and receive calls. Besides, VoIP phone system providers make sure to upgrade the software from time to time eliminating the need for businesses to invest in hardware and software upgrades.
#2. Easy to install, configure, and maintain
With the use of WebRTC in VoIP communication systems, installing VoIP software is a breeze for non-tech savvy people. These sophisticated systems have totally eliminated the need for expert technicians to install and configure bank phone systems. Adding and removing users, changing system configuration, and maintenance is fairly straightforward.
#3. Beyond voice telephony
VoIP capabilities extend beyond vanilla audio calls such as video conferencing, transfer of various media formats (images, video, text) on both audio and video calls enabling employees to conduct presentations and solve issues on the go.
#4. Global reach
Remote and hybrid work culture, shrinking office space,  employees remotely utilizing voice, fax, and data services has been possible because of the portable VoIP technology. It has enabled employees to connect from home offices and abroad ensuring continuity of business.
#5. Optimum bandwidth usage
A majority of voice conversations have long silent periods, VoIP fills those information gaps with other data from other bandwidth consumers allowing a user to optimally utilize bandwidth. VoIP even compresses and eliminates any glitch due to speech redundancies.
#6. Fax over IP
Most of the VoIP providers include Fax over IP as a part of their service. This eliminates the high costs of long-distance fax, improves compatibility between machines, data is transmitted through data packets,  and then there is this reliability factor. What's more, VoIP eliminates the need for fax machines to send and receive a fax.
#7. Effective Communication
Keeping distributed workforce connected is essential for seamless day-to-day operations.  VoIP enables users to set call forwarding from a desk phone to your mobile phone, tablet, or laptop if the call goes unanswered. This way most calls get answered and one needs to invest less time in checking voicemail or emails.
#8. Reliable
Bad weather, power outages, etc. meant a total blackout or phone lines down for hours together in traditional phone systems. However, VoIP's flexibility to forward calls to mobiles and other devices in an event of downtime makes it a much more reliable option. Weather power outages hardly make a difference now.
#9. Scalability
VoIP is easy to scale. It supports efficiency and productivity by allowing a business to add phone lines when expanding your team and eliminate phone lines in case of downsizing.
The way forward
Traditional phone systems are gradually on their way out. With the rapid digitization of financial services, companies need to make the switch to internet-based telephony to stay relevant, survive and thrive. The BFSI industry requires a firm footing in the communications department, and VoIP ensures thorough anchoring on the processes in the BFSI workplace. Moving to internet calling provides not only smoother quality of interaction, but also a vastly effective customer service model that can be incorporated with less difficulty.