Top Benefits of VoIP Hotel Phone System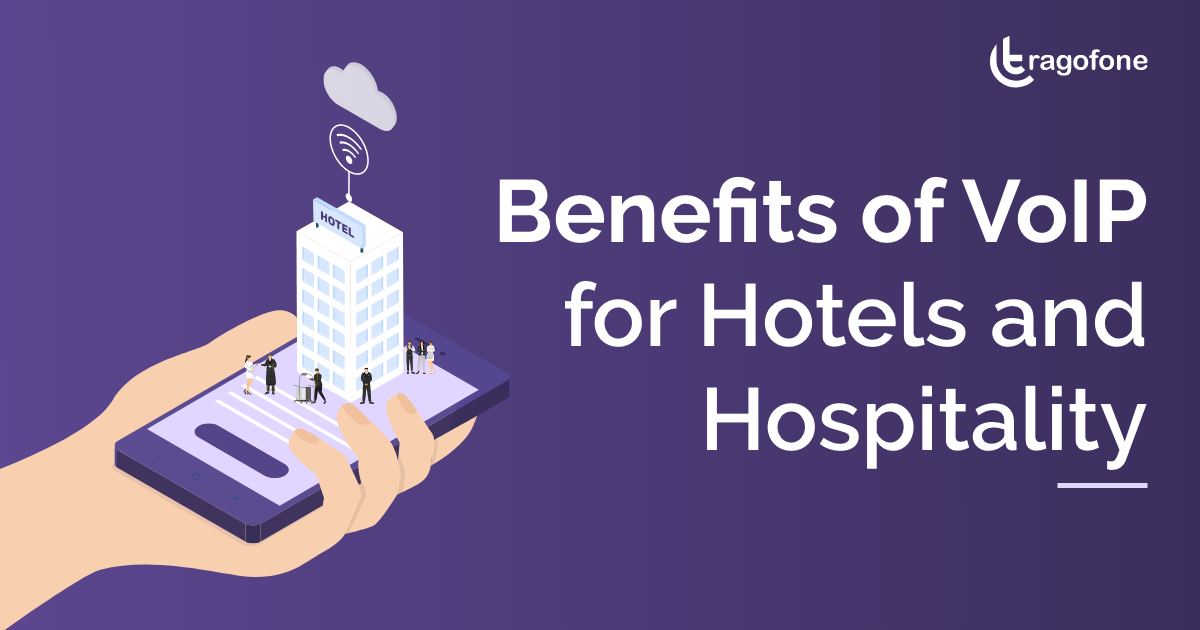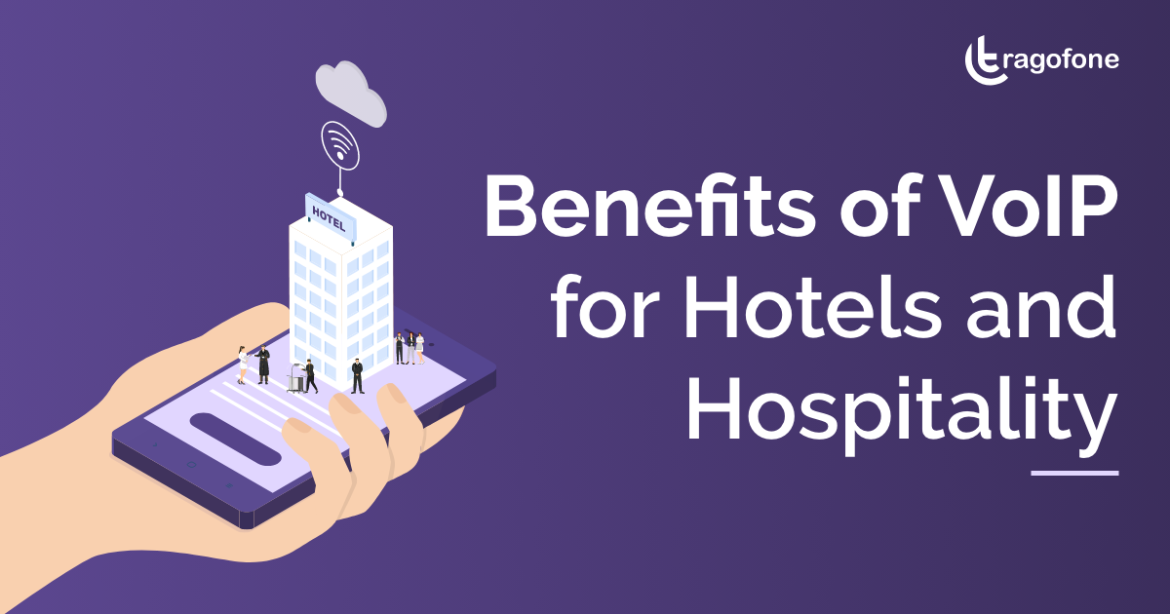 An efficient communication system is the backbone of most industries and hospitality is one of them. Rewind 20 years back, and hotels were stuck with the traditional hotel phone system, which came with a number of limitations. The hardware-heavy PBX phone systems meant extensive wiring throughout the building, stress and difficulty of continuous system maintenance, and of course expensive service. The risks and costs associated with traditional PBX landlines made them more of a liability than an asset.
With the passage of time cloud telephony redefined the way organizations interact with their customers. The development of digital and internet voice services, or VoIP phone systems, offered more features in terms of capability, cost, and reliability. With all the ingredients to create a delicious customer experience, VoIP hotel phone system is an ideal solution for all communication needs in the hotels and hospitality sector.
What is VoIP?
Voice over Internet Protocol (VoIP) communication, converts voice into a digital signal that travels over a broadband connection and adapts to correctly reach the recipient. If the recipient is using a traditional phone, the signal converts to a regular telephone signal. Calls that have been made to a computer app or a VoIP app, remain in their digital form.
Why Switching to a VoIP System Makes Sense?
VoIP operates over the internet, which means no copper wiring, no installation costs. This, in turn, translates into cost savings, and an added advantage of flexibility, and performance. As VoIP communication systems run solely on broadband services, it eliminates the dependency on costly phone companies. Adding more lines to your phone service can be done without the need for any additional physical space. Though one would still need to partner with a VoIP provider, a lot more can be done at a far lower cost.
Here's the icing on the cake. Switching to a VoIP system enables hotels to offer a bouquet of services to guests such as on-the-go voicemail, multi-line capabilities, and a multitude of options that came at very high costs earlier. As technology continues to evolve, VoIP ensures that hotels and hospitality firms stay ahead of their competition.
Benefits of VoIP Hotel Phone System
The hospitality industry benefits from VoIP services in many ways. An efficient communication system is vital for running seamless operations as a lot of activity happens behind the scenes in this sector. The moot purpose of this industry is to provide a comfortable, and satisfactory experience to guests. When we think of hospitality communications, besides guest phones,  there are also phones for staff-to-staff communication, reservations, guest services, and more. Since this is an industry that stays awake and works round-the-clock, an effective phone communication system is non-negotiable. VoIP phone systems are reliable and come packed with features that spell varied benefits for all your hospitality needs. Let's dive in!
#1. Low maintenance
Bad weather, power failure, old wiring, and many unforeseen circumstances may impact the hospitality phone system and at times result in an outage. The physical infrastructure (desk phones, wiring) of traditional PBX systems requires regular maintenance, upkeep, and periodic replacement to keep them in perfect working condition. Modern VoIP systems require no elaborate physical infrastructure hence there are no maintenance and repair worries. Also, being a subscription-based service the maintenance and upkeep is your VoIP provider's responsibility. Being an internet-based communication system, you always stay connected.
#2. Low cost
Traditional PBX systems involve substantial financial investment for wiring the hotel for phone lines and building the required infrastructure. An add-on data option means an additional charge. Features like a conference call, conference bridge, call forwarding, etc. will attract additional charges. These features are a must-have for the hotel and hospitality industry. A VoIP system runs over broadband, letting you use voice and data over the same network. It also saves on the extensive wiring and handsets cost. Most VoIP software can be installed on existing laptops/desktops, smartphones, etc. which means hotels can save money by integrating their current equipment with this technology. VoIP systems can also integrate with the existing analog infrastructure and telephones that the hotel is already using,  which makes the switch to VoIP easy and cost-effective.
#3. Efficient and improved front desk service
There is never a dull moment in the hospitality sector. The incoming and outgoing calls from a hotel front desk never seem to stop. Be it guest room/dinner table reservations, vendor orders, or guest inquiries, front desk phones rarely stay on the hook. A traditional hotel phone system would mean, busy phone lines, long call queues, waiting times etc.  However, VoIP features such as IVR (Interactive Voice Response) systems and auto attendants offer automated menus and responses to efficiently manage the heavy flow of incoming calls. IVR enables you to build customized interactive menus allowing callers to access the right department easily, make reservations, and answer FAQ  even without speaking to a staff member at all. VoIP systems can also route calls to off-site answering services, making sure guests speak to a real person if they really need to. Guests can reach out to you 24×7 anytime, anywhere.
#4. Scalability
As your hotel business grows you may want to expand your property, add additional rooms, etc. A VoIP system allows you to add new phone lines to the new rooms without any additional wiring and heavy infra costs. The updates will be seamless and fast, without disrupting your hospitality phone system.
#5. Integration with CRM to add a personal touch
Today's customer has a plethora of options to choose from in any service industry and hospitality is no different. An industry as competitive as hospitality requires businesses to up their game and bring a touch of personalization into their communications. Your VoIP system can seamlessly integrate with your existing CRM system so that your past customer history (name of the guest, phone number, notes on their preferences, record of important events like birthdays and anniversaries, past association) is not lost. Every time the hotel staff receives an incoming call, the integrated CRM would display the information on the computer screen, enabling the staff to greet each caller by name. It also helps them assist guests better and bring a personal touch to their interaction.
#6. Enhanced call quality
Modern advanced VoIP technology offers better sound quality than its predecessors. Clear audio and video calls which were unimaginable until 20 years ago are now a reality, thanks to VoIP. A hotel has both leisure and business guests. Imagine their delight and the satisfaction they would get being able to do crystal clear quality business calls from the comfort of their room.
#7. Customer delight with state-of-the-art communication for use
Remember booking trunk calls in the '80s and '90s with jittery sound quality and exorbitant rates per second. For years hospitality phone systems were limited to offering only voice call services to their guests and that too at a high cost. In some cases, guests had to come to the reception or conference room to make such calls.  However, internet-based VoIP phones changed this and hotels could offer many call options such as audio/video/conference and that too at an economical price point. VoIP systems enable guests to make long-distance and multi-line calls, voicemails, video conferencing, customized speed dials, and virtual faxing all from the comfort of their room.
#8. Unified communication platform
The secret sauce to seamless smooth operations in the hospitality industry is a staff that is well connected and can easily communicate with each other. Kitchen staff, front office staff, restaurant staff, housekeeping, duty managers, security, the reservations team, and many other teams need to work together in coordination to deliver stellar customer experiences. Keeping all your teams connected on a single communication platform, that can be easily accessed from any device on the go ensures all departments are in the communication loop and within easy reach when required. VoIP's unified communication capabilities enable you to stay on top of things and have a 360-degree view of every operation and event happening within the premises.
What Hospitality Companies Must Consider While Selecting a Service Provider
Now that you are aware of the many benefits of VoIP, it's important to find a VoIP provider that offers the features and reliability for the smooth operations of your hospitality business. With so many VoIP providers providing VoIP solutions for hospitality choosing the right provider can be overwhelming. We have put together a list of qualities you must look for in your VoIP service provider when investing in a VoIP solution for your hotel.
Experience in hospitality VoIP solutions
Every industry operates in a certain way and managing operations of that industry requires relevant experience and expertise. The lack of experience in hotel communications can create unforeseen problems even if a VoIP service provider has been in business for years. Your VoIP service provider must have a thorough understanding of the processes. Smooth coordination of simultaneous communication processes is the foundation of hotel operations. Your provider should fully understand the processes when implementing your new system.
Hotels are buzzing with activity. With calls flowing in and out, a hotel phone is rarely on the hook. Keeping the heavy call volume in mind, find a VoIP provider with a system robust enough to handle such heavy call volumes. Check parameters such as call capacity, bandwidth options, and ability to scale as the business grows.
Cost-saving is one of the biggest factors apart from the many other benefits that VoIP offers. Sticking to a budget is important but look at the benefits of a lifetime that a  VoIP system brings to your hospitality business. Settling for an inexperienced, and cheap VoIP system may end up being a costlier proposition in the long run given the upgrade costs, loss of revenue due to an inefficient system, etc. in the future. Look at your VoIP system costs as an investment and spend that premium to save costs in the long run.
Choose a provider that can provide you with detailed reports and analytics. Such data and reports are essential to better plan your future business strategy and improve customer experience, and call handling capabilities.
Today's advanced VoIP system comes with a host of cool features, but you do not need everything. Decide and choose wisely on the basis of what you want to offer your guests and what you need for your staff. Choose features that give you a good return on your investment. Invest in a VoIP system that meets your needs and is relevant for your business.
The way forward
Good, efficient, and seamless communication is the very basis of stellar customer experience in any industry, even more in hospitality. It is like a double-whammy when it comes to hotels. Hotel owners not only need to take care of how guests get answers to their questions and solutions to their problems, but also how different departments within the hotel and other business partners are kept updated on the information they need to know to ensure smooth operations and service delivery.
In this digital age where a majority of the population own a smartphone, people prioritize flexibility in communications with the businesses they have a relationship with over anything else. The new-age customer is demanding and desires quality and efficient customer service 24×7, on the go. To stay in the game, switching to VoIP is no more a choice, but a need for the hospitality industry.