Webphones: A Complete Guide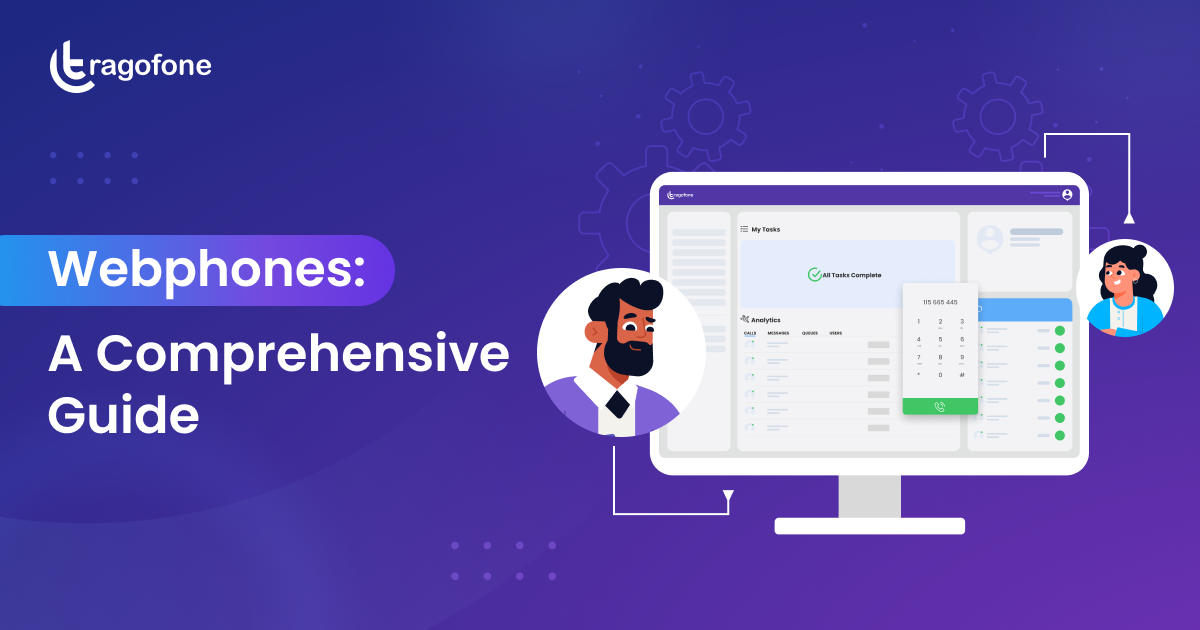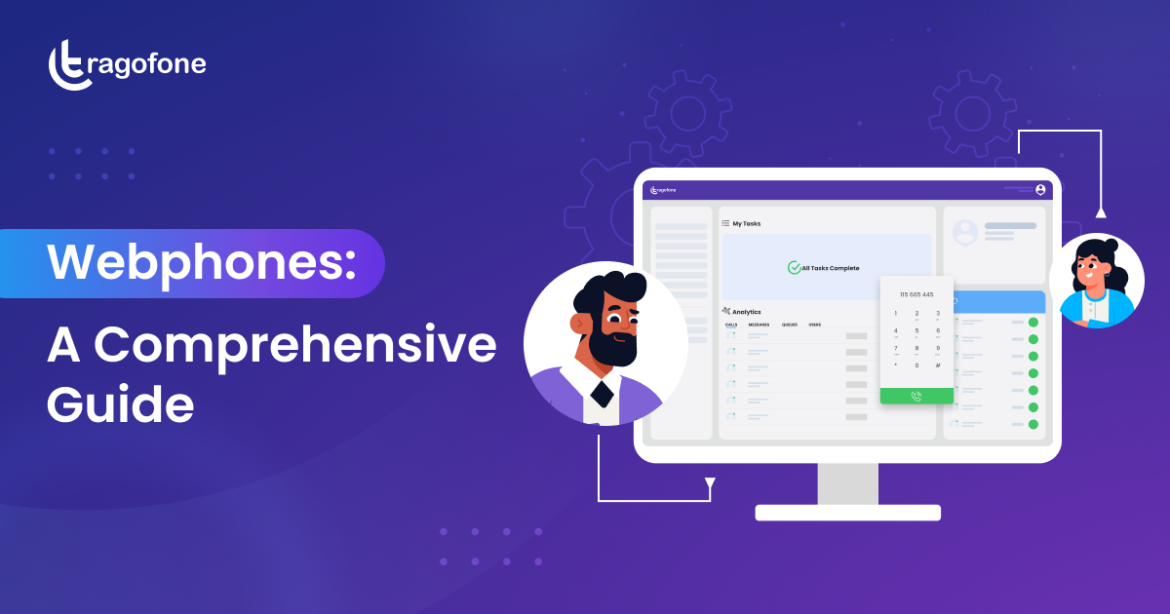 The telecommunications industry has come a long way. The humble landline phones have today been replaced by mobile phones and telephone software which actually does not involve any physical phone as such. Confused and puzzled? Hold on, you probably already know these as softphones. 
Webphones also known as web dialers is a fairly new technology and is fast gaining traction over the last few years. Nearly 69% of employees in the US switched to IP for voice communications in 2020. There is a surge in adaptation of IP based voice communications across the globe given the affordability and convenience it brings to the table. 
In this guide:
What is a Webphone?

Webphone vs. traditional phone: which is right for your business? 

Benefits and drawback of webphones

Features of webphones
What is a Webphone?
A webphone can be directly launched on a web browser enabling calls to landlines or other internet based phones. It also facilitates two-way international phone calls from a web browser. Webphones are powered by WebRTC and require high-speed internet access, a computer with a microphone and speakers to make calls. These new age cutting-edge communication tools have all the functions of an avant-garde business phone service at its core. The capability to make calls from a computer makes a webphone as one of the most effective tools for sales and support teams to communicate with overseas clients and team members.
The WebPhone is a feature rich unified communication hub, enabling users to:
Make and receive from their computer

Dial extensions

Forward calls 

Initiate conference calls

Communicate and collaborate with peers, subordinates, managers, vendors, and customers 
Webphones come equipped with all the basic features that are available on desk phones such as conference calls, callback requests, and then some more.
Technology powering Webphone
Webphones work on WebRTC technology that's built into web browsers to support voice communications. This is a preferred and standard technology because it is a stable and secure open-source framework and ensures high sound quality.
Webphones have an easy-to-use interface and clickable buttons like a phone dial pad to make calls. Compatible with macOS, Windows, Linux, and Android devices these phones enable an user to login with their credentials, connect a headset to their device and start making and receiving calls.
Decoding WebRTC 
WebRTC refers to an open-source HTML framework that powers IP voice communications from a web interface or browser. One of the most stable open-source technologies, WebRTC is compatible with most of the new age web browsers. Its easy availability has made it the underlying technology for most webphones. 
Good to know terminologies for Webphones
Be it surfing, reading an ebook, watching videos we do it all on a web browser. With webphones we can now even make calls through these browsers. In simple terms, web browser is the screen on which you "browse" the internet. The most popular and commonly used browsers are Google Chrome, Mozilla Firefox, Safari, etc.
Voice over Internet Protocol, is the technology that makes calls to be made over the internet possible. With advancements in internet technology VoIP has become extremely popular as it affords users much more flexibility and mobility when compared to traditional phone systems.
These are phone systems in-built with tools that cater to the communication requirements of an enterprise. These are communication systems packed with top-of-the-line features and technology that lets users access them via web-based applications.
Webphones vs Traditional phone system: What is better for business?
In the current business environment where remote teams are the norm and customers seek instant gratification, a traditional phone no longer makes the cut. Why, because they restrict the mobility and flexibility which is a basic requirement in today's scenario. The plethora of benefits that webphones offer in comparison to a traditional phone make it an ideal choice for your business.
A business webphone enables users to log into any device using their credentials and be instantly connected to their business phone line. Till the time a user has good internet connectivity and an internet compatible device they can be connected to their office phone system. Webphones thus allow organizations the flexibility to allow remote work and enable mobile teams (sales, marketing, and senior management) to stay connected even when on the go.
Tragofone is one of the few webphones in the market with top notch features like – call transfer, call hold, live chat, mute, 3-way conferencing which is at par with all features a desk phone offers. However, what makes webphones a preferable choice over desk phones are the extras like click-to-call, file sharing, seamless switch between devices in an on-going call, third-party integrations with other cloud platforms such CRM, Help Desk, and a lot more.
Benefits of Webphones
#1. Boost in sales
Webphones are intuitive programs which are not only user-friendly. They can be combined with other great internet features making it possible to seamlessly perform multiple tasks simultaneously like messaging, sending emails, automating the calling process and a whole lot of other things. This means agents can make and attend more calls in the same time frame and optimize their overall productivity and efficiency. All of this helps in significantly boosting sales. 
#2. Cost saving
Webphones are essentially a software/program for making calls. This means no expense on setting up an infrastructure and buying phones/devices. On an average businesses can save anywhere between 30% to 50% costs on communications by switching to cloud-based VoIP systems.
#3. Enhanced customer service
New-age customers use several channels of communication and expect customer service teams to be at their beck and call 24×7. With webphones customer service agents have easy access to their office phone system enabling them to provide support by making calls with a phone for the web anytime and anywhere. This means very few instances of unanswered calls, call drops, and delivering better customer service.
#4. Flexibility
With web-based phone applications making calls from anywhere is a whole lot easier. Traditional phones on the other hand confine people to their office desks which means companies do not get the flexibility to adapt a remote or hybrid culture. This flexibility that webphones give to organizations makes it such a popular choice across the board. 
#5. Secure environment
Cybercrimes are on the rise. However, webphones provide end-to-end encryption which means sending and receiving critical business information, conducting online conferences and meetings can now be done in a safe  online space without the fear of it being intercepted. 
#6. Seamless and easy internal communications
All employees of an organization from top to bottom are logged into the same phone system from their devices. Moreover, webphones enable employees to communicate even through instant messaging, chat groups, and video calls besides regular calling. This makes reaching out to any employee super convenient and easy. Icing on the cake, employees are  connected with each other right from their browsers which means no add-on cost for intra-office communication.
#7. Bring Your Own Device (BYOD)
Bring your own device (BYOD) is the new and preferred trend both among employers and employees. As the name suggests BYOD  means employees are allowed to use their personal device at work rather than a company-provided device. This is a win-win for both as individuals get to work on a machine they are comfortable working on, and employers do not have to bear the hefty costs of getting every employee a new system on joining the organization.
Drawbacks of Webphones
Every technology has its own flaws and webphones are no different. By now we know that webphones are essentially a software phone meaning the device on which you are logging in must have a good in-built microphone and speaker to support the full HD voice that traditional desk phones offer. Second, a good quality high-speed Internet connection is non-negotiable because that is what essentially is the DNA of a webphone. No internet means no webphone. However, given the current scenario, the internet is everywhere and so are laptops and desktops fitted with top of the line microphones and speakers.
Features of a Webphone
A web phone dialer has all the core functionality of a traditional business phone service and then some more. Let's find out what these are.
#1. Outbound Calls
WebRTC enabled phones such as Tragofone, enable users to make both domestic and international outbound calls directly from a web browser without and plug-ins or app downloads. Users also have the option to choose which caller ID they would like to display on the recipient's end when they initiate such calls. (including a local number in case of international calls). This is particularly helpful for cold calling and sales agents as they are more likely to respond to calls from a local number they recognize.
#2. Inbound Calls
Webphones enable two-way voice communication, which means agents can answer incoming calls on their web phone too. These feature rich phones are equipped with all call center features which make things like automatic call distribution and smart call routing possible. Webphones also help automate customer interactions. This is a huge relief for those working in sales and customer support profiles as they no longer have to divulge their personal contact details to customers or office colleagues.
#3. Call Transfer
Just like traditional phones transferring a call to the right person/ department is possible with webphones. Since each and every employee is logged in on the same phone system they are always available to receive any phone call that's transferred to them. 
#4. Free calls within the network
Webphones enable all employees in the company account to interact with each other for free. This is particularly useful for organizations having a distributed workforce and remote teams. Whether you have team members sitting in the US or the UK, they just need to dial in right from their browsers and connect with each other making web-based phone apps a highly valuable tool for organizations. 
#5. Voicemails
With webphones receive voicemails for any unattended calls and listen to them directly from the web dialer on your browser.
#6. Call History
With web-based phones searching recent calls and sorting through inbound/outbound calls, rejected calls, and missed phone calls is fairly easy. Following-up with important leads whose calls might have been missed is now easy.
#7. Contacts and API Integrations
Most webphones enable users to integrate their contact diary from outlook and any other contact database on their machine with the calling app. Web-based phone apps allows users to enter relevant contact details that correspond to individual phone numbers to be automatically displayed. Users can also search and filter through interactions with individual contacts and sync call detail records from a web phone with other software and tools they might be using. Webphones can also be used with other business tools such as CRM or any other tool a business may already be using. 
Endgame
WebRTC based phone calling apps are an emerging technology with very few players in the market at the moment. However, given the convenience it offers to make and receive calls straight from your browser has made it a popular choice across industries.
If you are considering switching to a web-based phone communication system, Tragofone is one of the best options available. With white-labeling capabilities and features like auto-provisioning, push notifications, and ease of integration with other systems it is your one-stop shop for all business communication needs.