Leverage Cloud Calling to Accelerate the Digital Transformation of Your Business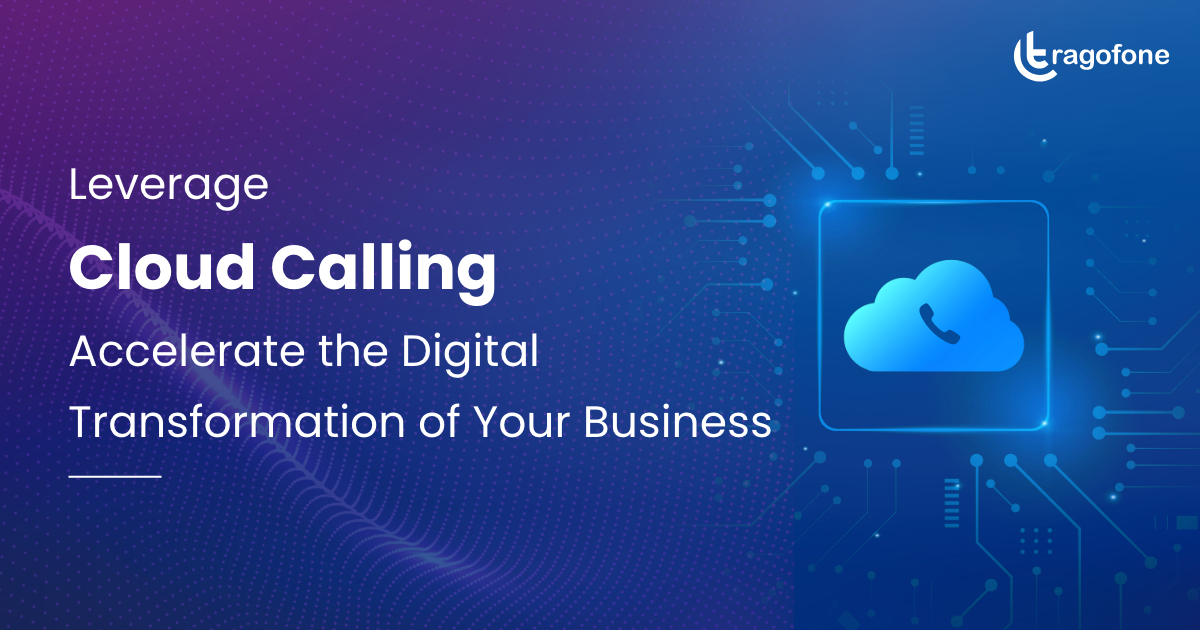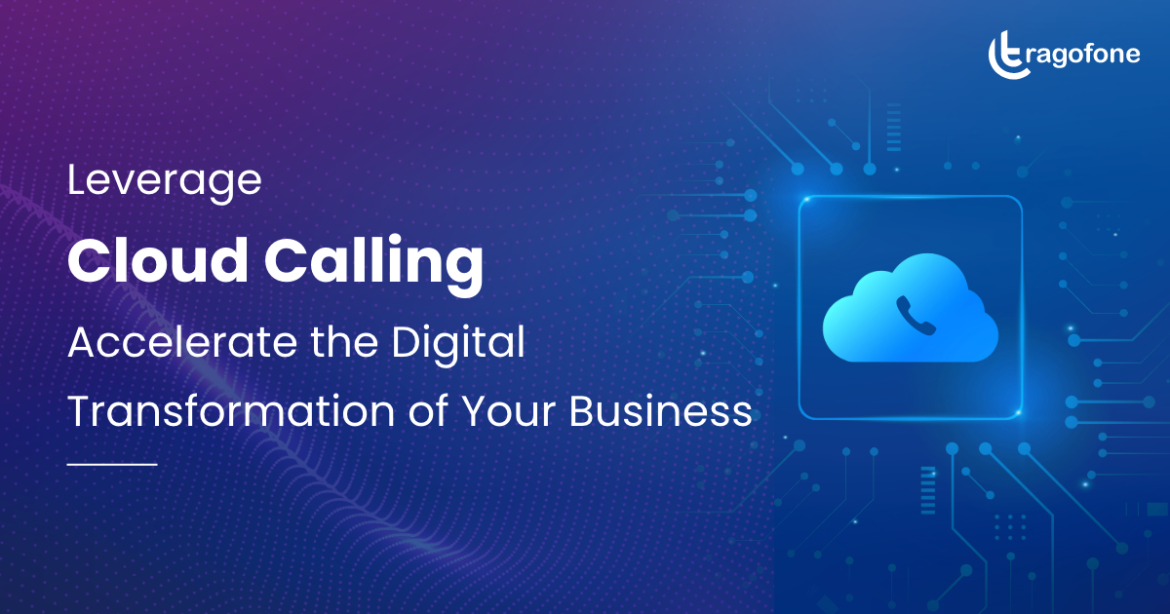 60% of businesses embraced digital transformation after the pandemic outbreak. It led to improved flexibility and adaptability fetching high profits for the businesses. The evolving technologies shaped the digital transformation journey for businesses. Just like any other segment, Unified Communication as a Service (UCaaS) came up as the most prominent technological advancement in business communication. Cloud calling or cloud telephony is a crucial part of UCaaS that has dramatically enriched the business communication world.
64% of businesses shifted to cloud technology post-pandemic to accelerate business growth. Cloud calling is one of the solutions that businesses are heftily investing in to drive business efficiency. In this blog, we will explore the fundamentals of cloud-based calling software and how it can help you scale and grow your business.
In this blog, we will explore the fundamentals of cloud based calling software and how it can help you scale and grow your business.
What is cloud calling?
Cloud calling or cloud telephony is a form of unified communication for businesses that facilitates voice-based communication through the internet. The primary difference between cloud telephony and other telecommunication solutions is that it is hosted in a cloud environment giving the business access to a broad network.
Cloud telephony offers a wide range of communication and collaboration features such as video conferencing, IVR, speech analytics, etc. It provides flexibility and mobility for employees to work from anywhere.
How does cloud telephony work?
When adopting cloud-based calling software in your business, the employees would not face any adoption issues. It is a simple framework that seems similar to any other calling solution. However, it vastly differs in the process of how it actually works.
Cloud-based calling eliminates the need for any extra hardware. It can be installed as software on desktops, smartphones, laptops, etc. The calls are routed through cloud-based switches and networks. This also gives greater control over the data security even if it is transmitted through the internet. All the calls are executed via a VoIP service provider.
Why is the cloud calling the need of the hour?
The global cloud calling market is forecasted to grow by 9.5% CAGR with an estimated market value of $ 51.5 billion by 2032. As remote and hybrid work models have become the new norm, businesses are relying on this technology for improved connectivity, communication, and collaboration.
In the current business landscape, every business is realizing the significance of telecommunication. From startups to established industry leaders, every business entity is ready to invest in innovative technology like cloud telephony to boost their productivity and drive business growth. With the enhanced flexibility and reduced costs, cloud-based calling has become a go-to telecommunication solution for businesses.
Cloud telephony is the need of the hour for the following reasons
PBX has become a difficult option: The PBX systems have become obsolete owing to its restrictions of communication on-premise as well as complexity in scaling. Today's workplaces are no more limited to office premises, employees are working from their homes, remotely or have a hybrid work model. PBX systems fail to meet the new age employee demand for flexibility and mobility.
Acceleration of digital transformation: Businesses have adopted a digital-first approach for every aspect of the business. Therefore, cloud calling is the most relevant communication solution to bring digital transformation to businesses.
Save costs while working smart: Businesses faced several economic challenges and operation disruptions during the first phase of the pandemic. Hence, they are looking out for cost-efficient communication solutions to overcome both problems. Cloud calling serves the purpose in the most efficient manner.
Types of cloud calling software
When discussing cloud-based calling solutions, you can explore different types of cloud environments that businesses can choose from.
#1. Public Cloud
This cloud-based calling solution is hosted through a third-party server where multiple tenants exist. It is not exclusively for your business. Other tenants also use the same server for their business communication.  It is suitable for businesses that do not own any existing system but would like to affordably scale their communication through cloud infrastructure.
#2. Private Cloud
In this case, the cloud telephony server is dedicated to your business and provided by a managed private cloud provider. It is a single-tenant platform where the data of only your business is stored and managed. This is an ideal choice for large organizations that would like complete control of their data security.
#3. Hybrid Cloud
It is a mix of both the above-mentioned ways, i.e, it has an on-premise data center while utilizing cloud services. The hybrid cloud is suitable for businesses that already have on-premise hardware but would like to scale through emerging cloud technology.
Benefits of cloud calling software
Implementing a cloud-calling solution has several benefits for the business. Here are some of those-
Agility: The business landscape is evolving faster owing to the change in customer behaviour. It is essential for any business to become agile for overcoming emerging challenges. Cloud-based calling provides the business with the agility to transform business communication.
Scalability: Adding new users or integrating new features is just a matter of clicks when you implement cloud-based calling software. You can scale the business communication with cloud telephony as and when required. This ease of scalability is essential when your business starts growing.
Advanced functionality: Through cloud calling software, businesses can significantly advance their communication with features like data analytics, activity dashboard, screen sharing, etc. The advanced features make the interaction between office peers and between business and customers seamless and consistent.
Hassle-free implementation: You do not need to rip off your existing system to implement cloud calling.  As it requires no on-site infrastructure or hardware, you can implement a cloud-based calling solution in just a few days or even in a day. The service provider takes care of all the essential aspects of installation and setup.
Self-service capabilities: Through this technology, you can upgrade your IVR and chatbots with artificial intelligence to enhance the self-service capabilities of your business.
Enhanced security: Cyber attacks and VoIP frauds have become a great concern for businesses. With a cloud-calling solution, your business can unburden the stress of cyber threats through an enhanced security system.
Faster upgradation: As technology is evolving every minute, new features are rolling out in the market. You can upgrade the features of your cloud calling solution easily and swiftly just by intimating your service provider.
Cost reduction: Cloud calling solution cuts down your phone bills, hardware installation costs, and maintenance costs. Moreover, it eliminates the costs of hiring an in-house IT team as the service providers offer technical customer support.
Seamless integration: When all the business tools are integrated with your cloud calling software, it becomes easier to streamline and manage all business operations. Integrating third-party applications is simple and seamless when using this technology.
Advanced analytics: This technology brings the advantage of advanced analytics empowering your business to make data-driven decisions. It makes the tedious task of data collection and analysis swifter and presents actionable insights to improve your business efficiency.
How cloud calling can make your business future-proof? 
Cloud calling is a simple solution that can level up your business game to stay ahead of your competitors. Leverage cloud calling in the following ways to make your business future ready.
Reshaping training approach
Call monitoring and call recording features of cloud calling software play a significant role in identifying training needs as well as delivering high-quality training. New employees get the scope of learning at their own pace by listening to the call recording. Similarly, video conferencing can also be recorded so that employees can rewatch them for guidance or reference later on.
Call recordings serve as a powerful training tool for new employees. It helps them to learn some tricks and tips for handling customers and making sales. For instance, if the call where an agitated customer is calmed by an agent is recorded, it can be used as training materials. Similarly, if a sales pitch by any agent is working well, it can be recorded and shared with all the employees for leveraging the pitch and boosting sales.
Call monitoring is the key to understanding how well the new employees are trained. It also allows constructive feedback. For instance, if the new employee talks too slow, the manager may monitor the call and provide feedback to talk faster. Such quick feedback paves the path for improvement in developing skills in employees thereby improving customer service as well as employee retention.
Changing the perspective to calling
Unlike traditional landlines, the cloud calling service provider does not charge you based on the number of minutes or distance of calling. With this technology, you can make unlimited calls and calls to any corner of the world. The service providers usually have subscription plans, rate charts on the features you use or a pay-as-you-go payment model.
Moreover, it has also changed the perspective of employees. An employee does not need to be present in the office to make business calls. This communication solution allows the employees with the flexibility and mobility to work from anywhere.
Catering to the dynamic work environment
The work environment has become more dynamic than it was a few years ago. With the increase in remote employees, every business requires technology like cloud telephony to support business growth. It provides for tools to scale your business flexibly.
Cloud calling ensures reliability for business communication with improved call center abilities to cater to the evolving needs of your business. The mobility and security this solution offers make it an ideal choice for supporting any unprecedented swifts in business.
Customers have a lot of options at their fingertips when they shop online. Therefore, it can be a difficult task to build customer loyalty in the digital era. You can either be overwhelmed by the competition in the market or look for a differentiating factor for your business to gain customer trust and loyalty. Customer service is the differentiating factor that you must focus on. Cloud calling helps dramatically improve the customer service experience through its advanced features. It keeps your customers engaged with IVR, reduces waiting time, routes them to the right agent, and provides aids for faster customer issue resolution. All these efforts help to win customers and prevent them from switching brands.

Improving team collaboration
Cloud calling not only aids communication but also collaboration. It becomes easier to synchronize the team members when you have features like screen sharing, conferencing, etc. Moreover, through the common activity dashboard, every team member can keep track of the work progress. It may also have the facility to display performance based on KPI encouraging employees to establish a healthy competitive work environment.
Management becomes easier
Cloud calling offers features like real-time call monitoring and call analytics etc. which makes the management of employees easier. Managers can keep track of employee performance and provide them with feedback even on the go. Real-time call analytics can help managers solve employee issues quickly. It cut down the lengthy and time-consuming process of manually assessing employee performance.
Representing yourself as a future-forward business
Today's generation has become more aware, be it customers or employees. An employee may not be interested in working with a company that does not have the latest technology. Similarly, today's customers would switch brands if they come to know that a company is using obsolete technology. It is important to keep your business updated with the latest technology to attract talents as well as retain customers.
The bottom line
Cloud calling is an essential futuristic tool to meet the rising customer expectations. It is less expensive than traditional PBX. Moreover, it comes with a wide array of advanced features to boost agent productivity, simplify management and streamline business operations. Cloud calling software can help your business win more clients and retain them with a stellar customer service experience. Tragofone is a cloud VoIP phone system service provider that offers all the features a business needs to accelerate business growth. Be it a small startup or an established organization, Tragofone enables them to deliver unmatched customer service to fetch maximum business profitability.